There are dozens of movies about family dysfunction and chaos, but few flicks that everyone in a family can actually enjoy together, which is one of the reasons director Alejandro Monteverde wrote and directed Little Boy (PG13) — a story about a boy's love for his father, and journey to get him back after he's drafted into World War II. Monteverde says he wanted to create a movie that families could enjoy together, something he can take his wife and three kids to. Here, he shares a bit about Little Boy, and some of the key ways it will impact families who see it once it hits theaters on April 24.

1. Shares a Positive Father Image
Dads tend to have a bad reputation in the parenting world, so the hands-on and compassionate parenting portrayed by Pepper's father in Little Boy is a great change from the absent fathers seen in most films and news reports. Monteverde says he's always been really close with his family, and talks to his father daily, which provided a foundation for the father-son relationship created for the movie. (Sidebar: So many people have found the father-son relationship in this film to be inspiring that a 30 Days of Inspiration campaign was created for viewers to share the ways they're inspired by people and places in their own lives.)
2. Inspires Families to Reconnect
Unlike a lot of WWII movies, this one is about the home front and people who stay behind, not the people who go to war: "It explores the pain and turmoil that a family goes through when a family member goes to war," shares Monteverde. So when Pepper's father is drafted we see how this child's world unravels. "I wanted to tell the ultimate underdog story and children are the ultimate underdogs because they depend on parents for everything," he adds. But to be a true underdog, Pepper has to lose everything before he can rise up and become great. "Here you have an 8-year-old boy trying to bring his partner, best friend, father back from WWII."
Monteverde shares how the story is so touching that one of the film's investors was in tears after hearing it: "He didn't think that his son would do for him what Pepper does to get his father back. It inspired him to spend more time with his son." Little Boy also motivated a girl in Mexico to reach out to lot loved ones. "[She] hadn't spoken to her parents in 15 years but called them to reconnect after seeing the movie."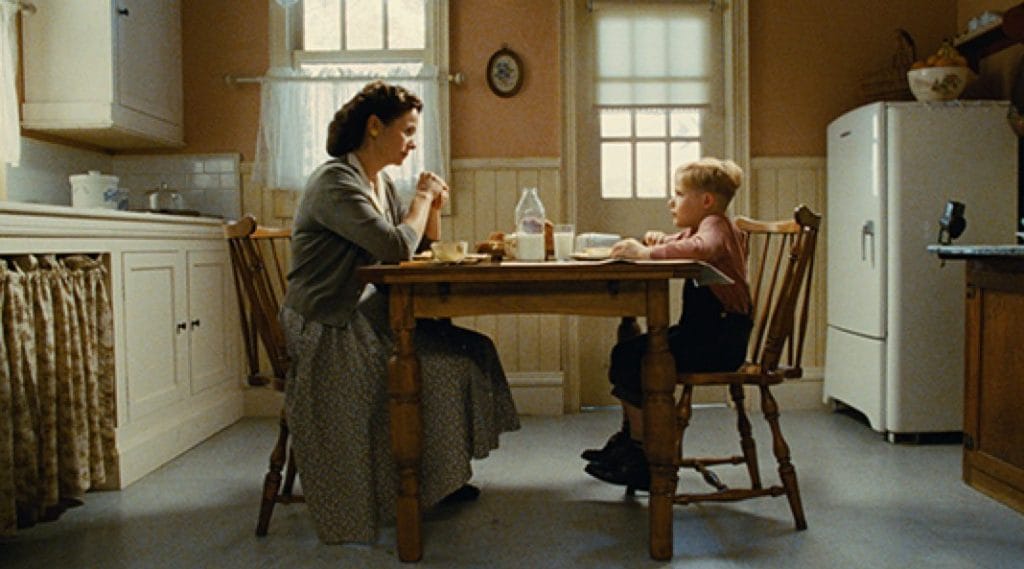 3. Addresses Bullying and Racism
Though bullying has always been around, it certainly feels like it's expanded in recent years, and in scary new ways. Little Boy addresses how this topic transcends age through the portrayal of both peer bullying and racism. Pepper (often called "Little Boy") is bullied for being small, but then bullies a local Japanese American named Hashimoto because of his race. Hashimoto makes a powerful statement about this racism when he says, "I have the face of the enemy." Monteverde explains how Pepper grows to understand what he has done: "Little Boy learns that Hashimoto is a person. What he thought he hated turned out to be his best and only friend."
4. Teaches Kids to Believe in Themselves
When no one believes in Pepper and his hope for his father's return he still believes in himself, which is something we could all learn from. The first Little Boy movie trailer focuses on this aspect of the film by showing Pepper move a bottle at a magic show, and appear to make a mountain move. He believes he can do what it takes to get his father back, and is willing to do everything he can, despite that he's an 8-year-old kid.
Catch Trail Number 2 (the version that shows the racism and full story) below and comment on this post to let me know what you think!
Monteverde says he likes to create objective films which present topics for viewers to ponder and discuss after the film, and this definitely fits that description. Are you going to see Little Boy when it comes out? I haven't seen it yet and am eagerly awaiting April 24.
This is not a sponsored post.