Savvy Summer Review: Graze Snack Boxes
For me, this Summer is all about being a bit more health savvy, so I requested a sample Graze box to review for you as part of this Summer's #SavvySummer event. Graze is all about healthy snacking, without compromising flavor, which makes their snacks the perfect substitute for my chronic eating of chocolate.
When my box arrived in the mail I was a bit surprised by how light and thin it was since I'm used to heavy box subscriptions, but I was very pleased with how easy it was to open (no tug-a-war with tape, here), and the adorable packaging. On top of my snacks sat a little pamphlet with nutritional info, links to ingredients, and information about why the included items were healthy for me. I wondered why the snacks weren't described in the pamphlet, then realized the names and descriptions were printed on the labels of each snack, which saves paper space and is less redundant I suppose.
The snacks I received in my box were Mango & Chutney With Black Pepper Dippers, Oven Roasted Salt & Vinegar Nuts, Chocolate Orange Flapjack, and (my favorite) Tropical Daiquiri. I am not a fan of salt or black pepper, so I didn't think I would care for these snacks. But I was pleasantly surprised by all of them! My 3-year-old daughter and I both really enjoyed the first snack we opened; Oven Roasted Salt & Vinegar Nuts. The next snack I opened was the Tropical Daiquiri, which is simply amazing. It's a mixture of dried mango and raisin varieties blended with a sort of mixture to truly taste like a sweet daiquiri. I am someone who loves the taste of daiquiris and such, but after becoming a mom I simply can't drink much of them, and when I do my body sometimes has a reaction to the alcohol, so I really was appreciative of this flavorful surprise.
The third snack we tried was the Chocolate Orange Flapjack. My daughter saw the chocolate and immediately wanted some, but the orange vitamin taste mixed in threw her off and she spat it out. I thought it was tasty for a healthy version of a sweet, chocolate treat (but the tropical snack is still my favorite). I tried the Mango & Chutney With Black Pepper Dippers snack last because I was afraid it would be super spicy. But I was again surprised! The black pepper wasn't overwhelming, it didn't make me cough or need water, and it paired nicely with the sauce which had a slight kick for flavor, but wasn't too much heat for me to handle (it's mostly sweet).
Overall, I think the box is a great snack alternative, and since Graze has an on-staff nutritionist creating the 90 plus snack varieties to ensure that the pairings are tasty but also beneficial to one's health, I think the $6 per box price is reasonable (but you can get it free with the code mentioned below). But I've included a bit more information below to help you get to know Graze, and why it's a Savvy Summer pick.
4 Reasons Graze is a Savvy Pick
User-Friendly Website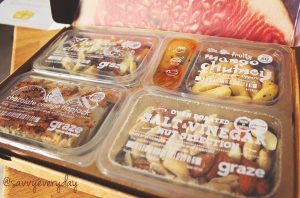 Graze's website is very visual and user-friendly, which is a plus for me, and they have responsive contacts (another huge win considering how many companies have websites but no way of contacting them these days). When you sign up on the website, you're taken through preference test so that Graze can select the best combination from their 90 snacks to fit your taste. If you sign up then realize you're going out of town soon, you can edit your delivery schedule online, too!
Environmental Responsibility
The Graze box is small enough to fit in most mailboxes, and made of a thinner, easily recycled (or reusable) cardboard. The pamphlet that comes with the box, and even the containers (which are made from recycled materials) the snacks come in are all recyclable.
Consideration
Graze makes it simple to share healthy habits with friends by including friend codes with their boxes so that instead of paying $6 per box, a friend can use your code to try it out and get their first and fifth box free! But what I really like about this program is you get a $1 bonus for every friend you share a code with who signs up, and you can donate that $1 to the Graze School of Farming in Africa, which teaches locals how to grow and sell food for their families. I signed up for Graze after getting my sample box both because I like it and I wanted to be able to share a referral code with you that would allow me to donate the $1 for each referral to the Graze School of Farming. If you'd like to check out Graze for free, use code SHARIS42P at checkout and your first and fifth box of Graze will be free. (Graze ships on either a weekly or bi-weekly
schedule, and credit cards are billed the week before shipment when boxes are being made, so if you cancel, be sure to do it at least a week before your next box.)
The Snacks
Every box is delivered to the U.S. home, office, or P.O. Box address of your choice (except Alaska and military bases at the moment) with four non-GMO dry food items, each with at least one nutritional badge (protein, fiber, serving of fruit, and so on). All 90 snacks are natural without food coloring or additives, and free of trans fats and fructose, too! I received the Nibble Box for my review, which offers a variety of snacks ranging in calories and health benefits, but if you're counting calories Graze also offers the Calorie Counter Box with snacks 150 calories or less.
*
Savvy Every Day was sent a Graze box to review for this post. A Graze box referral code (SHARIS42P) was included so readers can get their own free box, which will give Shari a $1 per person who uses the code. Every $1 earned through referrals will be donated to the Graze Farming School. Graze did not give suggestions or tell Savvy Every Day what to write. The opinions in this post are of Shari Stamps and Savvy Every Day only. If you have a nut allergy, or any other serious allergy, this is not the snack box for you.