Tinkering With Tinkerlab: Turning My Dining Table Into Art Central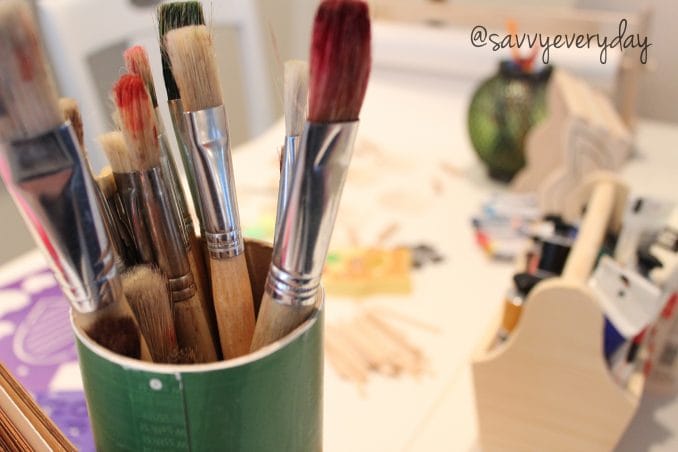 It's been quite a while since my daughter and I sat down to do an art activity together so I was very excited to have a copy of Tinkerlab: A Hands-On Guide For Little Inventors by Rachelle Doorley sent to me and work on our shared art space. Before opening the book, I didn't really know what Tinkerlab stood for. I knew that it always had fantastic experiments for kids to do, and cute art activities but didn't understand it more than that. The book is broken up into five main areas: Prepare, Experience, Build, Concoct, and Discover. It's perfect for my daughter, S, at age 3, and I think kids up to age 8 or 9 would really enjoy the activities too since it covers art, exploration, tinkering, and science.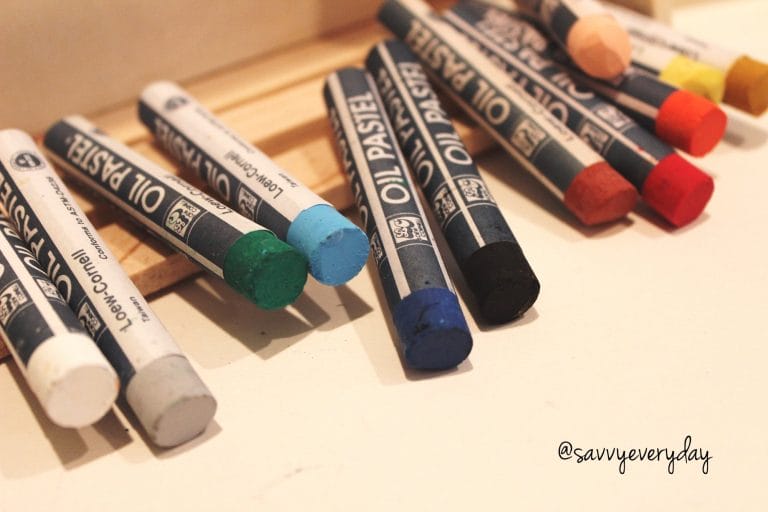 I'm not a heavy book reader but I have a love for knowledge and typography so I feel drawn toward books. Tinkerlab has bright, clean images that pair well with the content, and an intuitive structure for easy reading. I thought I'd thumb through the book then dig in a little bit more slowly over time, but once I got the book in my hands I couldn't put it down and started adding tabs. The introduction in the Preparation section is thoughtful and inspiring. In fact, it pushed me to create a new art area in my home for my daughter and I to do projects together.
Originally, I had designated a long table in the garage as S' art area so that she could paint, drag markers on paper, or do whatever messy activity she wants, but I didn't want to sit in the garage with her while she did this so art time was cut super short. After learning about some tips for art areas, and how to set up invitations (art activities that are laid out and ready to go for little ones to use as they like and explore) I wanted to delve into this more. I decided to take over the dining/kitchen table since we don't need the entire space for dinners, and dug up all my old art supplies so that I can start painting and drawing again while S explores using markers, pastels, and stamps in her open invitation art space.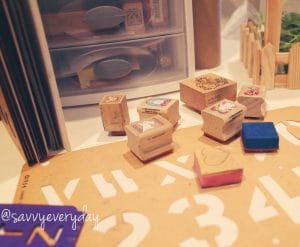 So I rolled out a blank sheet of the IKEA Mala ($12 for paper and stand), then filled different containers with supplies (an empty lantern from my wedding that I use to hold her markers, a kid-size wooden toolbox for paints, and a little drawer container to house all the stamps I've resurfaced from when I was a munchkin). I left some of the items out for S to choose from, and so far the area is getting a lot more use than the previous garage location!
Now that I've completed the Preparation portion of Tinkerlab, I'm venturing into the other sections and plan on sharing the Naked Egg experiment with you next. At first I thought my daughter is a better fit for the art projects in the book, and would do more of the science and tinkering type of projects later in life. But after reading this book I've become more aware of how much tinkering my daughter already does on a daily basis just naturally. When presented with new objects she instinctively takes them apart to learn what they're composed of and how, then she either reassembles the item(s) or uses her imagination to create a new use for it. When working on our Naked Egg experiment S was very involved as well. I can tell this is one book that won't get dusty on my shelf because S and I will be using it regularly for years to come, and I am really looking forward to that! If you have a little engineer, or curious creator, I recommend checking out this book. It's available in stores, online at Amazon, Barnes & Noble and Roost Books. If you live in the California Bay Area, New York, or Cambridge and would like to meet the author of Tinkerlab in person, check out Rachelle's book tour dates, here, which include a book signing and hands-on kids activities.
Do you have a favorite space for creating art? Share your art spot in the comments below!
*I was sent this lovely copy of Tinkerlab for my review. I was not paid and my opinions are my own.
Title:
Tinkering With Tinkerlab: Turning My Dining Table Into Art Central
Mentions:
art, art table, book, book review, creativity, exploration, Family, invitation, kids, naked egg, preschooler, rachelle doorley, review, roost, roost books, sccience, science is fun, smart kids, tinkerlab, toddler