Adorable Coral Colored Kids Bathroom
Looking for the right bathroom look for fall . . . or any time of year, really? Check out this super adorable coral colored bathroom! My daughter absolutely loves it, but I think it's great for adults, too. I found this lovely look while hunting for the right bathroom setup for the apartment we're moving into before our house is built (it has two shower/bath combos and we only have one now), and since our move has been a bit delayed I decided to set it up for us to enjoy a bit early. Whether you have a big kid or a tot, this new design will make using the bathroom fun and functional!
This post was sponsored by Annie Selke as part of an Influencer Activation for Influence Central and all opinions expressed in my post are my own.
Choosing the Coral Color Theme
I looked through the fall Annie Selke catalog for comfy —but stylish — inspiration and pretty much wanted everything in it. I'm in love with their hallway runners! But, I kept my budget and objective of transforming the bathroom in mind so I'd stay relatively on-task to find what I need. I do have some items marked to look at again later when we're finally settled into our new home after it's built in January or February, though.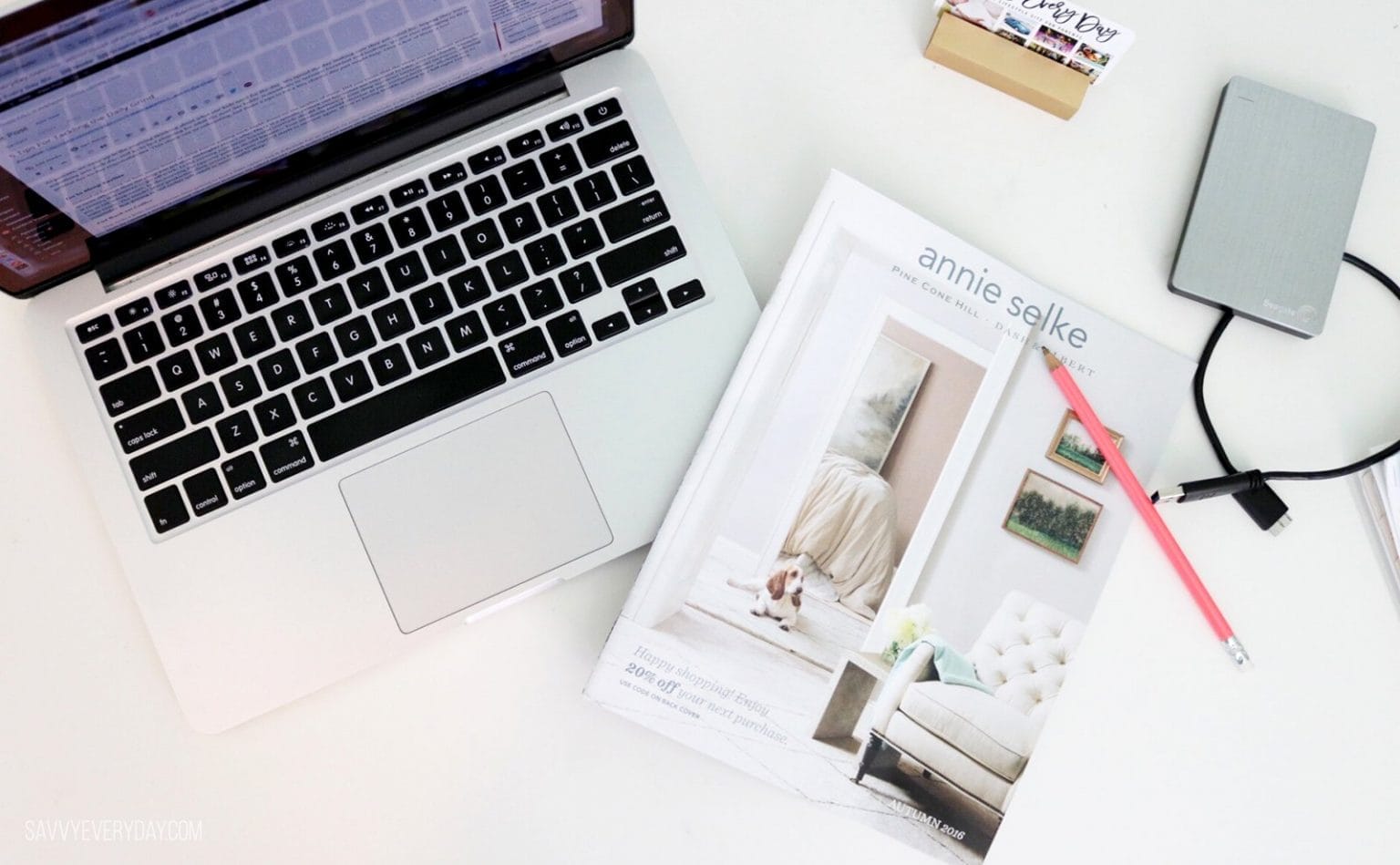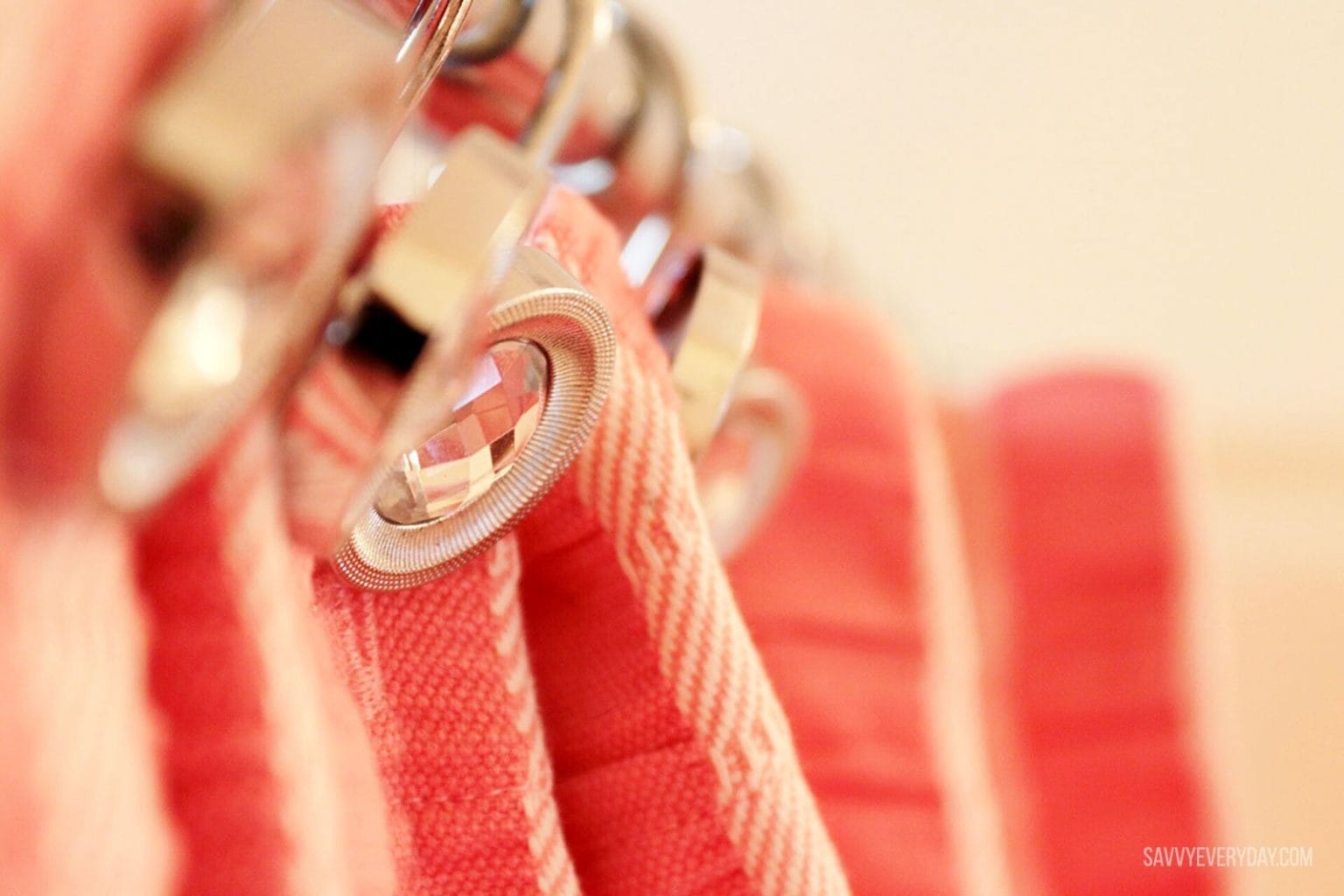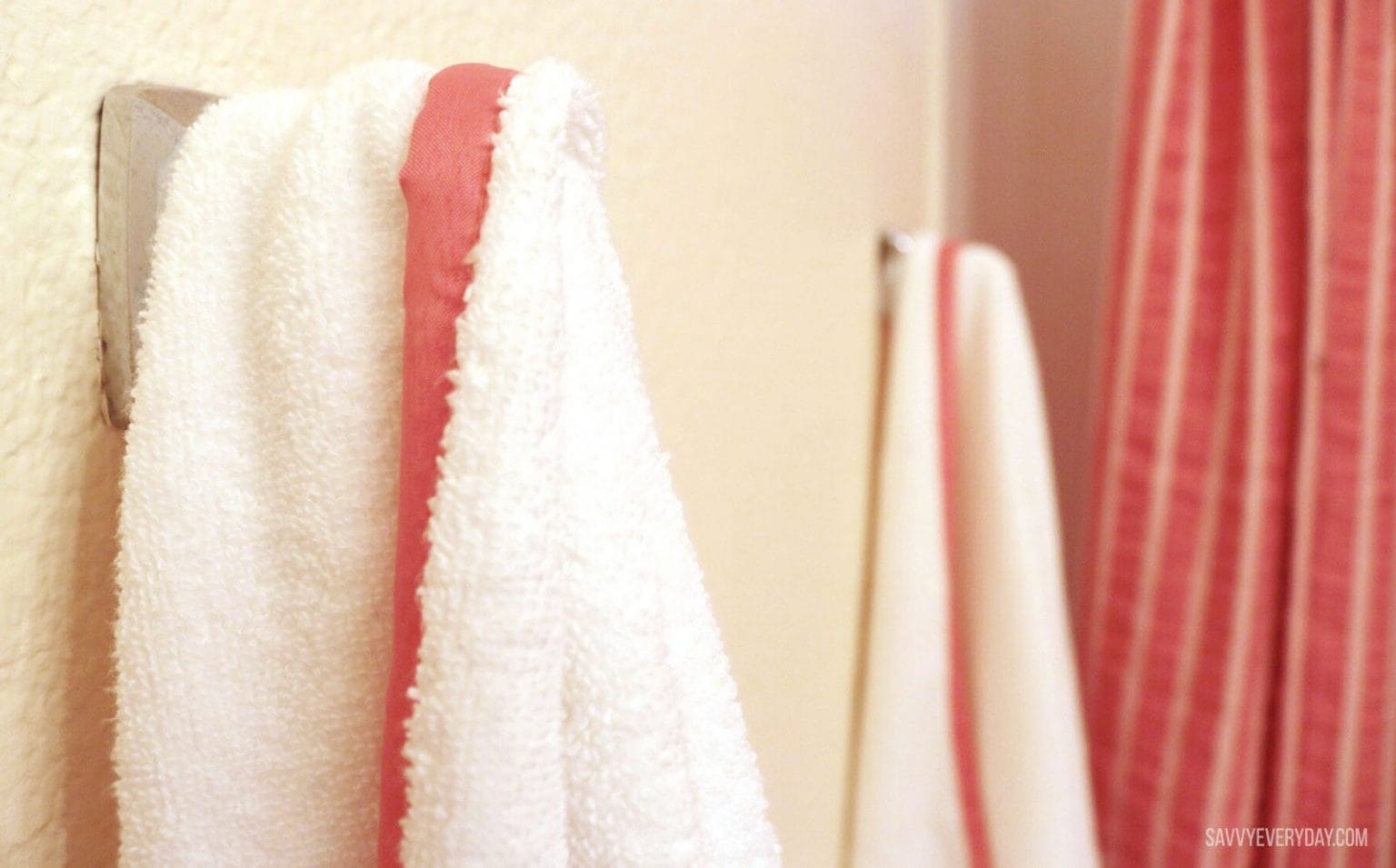 Coral Towels & Curtain
One of the first things I noticed in the catalog's bathroom section was the towel selection— the Signature Banded towels look like they belong in a luxury spa and I totally want to bring the spa into my bathroom experience. I knew I needed new bath towels but wasn't sure which towel color to choose until I saw the Pine Cone Hill Parker Coral Shower Curtain online. I wanted something that would still match the mermaid pictures I have on the bathroom walls, and the coral looked like a perfect fit! Once I received my order and put everything up, I knew I made the right choices. Since we're moving soon I didn't want to remove the towel bar hardware in the bathroom to put up hooks, so I just removed the bar from the middle and applied some removable home improvement putty on the top of each peg so that I could hang our new towels up. It makes bath time a lot easier now that S can hang up her own towel, so that's a huge win.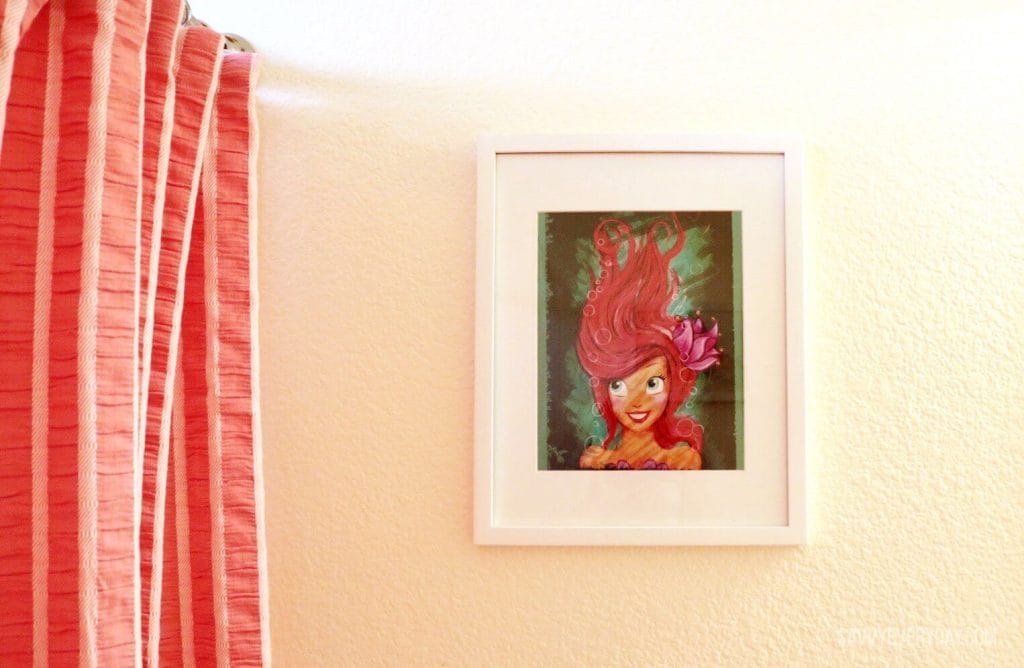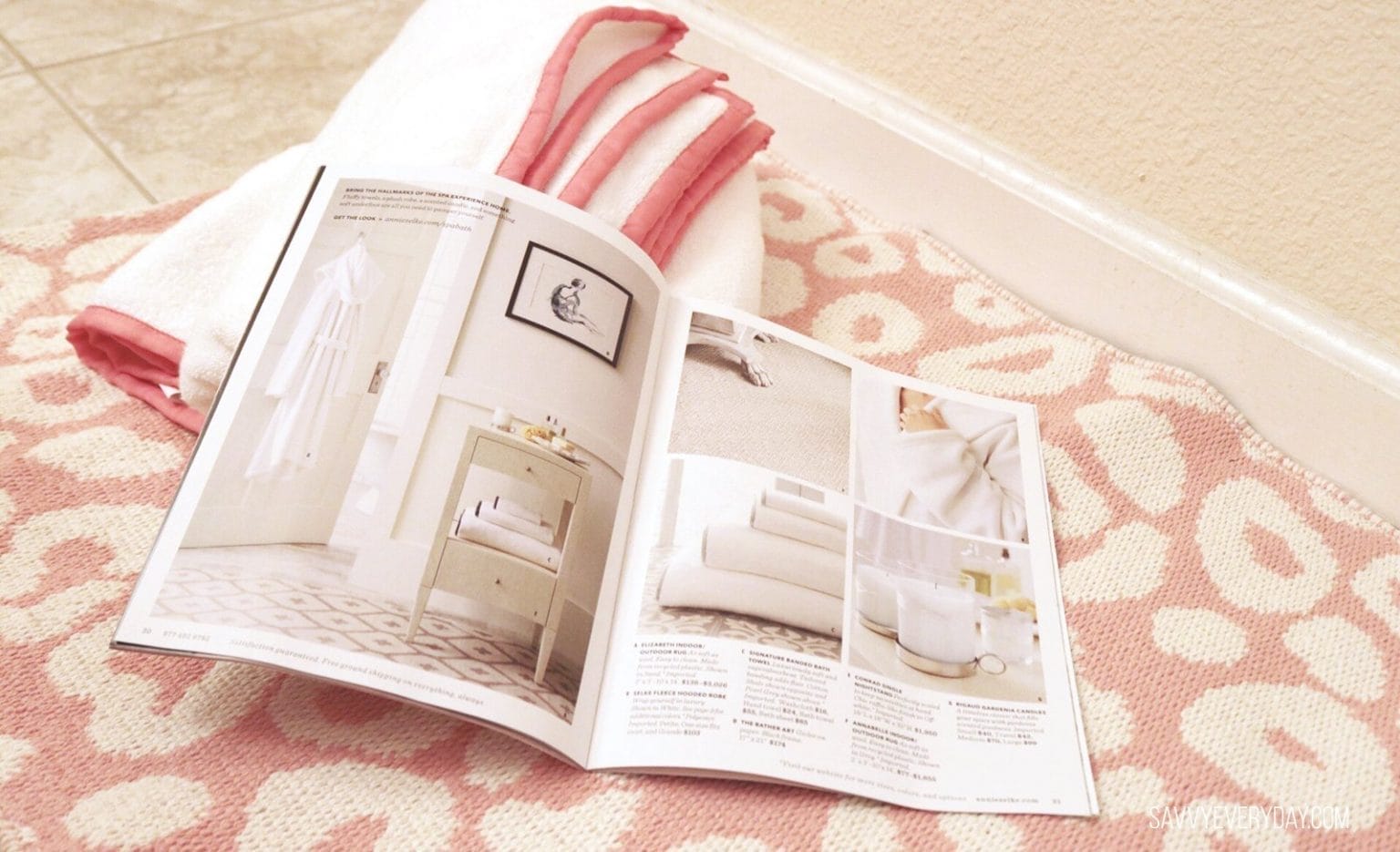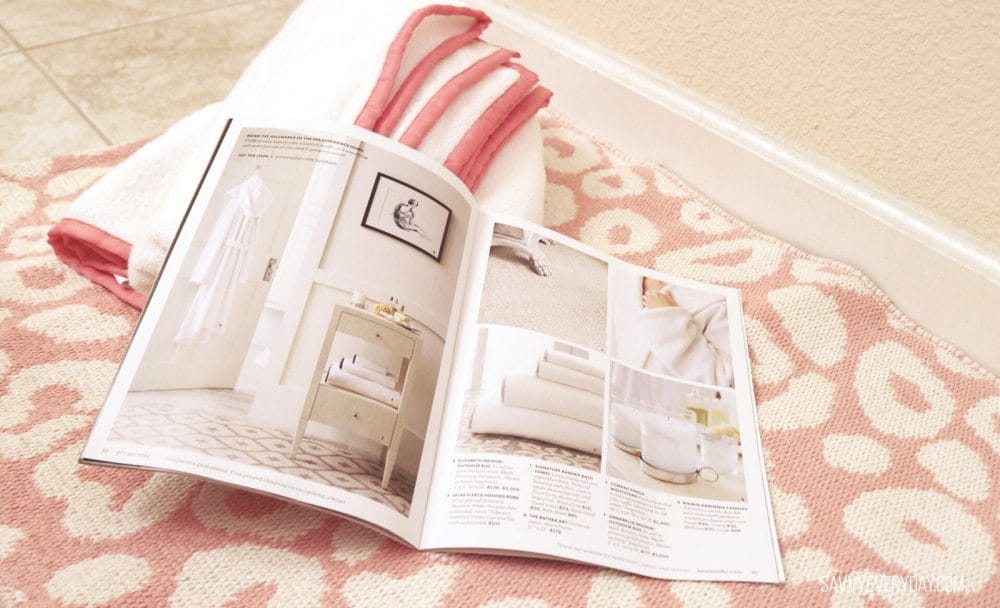 Coral Water-Inspired Rug
A quality bathroom rug is a must so that was my next big style search on Annie Selke's site. Dash & Albert (an Annie Selke company) has the most amazing high-quality rugs so I was really excited to find the Spot Coral Cotton Woven Rug on their website to match the coral color theme, and also the under the sea theme a bit since the spots remind me of bubbles. The rug I ordered is just the right size for in front of the sink or under the towels by the tub, so we can easily move it around depending on our needs. I really like how it looks under the towels.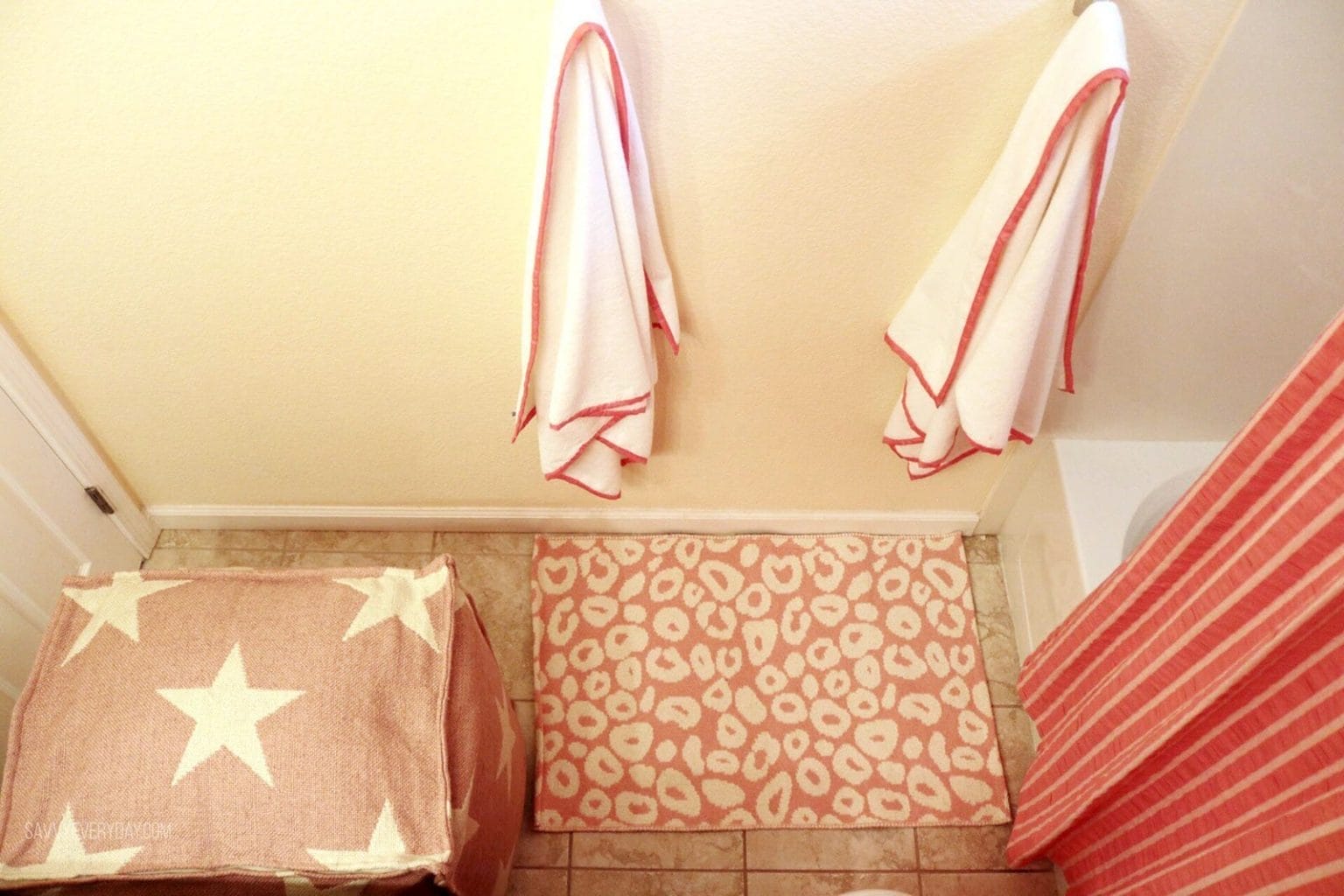 Fun Coral Sink Setting
I usually store spare rolls of toilet paper under the bathroom sink but it's gotten so crowded under there that there's a bit of an avalanche when the doors open so I've been looking for a stylish alternative. Enter the Fresh American Finn Coral Pint — I simply filled mine with a few rolls and pretty signature hand towel and it keeps the room functional, decluttered and cute. Another bonus? Guests don't need to hunt for toilet paper anymore. I also got a really fun Indoor/Outdoor Pink & Ivory Star Pouf! My plan was to use this in the baby's room or in the kiddo play loft at the new house down the line, but it also would fit great just outside the bathroom door in one of the bedrooms at our new apartment since the bathrooms are inside the bedrooms. My plan was to use this pouf as a little waiting seat for the kiddo to sit on when she wants to chat with me while I'm getting ready or something, but it also works really well as a kind of chair for her to sit on in the bathroom for getting ready or brushing teeth. It's a tight fit in our current bathroom, but I'm super excited about using it more in the apartment and then our new home.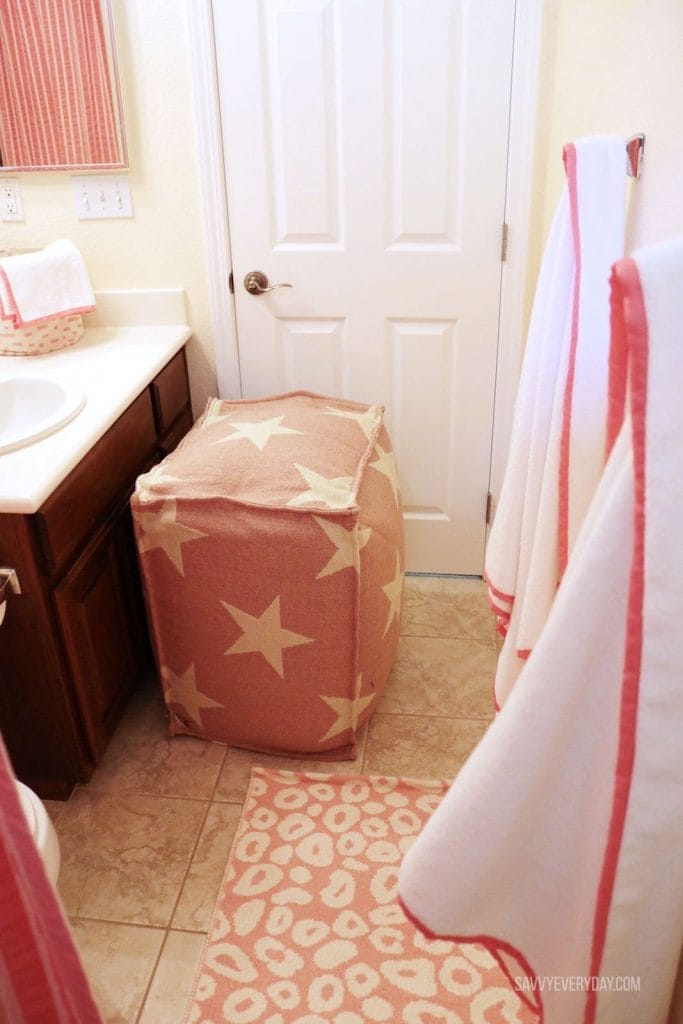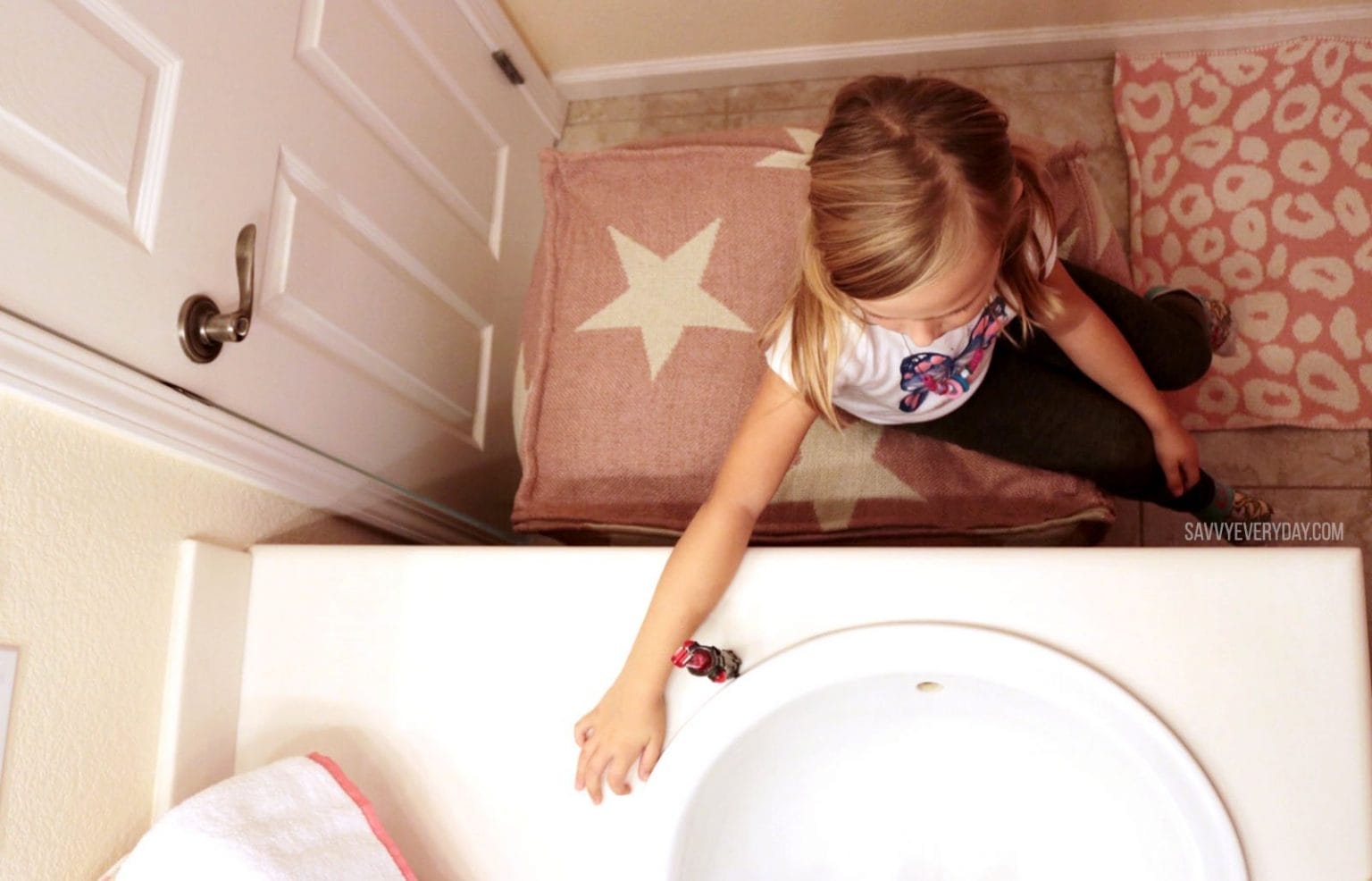 Shop This Room!
Signature Banded towels / Pine Cone Hill Parker Coral Shower /Spot Coral Cotton Woven Rug /Fresh American Finn Coral Pint /Indoor/Outdoor Pink & Ivory Star Pouf
Be sure to sign up for the Annie Selke newsletter to get 15% off your first order, then enter their giveaway below to win one of three $500 gift cards!
Title:
Adorable Coral Colored Kids Bathroom
Mentions:
Annie Selke, coral colored room, coral theme, design, home, home design, kids, kids bathroom, kids room, sponsored post
Keywords:
Coral Colored kids bathroom