Unbelievably Good 5-Minute Protein Smoothies to Start Your Day
Managing to eat breakfast now that the kiddo is in school hasn't been easy. I get back from school drop off and try to catch up on social media and emails as soon as I can so the next thing I know it's noon or 1 p.m. already and I haven't eaten a thing all day. Now that I'm pregnant, I'm trying to be better about getting some sort of breakfast/protein in so I've been looking into ways S and I can get the morning nutrition we need without adding too much time to our morning since we're perpetually "going to be late." The answer? Smoothies! I've created two 5-minute smoothies that I know you're going to love — A Nourishing Carmel Apple Smoothie for fall (or anytime you want it to feel like fall) and a Peanut Butter Lover Workout Smoothie. Keep reading for the recipes!
This post is sponsored by OLLY Nutrition. Thank you for supporting our sponsors. All opinions are mine alone.
When OLLY Nutrition sent me their new smoothies I knew that they would be the answer to my breakfast question. They're plant-based with natural flavors from real food sources, and vegan and gluten-free, so I don't need to worry about what kind of mystery stuff is in my smoothie. Even though you can throw a scoop of powder in with water or milk and blend then drink right way my preggo preferences wanted to add more so I thought about the flavors that would compliment these great smoothie starters I was sent. The first one is a Nourishing Carmel Apple Smoothie using OLLY Nutrition's Velvet Vanilla Nourishing Smoothie. This smoothie is perfect for breakfast skippers like me, or as a snack later in the day since the OLLY Velvet Vanilla has protein, fiber and a meal's worth of vitamins to keep you going through the day.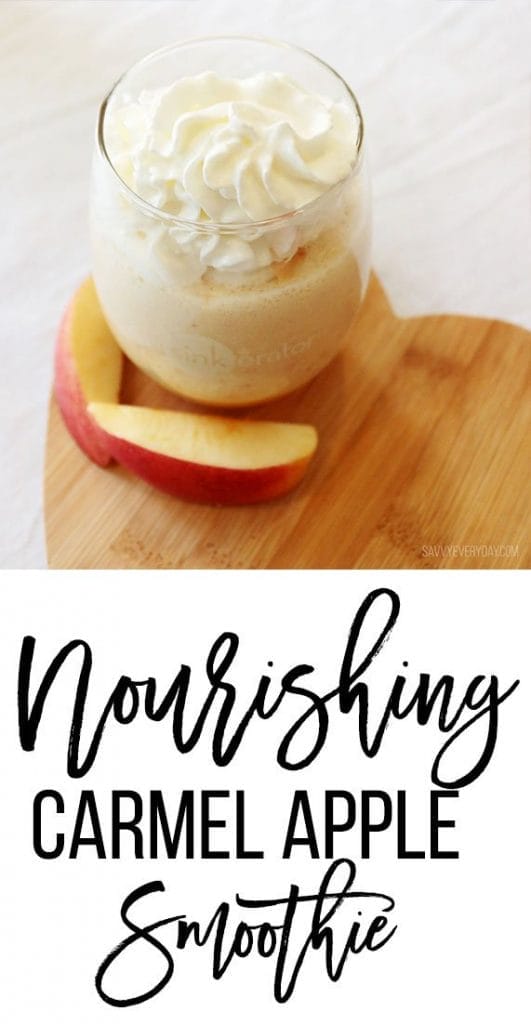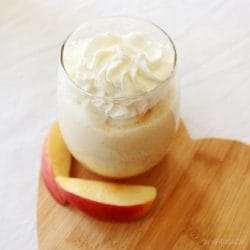 5-Minute Nourishing Carmel Apple Smoothie
Ingredients
2

Gala Apples

2

cup

Apple Juice

4

tbsp

OLLY Nutrition Velvet Vanilla Nourishing Smoothie

1

tbsp

Vanilla Extract

1.5

tbsp

Brown Sugar

Whipped Cream (Optional)
Instructions
Slice (and peel if you would like) 1-2 apples

Pour about 2 cups of apple juice in blender

Add 1-2 scoops of OLLY Nutritional Smoothie (using the scoop enclosed in the lid)

Add slices from 1 apple to the blender

Blend ingredients so far

Add half or all of 2nd apple (up to you)

Add a spoonful of brown sugar

Add a tablespoon of vanilla extract

Blend ingredients until smooth

Pour drink and add whip cream if desired
The second smoothie I'm sharing is for all the peanut butter fans! If you don't like super sweet flavored things then you'd prefer this flavor pairing over the previous, because it's all chocolate and peanut butter, basically. This recipe utilizes OLLY Nutrition's Chocolate Peanut Butter Workout Smoothie so it helps get your muscles ready for an active day with all the protein, vitamins, and veggies you need.
5-Minute Peanut Butter Lover Workout Smoothie
Ingredients
2

cup

Cow's Milk or Plain Almond Milk

1.5

tbsp

OLLY Nutrition Chocolate Protein Workout Smoothie

1

cup

Peanut Butter

2

cup

Frozen Raspberries

2

cup

Strawberries

1

tbsp

Honey
Instructions
Pour milk in blender

Add 1 or 2 scoops (depending on your preference) of OLLY Nutritional Workout Smoothie using the included scoop

Add peanut butter

Add raspberries, strawberries, peanut butter, and honey

Blend until smooth

Enjoy!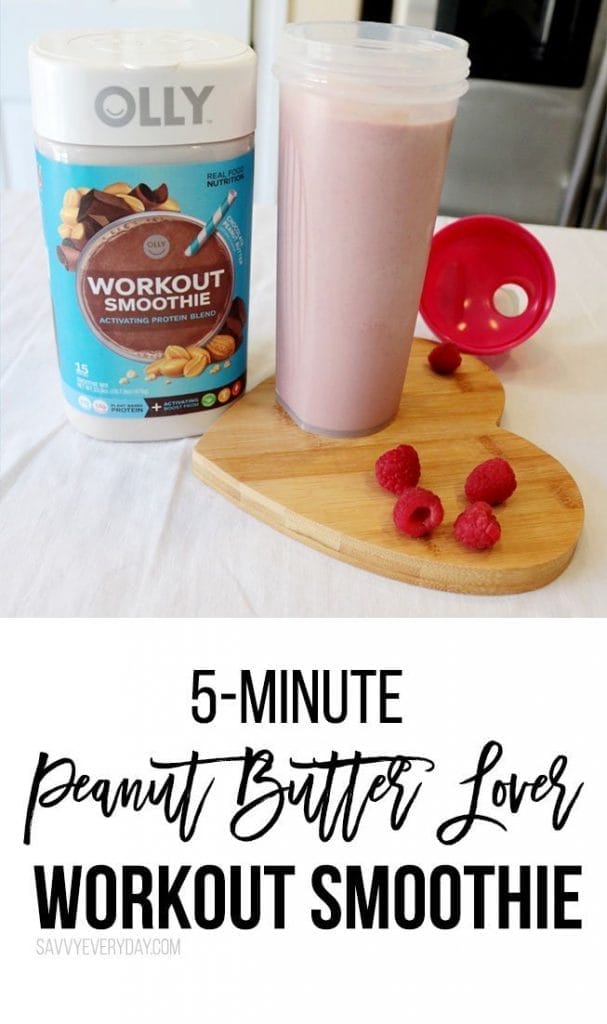 OLLY Nutrition also sent me their new Kids Strawberry Swirl Smoothie packed with all the greens and protein necessary for a growing kiddo. My daughter loves strawberry so I blend this with some cow's milk, strawberries and grapes for her as a quick on-the-go breakfast for those mornings when we're really late to school and she refuses to eat anything.
Check out OLLY Smoothies for yourself — They're on sale at Target right now and OLLY Nutrition is hosting a giveaway! Enter the giveaway to win your own OLLY Nutrition smoothies! Every entry gets a $5 off Target coupon (um, yes, thank you) and is in the drawing to win over $1,000 in prizes! (Prizes are fulfilled through OLLY Nutrition.)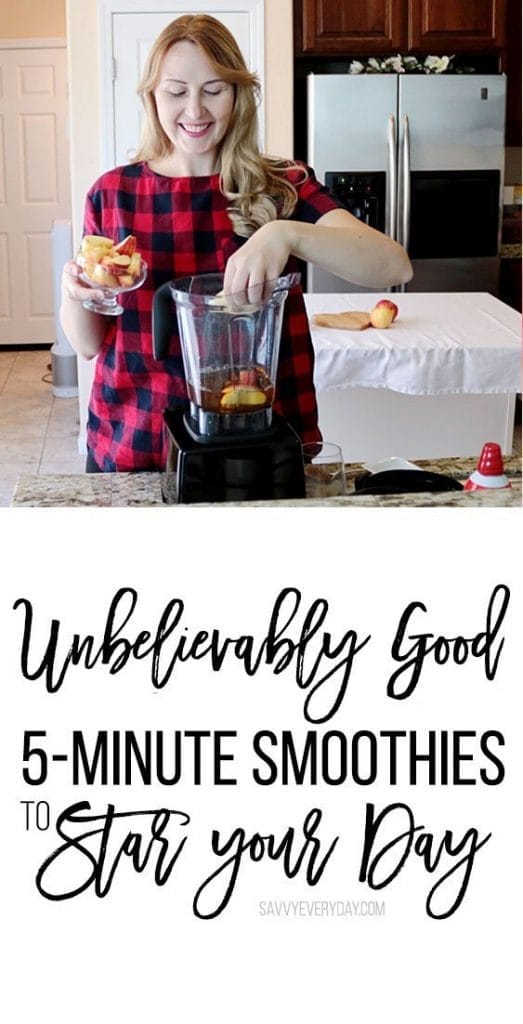 This post does not serve as medical/nutritional advice. If you have a specialized diet, please consult an expert. Theses are smoothies that I've tested and enjoyed.
Title:
Unbelievably Good 5-Minute Protein Smoothies to Start Your Day
Mentions:
5-minute smoothies, breakfast smoothie, carmel apple, carmel apple smoothie, morning smoothie, nourishing carmel apple smoothie, OLLY, OLLY Nutrition, peanut butter smoothie, pre-workout drink, quick breakfast, quick family breakfast, smoothie, smoothies, snack smoothie, workout smoothie
Keywords:
Protein Smoothies