6 Things You'll Want Before the Baby Shower
Not everything can wait for the baby shower. Now that you're preggo your body is going through a lot of changes, and aside from staying hydrated, upping your protein and getting a few new maternity outfits once you hit that second or third trimester there's still a lot more you might need! Here are some items that have been my absolute must-haves with this pregnancy (baby #2!). These items fulfill six very important preggo mama needs: Safety, Support, Comfort, Pampering, Development/Milestones, and Keepsake. You're only going to have this particular pregnancy once, make it happy & healthy! Keep reading for my list!
Items mentioned were received for review, all opinions are that of the writer. This post may contain affiliate links.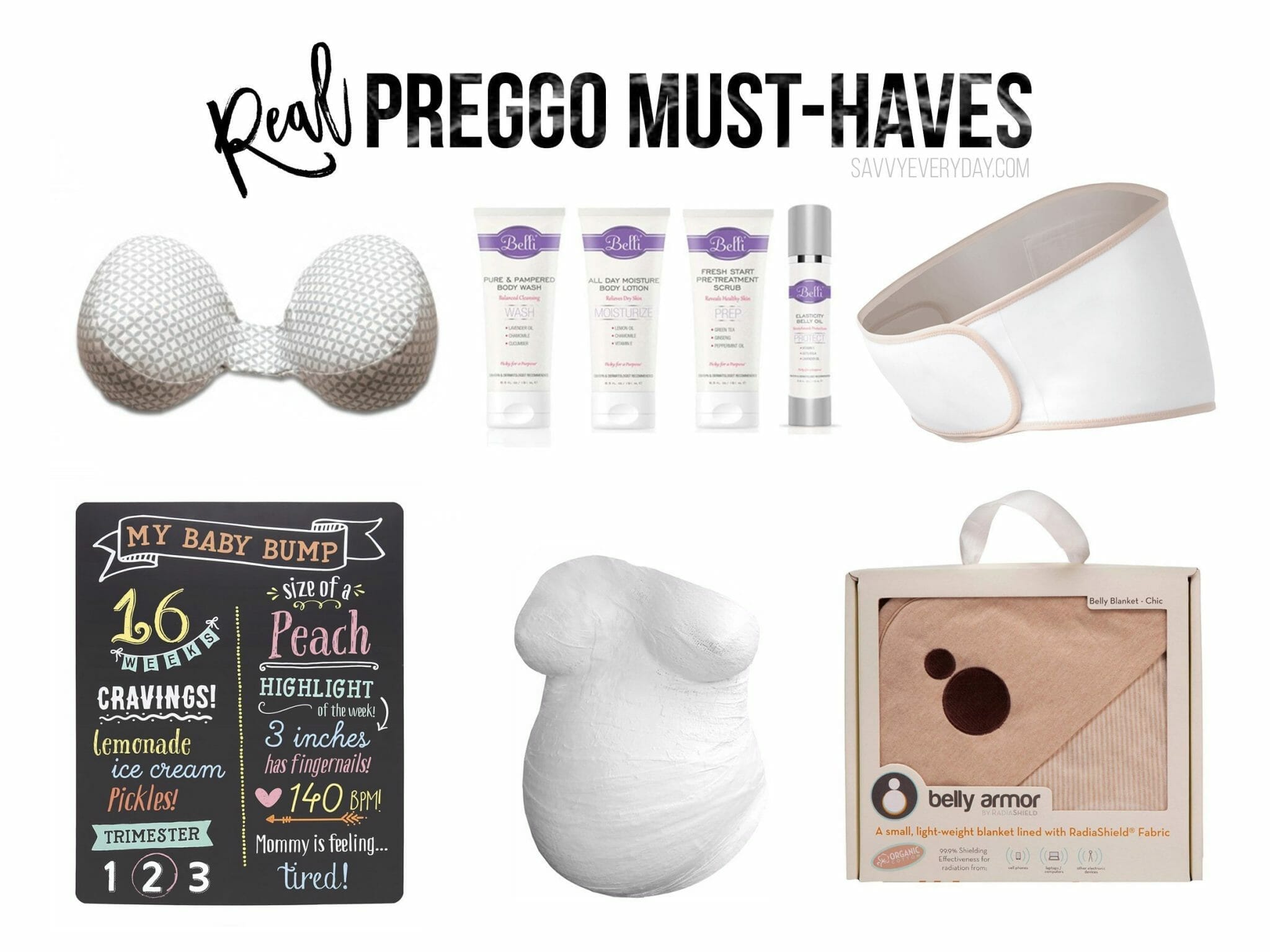 Safety
Belly Armor Chic Organic Belly Blanket
If I'm not working on emails, marketing, posts or photos on the computer then it's fairly likely that I'm catching up on social media with my phone. I'm constantly around electronics and radiation in general, so when I learned about Belly Armor's products that product baby from radiation exposure I was thrilled. Seriously, this product couldn't get to me soon enough. I'm so glad that I have this blanket to rest over my belly. When baby's born I can wrap him in the blanket or use it for nursing, too! I think it's super important for mom's to have something like this nowadays, whether you're on the computer a lot or not.
Support
Do you have round ligament pain? Get this immediately! I waited too long to get this support and I'm kicking myself now for it. Not all back and belly supports are the same, and maternity ones are super hard to find! When I went into a maternity store they didn't have my size or one that was just right. The Upsie Belly is a wide enough band that it offers a really great amount of belly and back support with the added bonus of an amazing hot or cold pack insert. You know that cold/hot pack is coming with me in my hospital bag for birthing. The other feature I love? It has a great amount of Velcro for actually putting on the band! I bought a different support band before getting this one that just couldn't fit right because it only allowed for closure with the bottom two inches of Velcro (not enough to pull it across securely). Using the Upsie Belly has lessened my underbelly pain and weakness when standing up & walking around.
Comfort
Boppy Bump & Back Pillow Support
I can not stress enough how important this Boppy pillow is during pregnancy. I think I got it at about 32 weeks preggo and wish I had gotten it sooner since I have had so many aches and pains this pregnancy. You know how you're supposed to sleep on your side? Yea, that's tough when you co-sleep and your kiddo wants to sleep on you, or even in general when you have a tendency to roll onto your back at night. I was getting hemorrhoids and some other bad stuff because my blood flow was restricted by my not sleeping on my left side. This pillow gives me both back and belly support while maintaining a side laying position both me and baby need. Another bonus? It isn't bulky like when you try to wedge a bunch of pillows around you so getting in and out of bed is so much easier. I also use it as a back support when I sit up in bed, but it can work well between the legs. My mom is having hip surgery later this year andis thinking about getting one of these for her post-op healing now that she's seen mine!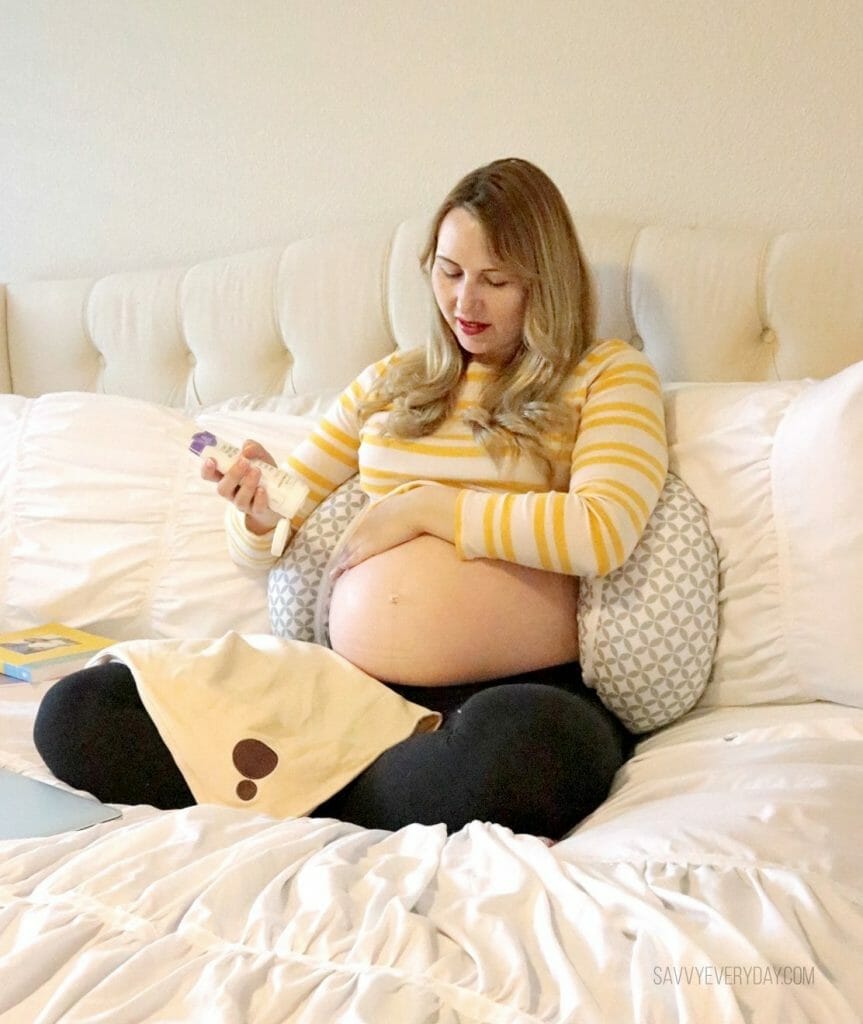 Pampering
Belli Ultimate Stretch Mark Protection Kit
I've tried other stretch mark oils and belly creams that I thought were good, but after using this set I don't think I could recommend anything else — It's my favorite! The faint hint of lavender is so relaxing and the moisturizing cream is exactly what my super dry preggo skin has needed. Neither of these feel greasy and they make a great combo together all over the belly or other parts of the body. I wish Belli products were organic but they're still amazing for during and after pregnancy. I'm pretty sure the Elasticity Belly Oil and All Day Moisture Body Lotion are coming with me to the hospital for a little calming and aromatherapy, too. The body wash and scrub? Oh my, they make me feel clean and like I'm at a spa.
Belli Brighten Up Face & Eyes Duo
I told you I love Belli products! This face duo is a huge face saver. There's a certain point in pregnancy where you just kinda feel like you're not glowing, you know? With a big kid and feeling so tired all the time I was seeing dark circles around my eyes for a while there. The Healthy Glow Facial Hydrator smells great and helps keep the right kind of moisture in my face. I use it with another facial cream after spraying on a toner mist, then follow up with the Eye Brightening Cream before applying makeup.
Belli Complexion Protection Duo
I don't break out too often, but because of some of the processed foods I've been eating thanks to cravings this pregnancy I've had some flares and as soon as I used the Anti-Blemish Facial Wash in this duo it went down. By the next morning, my pimples were barely there (after one use)! The other half of this set is a Pure Radiance Facial Sunscreen with SPF 25. I was actually using this as a sort of primer/foundation on my face before pregnancy. I forgot where I picked it up but because I'm so fair the faint tint matches my skin tone and I could really go out about my day with just that on. I love to apply it, followed my my normal foundation for better coverage, though.
Milestones
Keeping track of my growing bump has been so important this pregnancy. I didn't take a lot of bump pics when I was pregnant with S, and when I did I never used a sign or anything to let me know later when the pictures were taken! I love this chalkboard because it can be used throughout your whole pregnancy to track everything for the baby book later, and it would be super cute to have in the hospital room just before push time. I started making just week-by-week numbers, too. Those free printables are available here on the website (I make a new one each month), but they don't give you all the details like this chalkboard does.
Keepsake
This one is more fun than functional, but I just couldn't leave it out of the list. Creating a belly cast is so fun during pregnancy! You can save the kit for a fun activity at your baby shower, or make the cast ahead of time so that everyone at your shower gets to decorate it. My husband helped me make the belly cast with S' pregnancy then I painted it and asked everyone to sign the inside with well-wishes at my shower. A few years ago I added mosaic glass work to the cast in the same colors/design as the paint and it's just gorgeous. So I of course had to get a belly cast kit for this kiddo. I'm excited about having a cast for both kiddos and seeing how different the preggo belly was with each.
What are your preggo must-haves?
Title:
6 Things You'll Want Before the Baby Shower
Mentions:
baby bump, baby safety, baby shower, Belli Skin Care, Belly Armor, Belly Bandit, Boppy, Boppy pillow, Family, family planning, must-haves, natural pregnancy, Pearhead, preggo, pregnancy, pregnancy pain, Pregnancy pillow, pregnancy safety, pregnancy support, radiation, registry