8 Cool Travel Items For Smoother Family Trips
Not every family vacation is smooth sailing. If you plan on spending 2 or more hours in the car as a family, you may need some extra help.Keep reading for a few handy travel items for smoother trips.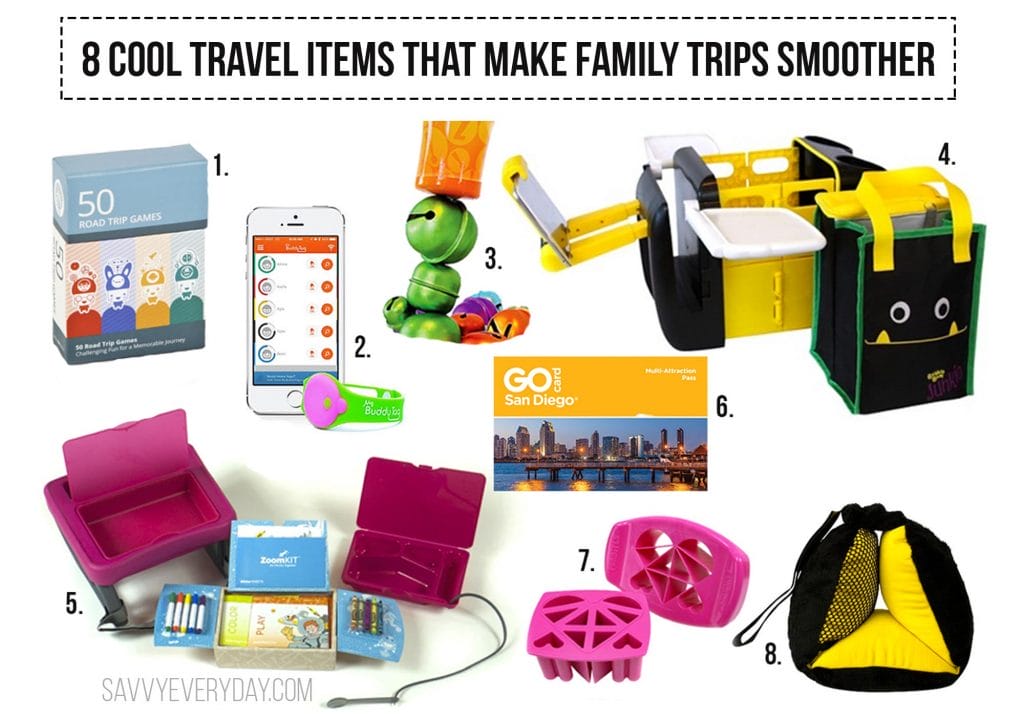 1. Deckopedia 50 Road Trip Games
This compact little box is filled with games in the categories of Classics, Brain Games, Pop Culture, and Just For Fun. Each card within these categories describes the game, appropriate ages and rules. I took this on an 8-hour drive to So Cal with my mom, nephew, sister, and daughter and it was a lot of fun to play with the adults. The 8-year-old was also having fun, but my 4-year-old just didn't understand the rules yet so we ended up stopping the game early before she had a tantrum. This is a fantastic for long waits at the airport or drives in the car with kids. deckopedia.com, $17.
Great For: Ages 6 and up, Car rides, boat trips, airport waits.
2. BuddyTag Child Safety Wristband
Losing a child at a crowded amusement park is a nightmare parents with Buddy Tag don't need to worry about anymore. This child-friendly silicone wristband is available in a variety of colors kids like, and has a little Buddy Tag which can be tracked using a free app on your phone! The best part? The app will notify you if your child walks off, and the child can press a button in case of emergency to notify you that they're in trouble!
This gadget is perfect for airports, crowded amusement parks (like Disneyland), playtime at a local park, and general shopping with kids. I do wish that the GPS worked further than 100 feet so this could be used for kids visiting other family or at child care, but like that it does give a last known location from that radius if a child passes it. My daughter was eager to test this out because it made her feel like she had an adult watch on, and she loved that she could press a button to let me know if she needs me (but it is really hard to press). We tried it out at Knott's Berry Farm and it definitely came in handy for me! mybuddytag.com, $40
Great For: Families with kids who like to wander off, vacations to crowded places.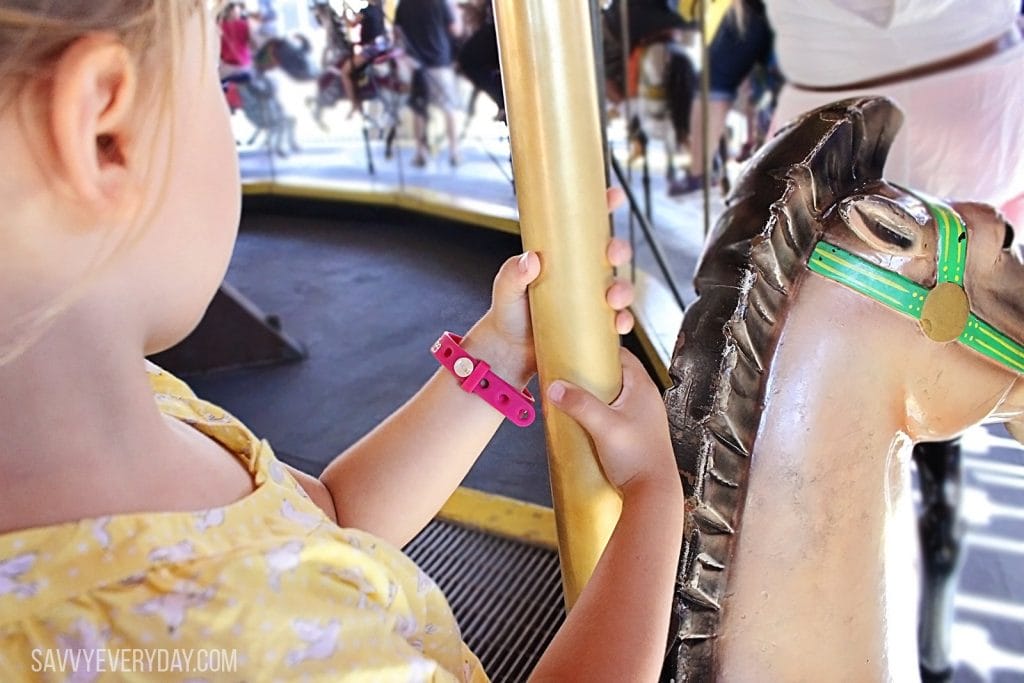 3. Wiggles 3D Bellz!
Finding a game everyone can play on a trip isn't easy, but Bellz! figured out how to do it. My 4-year-old daughter and her cousins ages 2 and 3 all really enjoyed playing this game, and the adults did too! I really like that it's about the size of a banana and doesn't take up much room in a purse. You simply unzip the pouch and it turns into the game board with the bells and magnetic stick on it (just be careful you don't spill the bells). Each player picks a color to try to get with the magnet and whoever gets the most wins.It isn't as easy as you might think to get just one color, so the game lasts a good amount of time, but not too long that kids get frustrated. This is a fun game for long airport waits, or playing with family and friends once you get to your travel destination. wiggles3D.com, $20
Great For: All ages, passing time.
4. BubbleBum Junkie
This is so rad! Ideal for kids in booster seats (like the BubbleBum), this cargo carrier hooks into your car and provides two cup holders, two fold out tables, a tablet holder for watching shows both kids in the back can see, an insulated lunch bag, and more room for storage. When you're all done with the Junkie, every part folds back in its' place and the Junkie folds up to a few inches. Since my daughter is in a tall rear acing car seat this item didn't work for us as intended (she can't use the tables or tablet holder), but we still enjoy using it to store her car cargo, and she loves it. Can't wait to use it when she's in a booster! Plus, this thing is tough. You know how kids are always breaking your things and their own things? Well, the Junkie I got to review was dismantled by my daughter and thrown around quite a bit so I was afraid it was broken — nope — it just snapped back together like a Lego build. I love that. BubbleBum.co/us, $40. Savvy Every Day interviewed the founder for our Mompreneur series, check it out, here!
Great For: Storage, camping, car rides with ages 7 and up.
5. ZoomKIT
Created by a mom who struggled with long commute times, the ZoomKIT ($50) comes in fuchsia or turquoise and allows for different insert options. Need to feed you kiddo dinner while in 2 hours of traffic on the way home? Try the bento-style inert ($20) with built-in spork that won't fall. If your kiddo gets bored easily but you want to decrease screen time, the ZoomART ($20) insert complete with crayons and activity sheets that won't get lost is a great option. Because it's made to be safe during travel, the desk itself is lightweight. I received the ZoomKIT & Activity Inserts set in Fuchsia ($90) for this review and my daughter and I love it! She doesn't want to use it in the car (doesn't fit well with a bulky convertible car seat, best with booster seats), but we likes using it as a drawing desk at home, hiding secret treasures in the inserts, and using it for craft time. We took this camping with us and it held all of her necklace making items together really nicely, then she used it as a table for eating, and my mom even used it as her vanity when putting makeup on. I do wish that the legs folded down instead of just coming off to fold everything flat, but since it doesn't, I definitely recommend getting the ZoomTOTE ($54) offered for this item. I'm going to bring it next time we go on an airplane so that S has her own table she can reach (with little activities built in). kidsgoco.com, Prices range
Great for: Camping, eating, drawing, airplane, at home, at the park.  For more ideas on how to use ZoomKIT, check out their list of uses, here (love this)! Best for ages 3 and up.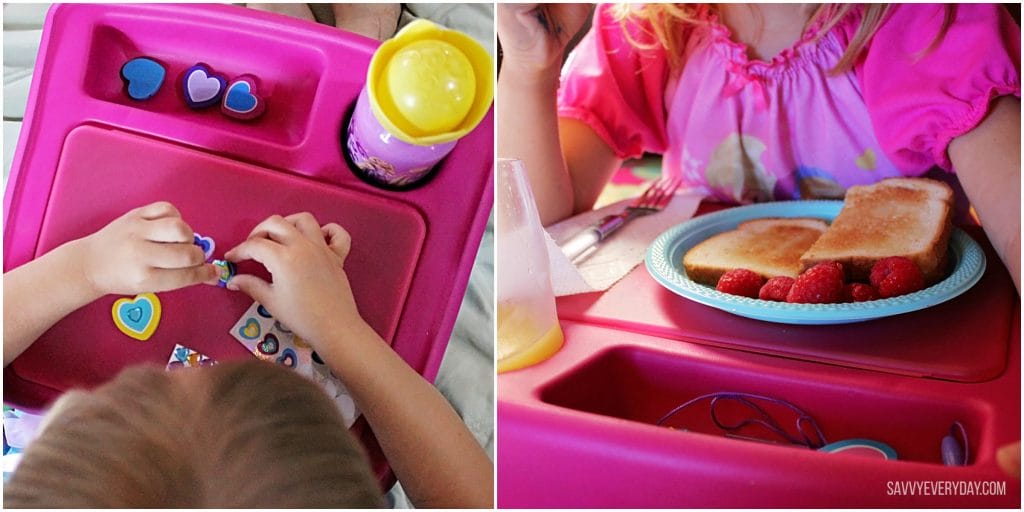 6. Go Card
Before you go on vacation, be sure to check out the activities and attractions available through Go Card from Smart Destinations first! Some of the top things you would want to do on vacation are included in their all-inclusive passes (but you can get passes with just a few specific things, too) good for anywhere from 1-7 days for less than what you would pay for tickets at the gate. I tried this out in San Diego with the one-day option ($84 adult, $79 child ages 3-12) and went to Knott's Berry Farm with my daughter and cousins. Once I chose my card type, it was emailed to me and all I needed to do was show my email to Guest Services at the park. Since you can go to as many attractions as you would like with the all-inclusive Go Card option my plan was to visit the main theme park and the water park to really get a great deal for what the card would cost, but we arrived late and ended up going to just the one park. Using the Go Card requires planning and timing everything out if you want to use a single day pass, which isn't easy with kids or if the attractions you want to do are pretty far apart, so I think the Go Cards with multiple days are actually a better option for families. Next time I'm in San Diego I'm planning to buy the Go Card for their famous zoo, and I'm sure there are some cool attractions I would never had known about in Chicago that I can check out with this, too. I really like that this card saves you money on ticket prices and also serves almost as a trip planner with ideas for what to do. smartdestinations.com, Prices vary
Great for: The whole family, destination travels/vacation
7. FunBites
These little cutters make school lunches and packed snacks on long trips fun. I love the heart-shaped one for slicing heart-shaped fruit! They're coming out with a Minions cutter, too, which should make some pretty entertaining sandwiches and fruit cuts for the kids. My daughter loves the idea, and I think I just might get a bit more creative with her food with the help of one of these. I was sent the cubed cutter, but plan on ordering another shape. funbites. com, $14
Great for: School lunches, healthy (but fun) travel snacks
8. BubbleBum Sneck
This fun twist on the travel pillow can be used in the shape of a normal pillow for adults on an airplane, or attach to the car's headrest for sleeping kiddos on long drives. It didn't work out for my daughter since she's in a RF car seat, but my moms used it on her flight to visit my brother recently, and my nephew (who uses a booster) used it during our trip to San Diego. I like that the Sneck is soft and has a little holder for an ipod or something that the kiddo may want to tuck away there during their nap. bubblebum.co/us, $15
Great for: Ages 7 and up, car rides, airplanes
I was provided with all items mentioned to review for this post. All opinions are my own based on my personal experience with these items. Please use these products as intended and do not leave your child unattended while in use. Also use discretion when making the decision to use an item in the car with your child.