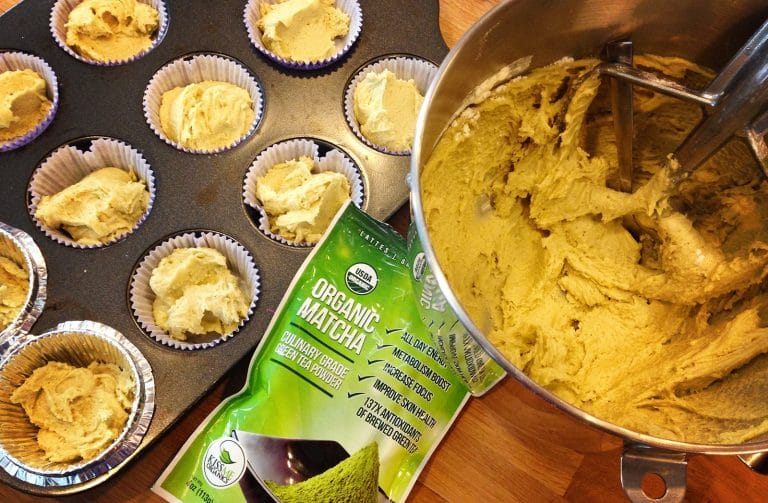 In all honesty, I made these cupcakes about a month ago and I've had the Organic Matcha Green Tea Powder ($25, Amazon) that KissMe Organics sent me for even longer. But since I'm just now getting to post about this, I think it could totally be a recipe for green monster cupcakes (just pretend I added scary eyes and some dyed coconut shreds for hair).
I was sent a digital recipe guide with more than 50 recipes for using green tea powder in lattes, shakes and baked goods. I had no idea that green tea powder had so many uses!A few that shocked me but I'll have to try are: Macaroni and cheese, Matcha-Mole!, Whipped Matcha Honey Butter, Green Tea Tiramisu, Matcha Dusted Truffles, Lemon Matcha Waffles, Mint Matcha Milkshake, and Basic Matcha Chicago Pizza Dough.
I learned that this green tea powder is an unfermented green tea from the Camellia sinensis. The leaves are grown in the shade so they can become greener and full of amino acids to reduce stress, help with weight loss and improve energy (with the right amount of powder). So how is this stuff different from what's in your tea bag? Well, the fact that it's grown in shade and unfermented are two major differences from the stuff in your tea bag, but another major difference is that unless your tea is organic and non-GMO, it has pesticides in it. KissMe Organics says that one glass of Matcha Green Tea is equal to 10 glasses of brewed tea as far as the nutrients and antioxidants you're getting from the drink (plus you're eating the whole leaf instead of brewed water).
I decided to try my hand at making green tea cupcakes. The batter was this bright, beautiful green, which was kinda fun. My batter came out a bit thick so I wasn't extremely confidant in my creation, but once the cupcakes came out of the oven and cooled off my daughter was eager to help me find out. She told me how delicious her cupcake was and then decided they were all her cupcakes and no one could have them, but that they needed whip cream. She was right. I was feeling overconfident after my accomplishment and tried my hand at green tea whipped topping. I folded those peaks quite well and it was a proud moment for myself . . . until I tried to put the frosting on the cupcakes. Then . . . it didn't look so good. But it tasted great!
My daughter and I shared a few cupcakes before I packed the rest away in a Krispy Kreme box for my husband to take to work. I figured I'd surprise his co-workers with cupcakes. "Oooh doughnuts! Wait, these are cupcakes. . . Wait, these are green tea cupcakes!" His co-workers enjoyed the green tea surprise cupcakes almost as much as my daughter.
What's the most interesting thing you've ever made with green tea?
I was sent a package of Organic Matcha Green Tea for this review.