Restaurant in Review: Tidepools
There's no denying that one of the major things that can bring families together is food. But eating out at a swanky restaurant to celebrate something special isn't always in the cards for mommies or daddies because we can't all afford the expense of eating out and paying a babysitter . . . or even find the right sitter! Which is exactly why I was so thrilled to celebrate my 30th birthday (yep, I'm feeling super old now) and wedding anniversary at Tidepools while at the Grand Hyatt Kaua'i Resort and Spa.
On the outside, Tidepools looks like an adult-only date night restaurant (it's one of the Most Romantic U.S. Restaurants on OpenTable) — it's basically thatched-roof bungalows atop a koi-fileld lagoon next to the ocean! But the restaurant is actually very welcoming to the whole family. Tidepools offers both adult and keiki (children) menus with fresh seafood and meat options, healthy veggies, and yummy sea salt bread (kind of tastes like addictive pretzel bread) served with garlic butter. Because Tidepools is so inclusive of the whole family, you can still enjoy an amazing dinner out without the pressure of finding a sitter, or feeling like you're ruining other people's evening by bringing the kids (but Camp Hyatt has evening sessions if you want the alone time).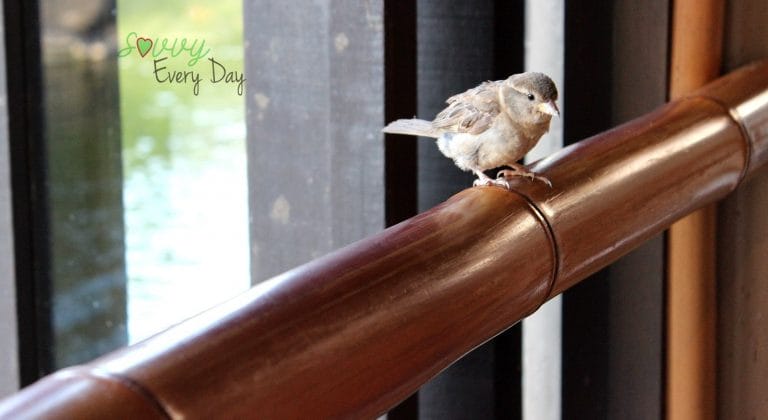 In keeping with the Grand Hyatt Kaua'i open design, Tidepools has large open shutter doors that overlook its' koi-filled lagoon, giving diners the feeling of an enclosed space that is also extremely open and connected to the natural world. The space is intimate but not far off from the Salt Water Lagoon at the resort, or even the ocean itself. You can sit at a table inside, or if you have a larger party, choose to reserve one of the larger private tables set out more on the water, away from the rest of the tables.
My daughter, S, had some fish food leftover from when she fed the fish in the lagoon earlier (the hotel lets kids feed the fish daily at 9 a.m.), so she immediately started tossing fish pellets in the water for the koi to devour while we waited for our server and to order. The koi loved her generous portions and swarmed toward us — it was quite a site and kept her occupied when she would have been otherwise cranky and tired. Some little birds paid us a visit and serenaded us with song as well (no predators on the island, so there are a lot of chickens and little birds, which I actually loved).
S ordered the Chicken Katsu with jasmine rice, vegetables and homemade katsu sauce for $12. Her food was pretty tasty, but she especially enjoyed the rice (and buttered bread mentioned above). The online menu says that the kids meal includes a small salad and scoop of ice cream but we didn't get either of those with her meal. She was given an activity menu and some crayons to keep busy while at the restaurant, though, and S had fun watching the fish swim around next to us.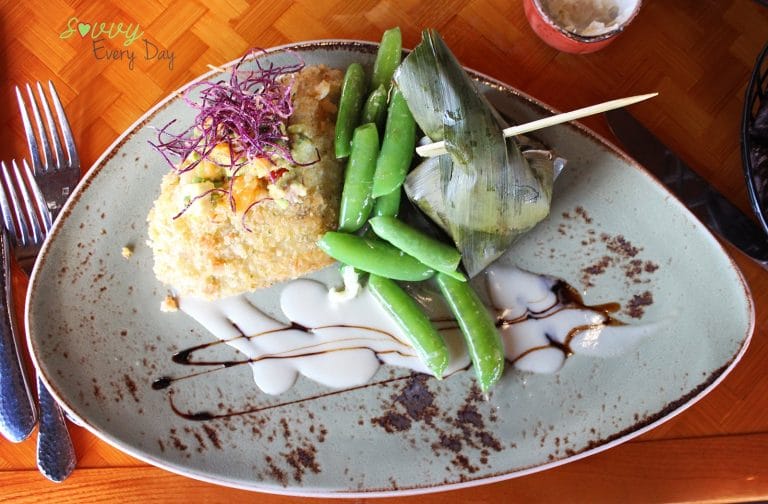 I ordered the Macadamia Nut Crusted Mahi Mahi with coconut-jasmine rice, papaya-avocado relish and roasted banana-macadamia nut sauce ($42). The sauce is so delicious that I had to ask for extra — it compliments the mahi mahi really well. The fish is soft and fresh, so the crunch of the macadamia nut is perfect! I really enjoyed the flavors of my dish.
My husband ordered the Chef Special of the day. I can't remember what it was called, but it had lobster, swordfish and scallops with coconut rice and asparagus for around $46. I'm not typically a fan of scallops because they usually come out chewy, but the scallops in this dish were cooked to perfection. They were like butter, only even more delicious, and the lobster was just as good. I think I ate most of my husband's meal before he could. For dessert, we took a recommendation from Yelp! and had the Molten "Lava" Cake — ice cream, chocolate streusel, raspberry coulis, and salted English shortbread for $12. It was good (and it had a birthday candle!) but I don't like sea salt on things (as an ingredient, yes, but not as a topping) so I personally didn't care for the salt on the shortbread (sour and salt). It's a craze right now, though, so I'm sure many people love the idea of salty shortbread.
Overall? I give Tidepools a 4 out of 5 stars for being a family restaurant — they have food options and entertaining sites for kids, but I can see the open shutters being an issue with some curious children, and would like if the kids meals came with a drink of some sort and the salad listed in the menu. The prices are expected for the gourmet food you receive from California native, Chef Jayson Thompson, but slightly cheaper prices would make dining at Tidepools affordable to more families. As far as my rating as a restaurant for dates? Um . . . 5 out of 5. I need to go back and order all the lobster!
Savvy Every Day was given the menu items shown to try for this review, but the opinions are of the writer alone and no one else. This is not a paid post.