10 Things Families Should Know About Grand Hyatt Kaua'i Resort and Spa
Vacations can be surprisingly stressful: finding out activities to do, a bedbug-free place to stay, good food to eat, and sights to see all while staying within budget and appeasing all most family members is tough! I've discovered that Grand Hyatt Resort Kaua'i and Spa makes a lot of that easier for families. Even before I became a mom I was a sort of a consumer critic and this place has totally surpassed my expectations. Reading about it online certainly isn't enough, but I'll try to be as informative as possible. Here are some amazing features at Grand Hyatt that are huge perks to families (some of which you may not see in other online descriptions). Read through them all then share your favorite in the comments below!

1. The Bathroom
The bathroom has a double vanity sink in its own spacious room, easily closed off from the rest of the general room area, and is large enough for multiple family members to get ready in at once. The toilet is in a stall, complete with telephone and a remote control for the smart potty's built-in bidet. Not only is this toilet amazing for potty training toddlers who tend to miss a bunch or get toilet paper stuck (say goodbye to wet wipes!) during serious potty breaks but it's been known to make adults giggle the first time they use it as well.
2. The Forgotten Must-Haves
Parents are schedule keepers, problem solvers, coordinators, and so many more things for the kids and spouse that sometimes doing things can feel rushed and items are missed or left behind. (I forgot my toothbrush after making sure to get the husband and kiddo's toothbrushes for the trip.) The Grand Hyatt must totally get this because they give guests little travel size versions of most common toiletries that may be needed but were accidentally forgotten. Need a toothbrush? They have it. Forgot soap to wash baby? They'll send you a whole little travel kit!
3. On-Site Laundry
Whether you over-packed or under-packed, chances are that your family will find some mud in Kaua'i. Rather than packing your muddy items, letting a food stain set in on your kiddo's new shirt, or having to deal with the mountains of laundry when you get home, opt to use the complimentary washers and dryers at Grand Hyatt Kaua'i Resort and Spa. Each wing has its own laundry room for guest use and some laundry soap for about $2 (or you can bring your own travel size laundry soap and it's free). Simply set your clothes on the desired cycle then head to the pool or another activity for about 30-45 minutes before returning to move your laundry to the dryer.
4. Flavorful Health-Centered Grub
Hotel restaurants are often labeled as convenient and expensive, but not always good. Though I only went to here (review here), The Dock, Llima Terrace, and Seaview Terrace (4 of the 9 restaurants available at the Resort) the food was always delicious. Each restaurant showcases island flavors in a different way, but mostly with the use of passion fruit, guava, macadamia nuts, pineapple, and papaya. Because Kaua'i is an international destination, the restaurants offer gluten-free, organic, and vegetarian options on both the adult and keiki (children's) menus.
5. On-Site Activities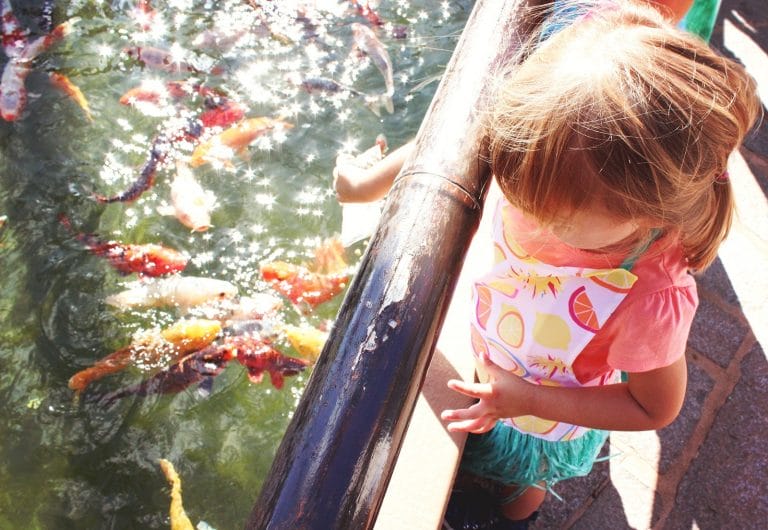 Though there are plenty of activity tours in the area, Grand Hyatt Kaua'i Resort and Spa is so packed with things to do that you almost don't need to even leave the resort on your vacation! There's a calendar with scheduled activities for the month, as well as daily activities available as part of a guest's stay at the resort (and even a luau). Some of the activities are: workout classes for all fitness levels, parrot talk time, lei making, water slide races, hula lessons, and ukulele lessons. I made it to an aqua aerobics class on my last day in Kaua'i and it was super fun. I'm so out of shape that lately I couldn't handle an hour-long workout class, but doing the intense workout in the water (and Jen, the fabulous instructor) made it fun and doable.
6. Camp Hyatt
Kaua'i is a beautiful island with so much to do, but not every activity on the island is for kids of all ages. If you have a child under 7 or 8 (the minimum age for most tour activities around Kaua'i), then Camp Hyatt is a vacation saver. Kids ages 3 and up can attend camp for half a day, full day, or at night for about $60-$80 a day depending on the amount of time you choose. My daughter was given a full day at Camp Hyatt for this review, and so that I could enjoy a spa day at Anara Spa on my birthday. While S was there she met with parrots, made a picture frame, played with a giant checker board, and made new friends. The camp counselors even took her to the pool for a bit. I don't trust people with my daughter very easily, which is why I've never had a babysitter who isn't my mom or sister, but I immediately trusted the camp staff and facility for the day.
7. The Education
Throughout the resort there area opportunities to learn about the Hawaiian culture in many ways: From volunteering opportunities while in Kaua'i to lei making and hula dancing. The hallways of the resort also have different historical facts showcased on the walls, and a card explaining a Hawaiian story or bit of history is left on guest beds with a piece of chocolate at turndown service every night. Kaua'i itself is educational, though. Just walking around the resort, and down to the beach allows parents a moment to talk about fish and birds (in Tidepools' pond), smell the flowers, notice the bright colors, hear the ocean, and feel the texture of the popular bumpy Kaua'i leaves (saw them everywhere we went).
8. The Pools
The Grand Hyatt Kaua'i Resort and Spa gets quite busy during peak season, but with several multi-level pool areas it never feels like there are too many people in the pool at once. In fact, I felt like my pool time with family was rather exclusive because all the guests are so spread out between hotel activities and the many pools. There's an adult-only pool for ages 14 and up, a kids area with a mini slide, a huge water slide for older kids and adults, a real looking (and tasting) salt water lagoon, and at least 3 hot tubs.
9. The Design
The pictures online are beautiful, but when you walk into the main lobby you're transported to the bliss of 1930s island living. Everything is grand, open, and beautiful (I am in love with art deco). The lobby is enclosed, but open to the ocean. The ceilings are high and grand, and the use of Hawaiian woods and sea-like colors create a serene scape. The resort is also stroller, wheelchair and cane friendly.
10. The Staff
Grand Hyatt Kaua'i Resort and Spa pays attention to every little detail from the look of the very real seeming Salty Water Lagoon in the pool area to the appearances of all of the pleasant, happy staff (My family checked out another well-known hotel on the North Shore of Kaua'i and the staff didn't all have the clean hotel uniforms or pleasant demeanor). I visited the resort during my birthday and wedding anniversary so staff took note of these special occasions and made it even more special with a "happy birthday" or "happy anniversary," as well as surprising us with gifts in the room like a giant heart made of orchids the night we returned from a luau. There were a ton of honeymooners, anniversaries, birthdays, and even weddings at the resort, but the staff made us feel as if ours was the only special occasion happening (and I could tell they did the same for others).
Insider Tip: Sign up for the Hyatt Gold Passport (free) to get discounts on meals and earn points toward a free stay. If there's more than 2-3 people in your group it may benefit you to sign up for the Grand Club during your stay too.
I was not paid for this post and my opinions are my own. I was given a free day for my daughter to attend Camp Hyatt for this review.
Title:
10 Things Families Should Know About Grand Hyatt Kaua'i Resort and Spa
Mentions:
destination review, dinner, family vacation, family-friendly hotels, grand hyatt, grand hyatt kauai, htings to do in kauai, kauai, kauai vacation, pool, review, tidepools, vacation