Pink & Gold Ballerina-Themed First Birthday
My sweet baby girl turned one a few months ago and I'm still in denial that it happened. Time just flew by so fast! It feels like I was in the hospital holding my little baby girl in my arms just yesterday. How did a year creep up so fast?! When it came time to start planning her first birthday, I wanted to make sure it was two things: Pink and girly! After many hours on Pinterest, I decided on a ballerina theme! I chose Pink with Gold accents for the colors, and I have to say it turned out so beautiful— Exactly what I envisioned.
For the décor I purchased light pink table clothes for all of the tables. For a little extra detail, I bought two gold table cloths and cut them into strips then laid them in the center of all the tables. To add some height, I ordered mylar balloons from the Dollar Store. I had them group two pink hearts and one gold star balloon together with weights for each table. This was the first time using mylar balloons and not latex and I have to say they look way nicer!
TIP: When ordering balloons for the tables, make sure you let the store know they're for the tables and not the floor, so they can make them table height instead.
To make each place setting extra pretty, I placed a white doily under each pink plate. This also made the plate stand out a bit more against the pink tablecloth. I then rolled the cutlery using gold napkins and tied each one with pink curling ribbon. For the finishing touches, in the center of each table, I placed pink pompoms and fresh flowers.
The dessert table was probably the biggest hit at the party. I used the top part of a hutch that I have (which has sentimental value) as the backdrop for the dessert table. On the shelves, I added gold picture frames with pictures of my daughter from her 6-month photo shoot, ballerina slippers and more pink pom poms and decor that I made. I also bought tall gold candelabras from Homesense. I used these to add more height at the back of the table, and placed more pink pom poms on the top of them.
The food on the table consisted of cotton candy from SugarPop Rentals, a two-tier ballerina cake from We Bake Cakes, Pink French Macaroons from Cupcake Goodness, and ballerina slipper cookies fromPinspired Creations. I also ordered caramel and cotton candy popcorn from Kernels Popcorn that I filled in pink popcorn boxes that I purchased from Party City. To add a personal touch, I made ballerina tutu outfits in pink and gold and placed them on both the popcorn boxes and cotton candy tubs. I also had a few containers filled with pink and gold candy as well.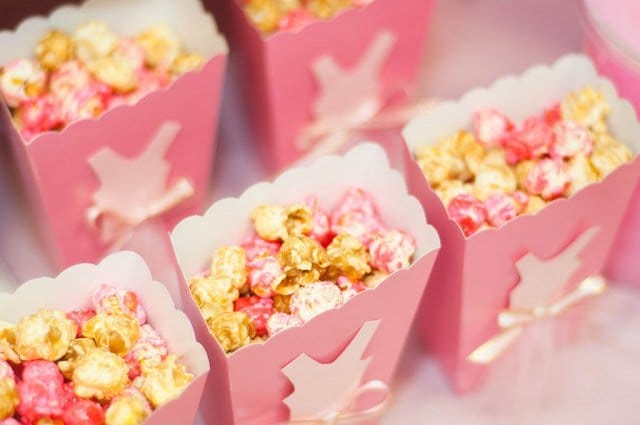 For the loot bags, I bought plain white bags from the dollar store and decorated them with mini ballerina tutu outfits with a pink ribbon. The ribbon helped create a crisscross effect in the center, which looked like the ribbon on a pair of ballerina shoes. So cute! I also added pink and gold tissue paper and curling ribbon to each bag.
Here are some shots of my sweet baby girl eating her cake. She was so cute! She just couldn't wait to get her hands in the cake. I love her so much!
We had so much fun celebrating her birthday with all our family and friends. It was a great day filled with many memories that I will cherish forever.
Natasha Macina publishes Livn' Life with Style — A lifestyle blog Follow her journey by connecting with her on Facebook.