13 New Kids Books to Read This Summer
It's officially Summertime— The perfect time for laying out on a picnic blanket with some treats and a good book . . . or 13. Keep up with the Summer reading programs, and keep bedtime routines interesting with these 13 new books for Summer.
Savvy Every Day Received books to facilitate this review (because we can't give an honest review without actually using the item). This is not a sponsored post but may contain affiliate links.
My Amazing Dad, written by Ezekiel Kwaymullina, illustrated by Tom Jellett: This book is perfect for kids to read with their dads or other loved ones about their dads. It starts by saying that their dad isn't good at mowing the lawn, but he is good at making mazes. The positive outlook on every page shares a better way to look at different situations/outcomes and possible disappointments.
Cockatoo, Too by Bethanie Murguia: Looking for a simple read with bright colors, adorable pics, a Summer feel and musical repetition? This is the one. Perfect for toddlers ages 1-4!
My Grandpa Is a Dinosaur written by Richard Fairgray, illustrated by Terry Jones: No one in the family believes that grandpa is a dinosaur, but he is— He even lives with other dinosaurs! This cute tale shares a little girl's perspective of her family and the special bond she has with her grandpa.
The Adventures of Camp Nana Papa by Donnie Cranfill, illustrated by Jeffrey Ebbler: Where do kids go during the Summer? Usually nana and papa's house, right? This is the perfect book for those long trips to the grandparent's house as it sheds light on the magical relationship between grandparent and grandchild, and all the adventures they share.
The ABCs of Yoga for Kids by Teresa Anne Power: Summertime means getting outside to enjoy the day and spending time as a family learning new activities! This fun Summer read comes with a musical CD (my daughter loves the circus song) and introduces kids to yoga in a super friendly way using visuals and the alphabet. This is a favorite of mine since I'm trying to teach my daughter more about self-care and wellness as she gets older (it wouldn't hurt if she learned peaceful behaviors, either).
How the Crayons Saved the Rainbow by Monica Sweeney, illustrated by Feronia Parker-Thomas: When friends Cloud and Sun have a fight they stop making rainbows, causing everything in the world but a small pack of crayons to turn gray. Determined to make life colorful again, the crayons start making rainbows. This colorful book shows kids that beautiful things come from working together with friends and thinking of others. The book jacket has a lovely shimmer and this has become my kiddo's recent "read it again" book.
Fingerprint Princesses and Fairies by Ilona Molnar, Natasha Mossbauer & Silvia Keller: This book is a Summer must! It's a Pinterest pinner's dream, really. Recommended for ages 8-12 (but would be great for 5 & up) this book turns everyday fingerprints into hours of magic and fun. It's amazing what you can make using just your fingerprints and imagination!
Fingerprint Monsters and Dragons by Ilona Molnar, Natasha Mossbauer & Silvia Keller: Don't have a fairytale fan on your hands? This book teaches kids how to make monsters, dragons and more using fingerprints instead. It's oodles of fun and my daughter has been over the moon with it!
Penguin on Vacation by Salina Yoon: This is a heartwarming story about vacation and making new friends when you're away from home.
Penguin's Big Adventure by Salina Yoon: When Penguin sets out to be the first Penguin at the North Pole he had no idea he'd come across a Polar Bear. He'd never seen one before and didn't know if they were nice. It turns out the Polar Bear felt the same, and so the two became good friends and went on adventures together. This story is a great read for kiddos who are about to try going to camp or accomplish a goal but are nervous.
Found by Salina Yoon: When Bear finds a stuffed bunny on the road he immediately begins looking for its' owner, but soon discovers that bunny had already found the perfect one. In this story, children learn about doing the right thing (try to return a lost item to the owner) and finding new things that are special.
Stormy Night by Salina Yoon: Does the change in weather or scenery make your kids nervous? Follow along as Bear shows worry during a storm then learns ways to calm down and feel better about sleeping at night.
Lilla's Sunflowers by Colleen Rowan Kosinski: This sweet story is perfect for kids that need to be away from their parents for the Summer. Lilla's dad gives her Sunflower seeds to plant before going away for military duty and she worries that he won't be able to see them grown by the time he gets back. But he takes his own seed with him and grows a Sunflower for all his friends to see. Soon he returns home and shares how special Lilla's Sunflowers were to everyone he worked with.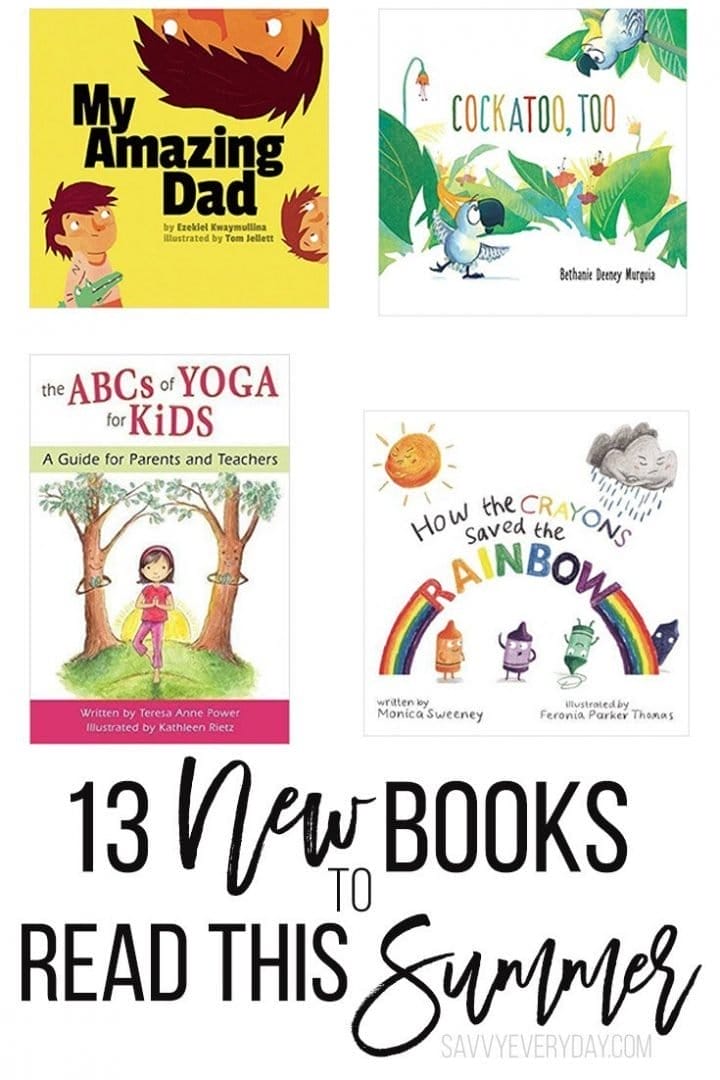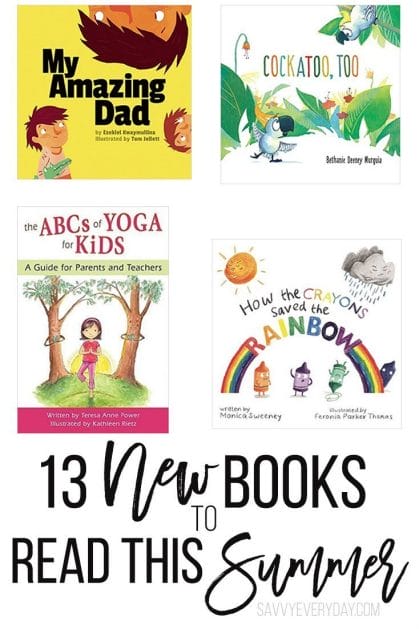 What are some of your favorite new Summer books? Share them in the comments below!
Title:
13 New Kids Books to Read This Summer
Mentions:
family activities, kids activities, kids books, new books, savvy review, storytime, Summer, Summer reading, Summer reads, Summertime