Car in Review: 2016 Mazda6
After having kids any dream of that cherry red sports car is out the window, right? Well not necessarily! Mazda has managed to marry a 5-passenger sedan with a sports car for a little zoom zoom that gives families a sense of safety and vroom. I took the 2016 Mazda6 (Starting at $22K) up to Truckee for Friendsgiving recently (yes, I've been going there a lot lately) to test out how it fares on suburban, rural and freeway roads with a kiddo and some Friendsgiving treats in the car. I was surprised by this car, for sure, and you wouldn't guess why! Keep reading for my "Ooh!" and "Hmm" family car breakdown on the Mazda6.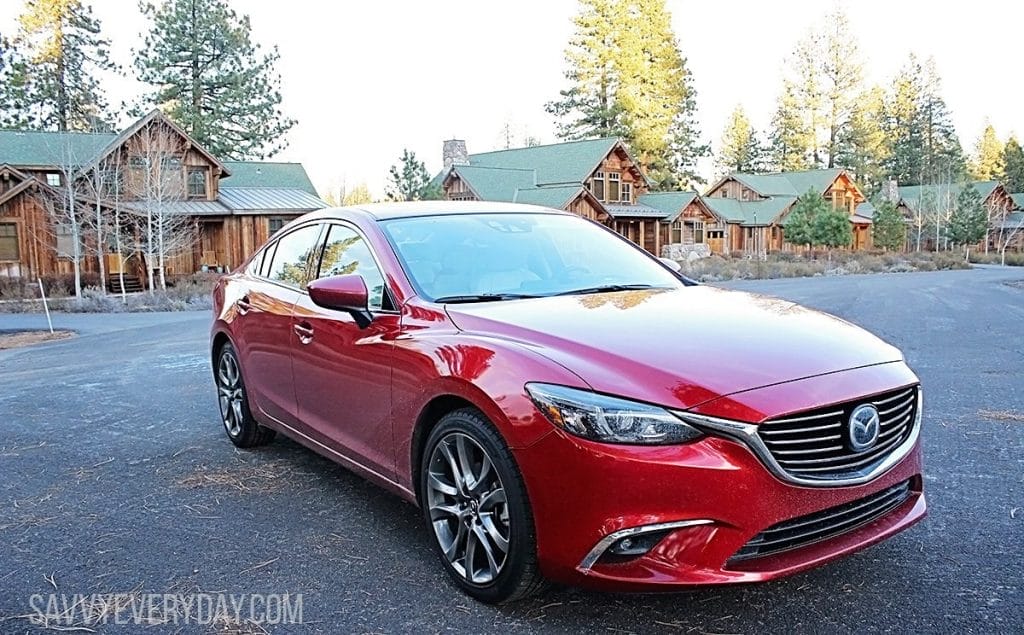 The "Ooh!"
Gorgeous Sport Car Look: I was both afraid and excited about the bright cherry red color of my review car. I didn't want to get pulled over on my trip (supposably red cars get pulled over more often than others so I drove fairly slowly in this) but this was the perfectly color for the Mazda6's sporty look. It's gorgeous.
i-ELOOP: Whenever you take your foot off the accelerator the engine's regenerative system stores that energy to power the electrical components in your car when it needs it!
Comfort: The driver's seat is incredibly comfortable, and my daughter's car seat seemed to fit super nicely in the car as well.
i-ACTIVSENSE: A lot of newer cars are adding safety features like an alert when you're about to be out of your lane or there's someone in your blindspot so I'm glad that these options are in the Mazda6, too. It also has smart city break support, radar cruise control, car distance recognition, rear cross-traffic alert, high beam control, and an adaptive front lighting system that allows the beams to turn with the car for better visibility around corners.
MPG: This 2.5L SKYACTIV-G gasoline engine gets about 40 MPG on the highway with 184 horsepower. It had no problem climbing the mountains and handling tight turns on the way to Truckee, plus I managed to spend the whole trip using the same tank of gas.
Great Tires: Gotta love 17-inch aluminum-alloy wheel tires. The all-season tires on the Mazda6 handled the icy roads to Truckee really well, too. I drove in just a few days after it had snowed so the roads were mostly clear but still icy.
Trunk Space: This trunk is massive! I brought an entire pantry shelf of ingredients for things I had to make once I got to my destination, a giant suitcase, a saucer, several shoe alternatives, toys and crafty kid subscription boxes to entertain S and her friend during the week and more. It all fit with room to spare! The only thing I couldn't fit in the trunk was a giant storage container that I brought. There was room in the trunk for it, but the container was too tall to fit in.
The "Hmm"
Top Dash Screen: I'm not a fan of the little plastic screen that pops up on the dash above the odometer with a digital reading of my current speed. It isn't adjustable so depending on how I sat in the car during my review period I couldn't even see the numbers. Fortunately, there's a regular odometer, too. It would have been nice to be able to have the option to adjust this piece for sitting position or close it so it's not a distraction, but it opens automatically when the car starts and you can't push it down.
Forward Headrests: A lot of cars are making headrests that push your head forward now and it's really annoying. Yes, your head should be close to the headrest, but when the headrest tilts forward it pushes your entire body forward to avoid the neck pain from the headrest (it also makes it difficult to wear your hair any way but down).
Large Front: The Mazda6 is extremely sporty so it has a long nose and felt a bit like I was driving a Ford Mustang because of that. I'm not as comfortable with sports cars with long noses as I am with a sedan so I didn't care for that almost boat feel. If you're used to this body style this won't be an issue, though.
Overall, this is a great option for a family of three or four who want a sports car but need to make a family car decision.
Have you ever driven the Mazda6, what was your impression?
I test drove the Mazda6 for one week to conduct this review. All opinions are my own.
Title:
Car in Review: 2016 Mazda6
Mentions:
Car In Review, Cars, family car, Mazda, Mazda 6, savvy review