Car in Review: 2016 Toyota Avalon
Are you a fan of hybrids? I wasn't sure about them at first — The quiet drive and shape of most models was a bit off-putting — but now I adore them! You get used to not hearing anything when you're in Drive mode, tend to enjoy the benefits of a gas saving vehicle and there are so many body styles out now. The 2016 Toyota Avalon ($32K) completely surprised me with its luxury sedan look and style, so I'm excited to share this option with you in this month's Car in Review! I took the Avalon (in a pretty blue Night Pearl color) to Carmel-by-the-sea for a little "Me Time," and also on trips with my grandma (who just moved out my way) during my week-long test drive. Keep reading for the "Oooh" and "Hmm" from my experience driving the 2016 Avalon.

The "Oooh!"
I like to be a bit surprised by a car before I test drive it, so though I had checked to be sure it wasn't a boat before I sent the OK for this review, I didn't know much about the look, feel and drive until it pulled up in my driveway the day of drop off — This way I learn about the car the same way you would on a test drive at the dealership, but also a bit more with the extended timeframe. It usually takes me a full day of a lot of driving to get used to a new car, or about two regular driving days. After that, I'm no longer wigging out about driving a different car and start honing on what I'd like in the car and what it already has. The Avalon surprised me with its lovely body style. It's long and sporty, but not too long that I felt intimidated driving it around and parking. The Night Pearl color (it comes in 8 other color options too) is super pretty — I even had a car stop by me just to ask about who makes the car and what the car color is called because they had been looking for a sort of midnight blue hybrid car. Did I mention it's hybrid? Yessss. OK, now for the easier to read bullet list of all the features that are a big win for this car.
Safety Features
Not only does this car have a backup camera, it also has so many more safety features any parent (or driver) would appreciate.
Whiplash-Injury -Lessening Seats! (I was hit by a truck in December and let me tell you whiplash is a pain. I'm still feeling it. Love this feature!)
Lane Departure Alerts With Steering Assist
Auto High Beams
Dynamic Radar Cruise Control
Pre-Collision (Pedestrian) Detection!
Multi-Informational Display (Meaning I knew everything and didn't have to look away from the road at some odd spot in the car!)
Rain-Sensing Wipers (no more fumbling for the button when driving in bad weather)
Just Plain Cool Stuff
OK these are not all necessarily "needed" but these features are cool and quite frankly I want more of them.
3-Zone Automatic Climate Control
Premium JBL Audio
Touchscreen
Smart Key System (I love not having to dig through the wasteland I call a purse to get the car keys and drive!)
HD Predictive Traffic
Alloy Wheels
Comfy seats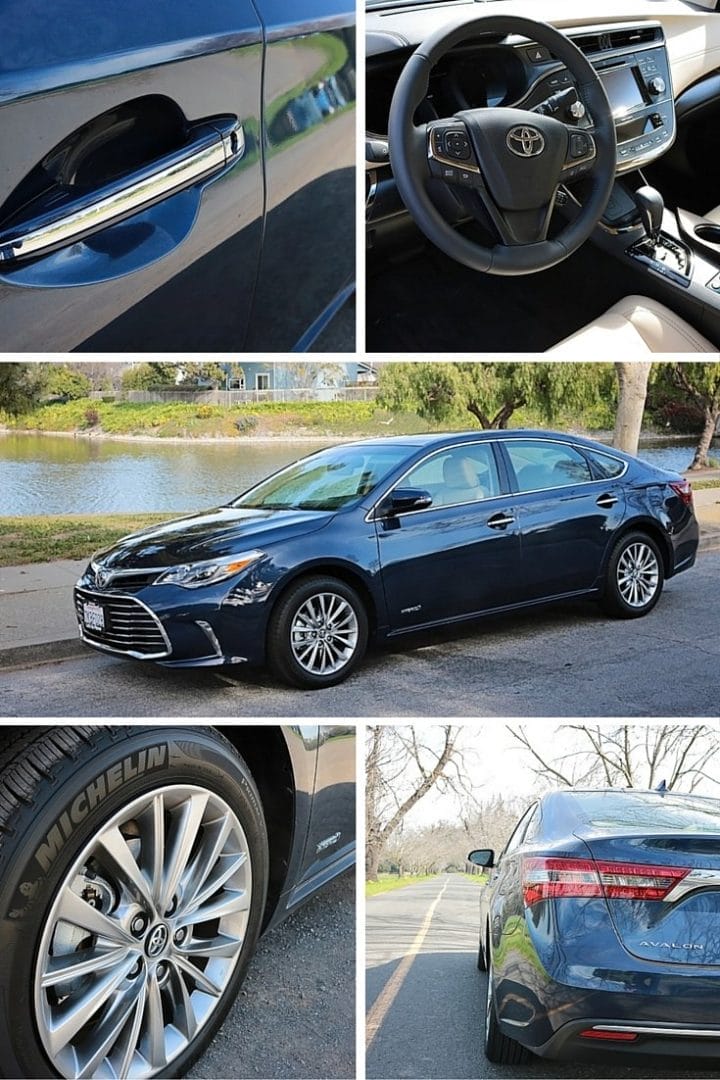 The "Hmmm"
Overall, I was mostly just impressed with this car. I enjoyed how smooth the drive was and how it handled the steepest hill and windiest roads from Tracy, CA to Carmel, CA and then all around the Bay Area. The only major "hmmm" I had with this car was that there's some sort of buttons right under the steering wheel and they hit my hand, which was very annoying. The other thing that happened a few times is that I'd forget the parking brake was on and the car actually would drive a bit before the alarm went off to let me know I forgot the break (it shouldn't go anywhere). That's about it! It was a great drive.
The Low Down
MSRP: Starting at $32K
MPG: Toyota states 31/21 MPG. I drove just over 500 miles and maybe filled half a tank once.
For: The whole family, just the parents or even a teen (but a bit pricey for a first car unless you're loaded)
Car Seats: The hooks were a bit hard to get a hold of with the seat I was using, but all car seat installs are different based on the child seat you use.
Nice luxury hybrid for commutes, travel and day-to-day.
Have you driven a hybrid before? What's your favorite type?
*This is not a sponsored post. As always, opinions are mine alone and I drove this car for a week to facilitate the review.
Title:
Car in Review: 2016 Toyota Avalon
Mentions:
2016 Toyota Avalon, autos, blue cars, car review, Cars, family car, hybrid car, savvy review, test drive, Toyota, Toyota Avalon, Toyota Hybrid