Does it feel like Spring yet where you live? With all the Spring showers there are a lot of beautiful flowers and hillsides right now — and I'm loving it. It's time to pack away the dreary Winter clothes and pull out all the vibrant hues for Spring! Not sure where to start? This kiddo wearing edition of Mama Style can show you just how to do it.
I was sent a carrier and subscription box to facilitate this review. This is not a sponsored post but does contain affiliate links (I get a commission if you purchase something). All opinions are honest and mine alone. Photos by Brittni Kiick Photography.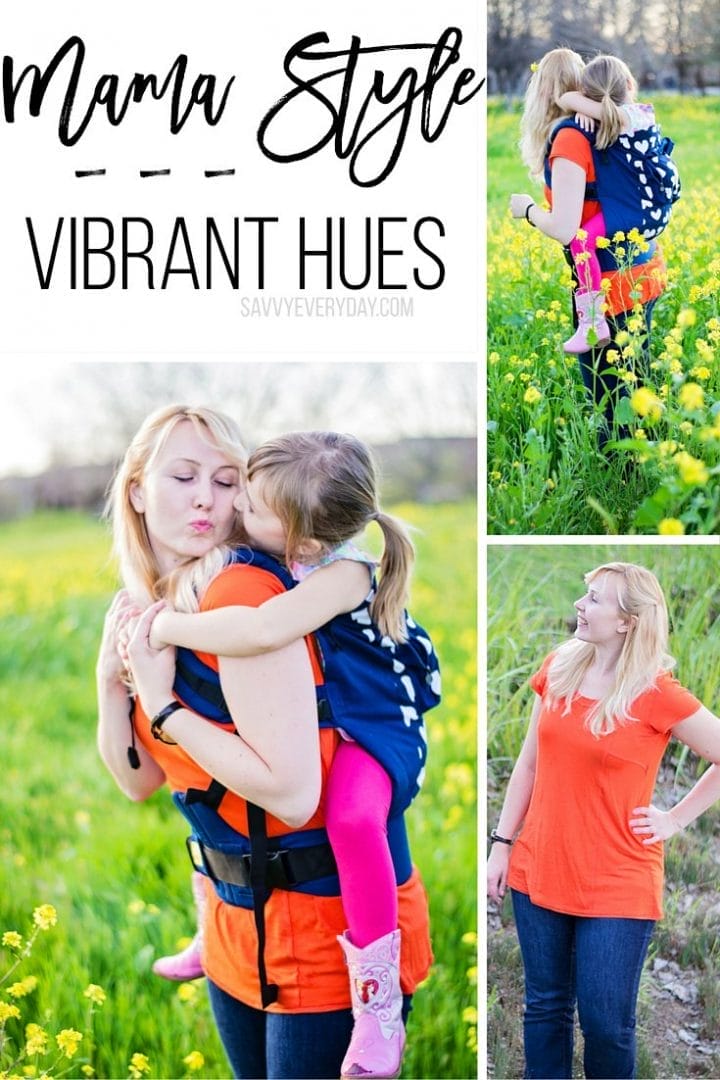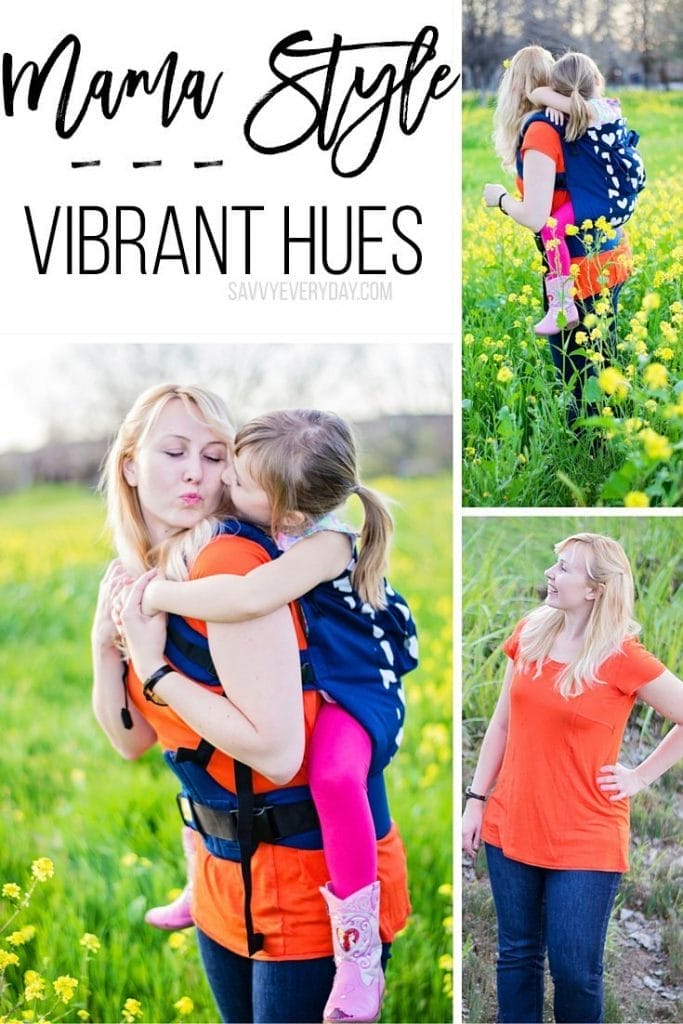 LILLEbaby CarryOn Original — Heart to Heart / Liverpool Jeans Company 'Lucy' Stretch Bootcut Jeans / Market & Spruce Tealy Raw Seam Top (Stitch Fix Box)
The blue from the pants really highlights the blue in the carrier — and they both make that bright orange top really pop! Have you ever paired orange with blue before? This was a first for me and I'm really excited about how it turned out! I'd love to hear how you're making your Spring wardrobe bright this year. Think about pairing some bright colors with more muted or darker colors that you might not expect to be a fit — It may surprise you!
In case you're looking for a bit more detail about this style, I've gone into a lot more detail on the carrier and shirt/pant combo below.
Heart to Heart Carrier
I absolutely adore hearts and my daughter does too, so when I saw this LILLEbaby CarryOn Heart to Heart carrier ($160) can hold up to 60 pounds of weight, has a zipper pocket to hold essentials and is big enough to lug around my 5-year-old if the need arises I was over the moon excited. Last year I only knew about two structured carrier companies that created an option for toddlers & preschool aged kiddos who might need to be carried in a pinch — Most carriers were made for up to 18 months old or so. But that's slowly changed and I'm super excited that LILLEbaby started their CarryOn collection for ages 12 months and up. My daughter is fairly tall so her back sticks out a bit more than you would want (a preschooler carrier would be best), but the comfort of this carrier for both of us has been phenomenal as I've tested it out. It took me a minute to get used to how the straps adjust with this carrier (and knowing which direction to pull), but the lumbar support is so great and the ease of use after I figured out the straps is just as awesome.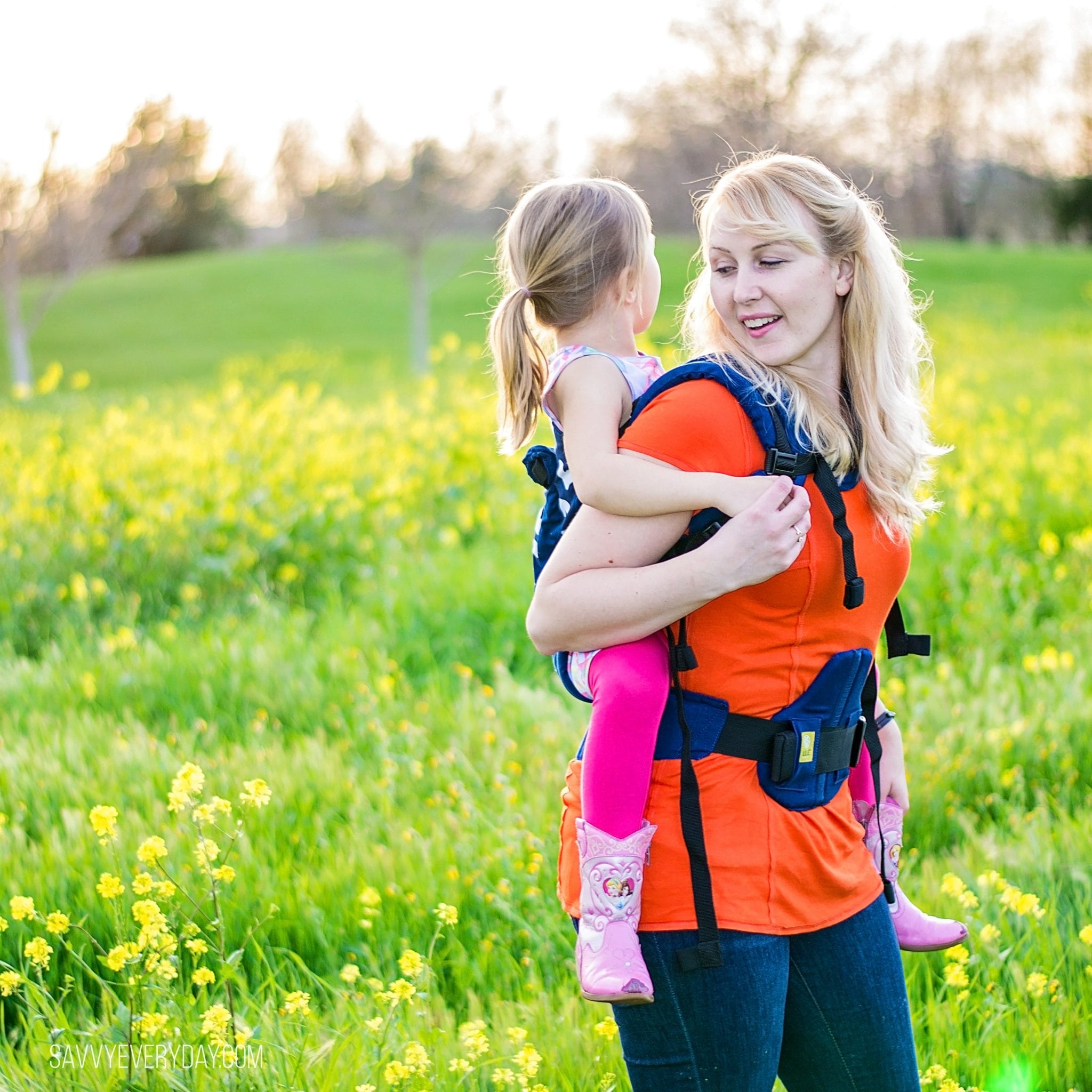 Just after getting this carrier in the mail I made a trip to my mom's work to pick something up in her office with her and let the kiddo hand out cookies to the nurses, but the kiddo passed out in the car. The CarryOn carrier totally came in handy! I was able to bring her in and she woke up a bit later without missing out. If I had stayed in the car with her she would have woken up super pissed (really). About a week later she fell asleep just as I was pulling up to Target and we really needed to go in so the carrier saved the day again! Before having a kiddo I used to say "Oh that kid looks too old to be in that stroller/carrier," but now honestly it comes in handy and I'm so glad I have one! Until you've spent the night at an airport (arriving at 8 p.m. to wait for a 6 a.m. flight so that your grandma won't change her mind about getting on the plane to move near family) you may not really understand how crucial a carrier is as a kiddo gets older. Hiking? Yea, we have that covered now too (and had fun picking flowers for this photo shoot). I'd say this toddler carrier size carrier works really well for a 5-year-old when needed, but for carrying your kiddo more often I recommend ages 2-4 as the main panel is about 20″ wide and 17.5″ tall.
Stitch Fix Box
My pants and shirt are from a Stitch Fix box I tried out. They waived the styling fee of $20 for me to test out my first box and it was a really fun experience. First, I signed up and picked out which style and collections were my favorite, then I detailed what I'm looking for in a style based on price, colors and notes. I loved the colors of everything I tried on from my first box, but the fits weren't quite right. I'm trying to lose weight right now so I'm in an awkward in-between-sizes phase I guess and the pants were slightly big while the shirts felt too loose on the bottom to me. I didn't end up buying any of the clothes (I sent them back with the included prepaid envelope), but I've sent notes on what I didn't like about the box to my stylist for my next box and changed some of my personal style settings in my account. One of my account updates was on the price of items. I'm super cheap when it comes to my own clothes and tend to avoid spending $80 on pants and $76 on a shirt unless it's jaw dropping spectacular and I can't live without it. All the clothes were cute, though, so I'm excited to see what's in my next box. Most of the people I've talked to absolutely love Stitch Fix and so I'm hoping round two will be great.
For more info on Stitch Fix check out the link below! A $20 fee gets you a box styled to fit your personal taste filled with all kinds of goodies. You simply keep what you want (and your $20 is put toward that purchase) or return what you don't like!
Title:
Mama Style: Vibrant Hues
Mentions:
baby carrier, babywearing, bright colors, bright fashion, fashion, kiddocarries, kiddowearing, LilleBaby, Mama style, Mom, product review, savvy style, stitch fix, structured carrier, style, vibrant hues, women