Daycation: Family Trip to Alameda, CA
Sometimes finding a block of time that works for everyone in the family is tough, so instead of a bigger vacation, you go out for just the day. My husband and I both have rotating work schedules with sort of opposite hours at times so it was a lot of fun to head out to Alameda, CA for the day and enjoy a mini family vacation. Our kids have a 6-year age difference so we really wanted to find things to do that would accommodate both of them (and us). Keep reading for our favorites.
I received complimentary lunch and activities at Alameda South Shore Center to facilitate this review. All opinions are my own.
Family Lunch in Alameda
One of my favorite things about Alameda is all the delicious food in one spot at the South Shore Center. Before I had kids, I introduced my mom to the tastiest avocado rolls with the best beach view ever at Sushi House. When I was in college, I used to head out for lunch and to get work done right across the street on the beach.
For this trip, my family was super excited to try a restaurant that my husband and I have been eying since we saw it open — Trabocco. Oh my goodness! My husband and I are pretty opposite in a lot of ways but one thing we both agree on is our love of food . . . and there is no not loving the food at Trabocco. The restaurant's co-founder, Giuseppe Naccarelli (pictured above with a fresh pizza) is from the region of Abruzzo, where he learned to harvest and prepare food with his family before entering culinary school. Naccarelli's precision and care as a chef really shine through in Trabocco's Italian dishes made from locally sourced foods.
Trabocco smells like so many delicious dishes when you walk in the restaurant (always a good sign) and the staff was very polite (another huge plus). The bonus for me was that they offered real lemonade (not the soda stuff) and my delicious water came with lemon (sadly, not all restaurants have great water but Trabocco does!). After enjoying some complimentary bread with oil, I ordered salmon with arugula and it was the best salmon I've ever had in my life. The texture and flavor was just perfection, I couldn't believe what I was tasting! My husband ordered an appetizer for us all to share and I believe the Brodetto alla Vastese — a seafood stew with clams, mussels, shrimp, octopus, scallops, fresh fish filet, tomato broth, with grill-toasted bread — for his meal. Savannah enjoyed a made from scratch macaroni and cheese with lemonade and the fresh bread served at our table.
Post-Lunch Family Activity
After lunch, we headed to Color Me Mine Alameda to let our food settle and do an activity together. Color Me Mine is a ceramic painting studio where they offer a huge selection of already created ceramic pieces ready to be painted/decorated then fired up for the final touches. I picked out an owl spoon rest to give to my sister as a gift, my husband thought it would be fun to decorate a bearded man mug, and Savannah made her very own doll sized tea set.
Color Me Mine has a lot of different colors to choose from when deciding how to paint your ceramic pieces. Since the paint looks different once it's out of the kiln, they also show you examples of what the paint will actually look like on little tiles near the paint bottles. Each table is set up with a bowl of water and some paint brushes, towels and sponges to use while working on your project, but there are even more brush types, paper towels and sponges available near the paint section if you need them. I was very happy to see that the paint came off easily when S got it all over her hands. River was a little cranky at first (he was in need of a nap), so I put him in his ring sling and swayed with him for a bit for him to fall asleep. Once he was out, I could get to painting and add little hard paint bits to my project.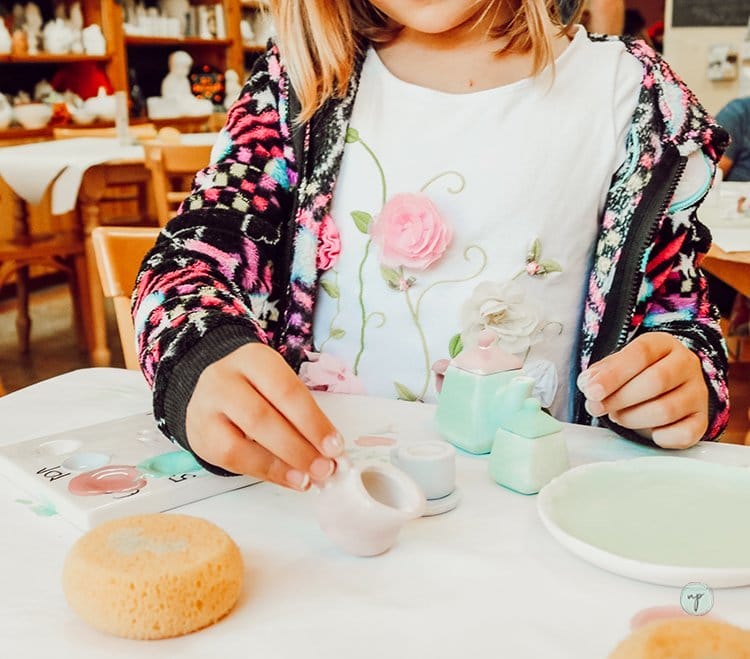 We had a lot of fun working on our own projects as a family. It's nice to get out and create. Since we live about an hour or so away, we used their mail service option — they charge a bit extra and simply mail your pieces to you once they're done so you don't have to drive back. This is a great option for anyone who's visiting from out of town since projects can take 2-4 weeks to complete in the kiln process due to how many projects they need to work on.
Ice Cream Stop
When it's hot outside nothing hits the spot like ice cream, right? My daughter doesn't really consider it a special family day unless it includes ice cream. Alameda South Shore Center has a few ice cream shops, but our favorite is Gelati Creations — they offer a variety of gelato flavors in popsicle form with some beautiful add-ons like cookie crumbles or chocolate drizzle to create custom Gelati Pops. They also have some pretty tasty macaroons.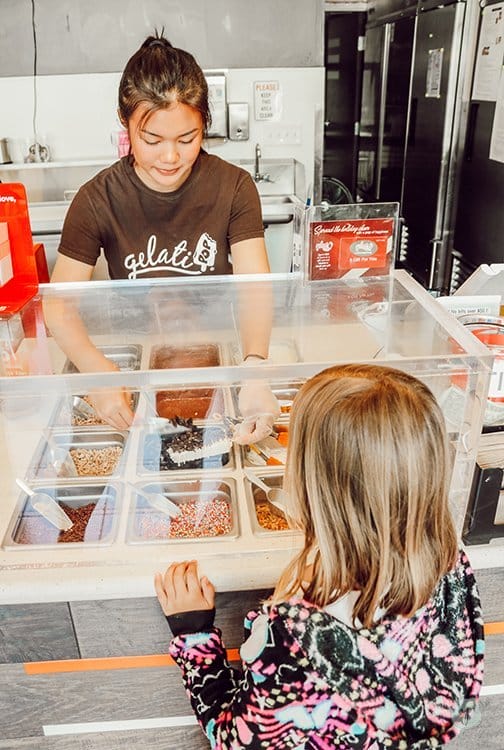 Bike Ride on the Beach
Our final activity for the day was a family bike ride! This is something we had wanted to do but didn't have a way to do it with our own bikes at home. Pedal Beach is such a great resource for Alameda South Shore visitors. I mean, if you're going for a bike ride, what better location than on the beach?! Pedal Beach offers a variety of bike styles for visitors to rent by the hour, half-day or full-day ranging in price from $15 an hour to $60 for the whole day.
My husband rode a bike with a rickshaw setup for Savannah to sit in a sort of chariot (she loved it!). I went with a bike/stroller combo. It took me a bit to get used to riding my stroller bike because the handles were far different from a stationary bike. On this one, the handles controlled the wheels. But after a bit, I got used to it and we all had a lot of fun. You really can't beat that ocean view, either. The best part is that Alameda has designated bike lanes, too, making the ride stress-free. It was getting late and we had a long drive home, so we only rode bikes for about 30 minutes, but if River wasn't ready for a nap we probably would have ridden bikes for at least an hour. I recommend trying this for an hour at first unless you start early in the morning and bike to the park on the beach to eat a picnic lunch and let the kids play for a bit before biking back.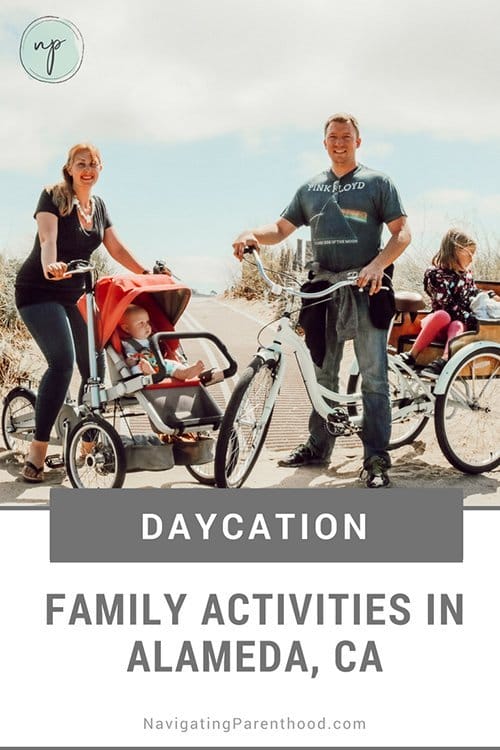 Title:
Daycation: Family Trip to Alameda, CA
Mentions:
Alameda, Alameda Italian restaurant, Alameda south shore center, Color Me Mine Alameda, daycation, family activities, family day, family travel, family trip, Gelati pop, gelato in alameda, Pedal Beach, things to do in alameda, Trabocco