Mama Style: Favorite Sweaters
With fall in full swing, it's finally time to break out those favorite sweaters and pick up a few new ones! I'm guest hosting this week's style link-up with Larissa of Living in Color Style and Jacqueline of Stylin' in St. Louis to share some of our favorites. Keep reading to check them out and add your own links (or share your faves in the comments)!
This post may contain affiliate links. Photos taken by Urban Shutterbug.
So I pretty much live in oversized sweaters at this stage in my second pregnancy (I'm 26 weeks and feeling it), but my current fave is a beautiful blue Motherhood Maternity sweater I picked up online. I had one just like it in college and was so sad when it didn't fit anymore. It's a one-piece layered sweater that's long enough to hide that awkward thigh area (even more awkward in maternity pants, honestly), and can be dressed up or dressed down. I usually wear this one with maternity jeans, but it goes nicely with leggings and could even be worn with the right skirt.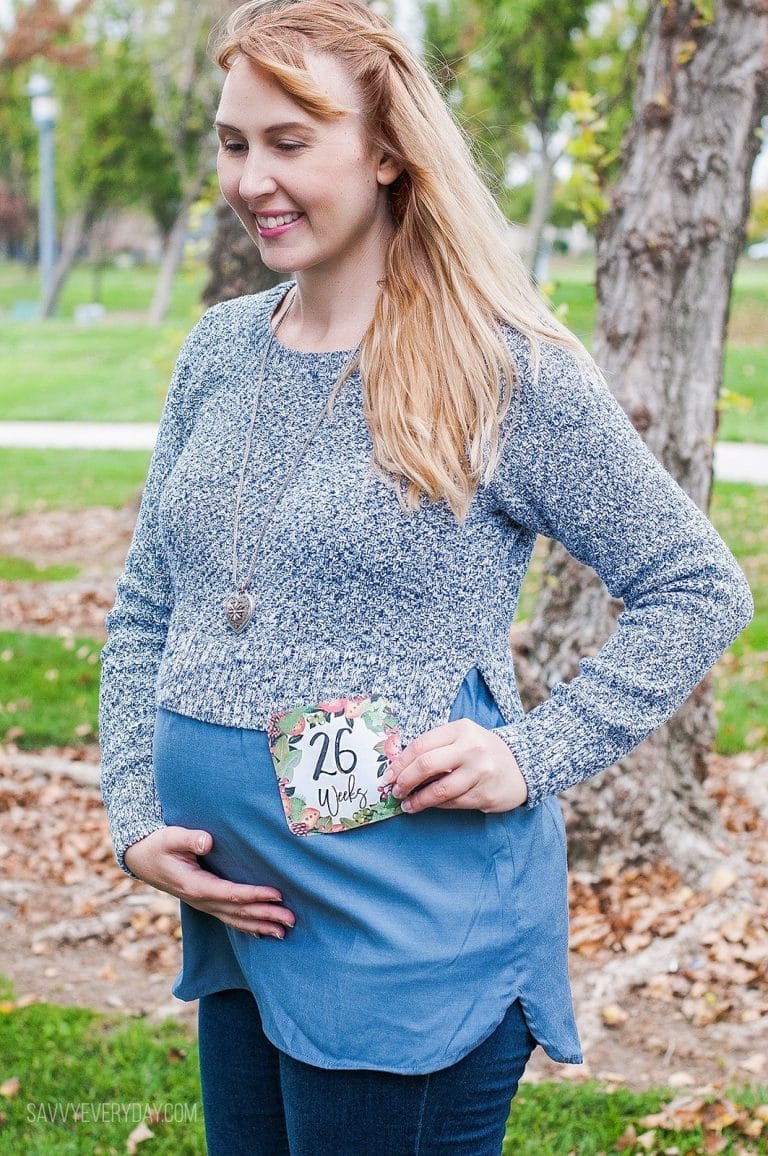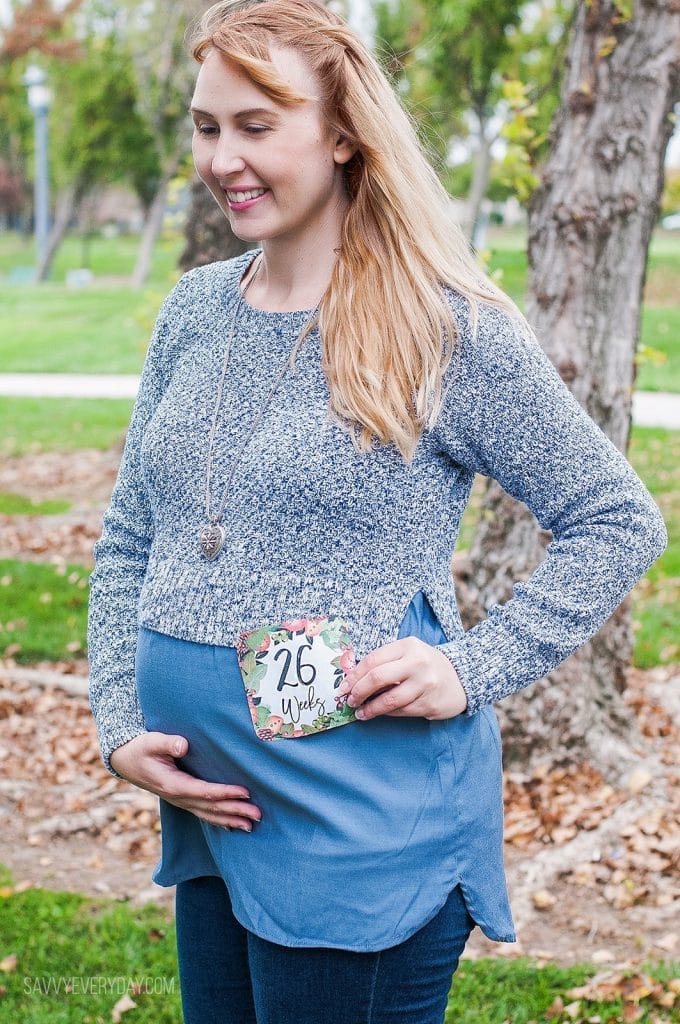 I actually bought this one size too big so the top part of the sweater stops over my baby bump instead of above it right now, but I know as I get bigger in the coming months it's going to be one of the few sweaters that fits just right so I'm rocking it as-is until then. I almost bought the pink version of this layered sweater, but the blue felt like the perfect wintertime color and gave me an excuse to wear my blue jacket and ballet flats since I normally go with black flats and a black or brown jacket.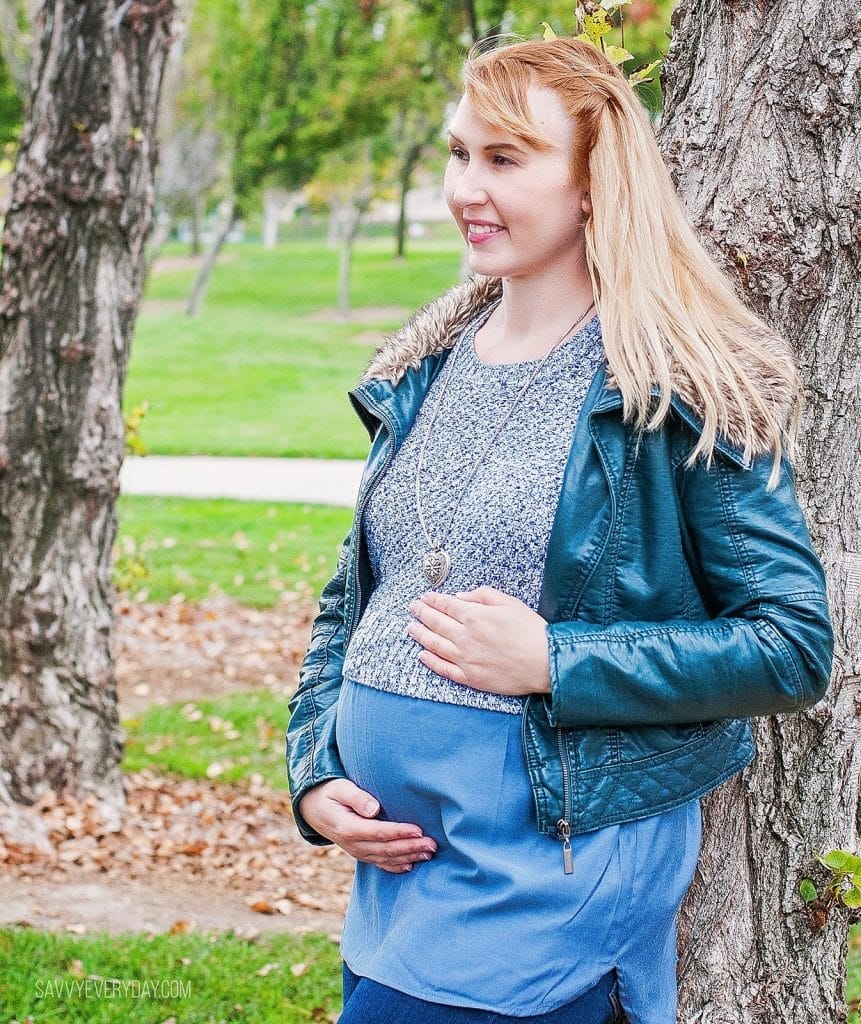 Sweater (grey) (pink) (blue) / Necklace / Jacket (similar) / Jeans / Shoes (similar) / Bump Card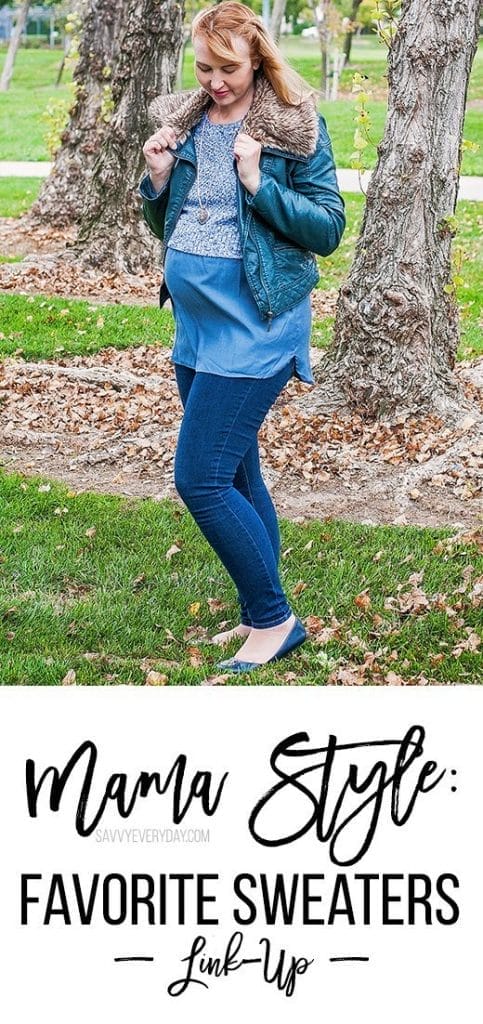 Now go check out the rest of the links below for more favorite sweaters from around the web! Want to join in? Simply follow the instructions under this link-up collage.
GUIDELINES:
1. We kindly ask that you follow the two hosts: L from Living in Color on Bloglovin', Jacqueline from Stylin' in St. Louis via Bloglovin' and our guest host Shari of Savvy Every Day on Bloglovin' (The first 3 links in the link-up).
2. Please link back to Larissa and Jacqueline's blog on the post you linked to, stating that you joined in on the fun over at Spotlight Weekly.
3. Enjoy reading other blogs and make new blogger friends!