A Peachy Floral First Birthday Party
At first, my ideas were everywhere while planning my daughter Blakely's first birthday. I knew I wanted to be able to repurpose most of the decorations from her party —Especially since I knew I'd be putting some money into them — so I chose a theme that I could use in her new toddler bedroom. With a lot of planning and help, it turned into a very elegant yet simple floral first birthday party.
From our archives: Published May 2016.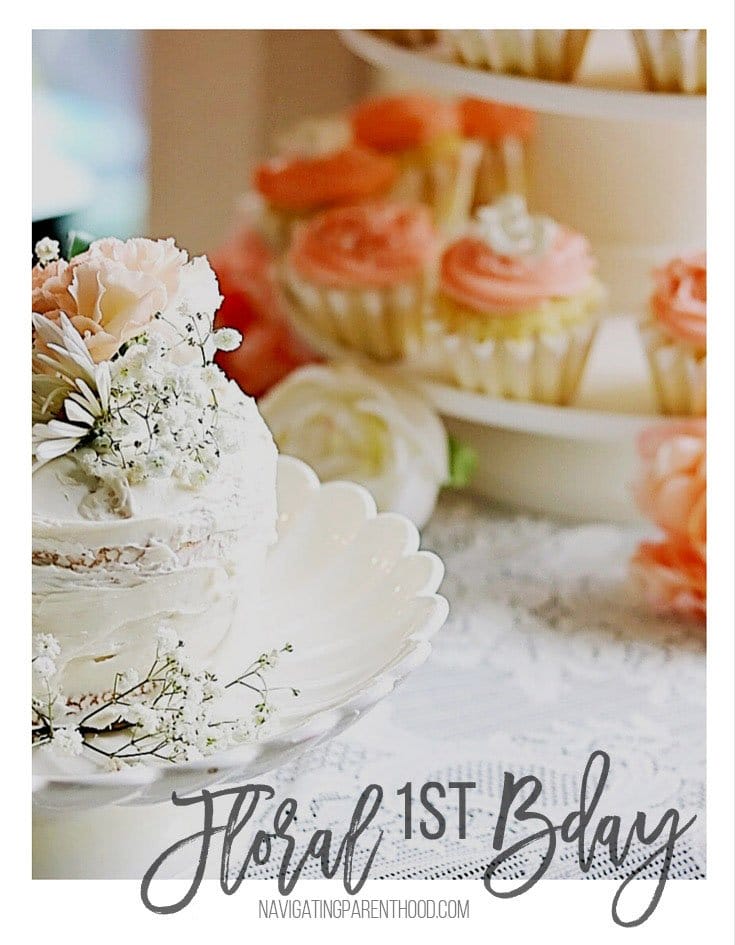 Birthday Party Theme
I didn't necessarily have a color scheme planned for Blakely's birthday until one day I was shopping at the Goodwill store trying to find lace tablecloth covers and I came across a gorgeous peach and sage green sheet with roses all over it. Not only was it gorgeous but it was 99 cents! I knew right away that I would be making her fabric garland out of it, along with a few other pieces of fabric I purchased to match. I highly recommend that you check out your local thrift stores before you spend a fortune on party decor. Much of Blakely's birthday decor was found at the Goodwill Store.
Floral Birthday Decorations
I found lace tablecloths, beautiful mason jars, and even the outfit (which was Baby Gap) she wore on her Birthday there. I also made a lot of the decor for her birthday, couldn't have done it without Joanne Fabrics. The floral "B" at her party was originally part of her nursery, but I decided to repurpose it and cover it in peach and green flowers. It turned out better than I hoped it would and is currently an adorable decoration in her bedroom.
One of my favorite party decor items was the elegant Rifle Paper Co. Botanicals Gardens set of paper garland letters (Amazon affiliate) —I used it to make a "Happy Birthday" sign, as well as another with her name on it. They really helped tie together the look I was going for. My absolute favorite decorations at her party (Pinterest inspired of course) were the giant balloons with flower chains attached. My amazing husband put them together and they were a definite Pinterest win!
We luckily knew a family friend who owns a floral shop and she was able to get us flowers at a wholesale price. I kept the flower selection and colors simple. Her party was sprinkled with peach and cream-colored roses and carnations, along with beautiful greenery and babies breath. It was the perfect touch to Blakely's Floral First Birthday. When I look back at the photos the party was honestly everything I dreamed of and more.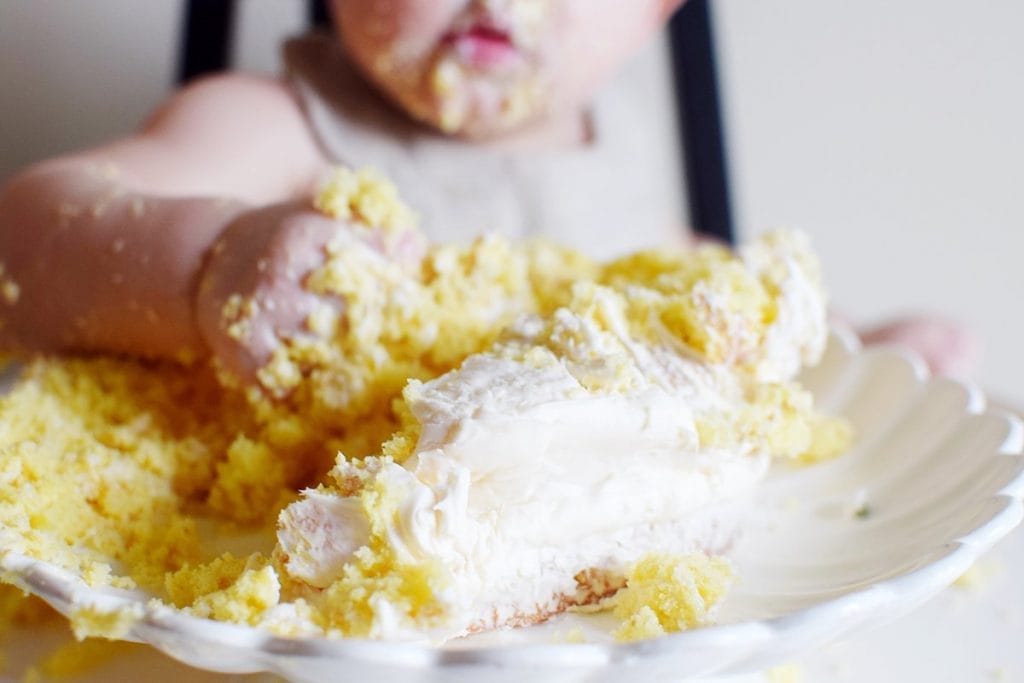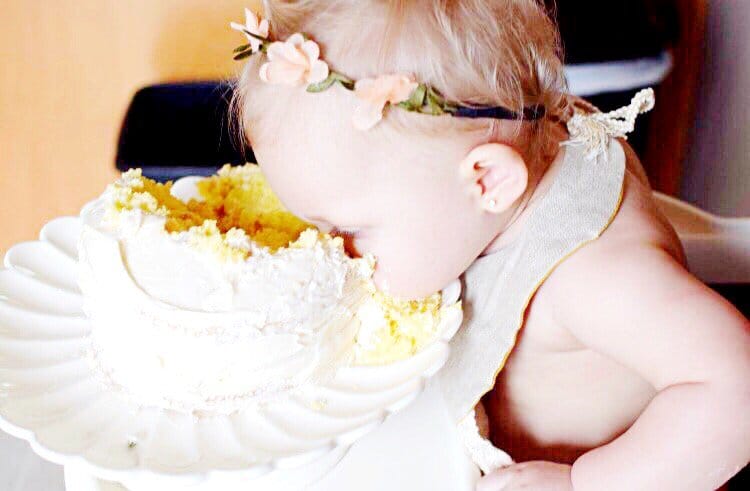 What are your favorite trending first birthday party themes right now? If you adored this one, you might like this Alice in Wonderland birthday party theme for a half birthday (where are my December babies at?!) or a ONEderland birthday.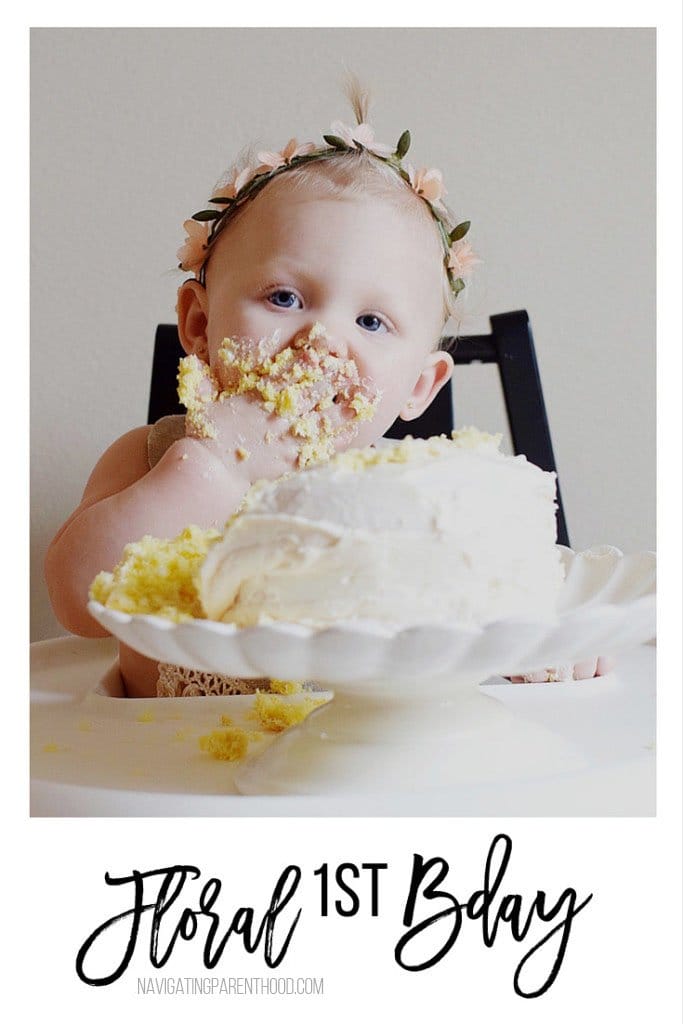 Abigail Orr is mom to one-year-old Blakely and a doula in training with hopes of becoming a midwife in the future. She tries to embrace the ups and downs of motherhood and enjoys decorating and photography.
Interested in guest posting or sharing your party? Fill out our form, here.
Title:
A Peachy Floral First Birthday Party
Mentions:
baby's first birthday, bday, birthday, cream and peach birthday, entertaining, family party, first birthday, floral birthday, flower balloons, party, party planning, peonies, pink and cream birthday
Keywords:
Floral First Birthday