HGTV's Santa HQ Takes the Stress out of Holiday Fun and Santa Visits
This is a sponsored blog; while the views expressed here were genuinely mine, consideration was paid to me by Macerich/HGTV's Santa HQ.
I remember standing in line with my niece for over an hour to see the mall Santa when she was 4. Kids and parents alike were acting restless! Over the years, lines didn't get much better so I stopped going. Until this year. Now, I'm urging everyone to visit a very special mall Santa after my family's first experience at HGTV's Santa HQ.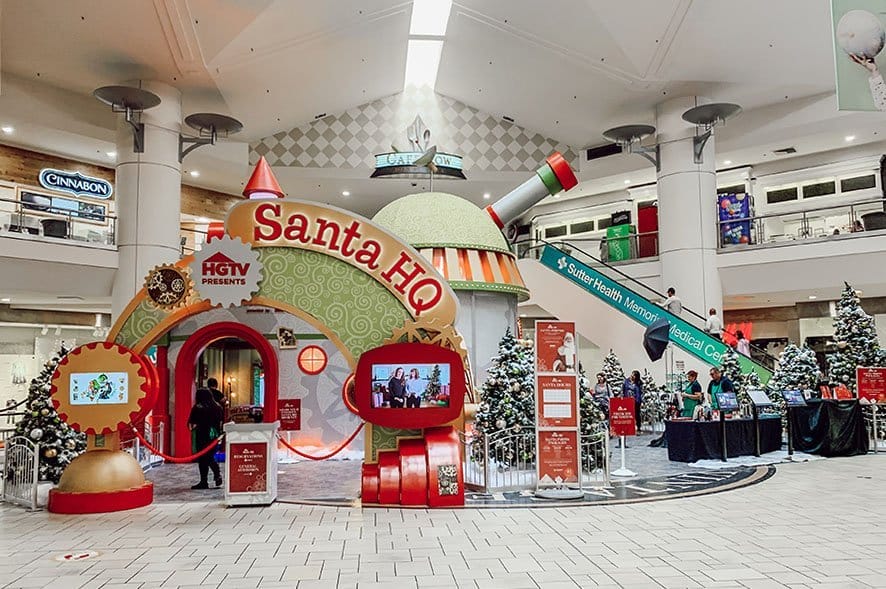 The Santa Dilemma
Waiting in line is pretty meh, but if you have kids it's a nightmare. Parents think of magical memories made, kids get impatient, tantrums are had, babies get heavy, and everyone's wailing by the time it's their turn to see Santa (if they make it that far and don't just ditch to go home). Personally, that scenario makes me want to stay home. A few parents I know have opted for some free pop-up show style Santas at events but the setup, Santa and picture quality isn't always the best. So . . . how does a family go about seeing Santa without the stress?!
Skip the Line with a Santa Fast Pass
The solution? HGTV's Santa HQ. These headquarters are located in California, Arizona, Chicago, Metro New York, and the Washington, D.C. corridor and are truly a blessing to parents anywhere near these locations. With HGTV's Santa HQ you can still drop-in to visit Santa, but the Fast Pass option allows parents to book a 30-minute time slot for exploring all the fun Santa's headquarters has to offer, see Santa, and pay for photos without the wait! I love how this option allows parents to see the package prices upfront so the decision making can happen from the comfort of home rather than at the mall when the toddler is making a run for it or the baby has decided she's overdue for a nap and isn't having it anymore. To be honest, there was a bit of sticker shock for me when I saw the package prices. But not because they are expensive! I went with Package A at Vintage Faire Mall in Modesto, where this package includes a TON of printed photos, some digital files, and a Shutterfly promo card for $49.99 — way cheaper than Santa pictures when I used to take my niece! Click HERE to get your HGVT Santa HQ Fast Pass (you can even choose to get time slot alerts if needed).
More Santa Fun in Your Visit
Seeing Santa is fun, but HGTV revolutionizes the traditional Santa visit by including interactive apps, games and state-of-the-art technology to bring Santa HQ to life. The home and holidays really do go hand-in-hand, which is why HGTV is so good at really showcasing the magic of the season and what Santa's headquarters might really be like for our now more tech-focused generation of kids and parents. Bonus: All this fun helps get the wiggles out and ease kiddos into the seeing Santa mood after being in the car for however long. Upon entering HGTV's Santa HQ, visitors get an inside look at the day in the life of Santa's elves with a chance to try out the Naughty or Nice Meter. Naturally, I made the Nice List haha.
After passing the meter's inspection, it's off to The Elf Academy, where families can create their own Elf ID card and have it emailed to their parents for printing and crafts at home. There's also a Magic Mirror that allows guests to choose their favorite elf style then using augmented reality, the mirror will transform you into that elf! My husband had fun with this one, though I don't recommend holding a baby while testing it out.
Next up? Santa's Observatory! This room was my favorite to look at — it has an amazing ceiling and all the fun levers and lights you'd imagine in such a space. My 8-year-old liked using the tablet in this area — a different augmented reality shows up on the tablet depending on where you are in headquarters!
After the observatory, there's an area for a festive holiday photo with family and friends which is a brilliant idea in case someone doesn't have a Fast Pass and needs to wait for their turn with Santa! It's an adorable little candy cane dream backdrop, too. Then, it's time for Santa and picking out your favorite picture! The whole experience was a lot of fun but my favorite part was probably the fact that we got the best family Santa picture we've ever taken in 8 years of attempted Santa photos. I was beyond thrilled! But to round it out, we also got our traditional crying baby at first Santa visit photo so we can add it with ones from the other kids.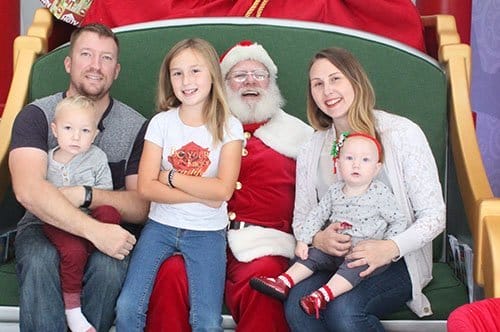 A Santa Visit with Meaning
HGTV's Santa HQ also offers a variety of fun family-centered events throughout their locations such as pajama parties, Yappy Hour (a time for pets to meet Santa) and Sensory Santa where Valley River Center allows families with all spectrums of special needs to experience visits with Santa in a comforting environment prior to public hours. Another HUGE reason to visit HGTV's Santa HQ? After the fun (or before), parents can teach the power of giving to others by bringing a toy to drop off for donations to underserved children during the holiday season. HGTV's Help Through Holiday Giving has collected more than 66,000 toys benefiting local organizations such as Forgotten Angel Tree, Salvation Army Angel Tree, Toys for Tots, and Spark of Love Stuff a Bus.