Gluten-Free Pumpkin Maple Cupcakes with Maple Cream Frosting
Pumpkin may be the king of fall dessert flavors, but I'd have to say that maple desserts come in a close second and this recipe does wonders tying those two flavors together. Fall is the best time for testing out yummy dessert recipes and what better recipe to start with than these delicious gluten-free pumpkin maple cupcakes? Not only do they have the fabulous pumpkin fall flavor, but they have the heavenly sweet touch of maple that makes them utterly crave-able. Keep reading for my tasty gluten-free pumpkin maple cupcake recipe with a bonus maple cream cheese frosting recipe at the end!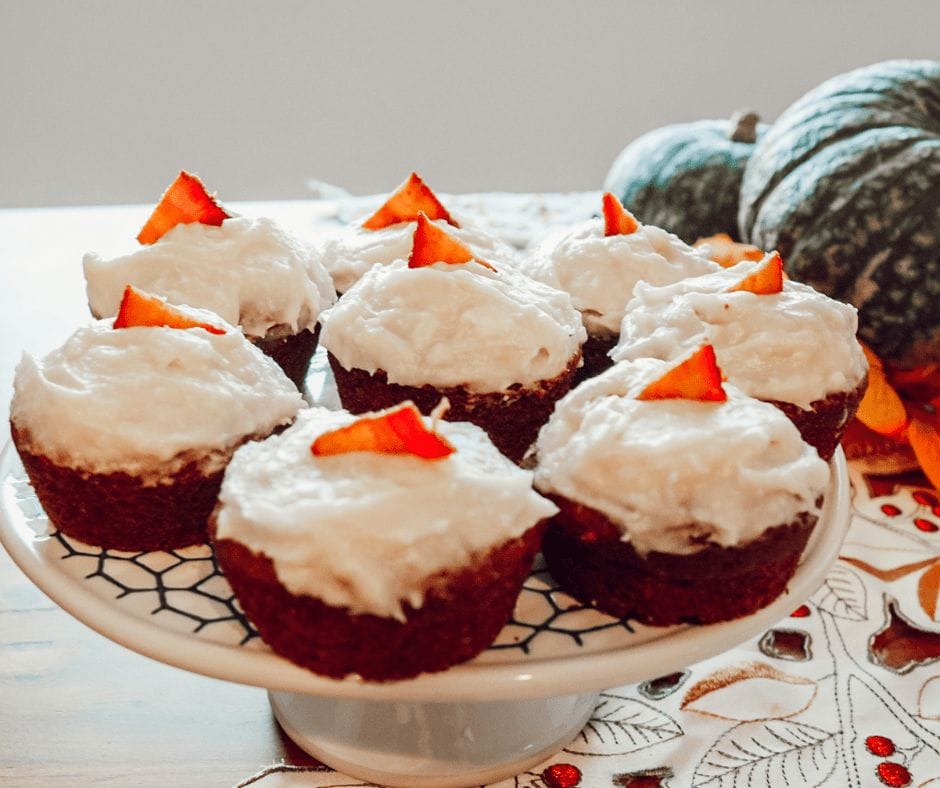 How to Make Pumpkin Maple Cupcakes
When a cake recipe is so delicious that you want to eat it everywhere you go, you make cupcakes! My "bomb" Pumpkin Maple Cupcakes can be made with or without gluten (simply change the type of flour) and smell amazing while they bake. The pumpkin and maple flavors are well balanced so that both pumpkin lovers and maple goers alike can enjoy these treats.
So, break out the baking tools because the season is here! Better yet, get your kids into the kitchen this fall for some fall family bonding time.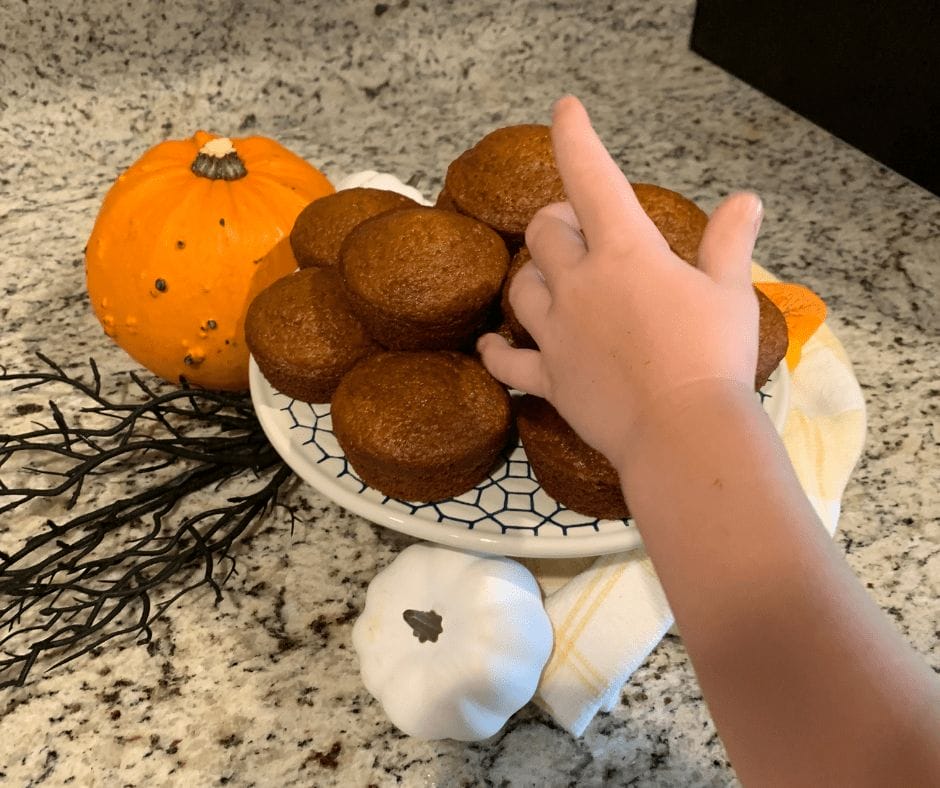 Btw, this recipe makes 12 cupcakes or 12 mini cupcakes!
Start by preheating your oven to 350 and getting your 12-cup muffin tin out of your cupboard.
Make sure to either spray down your muffin tin with some non-stick cooking spray or better yet, use some adorable fall cupcake liners.
Ingredients for the Pumpkin Maple Cupcake Batter:
½ cup of avocado oil
1 cup of 1-for-1 gluten-free flour (or regular all-purpose flour, but add a pinch of salt if using regular flour)
1 teaspoon baking powder
½ teaspoon baking soda
1 teaspoon ground cinnamon
½ teaspoon ground ginger
½ teaspoon ground nutmeg
1 tbsp maple syrup
2 extra-large eggs, at room temperature
1 cup canned pumpkin purée (not pie filling)
½ cup granulated sugar
1 cup light brown sugar, lightly packed
1 tbsp vanilla extract
Now that you have your ingredients list for these fall-flavored cupcakes, it's time to get mixing.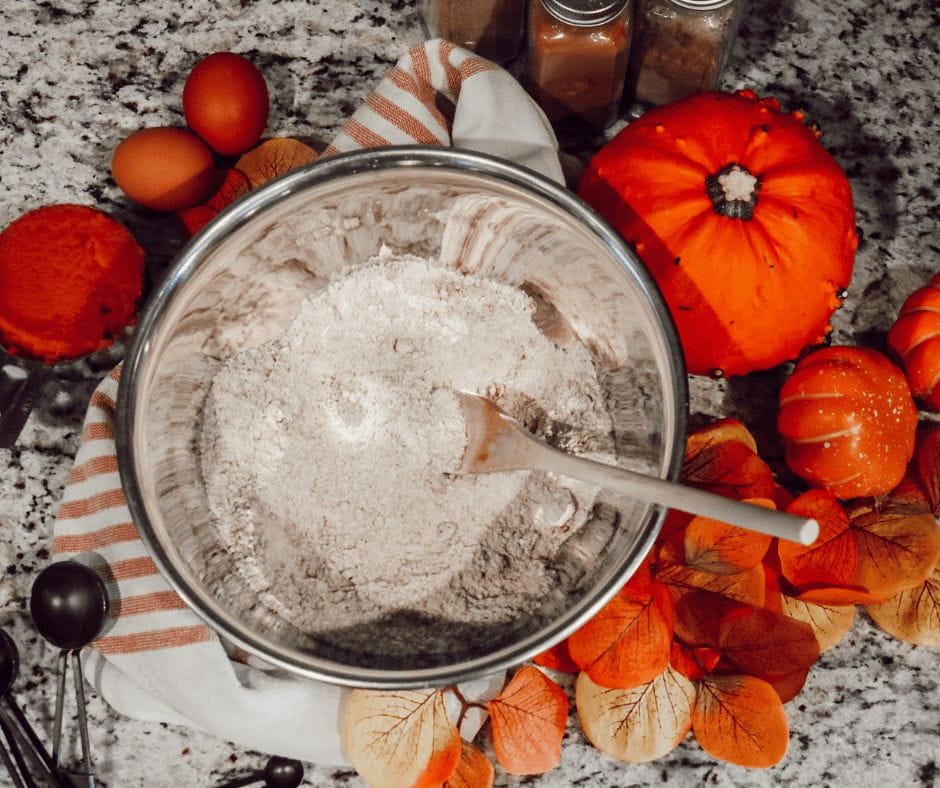 Start by combining spices, flour, and regular sugar into a large mixing bowl and mix. Then add your pumpkin puree and mix until combined. Next, pour in your eggs and oil. Mix again. Finally, add in your brown sugar and mix one final time.
Separate the batter into your 12-cup muffin tin and bake for 20 minutes, or until the top springs back up if gently pressed down.
While your pumpkin maple cupcakes are cooling down, start on your frosting. You'll find the delicious maple cream cheese frosting recipe inside of this post.
Once you've made your frosting and your cupcakes are fully cooled, go ahead and frost. Keep it rustic like I did for that fall effect, or you can use a 12-inch piping bag with a size 32-star tip for a bakery-worthy look!
Find the printable pumpkin maple cupcakes recipe below.
Pumpkin Maple Cupcakes
If you're looking for a new fall favorite dessert recipe, these delicious pumpkin maple cupcakes are going to be it!
Ingredients
Olive Oil Pan Spray

1/2

cup

Avocado Oil

1

cup

All Purpose Flour (or 1-1 gluten free flour)

1

tsp

Baking Powder

1/2

tsp

Baking Soda

1

tsp

Ground Cinnamon

1/2

tsp

Ground Ginger

1/2

tsp

Ground Nutmeg

1

tbs

Maple Syrup

2

Room Temp Extra Large Eggs

1

cup

Canned Pumpkin Puree

1/2

cup

Granulated Sugar

1/2

cup

Lightly Packed Brown Sugar

1

tbs

Vanilla Extract
Instructions
Preheat the oven to 350 and prep muffin tin.

Add spices, flour and regular sugar into a large mixing bowl and combine.

Add pumpkin puree and mix.

Add eggs and oil and mix.

Divide mixture into muffin tin.

Let cool completely before icing.
How to Make Maple Cream Cheese Frosting: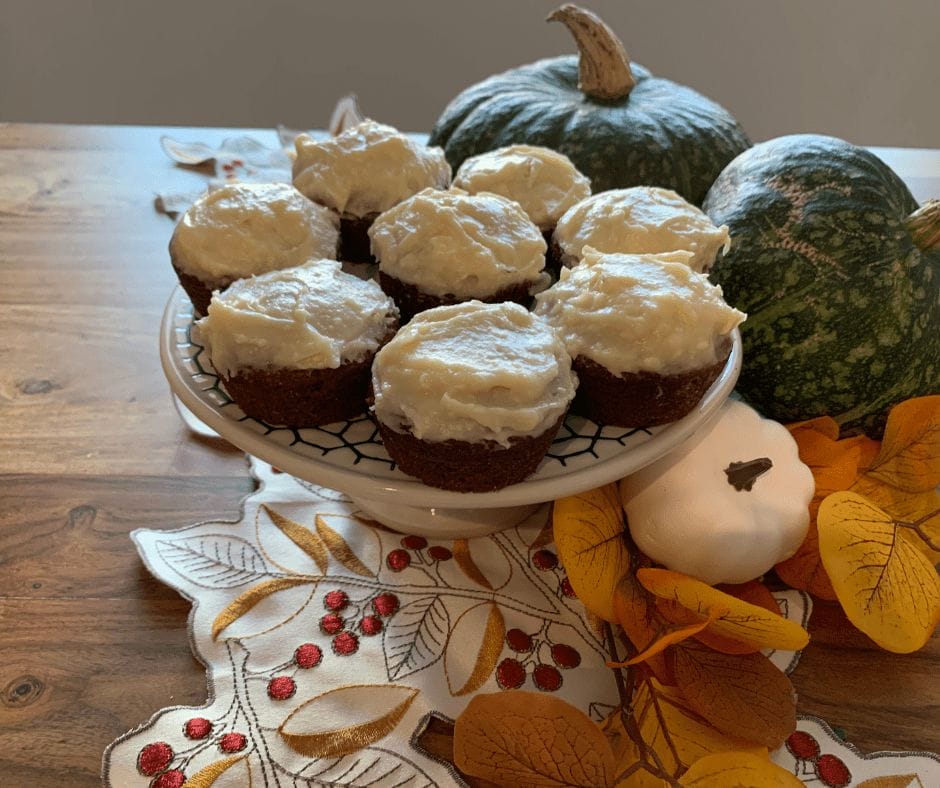 As promised, the maple cream cheese frosting recipe.
Now, it is pretty simple!
All you have to do is combine 3 cups of powdered sugar with 1 tbsp of maple syrup and 1 tsp of vanilla extract, and blend. Then drop in 3 oz of softened cream cheese and mix again. Finally, add in 1 stick of softened room temp unsalted butter and mix until fluffy! Super simple and oh so tasty. For the full maple cream cheese frosting recipe, click here.
I hope you try out this pumpkin maple cupcake recipe and that you love it as much as my family does!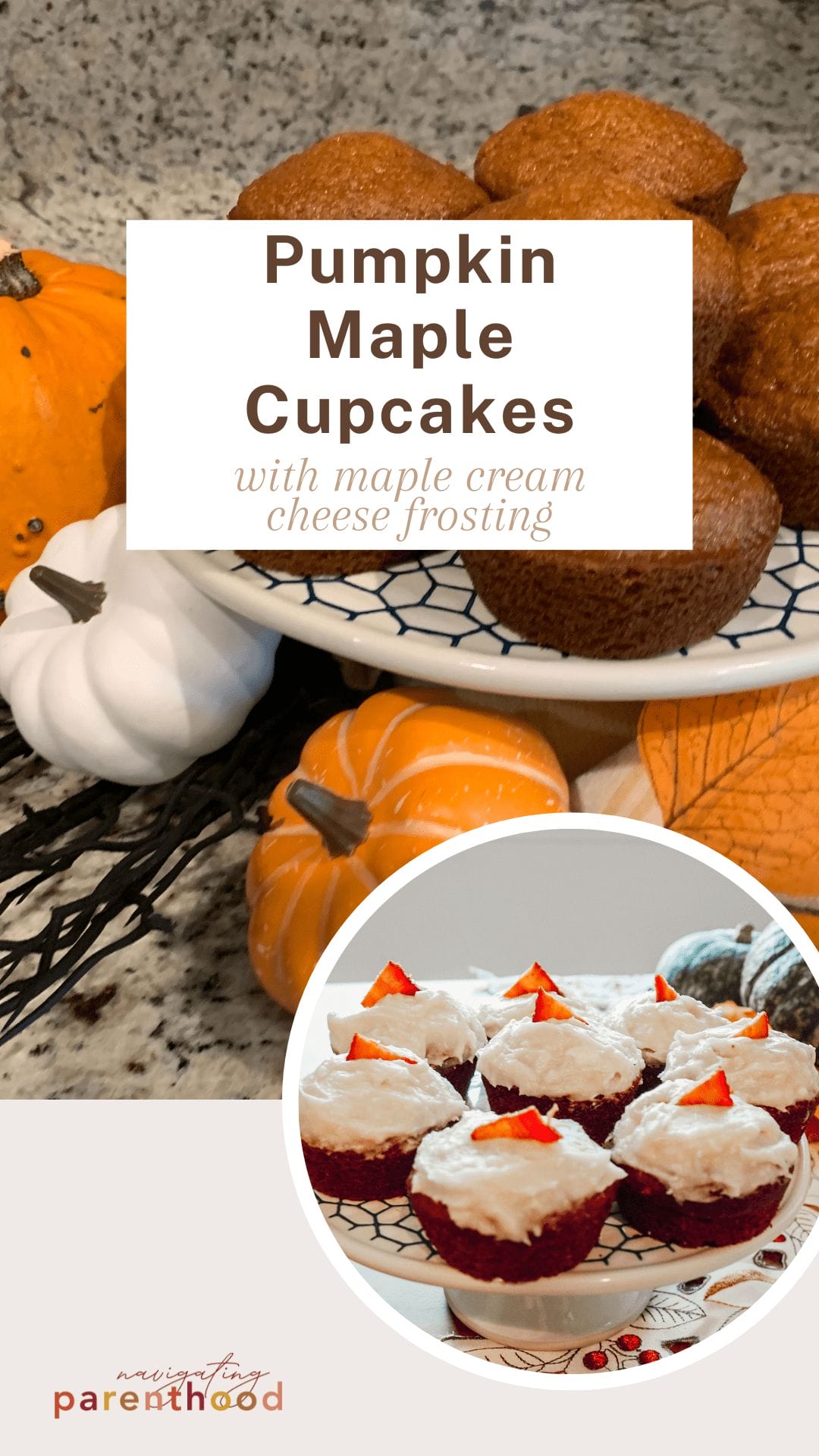 Title:
Gluten-Free Pumpkin Maple Cupcakes with Maple Cream Frosting
Mentions:
cupcake recipes, fall cupcakes, fall desserts, fall recipe, fall recipes, pumpkin cupcakes, pumpkin maple cupcakes, pumpkin recipe, pumpkin recipes
Keywords:
pumpkin maple cupcakes