Top Nordstrom Anniversary Sale Baby Deals for New Parents
The Nordstrom Anniversary Sale is probably one of the most talked about sales of the year. Fashionistas and shoppers alike start sharing the deals weeks before it starts on July 21, but there are a ton of amazing deals on some of the best baby products, too! Keep reading to see the Savvy Every Day top picks for the Nordstrom Anniversary Sale baby deals.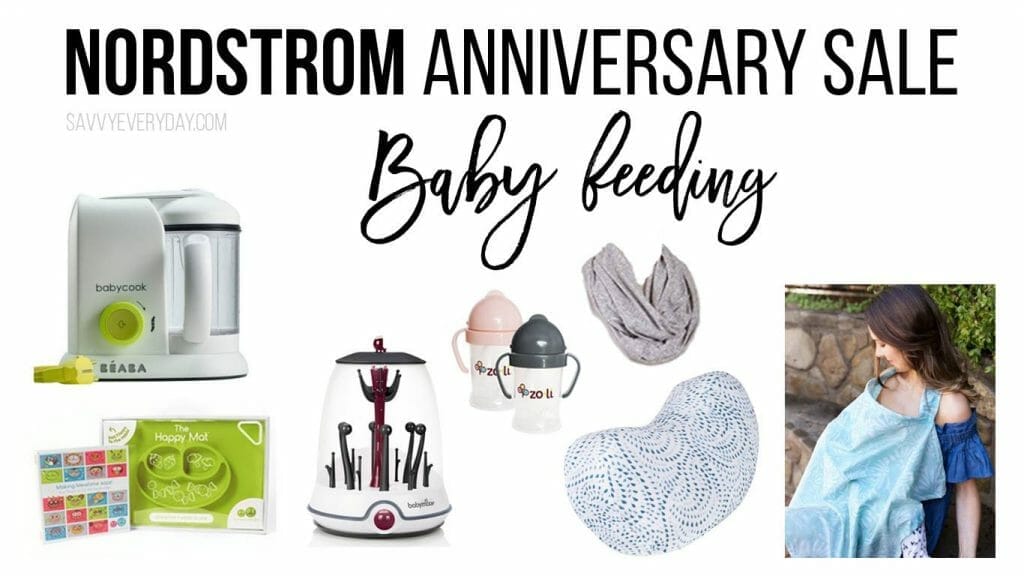 Baby Feeding
Nordstrom Exclusive BÉBÉ AU LAIT Infinity Nursing Scarves 2-Pack: These feel amazing and look super stylish! Sale: $32.90, Original: $50
BÉBÉ AU LAIT Nursing Pillow (Serenity or Rose Quartz): I adore these nursing pillows! Sale: $37.90, Original: $57
BÉBÉ AU LAIT Acapulco Nursing Essentials Set : The perfect starter set for a new breastfeeding mom interested in covering up while out and about or in front of company. This lightweight cover is the only kind my son will let me use, and a burp cloth is always handy. Sale: $32.90, Original: $50
BÉBÉ AU LAIT Muslin Infinity Nursing Scarf: Gorgeous design, lightweight and it doesn't look like a nursing scarf (but it is)! Sale: $19.90, Original: $30
BÉABA Babycook Baby Food Maker (white & Neon): Love how easy to use this is for steaming and blending baby food, or any food! Sale: $111.90, Original: $149.95
EZPZ Happy Mat Feeding Mat & Hardcover Book Set: There's no throwing the plate of food around with this awesome mat! Sale: $29.90, Original: $49.98
Zoli BOT Sippy Cup Set: Easy-clean and toddler friendly. Sale: $15.90, Original: $24
Babymoov Turbo Steam 2-in-1 Electric Sterilizer: In just 10 minutes you can sterilize up to 6 bottles at a time! Sale: $44.90, Original: $59.99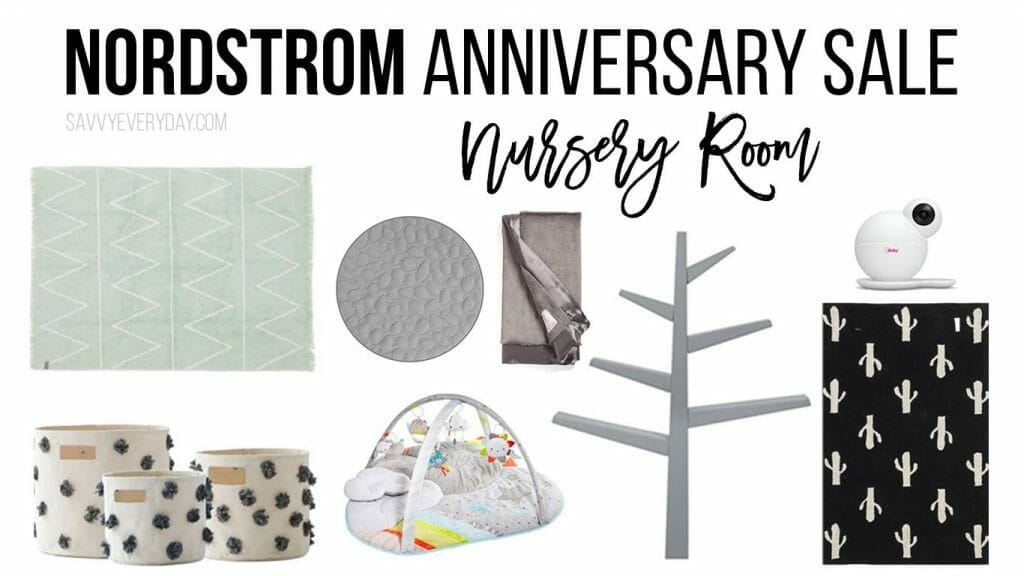 Nursery Room
Lorena Canals Silhouette Wings Rug: This is one of my favorite handmade and machine washable rugs, ever. I used it in a room re-do for my daughter's room once and the results were lovely. Sale: $157.90, Original: $237
Lorena Canals Hippy Mint Rug: Mint is the "in" color right now, and I just love this fun design. I used it in R's mint, grey and white celestial nursery room! Sale: $151.90, Original: $227
Lorena Canals Cactus Stamp Rug: How fun is this design?! Sale: $199, Original: $299
Nook Sleep Systems Pebble LilyPad Play Mat: Soft & durable! Sale: $89.90, Original: $120
Petit Pehr Pom Pom Bins (3 options): Whether you like colorful or neutral colors, these bin options are perfect!
Luxe Little Giraffe Baby Blanket: Ultra soft and super great quality. Sale: $56.90, Original: $86
Skip Hop Silver Lining Clouds Activity Gym: Perfect for neutral rooms, or ones with a cloud theme! Sale: $52.80, Original: $80
Babyletto Spruce Bookcase: Gorgeous, inventive and useful! Sale: $133.90, Original: $179
iBaby M6S Baby Monitor: This is one of the monitors I've been wanting to try!
Little Unicorn Deluxe Muslin Fairy Garden Quilt: The colors are beautiful and you're sure to treasure this soft blanket. Sale: $39.90, Original: $60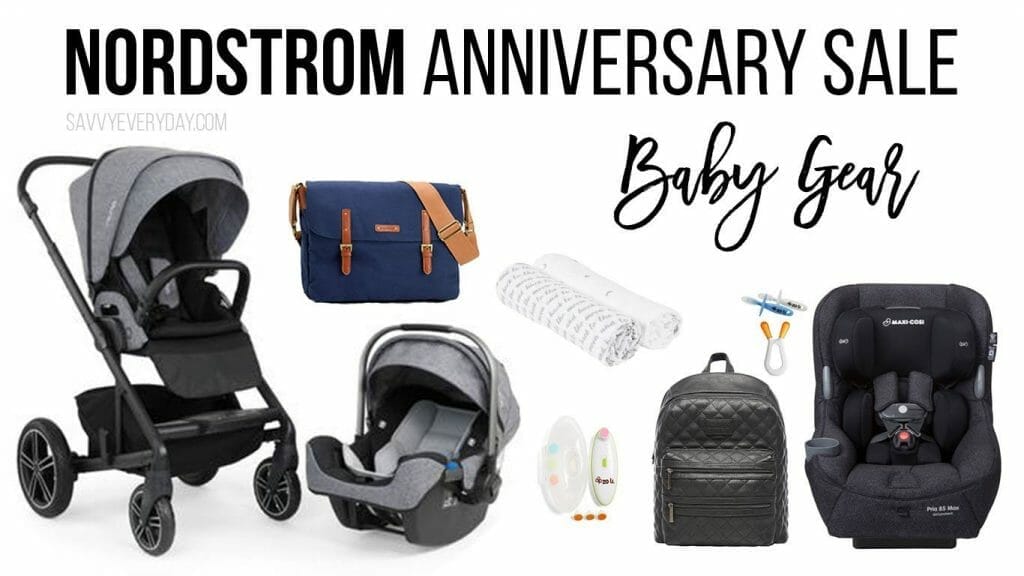 Baby Gear
Nordstrom Exclusive BÉBÉ AU LAIT Wildflower and Halo or Love + Luna Muslin Swaddle 2-Pack & Car Seat Cover Set: I swaddled my son for the first time using the muslin blankets from the Love + Luna set and I just adore the crescent moon and stars pattern as well as the "I love you to the moon and back" message. Sale: $43,90, Original: $67
Maxi-Cosi Micro Max 30 Infant Car Seat: R has the Rachel Zoe Collection version of this car seat to match the stroller and we love it! Sale: $186.90, Original: $249.99
Nuna MIXX™ 2 Stroller System & PIPA™ Car Seat Set: This is a steal for a stroller system! Sale: $674.90, Original: $899.95
Maxi-Cosi Pria™ 85 Max Convertible Car Seat: Perfect for the next step after an infant seat. Sale: $261.90, Original: $349.99
Maxi-Cosi Kaia Compact Fold Stroller: A lightweight on-the-go umbrella type stroller with the comforts of a bigger stroller. $126.90, Original: $169.99
Honest Company City Quilted Faux Leather Diaper Backpack: Backpacks make things so much easier when you're already carrying a ton with the kids. Sale $99.90, Original: $149.99
Storksak Ashley Diaper Bag: A class, sleek messenger style diaper bag. Sale: $99.90, Original $150
Zoli Chubby Gummy & Bunny Teething Set: These look amazing for little teethers! Sale: $13.90, $22
Little Giraffe Bella Towel: This looks so soft (I think I need to order more than one)! Sale: $31.90, Original: $48
Zoli Buzz B Nail Trimmer: Easily trim baby's nails without harming his skin! This kit comes with a case and replacement pads, too.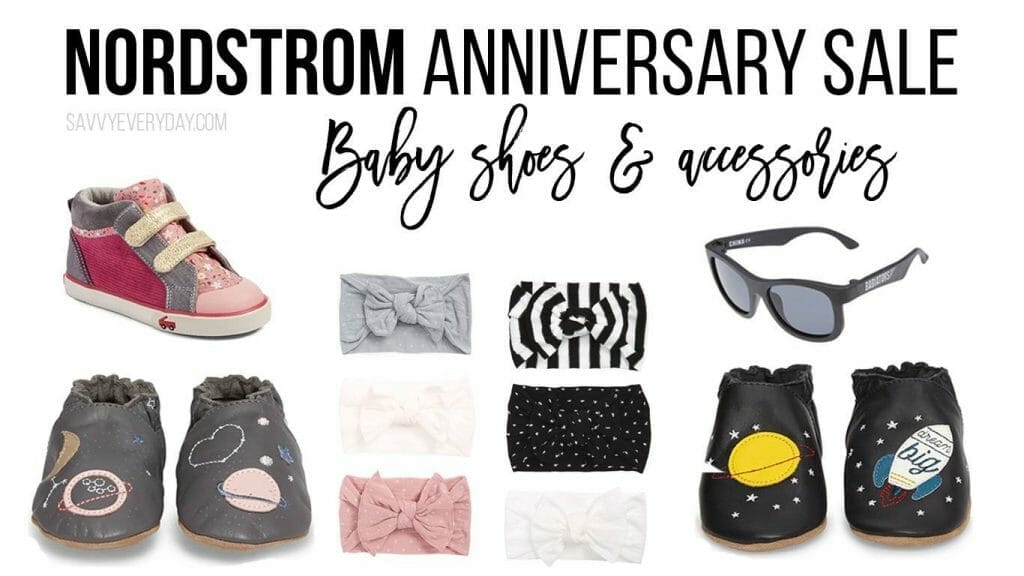 Baby Shoes & Accessories
Baby Bling Headband: Super soft and cute! Sale: $7.90, Original: $10
Baby Bling Knotted Headband 3-Pack: With some cute color combos and soft materials, this is a great baby gift! Sale: $19.90, original: $30
Limited Edition Mirrored Matte Frame Babyiators Sunglasses: Available in 0-3 and up. Sale: $15.90, Original: $25
Robeez Space Dream Big Shoes: Great brand, great theme, great shoe! Sale: $16.90, Original: $25.25
Robeez Over the Moon Crib Shoe: I mean, can they get cuter? Sale: $16.90, Original: $25.25
Finn + Emma Stripe Organic Cotton Romper & Hardwood Teething Ring Set: Finn + Emma create high quality fair trade items that your little will love. Sale: $36.90, Original: $56
Freshly Picked Grey Leather: Best deal I've seen on these. Sale: $39.90, Original: $60
See Kai Run Kya Shoe: Isn't this the cutest little walker shoe? Sale: $29.90, Original: $44.95
Puma Whirlwind Glitz Sneaker: So sparkly and cute! Sale: $29.90, Original: $45

Title:
Top Nordstrom Anniversary Sale Baby Deals for New Parents
Mentions:
baby clothes, baby shoes, car seat, freshly picked, Kids deals, maxi-cosi, new parents, Nordstrom, Nordstrom Anniversary Sale, nordstrom baby, Nordstrom kids deals, nursing essentials, robeez, See Kai Run, stroller
Keywords:
Nordstrom Anniversary Sale