Santa's Snowy Workshop Honey Maid Build
This shop has been compensated by Collective Bias, Inc. and its advertiser. All opinions are mine alone. #HoneyMaidHouse #CollectiveBias
One of my daughter's favorite holiday traditions is making a gingerbread house. No matter how nasty the shared candy bins, glued gingerbread pieces and icing glue used to make them is she just loves making them. But these houses are a bit like fruit cakes now days . . . it's a part of the holiday but no one wants to actually eat them! So this year she and I created an entirely edible Santa's Snowy Workshop using Honey Maid Crackers and some other non-candy ingredients. There was some trial and error (like with any new creation) but we love how it turned out. Keep reading for the tutorial!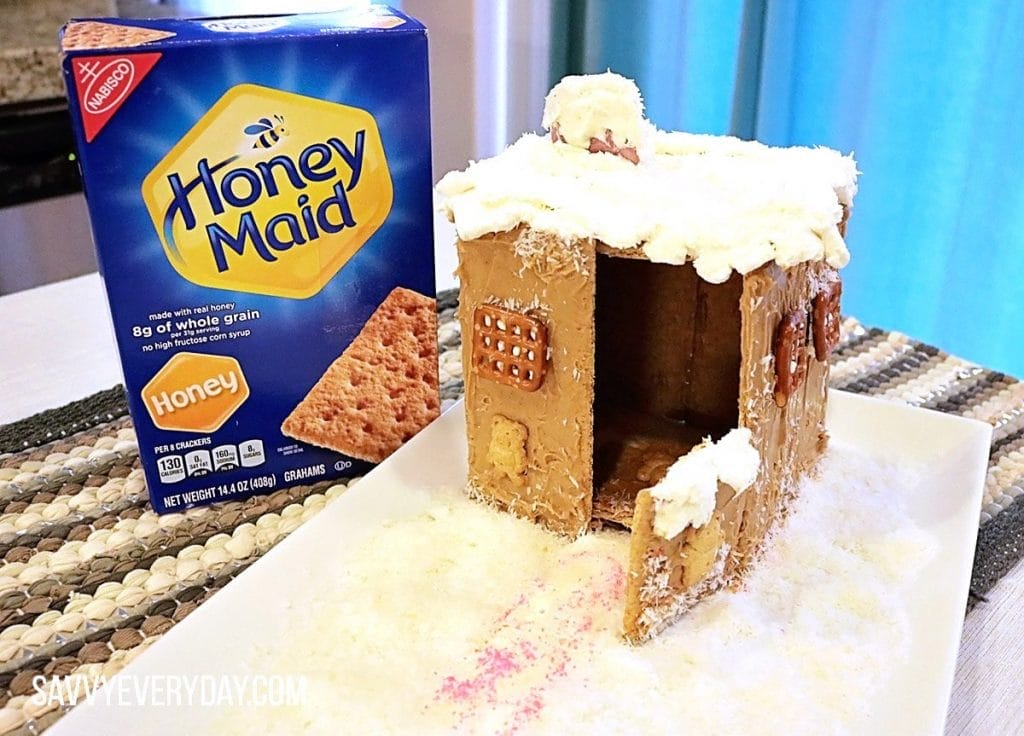 I was super determined to make a completely edible Honey Maid house instead of using glue or icing to get things started, so after attempting to use cream cheese then trying to sue honey as the adhesive to keep the structure together I ended up having a few trial and loss holiday houses before I finally got the great idea of using peanut butter when I took a look at some other great Honey Maid house examples. So glad I checked it out!
Step 1: Buy Ingredients
I went to Walmart to pick up some ingredients and found a great selection of Honey Maid Graham Crackers. Did you know they come in cinnamon now? Below is a list of some other ingredients you may need for making your own Santa's Snowy Workshop.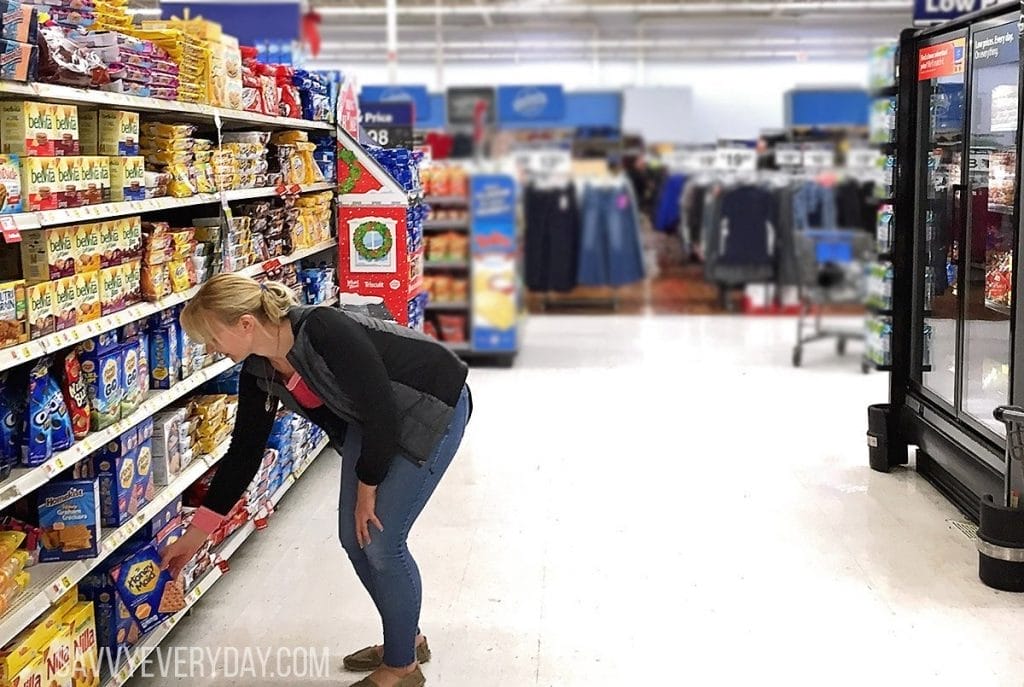 Ingredients
Honey Maid Graham Crackers (about 10)
Cup of Honey Maid Teddy Grahams
A Bowl of Cream Cheese
A Jar of Smooth Peanut Butter
7-8 Square Pretzels
Shredded Coconut
1 Purple teething cracker cut in half
(Optional) Himalayan Salt
(Optional) Pink Sugar
(Optional) Freeze Dried fruit bits ( in toddler section)
(Optional) Strawberry Jam
Tools
3 Butter Knives
1-4 small bowls (depending on if you want to take items out of the bags or not)
A large, flat plate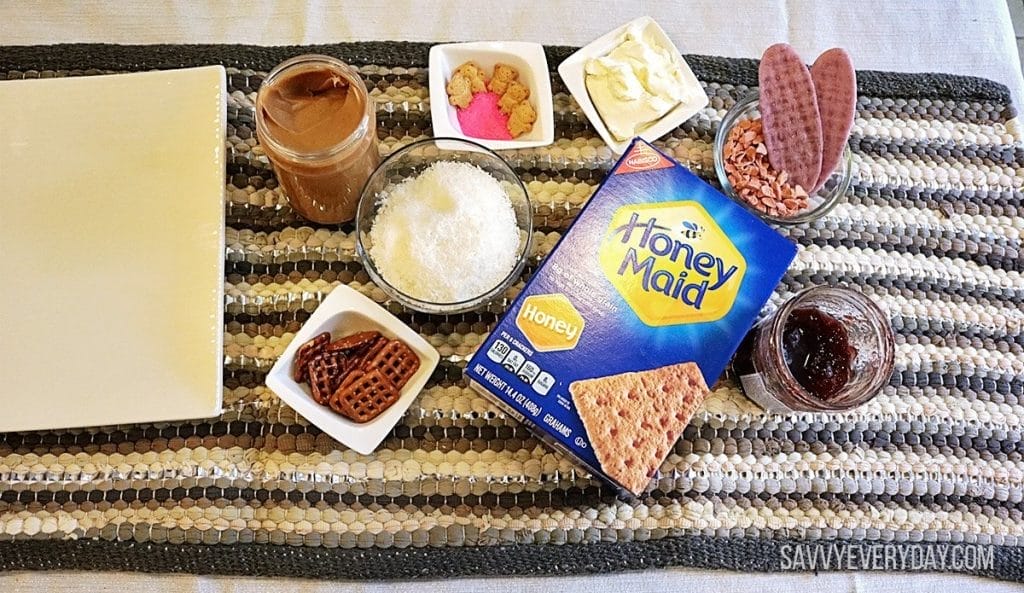 Step 2: Assemble The Main Structure With Peanut Butter
Spread the smooth peanut butter over the front of a few graham crackers, as well as on the bottom and side edges to connect the pieces and assemble. Place a small cup or bowl on the inside for support as you build your structure. Keep going until you have all sides of your workshop completed. I opted for a half door on the right side of my workshop, but you can make this a closed door workshop or create a half door, too.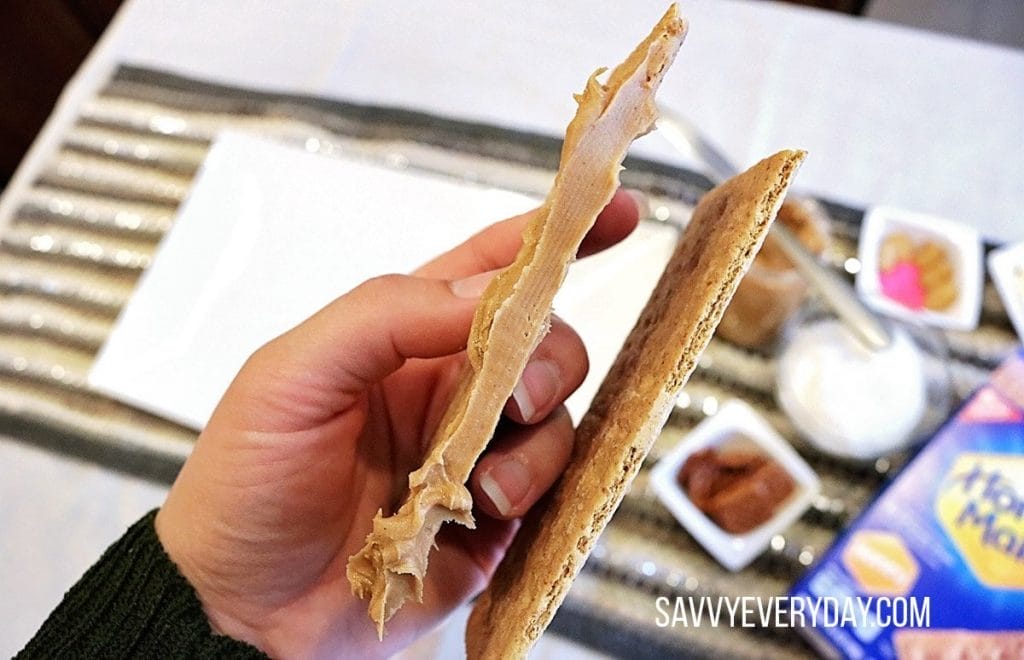 Step 3: Put the Snowy Roof Together
I used cream cheese for the snowy roof because it's delicious with graham crackers and thick and sticky enough to be part of the snowy top. It also is a great food item to mold for the snow coming off the rooftop. Spread some cream cheese on two full sheets of graham cracker then gently use your hands to spread the cream cheese out over the crackers. Place the crackers on top of the main structure before adding any finishing touches to your snowy rooftop such as the dangling snow.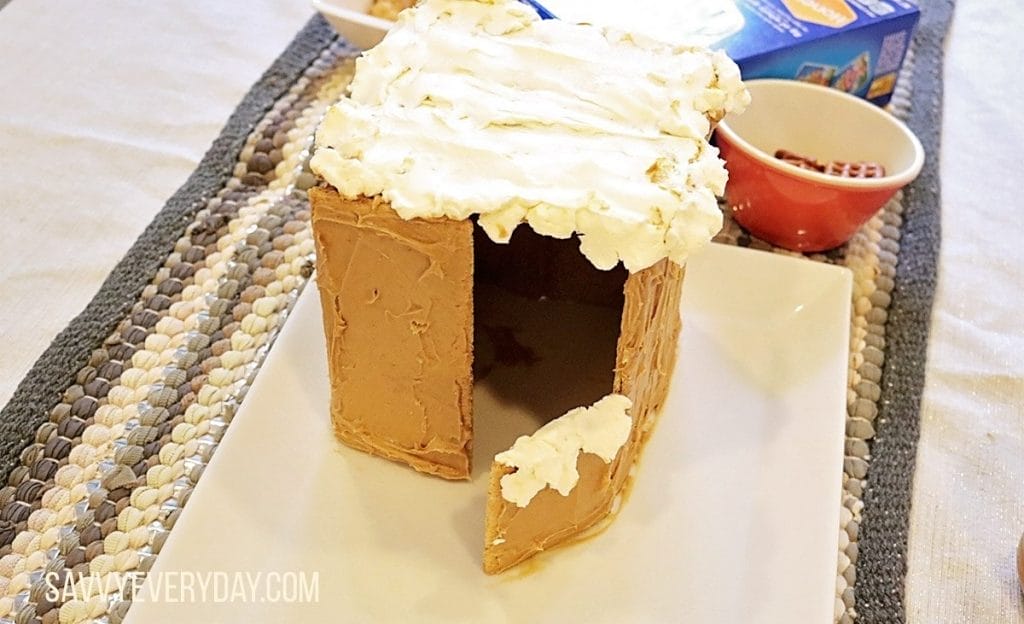 Step 4: Add Windows
For the windows, all you need to do is spread cream cheese on the back of each pretzel square then attach them to where you would like a window.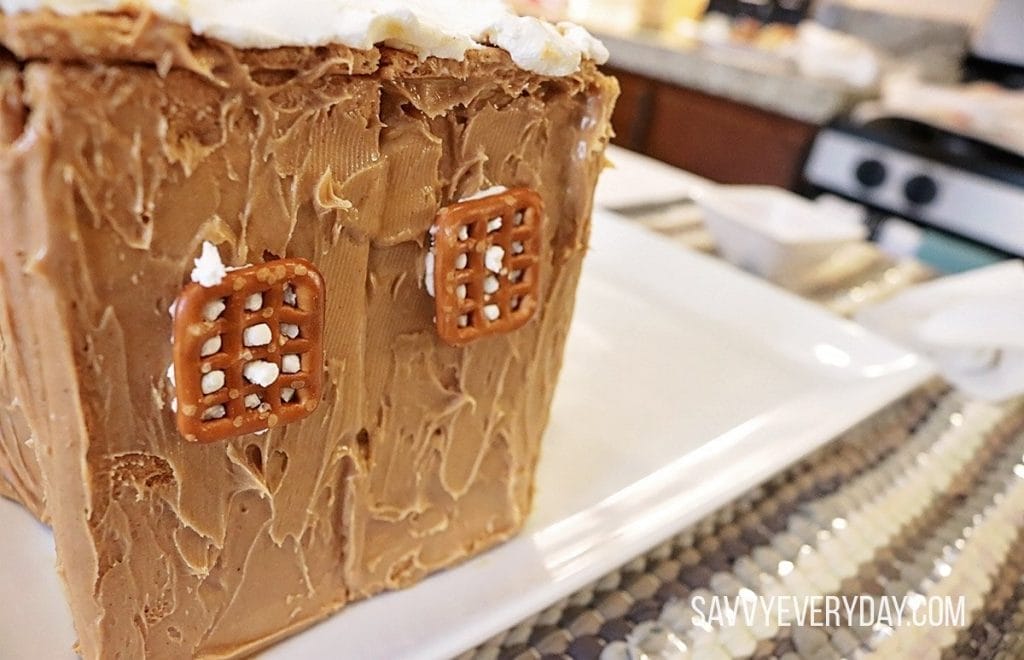 Step 5: Decorate
This is about when you would add the optional chimney using a teething rice cracker and some Teddy Grahams covered in jam on a flat table inside the workshop. About now is a great time to choose if you would like a salt and pink sugar trail or dried fruit (to look like rocks) trail toward the workshop. If you go with the salt and sugar trail, smear the trail on the plate using cream cheese before sprinkling these options. For the rocky rail you can use either cream cheese or peanut butter. This is all optional.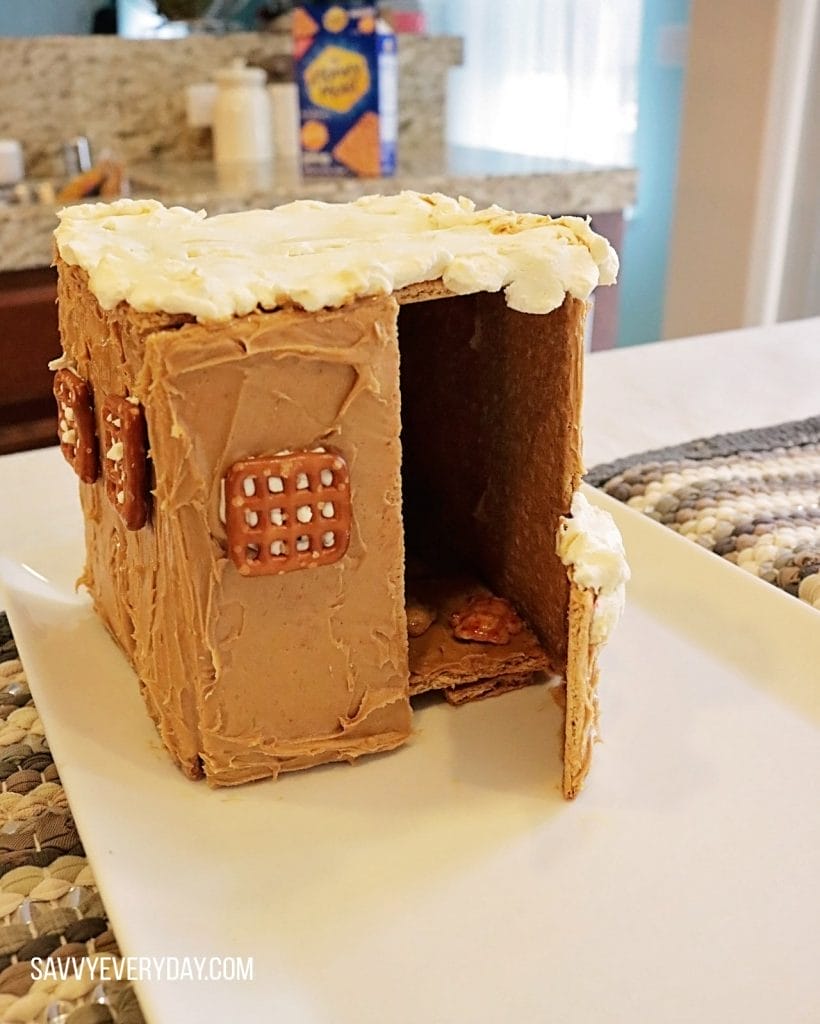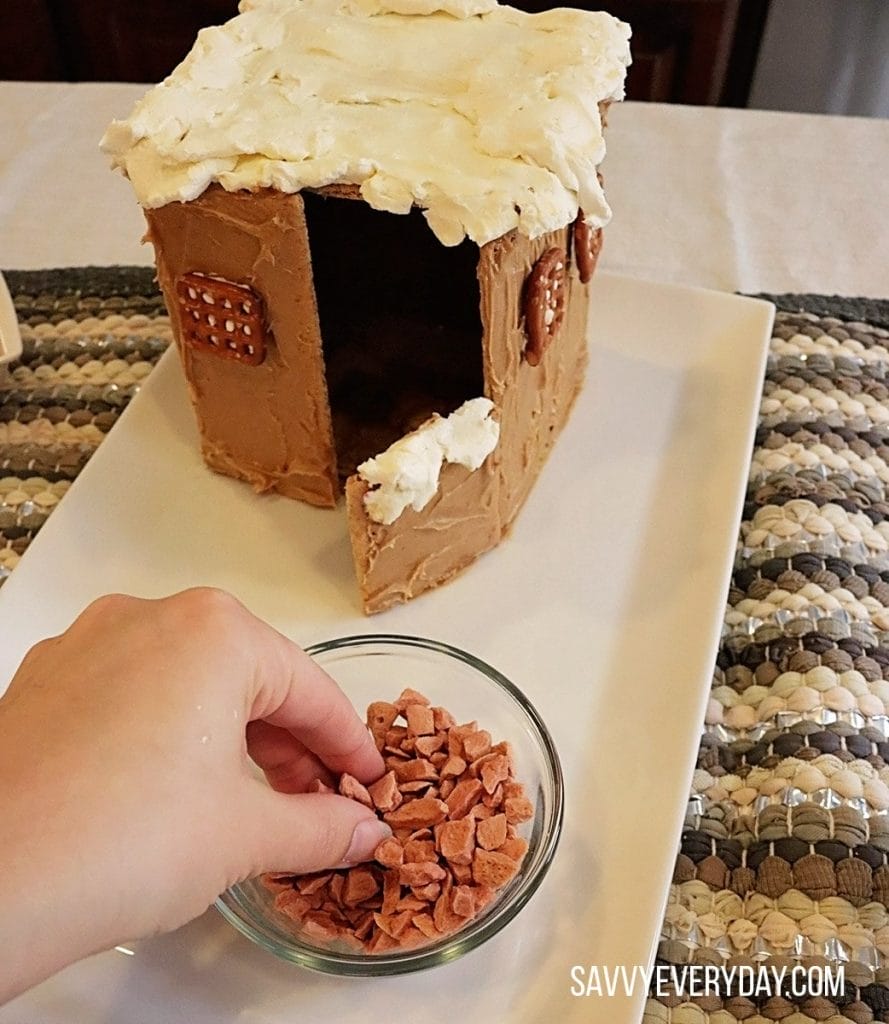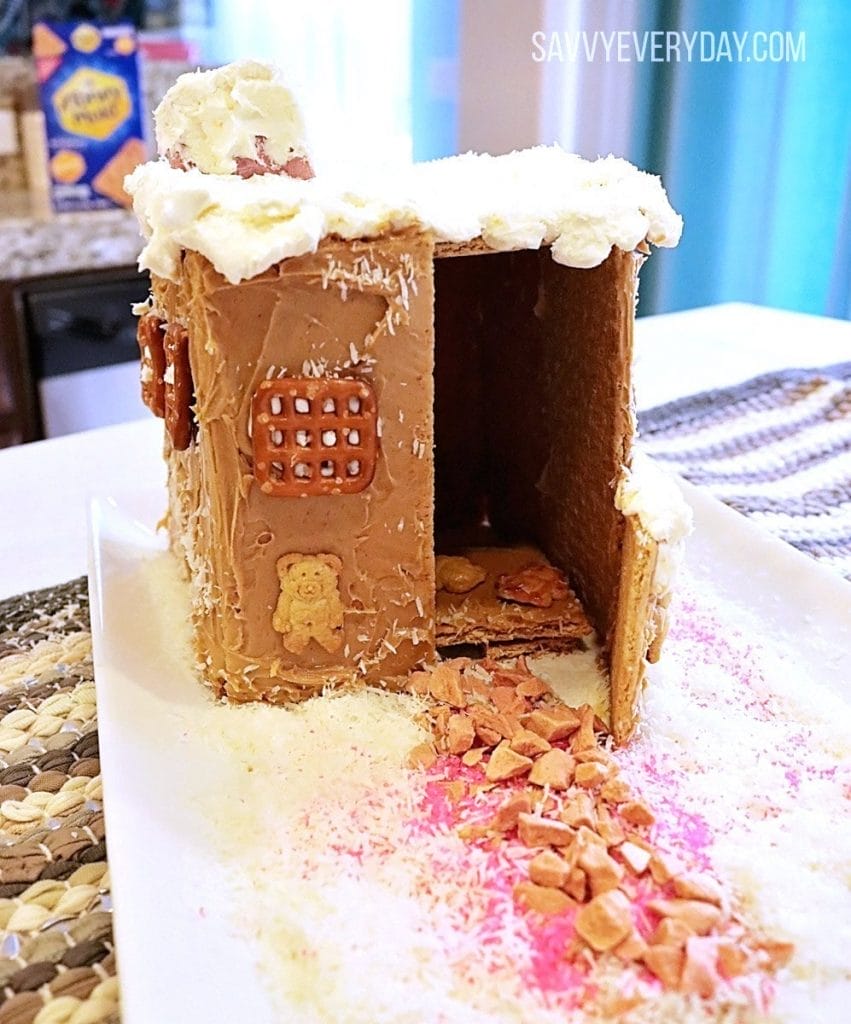 Step 6: Create a Snowy Atmosphere
This part is fun, simply sprinkle the shredded coconut over everything for a snowy scene!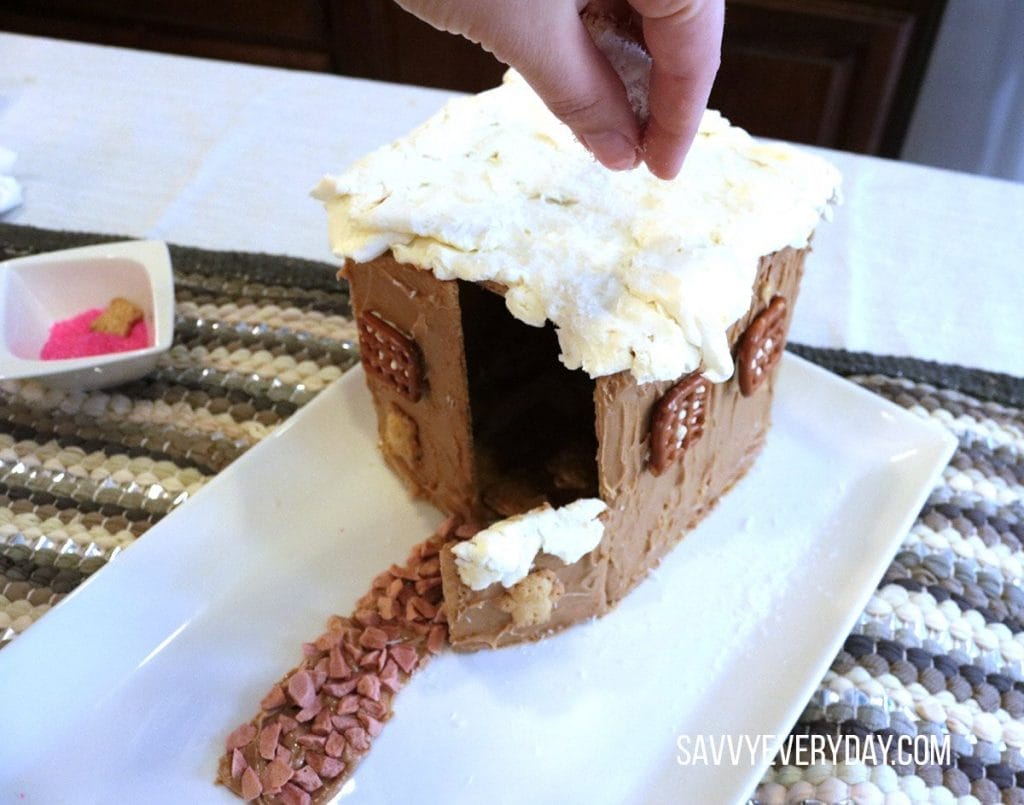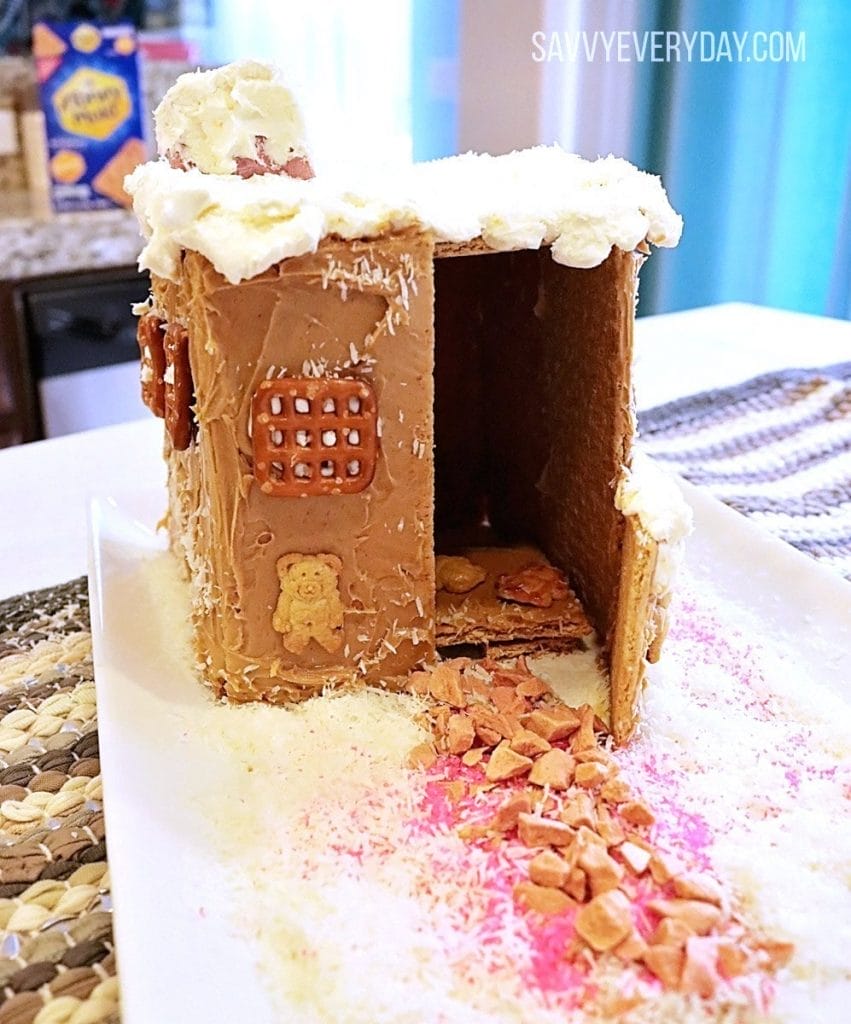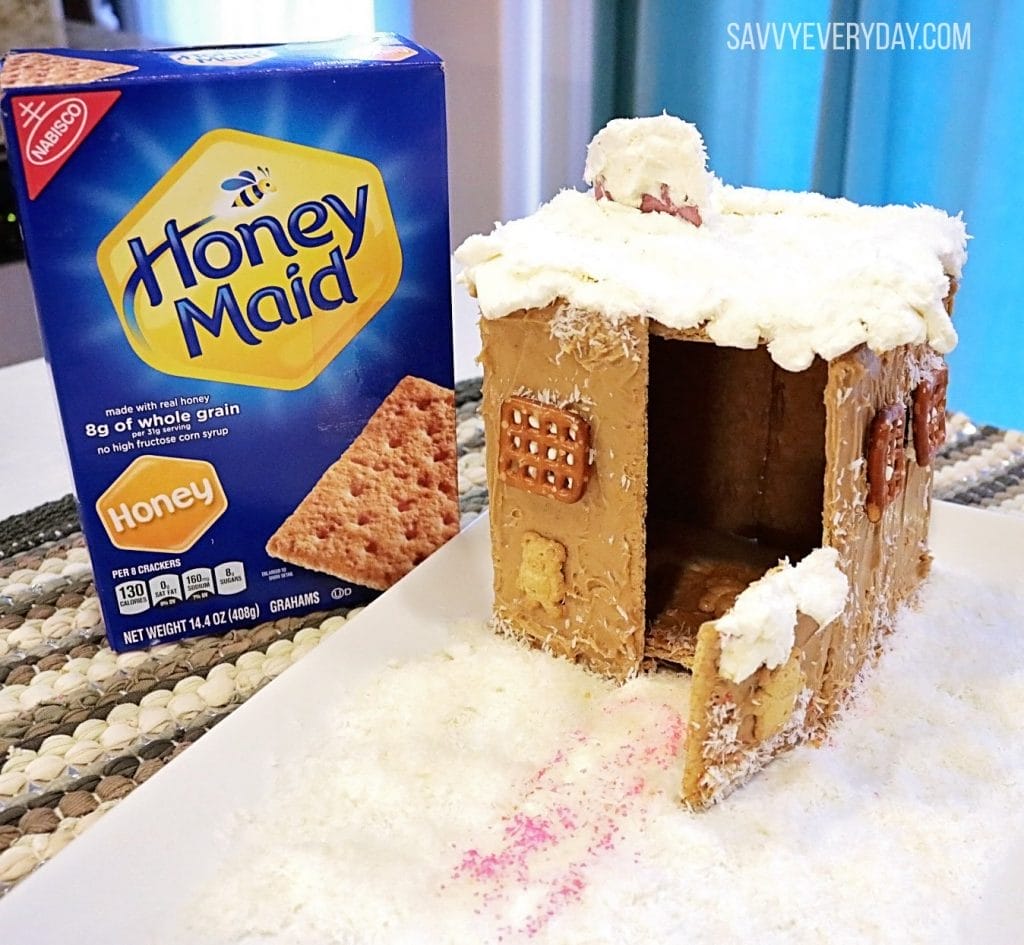 Step 7: Enjoy!
My daughter had so much fun eating this tasty holiday house snack, and I did too!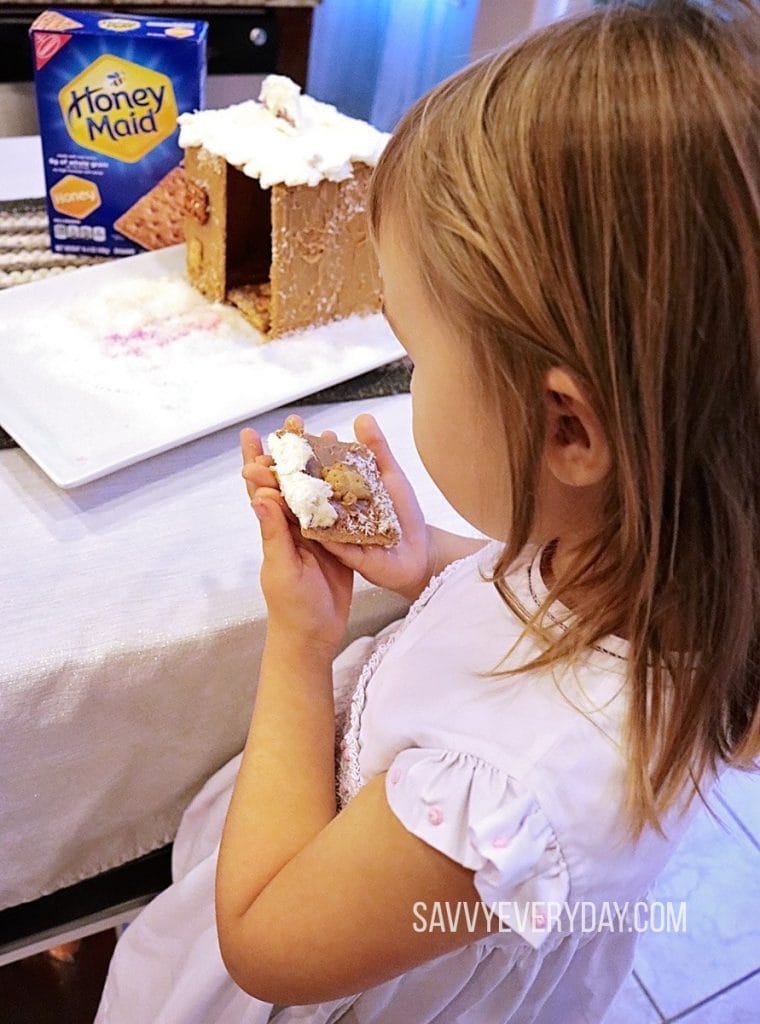 Looking for a bit more inspiration? See what others have created using Honey Maid for their holiday houses, here! What would you put on your Honey Maid Holiday House?
Title:
Santa's Snowy Workshop Honey Maid Build
Mentions:
christmas, gingerbread house, healthy habits, holiday, holiday traditions, kids activities, sponsored post