Savvy Mompreneur: Grainne Kelly
Being a mom is a full-time job, which makes it especially difficult to start your own business at the same time. Savvy Mompreneurs are women who have embarked on this journey and are willing to share their ups, downs, tips, and hardships on the road to success. Grainne Kelly created BubbleBum because she needed a better solution for international travel with her kids. Now, her seats are available at retail stores throughout Europe and the United States. Keep reading for her story.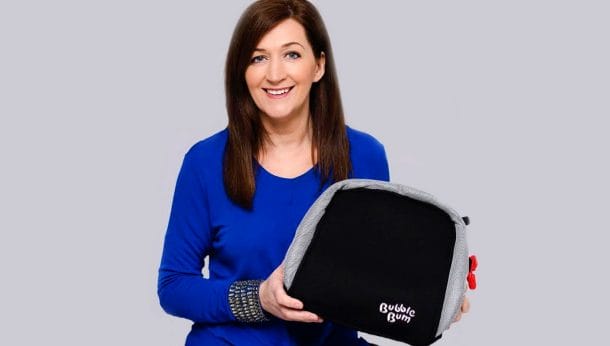 Q: Where did the idea of BubbleBum come from and what made you decide to create it as a product for everyone?
Grainne: As a mother of two, my primary goal was to offer travelers a safe way to transport their kids. I was frequently traveling between my native Ireland and England to visit a sick relative, and I always had to transport cumbersome fixed booster seats back and forth on the plane due to the lack of car booster seats available from car rental desks. I invented BubbleBum as an affordable, lightweight car booster seat that could travel easier than a child does.
Q: What was the first thing you did when you decided to create BubbleBum?
Grainne: The first thing I did was think of the best way to make the booster seat ultra lightweight and compact, so I chose inflatable. Then I called all of the testing laboratories across the world to discuss the new idea.
Q: Did you face any problems while trying to create BubbleBum?
Grainne: Yes. All of the testing laboratories told me that inflatable was not an option as the seat had to be crash tested in the worst case scenario, which is of course deflated. This was a great challenge for me, but I worked out that the seat could easily pass the crash testing if I used memory and air technology along with a harness apparatus. It meant many trips to China and encounters with many crooks along the way. I also met great resistance from the US market with the idea of a new technology. The solution was to move my family there so I could understand the market better and address any concerns before we launched. This would not have been possible without a husband who supported and believed in me every step of the way.
Q: What would you say was the biggest hurtle for you as a mompreneur?
Grainne: Traveling all over the world was the biggest hurtle for me, because it meant spending time away from my family. To make it all easier, we had a strong focus on communication. I shared the 'why' I was traveling and we all knew what our vision was as a family, so we could remind each other why mommy was away.
Q: Do you have advice for moms thinking about starting their own business?
Grainne: Make sure that you schedule everything that has to be done on a daily basis, including all work and family activities. This will help you feel a stronger sense of balance and keep you on-task. One more important piece of advice is to have a personal motto that keeps you motivated when everything seems hectic with family life and work. My own motto is: "Do whatever it takes for as long as it takes." Repeat this motto to yourself to keep you determined and inspired.
Q: What's your savvy trick/tip for creating something close to work/life balance?
Grainne: We have some house rules, such as: "No talking about work beyond the first stair." We often sit upstairs in our sitting room with the kids, and if we want to talk about anything pertaining to work, we have to go back downstairs. Also, dinner time must be adhered to every night when I am home. No work over dinner and no phones permitted, as that is family time. When I am away, I also always call home at least once a day to see how everyone is doing.
Q: What's your favorite tool for keeping organized?
Grainne: My iPhone is my favorite organizational tool, and I never leave home without it.
Q: Favorite app on your phone right now?
Grainne: I am an avid runner, so my favorite app is Run keeper. It shouts at me when I am not on target for my pace.
Q: Where did the BubbleBum seat colors come from, do you have a favorite?
Grainne: We asked 100 kids, 50 boys and 50 girls, to choose from some BubbleBum color options. Ninety-eight percent of the kids chose purple, so we started with that. We always ask the kids first.
Q: How were your kids involved in creating BubbleBum with you?
Grainne: My kids were 6 and 9 years old when we started talking about BubbleBum. They got all of their friends together in a focus group to help us decide where we should sell, what the BubbleBum messaging would be, and what the branding should look like. They also helped model the product, of course! Our kids are now 11 and 14, and still love sharing their ideas.
Q: How many prototypes did you have to go through before you found the right seat to call BubbleBum?
Grainne: We only needed two prototypes, but the product has evolved over time. We are still evolving and making changes based on customer feedback.
Q: What's your favorite story as BubbleBum's creator?
Grainne: I received a letter from a 9-year-old child who had brittle bones disease and couldn't travel in her car seat, as it used to hurt her so much. She got a BubbleBum and said that she even used it to sit at the kitchen table, as it made her more comfortable. She wrote the letter in pencil and drew me a picture that melted my heart.
A special thank you to Grainne Kelly for being a part of this Q&A. Know a mompreneur Savvy Every Day should feature? Contact Savvy!
Title:
Savvy Mompreneur: Grainne Kelly
Mentions:
advice, big kids, booster seat, BubbleBUm, business mom, car, car safety, car seat, car seat lady, car set travel, England, Grainne Kelly, IReland, kids, Mom, mom-owned, mom-owned business, mompreneur, Savvy Mompreneurs, savvy spotlight, savvy tips, tips, travel, usa