Whimsical Unicorn Bedroom Inspired by Mouse + Magpie
My daughter, S, is super imaginative; She'll spend hours in her room just playing with her toys and creating new toys for her toys to play with from things I'd think are trash. I absolutely love this about her and try to encourage her working imagination. So when we moved into our new home, creating the ultimate space for her to dream her big dreams was on the top of my to-do list, but I wasn't sure how to piece it all together until I found just the right pieces to ignite my own imagination. The result? A whimsical unicorn bedroom unlike any other.
This post is sponsored by Mouse + Magpie and The Motherhood. All opinions are my own. Photos by Sincerely Me Photography.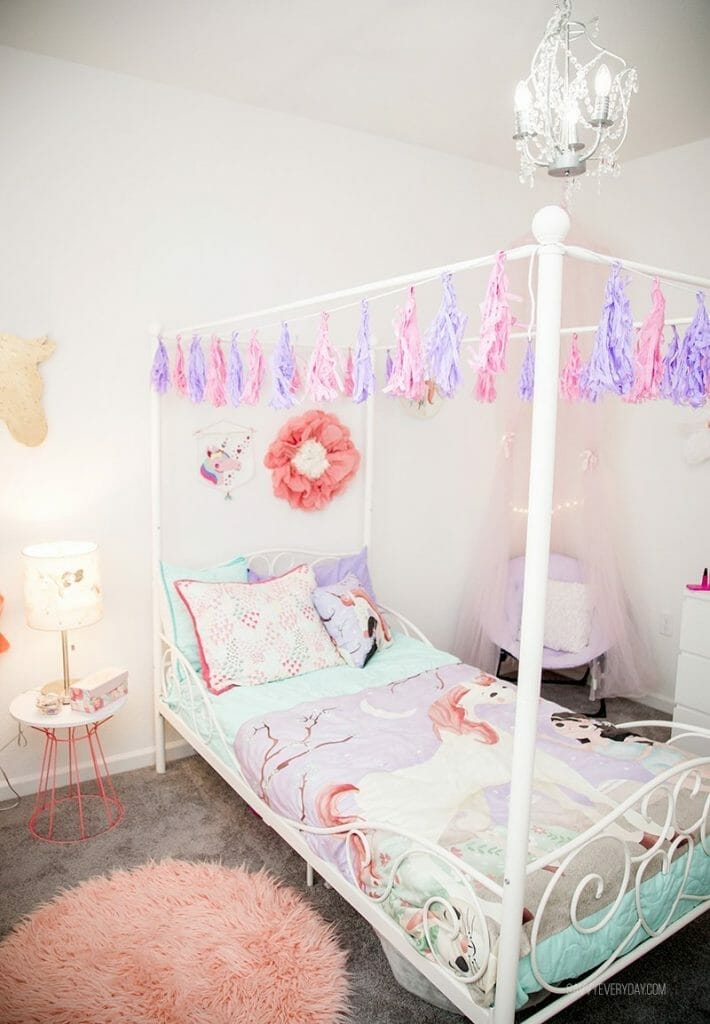 I was sent the Mouse + Magpie Magical Unicorn Ride Collection created by artist Valentina Belloni, which gave me the inspiration for putting my daughter's room together. Mouse + Magpie is a child inspired, adult curated collection of delightfully designed products and furnishings created specifically for little people with big imaginations. I love that Mouse + Magpie partners with artists and illustrators from around the world to exclusively design one-of-a-kind products with the intent of putting imagination into the hearts of children and easy-to-implement nursery room and kids room designs into the hands of adults. Mouse + Magpie allows you to choose either a complete collection full of artwork and products — a clock, a sherpa blanket, a pillow, one piece of framed art, and a lamp — to start a new room design or to select just the right piece to breathe life into an existing space. I went with the collection since it's such a great way to get everything you need in the theme you'd like.
Unicorn Bed
Short of using a unicorn-shaped bed, this is a very unicorn bed. The sherpa blanket from the Magical Unicorn Ride Collection has an ultra-soft cream underside and A Girl and Her Unicorn art on the top. The colors are just so dreamy that I had to use them as a theme for this unicorn room — starting with the bed. The bedspread that S already had actually tied into the blue the girl in the artwork wears, so I just needed more of that peachy pink and lavender purple on the bed. My mom made a few purple pillow cases and I picked up a floral sham with the pinks and blues in it. The Magical Unicorn Ride Collection throw pillow with Unicorn Hugs artwork on it ties the whole bed together really well, but I love how it can be used anywhere in the room, too, just like the sherpa throw blanket.
For finishing touches, I added a paper flower from S' old room above her bed (and more around the room) to pick up more of the floral element in the Magical Unicorn Ride Collection artwork, and a little unicorn picture I found. Both are super lightweight so that they won't harm S if they were to fall off the wall during an earthquake or something. I also bought party decoration tassles in the closest colors to the Magical Unicorn Ride Collection that I could find to make the actual bed frame a part of the unicorn journey.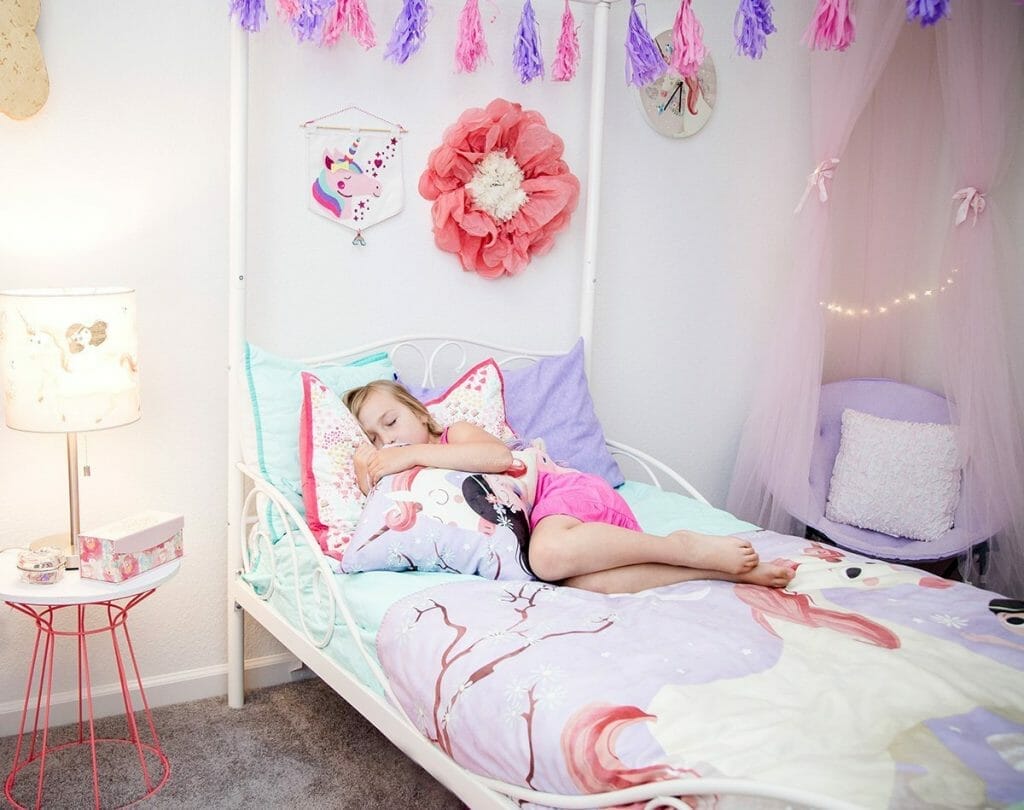 Because S absolutely loves her new bed we were able to transition her into sleeping in her own room for the entire night every night —a huge win for me! I also bought her a matching set of unicorn pajamas for her to wear with one of her dolls and gave her my old musical pony from when I was a little girl to go with her cool new bedroom, which she really liked. I have to bring her baby brother in the room to help her get moving and ready for school in the morning and let me tell you, just looking at the bright, happy colors and beautiful pictures in her room keep him entertained while I'm helping her. He loves being in her room (and she likes having him visit "her space."
Toy Storage
We dressed up S' toy storage bench with a purple pad my mom made to match the large (23″ by 29″) framed Unicorn Ride print on the wall above it. (The framed art on the Mouse + Magpie website comes in other sizes, the large just worked best for my needs.) I really like how this framed print ties the other side of S' room in with the theme and that she can look at it from her bed so if she wakes up from a nightmare she has a really nice picture to look at and calm her fears.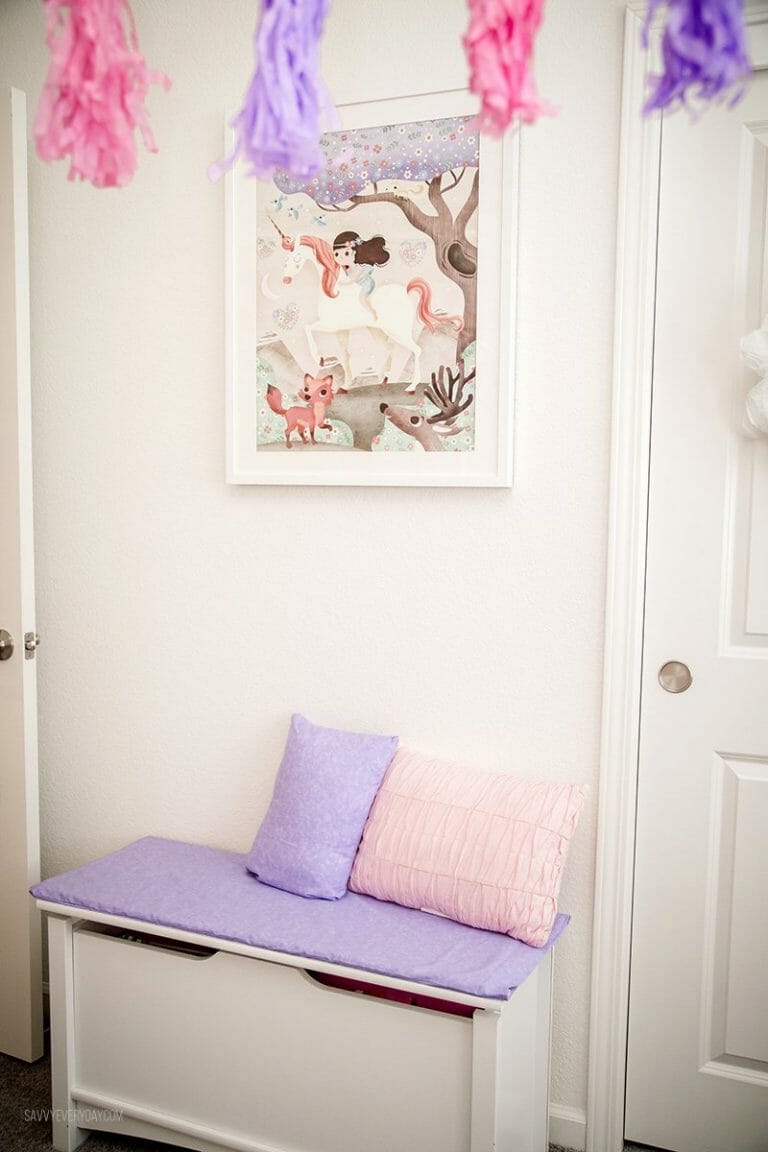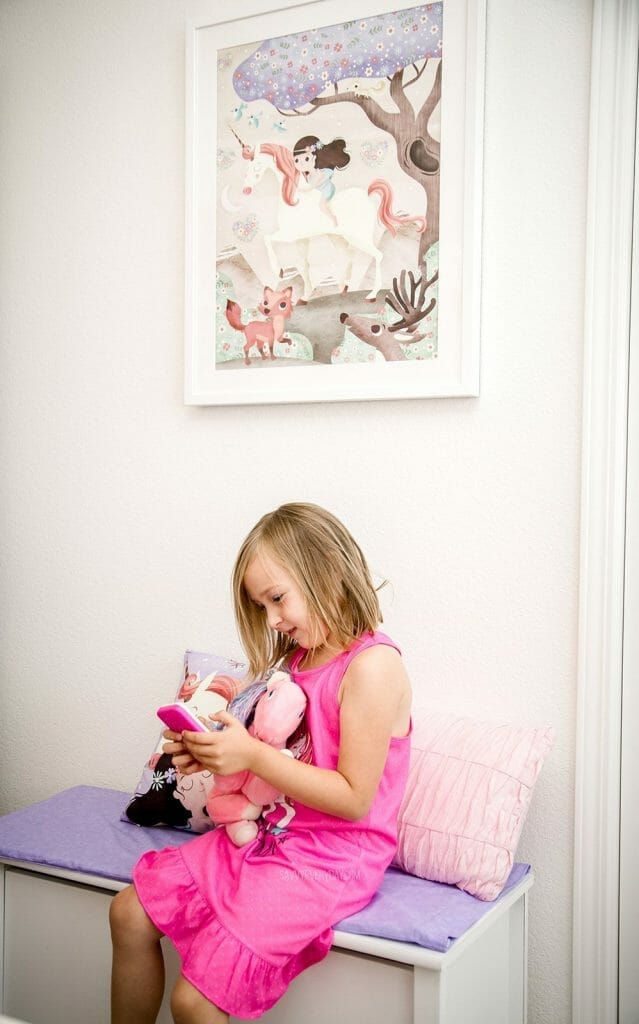 Sitting Nook
S already had a light purple seat in her room and we had a light pink canopy from a few years ago so I put the two together with some lights to create a little seating nook that fits with her unicorn theme. The Magical Unicorn Ride Collection clock with artwork titled Magical Unicorn on it is another room favorite of hers. It makes her feel like a big kid to have a real clock, and she loved the art on it even more. I put the clock between her bed and sitting nook so that she can look at it from either space. Sometimes she sits in her chair with her unicorn pillow from the collection and reads a book or watches a show on one of her devices, which makes her feel like a big kid, too. She just loves this space.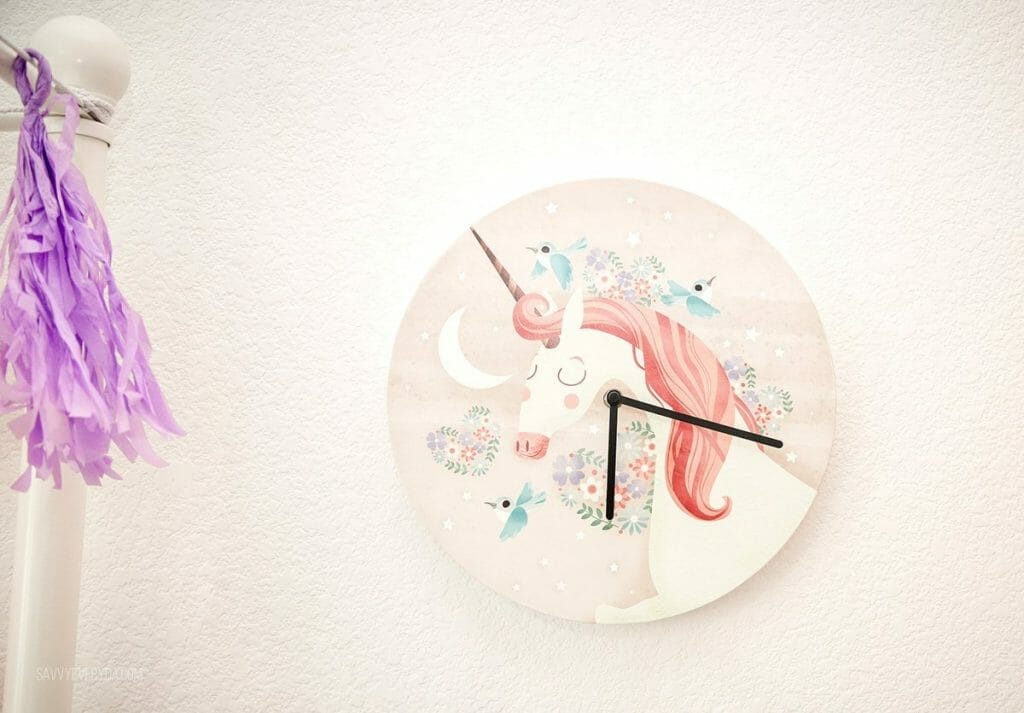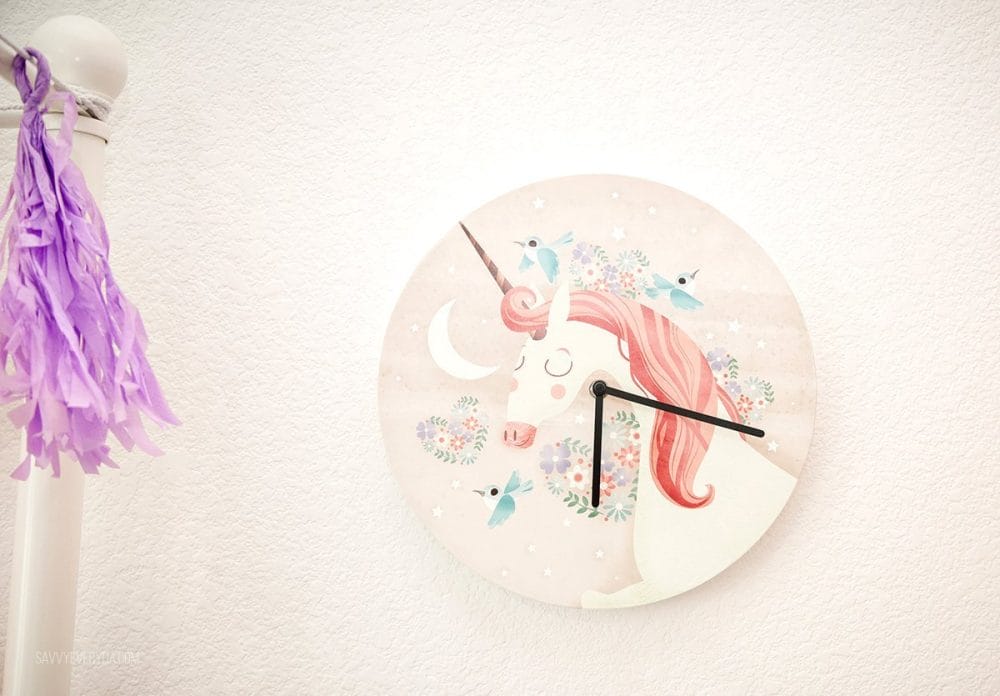 Play Area
The Unicorn in Flight artwork lamp from the Magical Unicorn Ride Collection is S' favorite night light, or light to have on when playing with her dolls and other toys. It has just the right glow to make her feel safe. I like that it has a sturdy but simple pull to turn on the light so that she can turn it on and off on her own without hurting herself, and she just loves the artwork. S is a creative little girl who just loves to imagine new worlds of her own while she plays, so I'm super glad I could create a space using the Magical Unicorn Ride Collection for her that sparks her creativity and allows her to keep dreaming, keep creating, and keep playing.
Visit the Mouse + Magpie website to see more dreamy bedroom decor, or follow Mouse + Magpie on Instagram at instagram.com/mouseandmagpie.
Title:
Whimsical Unicorn Bedroom Inspired by Mouse + Magpie
Mentions:
design inspiration, girls bedroom, girls room, interior design, kids bedroom, kids room, kids room design, mouse + magpie, mouse and magpie, sponsored, sponsored post, the motherhood, unicorn, unicorn art, unicorn bedroom
Keywords:
Unicorn Bedroom