4 Design Tips I Learned From Model Homes (That May De-Clutter Your House)!
Sometimes I walk through model homes for inspiration. Not all models are designed as well as others, but when they're staged to perfection it's simply amazing to walk through . . . just a little hard to leave for my home after. The photographer in me decided to snap a few photos (although a few are meh quality iPhone pics) of some rather smart design tricks that are perfect for any family home, and to help de-clutter a bit. Scroll through to ooh and aah, or simply get a bit of inspiration for your own monumental design moments.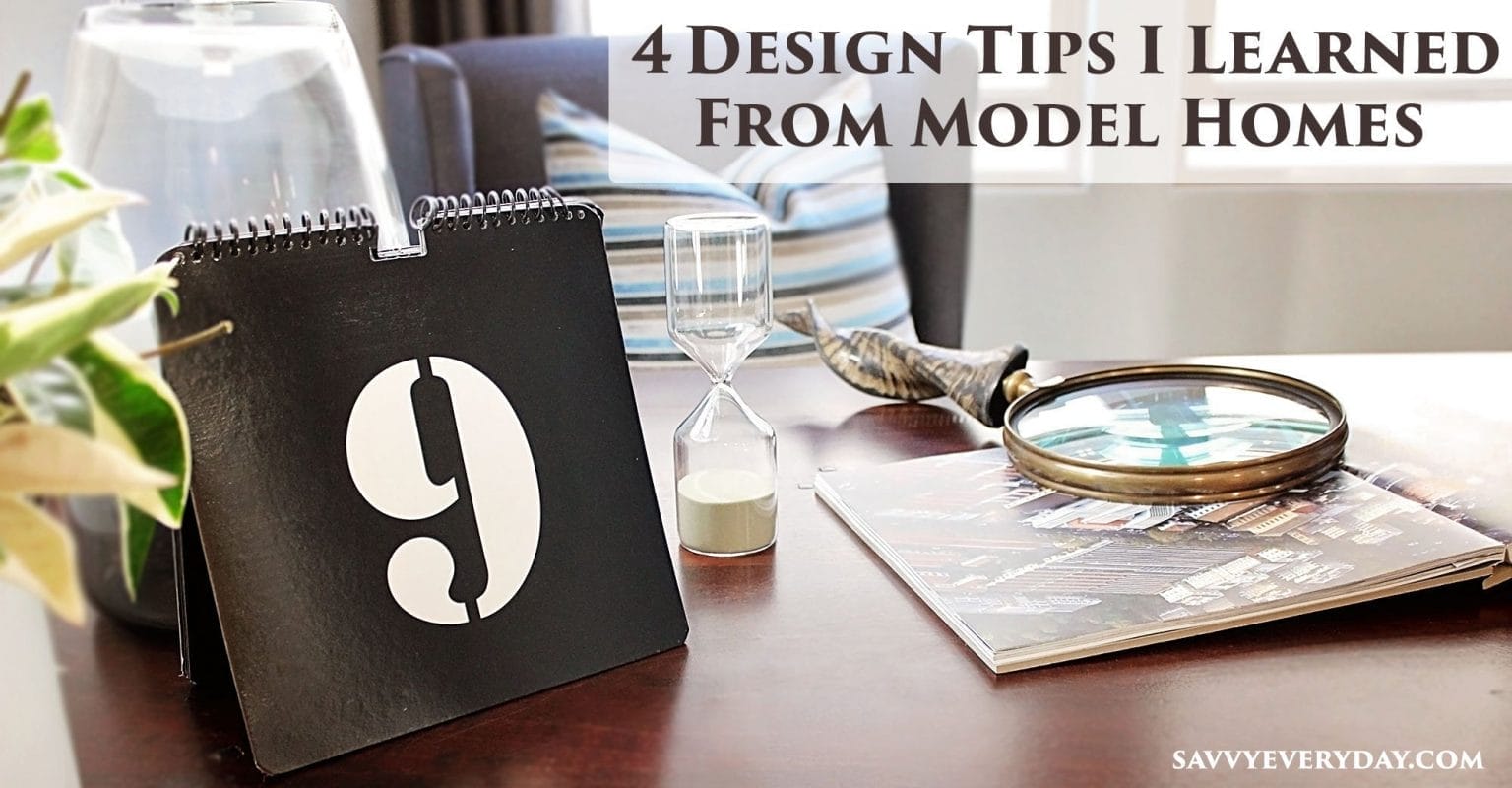 1. Incorporate Your Hobbies
Things like prize ribbons, awards and other hobby-related clutter can become a part of a room's design by incorporating them in a theme! This home showed off a little girl's room full of horse riding-related items and the theme continued into the bathroom where these ribbons were used to decorate the towels (they also had a horse illustration and other items to keep with the theme and colors).
2. Give Old Things New Life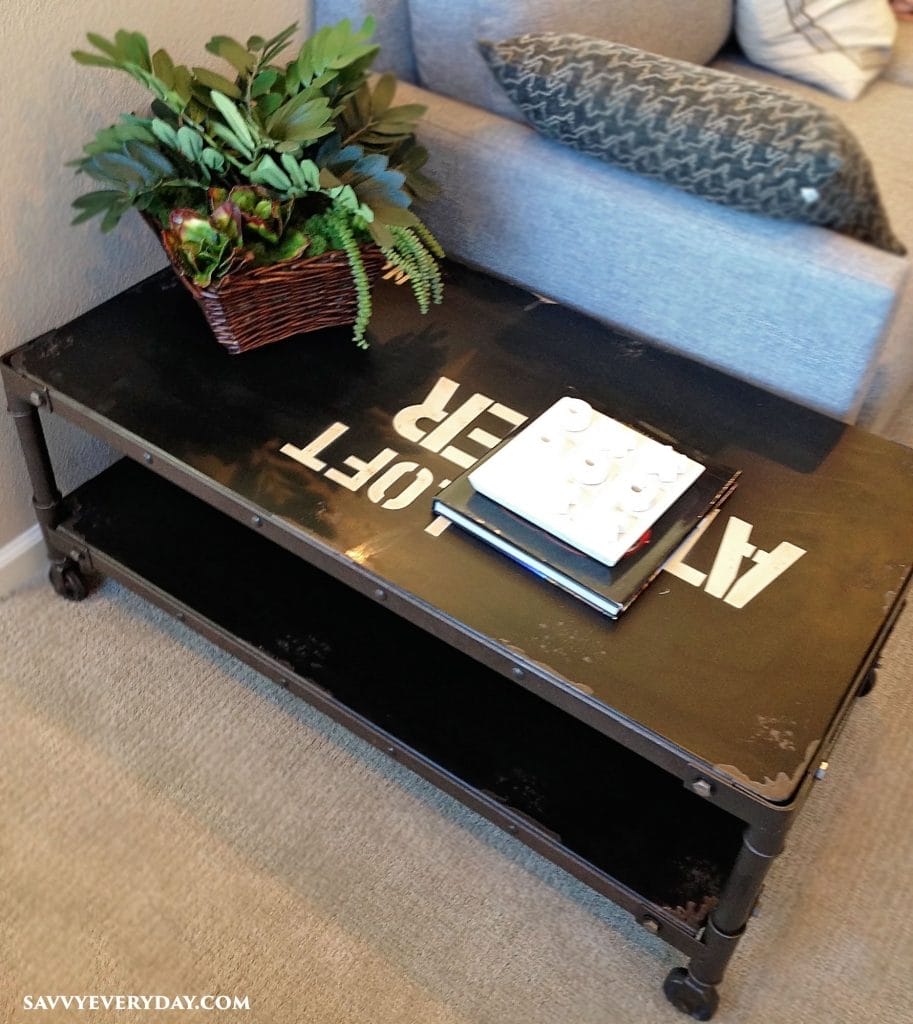 Though vintage looking tables like the above are sold brand new for upward of $200, but can probably be found at garage sales, library sales or school sales. (A Bay Area library recently threw out thousands of books and who know what else instead of offering these items for sale, so sometimes near the dumpsters is a good place to check, too). This Cost Plus sort of item can take the beating it will likely get from kids using it, and rolls off to the side or wherever you need it to be easily. The double storage and industrial look are pluses, too.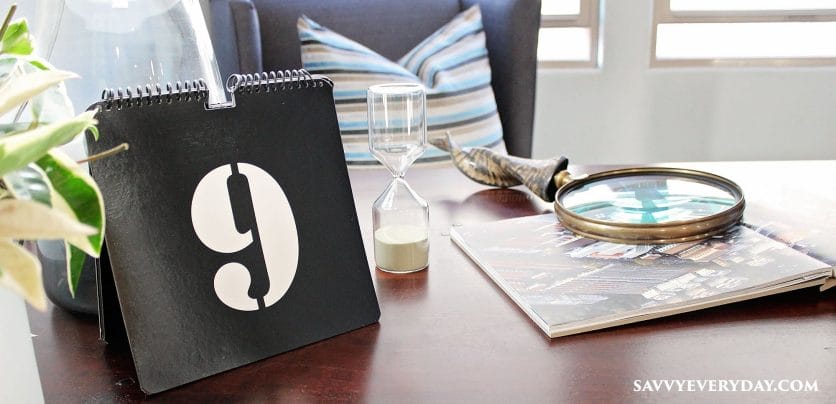 Another fun use of stencil time would be to take an old flip calendar, paint over it and get to stenciling. Though the above artwork is brand new, you can easily make your own by reusing an old thing and making it something new.
3. Put Your Walls to Work
Chalk walls (sorry for the blurriness) make great wall accents for a pop of originality in a room. A fantastic alternative that isn't quite so overdone would be to make a cork board wall or dry erase wall near the front door entrance or garage door entrance. Regular accent walls are fun, too, but if your walls can also be used to write notes, track your child's growth, and be used for a bit of drawing time then that's a major win. The fact that you're saving your home from the clutter of a growth chart, scheduling board, note pads and so much more is also a bonus, and it's nice to not have those extra things that could fall down in an earthquake.
Using something different from paint on your walls can also brighten a room, and tie in a warm feel. I absolutely love the exposed wood look on this bedroom wall. I'm not a fan of those fake wood panels that went up in homes decades ago, but this natural wood look is inviting and bright. I especially love how the designer used this look on the walls in the stairway of this home.
4. Don't Be Afraid to Mix Patterns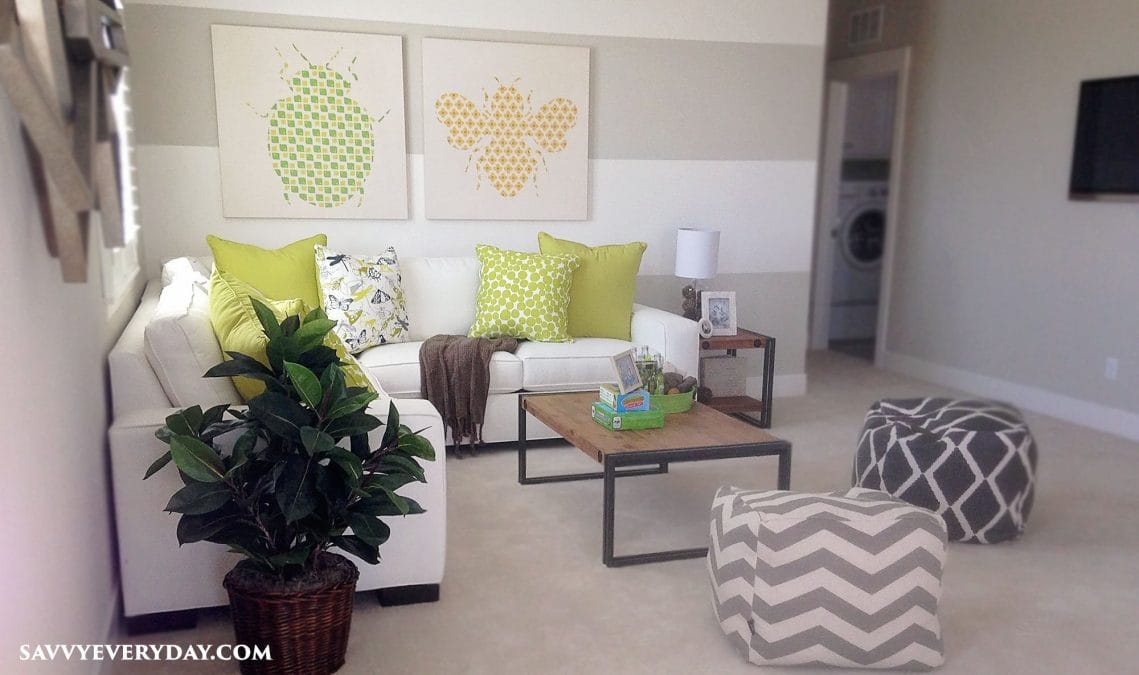 Though the walls of this room have stripes, the mixed pattern ottomans tie in nicely and ground the otherwise Spring-bright room. Another great thing about this room is that it's a great use of space between the stair and bedrooms. Rather than having an awkward walking area, the designer created a functional second living room that I wouldn't mind spending my afternoon sitting in.
Mixing patterns is even OK to do in bedding, and when coordinating a bed frame with other furniture in the room as long as everything fits the color/feel theme. This little girl's room is full of different patterns, designs and shapes that all fit within the purple and white color scheme in a fun, welcoming way.
Do you look for tips in model homes or at open houses? What are a few of your favorites?
Title:
4 Design Tips I Learned From Model Homes (That May De-Clutter Your House)!
Mentions:
design, design tips, Family, family home, home design