4 Simple Ways to Read, Talk and Sing More With Your Kids
When Savannah was a baby I'd sing her to sleep and read her books all day long. I was so good at making sure that we Read. Talk. Sing. (and do baby yoga), just like First 5 California recommends, every day when she was a newborn, a baby and even a toddler. But now that she's 4, I've gotten so busy with work on the computer that she's usually making messes around me while trying to occupy herself with creative activities until mommy can play tea party or make a blanket campsite. This isn't something I'm proud to admit, but I know I'm not the only parent to realize that this is happening. That though they're only little for so long and the first 5 years are most important for brain development, I'm simply not as involved as I used to be (or want to be) as a parent . . . which is exactly why I was excited to work on this simple list of ways to incorporate Read. Talk. Sing. into daily life.
It's never too late to start reading, to, talking with a bit more, and singing to (or with!) your child, but it's very important that you start now. Babies go through more changes in the first year of life than any other, meaning there's some serious development happening! No matter your kiddo or baby's age, though the below 4 tips should be helpful.
Bedtime
One of the most common ways parents can (and do) spend some time to Read. Talk. Sing with the kiddos is bedtime. This is an opportunity to talk about each other's day, ask questions while they get ready for bed, then read a bedtime story. After storytime, you can either sing a little nighttime song to your little one or general song together. When Savannah was a baby I made up a bunch of lullabies that I'd sing to her before she went to sleep and I still use them now.
Here are parts of two songs I worked on (from what I can remember) that you can customize with your own child's name. They sort of just repeat for e few verses then I add more things that come to mind or she requests in the song.
Savannah, Savannah dah dun dun dun dun dum. Mama loves Savannah, dun dah dun dun dah dun. Saaasaa Savannah Saassaa Savanah I loooove you! Saasaa vanna Saasaa vanna yeees I do!
You've played the whole day through, there's nothing left to do. It's time to close your eyes and dream of lullabies. See clear blue bunny skies. Goodnight goodnight goodnight. Goodnight goodnight goodnight, Savannah. Mmmm Mnmmm Mmmnmnnmm. Goodnight goodnight goodnight, Savannah.
It's important to find some great bedtime books, too. Here are some of our favorites:
Time For Bed by Mem Fox and Jane Dyer
Goodnight Moon by Margaret Wise Brown
The Going to Bed Book by Sandra Boynton
The Very Hungry Caterpillar by Eric Carle
Some Sesame Street and Little Suzy's Zoo books (Wide Awake Witzy) from the Target One Spot section
Car Rides
Whether you pick your kiddo up from daycare or preschool, pick up time is a great opportunity to talk about what happened that day. Younger kids really enjoy chatting about what they see out the window and singing along to music in the car.
Playtime
Carve out an amount of time in your day that's just for a bit of playtime with the kiddos, even if it's 10 minutes. Build something together with craft supplies or Legos and use it as an opportunity to ask your kiddo about what they're thinking and what the two of you will work on together.
Cooking & Baking
Include your child in lunchtime, dinner or breakfast prep. My daughter loves when I let her help make apple pie and other treats so much that she talks about it all the time. Cooking and baking together is a great way to get kids to eat their meals (because they helped make it) and chat about percentages, why you're mixing and blending things, and also about flavors, shapes and colors! Savannah and I usually put little stars or hearts on our circular pie, then cut it into triangles to serve to family members.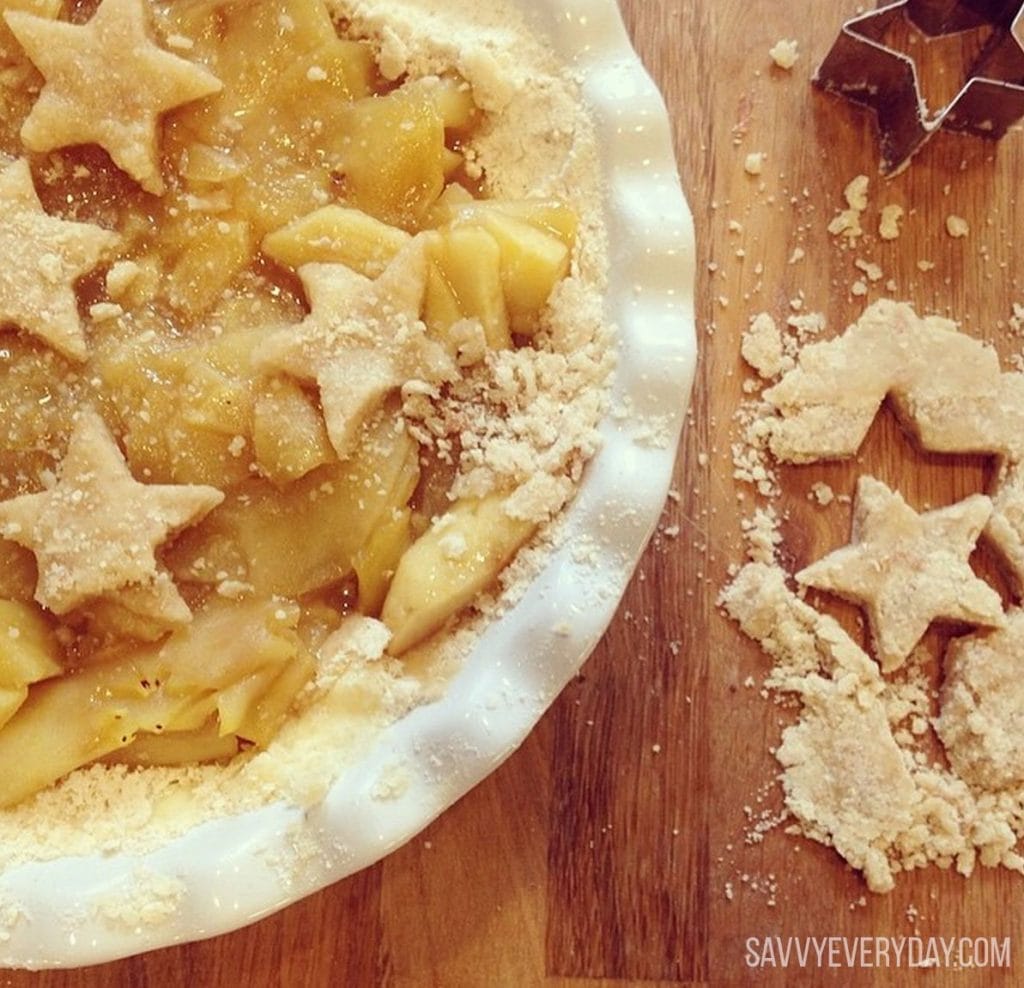 How do you incorporate Read. Talk. Sing. into your child's life? Share your family tips in the comments below!
Title:
4 Simple Ways to Read, Talk and Sing More With Your Kids
Mentions:
baby, bedtime, bedtime books, california, First 5, First 5 California, infant, kids books, newborn, preschooler, read, reading, reading to kids, sing, singing, story time, storytime, talk, toddler