5 Fox Themed Baby Items You'll Want to Buy for All Your Pregnant Friends
I am a paid Gerber Childrenswear ambassador and this is a sponsored post. All opinions are honest and mine alone. Photos: Joy Lifestyle Photography.
Fox themed baby items are everywhere right now (and I think you'll see more of them in 2018). Without realizing it, I bought River a little fox Christmas toy as well as a hooded blanket and stuffed animal! So when my Gerber Childrenswear Brand Ambassador onesies arrived in the mail I was stoked to see that they were fox themed and have cool 3-D pieces and textures! You might know Gerber Childrenswear from the plain white onesies used at baby showers for everyone to decorate, but the brand has so much more available, including several new lines in partnership with Target, like the fox onesies I got! Keep reading to check it all out!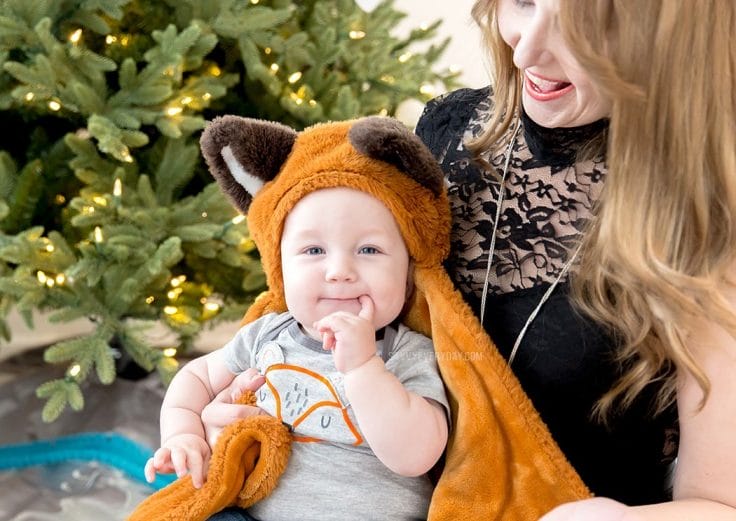 Fox Bodysuit Set (5 Pack): This is the set I was sent to try out as a Gerber Childrenswear Ambassador and I absolutely love it! The grey, white and burnt-orange color scheme pairs together really well and the sizing is totally true to size. The cotton is soft, and my favorite part is how the set comes with a variety of styles that fit the pack. I can put a 3-D and soft textured fox face onesie on River one day, a onesie filled with a pattern of foxes another, or put him in a solid color or nice stripes! The fact that you get 5 bodysuits for $10 is pretty amazing, too, talk about a great baby shower gift. Available Sizes: Newborn-24 months.
Fox Zip Front Sleep N Play (3 Pack): Not only will this cute set keep baby warm during winter, but the front zip style makes diaper changes SO much easier if you have a wiggly baby who dislikes being changed. I wish it came in River's size! Available Sizes: Newborn-9 months.
Fox Cap Set (5 Pack): Um, $9 for 5 baby hats? Yes, thank you! Again, the fox pack styles are adorable, too. This set comes with an adjustable cuff design to fit babies ages 0-6 months and includes a 3-D fox ear style cap! Available Sizes: 0-6 months.
Fox Cotton Gown Set (2 Pack): Perfect for easy diaper changes and nap time, and they include built-in mitten cuffs.
Fox Interlock Terry Burpcloth Set (4 Pack): This set matches all of the other cute fox clothing and accessories, plus catches all the spit up.
The Gerber Childrenswear line at Target has a cute grey and white mitten set that matches all of the fox themed baby clothes and accessories, plus a $38 layette set that includes most of the items in this post! Comment below and let me know which item is your favorite.