5 Must-Have Products for Kids With Tangled Hair
My daughter is 5 and would go days without brushing here hair if I didn't ask her to before we leave the house for the day. I'll admit that there are still days she doesn't do it. Why? I'm one of those parents that feels it's her body, her hair. So as long as it's clean, looks OK and we're not on our way to go get pictures I might ask her to brush her hair or let it go. I'd prefer she did her hair, though, so I introduced her to some items that would make doing her hair a bit less frightening (for both of us) and guess what? They work!This post is sponsored by SoCozy. All opinions are my own and not edited by the sponsor.
Gentle Shampoo with Conditioner
It all starts with using the right shampoo at bath/shower time. I like to buy products that are non-toxic and free of parabens, formaldehyde, sulfates, phthalates, synthetic color or propylene glycol but don't cost too much. SoCozy's 3 in 1 shampoo, conditioner, and body wash is not only made without all the yucky stuff but easily found at stores I shop at like Walgreens and Target (find your closest store, here)! Having the 3 in 1 product is great for cutting down the clutter in my bathroom, too. The best part is that my daughter likes the smell, making hair washing not so dramatic during bath time. Properly washing her hair to get all the sticky foods (yep, she gets food in her hair a lot) and what not out is key to manageable hair later.
Detangling Spray
I remember being terrified of brushing my own hair as a child because of how easily it tangled, and now my kiddo has the same exact hair I did and the same worry. She doesn't like brushing her hair because it hurts, but because she's afraid to brush it some days it only gets worse. Detangling spray is my secret weapon of sorts. If I use some good smelling detangler in her hair S is totally OK with getting her hair brushed. It's actually become a part of the hair brushing process every time now, and she'll even use it when brushing her hair herself or brushing her dolls' hair. Side note: Allowing S to watch the iPad while I do her hair or she does her own hair makes everything go so much smoother. Anyone else's kiddo obsessed with YouTube Kids videos?
Detangling Hairbrush
Detangling spray really works best when used with a brush meant for tangles and little kiddos. Not all hairbrushes are the same after all. Some actually pull at the hair even more and others like round brushes meant for drying your hair are prickly and can hurt. I really like using a Wet brush for S' hair. This allows me to wash her hair, spray some detangling solution and then brush her hair while it's still wet so that it's all set before it dries and tangles. These brushes partner well with the detangling spray on dry hair, too, and allow me to brush and hold S' hair in sections so that there isn't much pulling at her scalp and I can get rid of any knots in a more effective manner.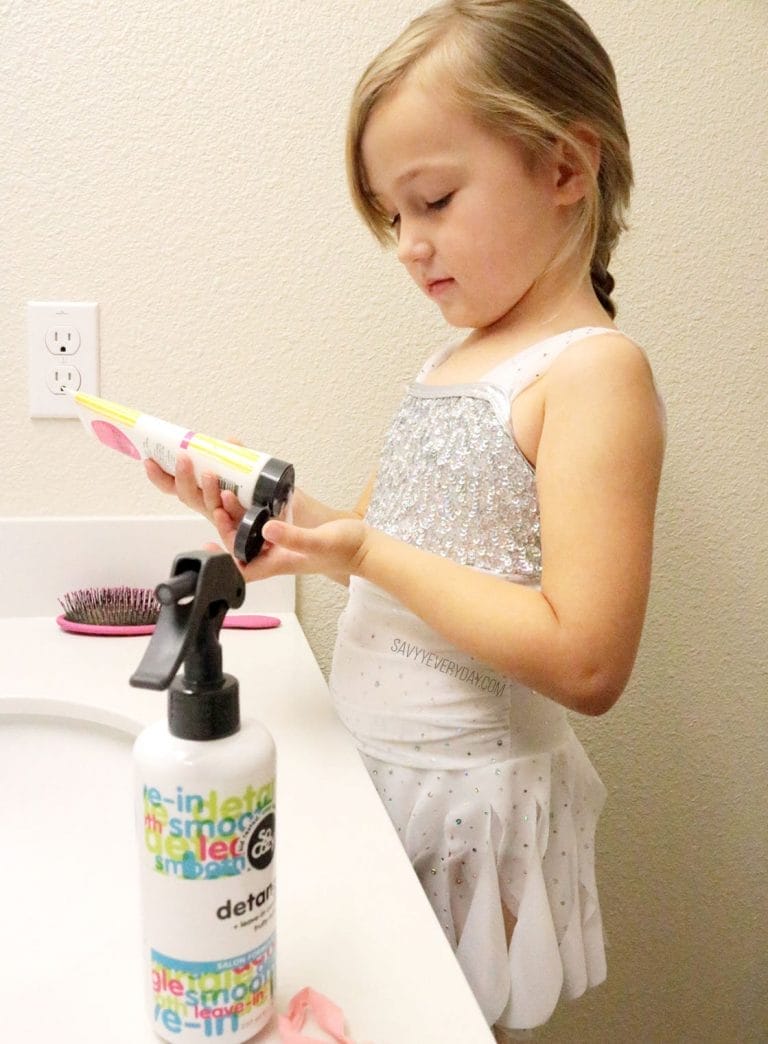 Styling Cream
Now that the kiddo is a big kid in kindergarten and about to be in her first big ballet recital we're styling her hair a bit more. But styling her hair often leads to more knots if it's not done right, so we tried out SoCozy's styling cream when doing S' hair for her ballet pictures this week. I was expecting a gel-like sticky substance but the cream not only smells good but is very light and not all sticky feeling. S squirted out a huge gob of it and put it in her hair to hold down flyaways and the product didn't look greasy or wet in her hair (even though she had too much in one spot).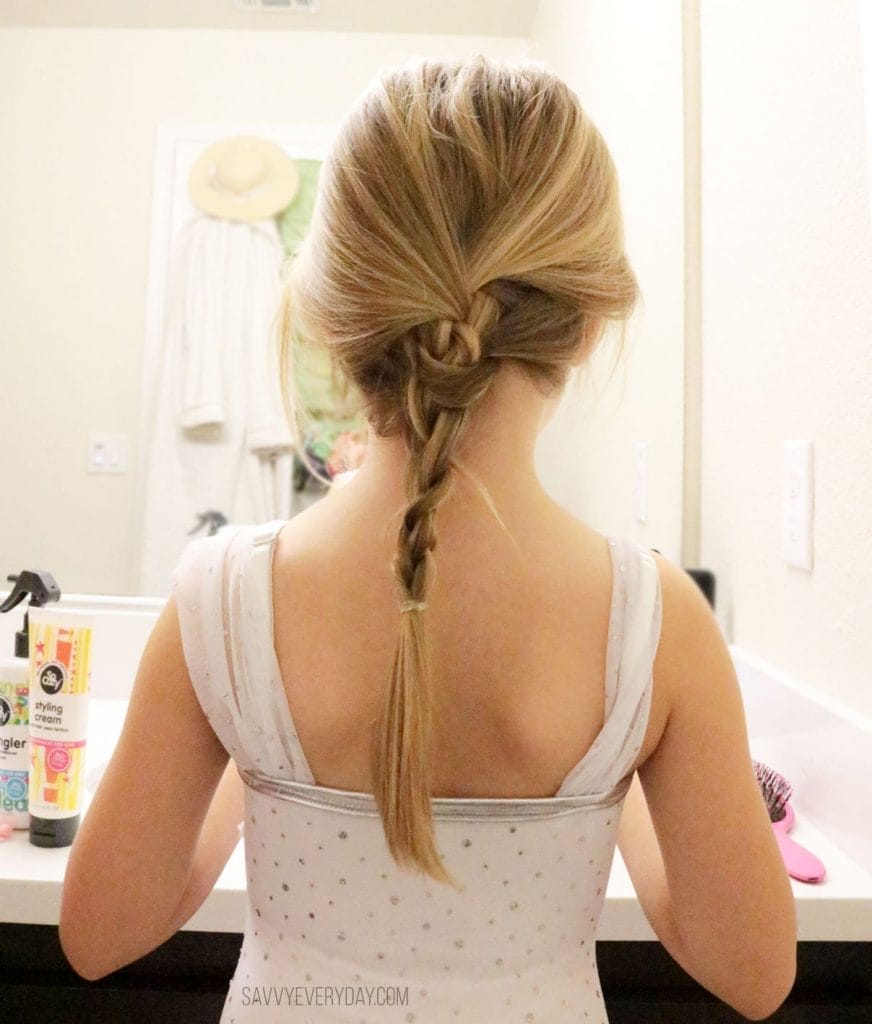 Ouchless Hair Ties
Using an ouchless hair tie is key to managing easily tangled hair! If I can put S' hair up in a ponytail or braid (like the one pictured for her recital rehearsal) then her hair isn't going to get tangled like it does when it's down. The best part? at the end of the day when it's time to take out the hair tie I can do it without pulling half her hair with it! We used to use the little rubber band type of hair ties (even some of those say they are ouchless but they aren't) because S' hair is so thin and they hold well, but her hair would get super tangled while trying to put them in or take them out. Plus they hurt! Now we use ouch-free elastic bands that still offer great hold, but without the hair pulling.
What are some of your favorite tips for managing your kiddo's hair?