6 Tips For Riding Thomas the Train
Kids and adults alike enjoy riding Thomas the Train and spending the day in a land like Sodor. Whether you're a grandparent, parent, or aunt/uncle, spending a day with Thomas is probably something you've been considering (if you haven't already done so). But before you go there are a few things to keep in mind. Read through the below quick tips then pass them along! If you have more tips to add, please post a comment.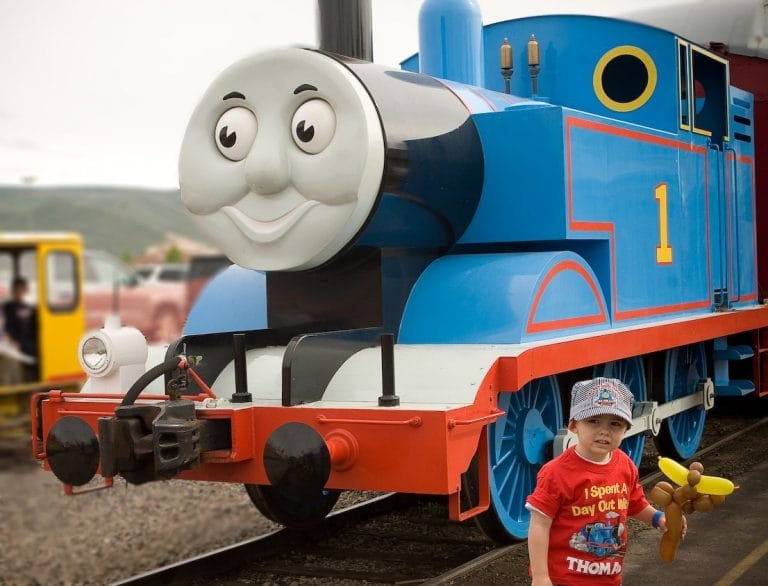 1. Dress Up!
Dressing up in Thomas or railroad-related garb is a part of the fun when visiting Thomas. Make your little one feel like a little conductor, central to your family's train ride.
2. Go Prepared
Not all railroads are the same, but wearing closed shoes prevents the stepped-on-Lego feeling you may get if you arrive to a gravel ground in your sandals or flip flops. Also be sure to pack sun hats and sunscreen/sunblock for application after getting out of the car. If you bring a stroller, be sure it can handle any terrain. Or skip it and just bring a carrier (there are toddler carriers, too)!
3. Bring a lunch
Though these train events often have food for sale, it's fun to pack a family lunch and enjoy a picnic as a family before or after the train ride. Be sure to bring a lot of water too!
4. Bring a Surprise
Balloons can cost anywhere from $7-$12 at these train events, so toys can be mighty pricey. Bring a small Thomas-themed toy along in your bag (or maybe even a balloon to pay the attendant to inflate) to give your child a special souvenir from the day without the buyer's remorse.
5. Chart Your Course
Look through the event guide when you arrive to see which booths and activities are essential to making the day fantastic for your child, rather than wandering from booth to booth. Guides also have info about any prizes or specials that you may not know about otherwise.
6. Be Excited
What will make the day even more exciting? Showing your child that you share in the excitement of the day and that you're so happy for them. When they receive their Junior Conductor certificate after the train ride, be sure to add their name to it and make a big fuss about how special it is. Then participate in the fun activities with your child. After all, Thomas tattoos and face painting isn't limited to just kids, right?
This is not a sponsored post and is in no way connected to HIT Entertainment or Thomas the Train.
Title:
6 Tips For Riding Thomas the Train
Mentions:
day out with thomas, destination review, family fun, first train ride, kids activities, parenting, railroad, review, thomas event, thomas the train, train, train ride
Keywords:
Riding Thomas the Train