7 New Mom Essentials Not to Forget
During baby showers and pregnancy it's easy to get swept up in the needs of your soon-to-be newborn, but it's also important to remember what you'll need to make the transition into mommyhood easier as a new mom, too! Be sure to click through these 7 not-to-miss items before you give birth (and check out the giveaway).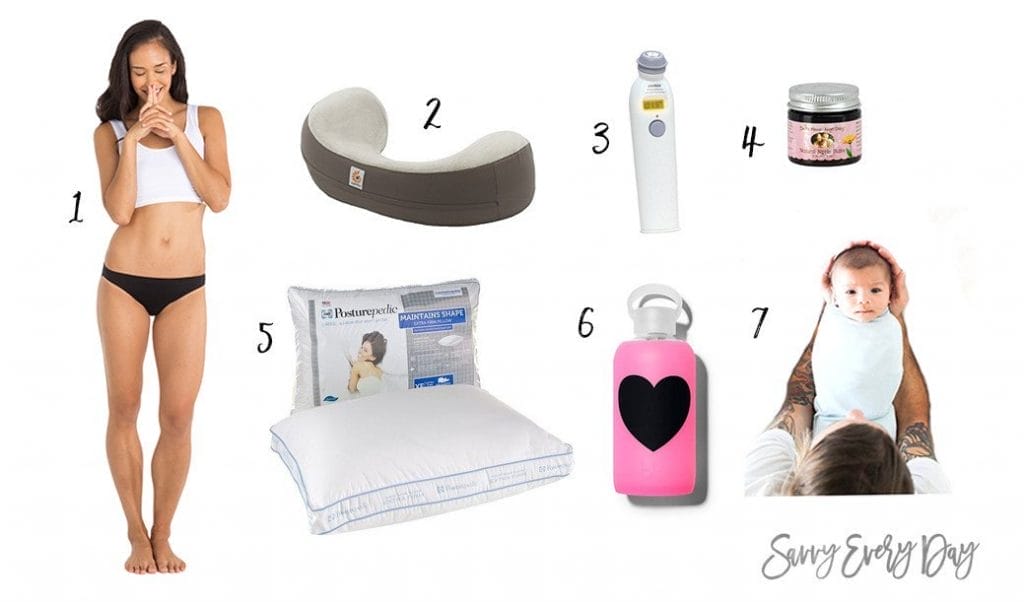 One
Icon Undies (Bikini shown): Pee-proof underwear for women who may tinkle when they laugh, cough, walk and so on after giving birth. Each pair of Icon holds up to 5 tablespoons of liquid and keeps you dry and odor-free. Not every mom needs something like this after birthing, but a lot do, so it's something to consider. I don't have a leak problem, but tried out a prototype pair to see if they're comfortable for women in everyday life. They're super comfortable, didn't bunch up and leave a bunch of lines and I could see the undies have a nice amount of protection. Icon was also created by the brains behind Thinx, so they support the Fistula Foundation as part of the company's give back principle. Keep reading to win a pair! ($30-$34, Icon)
Two
Ergo Baby Natural Curve Nursing Pillow: I haven't gotten to try this new contender out in person yet but have heard only good things so far and it's on my wish list for future pregnancies. At-home pillows are great, but the firm, natural support of a nursing-specific pillow is a life-saver. ($69, Amazon)
Three
Exergen Smart Glow TemporalScanner™: Taking my daughter's temp with a thermometer is always a chore, and I'd feel horrible having to get a rectal temp when she was a baby. A temporal thermometer is such a blessing, and I love that this one saves up to eight previous scans so you can compare temps easily. ($29, Amazon)
Four
Earth Mama Angel Baby Nipple Cream: If you're nursing you're going to want some great nipple cream. Even if you aren't your nipples may still hurt or feel dry so I recommend buying some. This isn't the only nipple cream out there, and not all creams are right for everyone, but I used this nipple cream for years and it really helped me out. It's non-GMO and Lanolin-free, which I like. I also tried to use creams that would be safe if the little wanted to latch on just after I applied it. There are a bunch of natural ones out there, too. When I did have cracked or cut nipples I went with something similar to Lansinoh to speed the healing, but everyday cream was natural. ($9.30, Amazon)
Five
Sealy Posturepedic Maintains Shape Pillow: There's nothing quite like nursing in bed — It's comfy! Adding some pillows that will work with you and comfort your body rather than push back is a huge part of that. A large pillow like this is awesome for supporting your back while side sleeping during and after pregnancy, and if you're nursing on your side. This specific pillow has a soft 300 thread count cover and is filled with DACRON® fiberfill and a foam core for extra comfort that will last. I tested the King Size version of this out and love it! ($15-$20, Kohls)
Six
bkr: Really any water bottle will do — Just be sure to stay hydrated! You're not pregnant anymore, but you still need to drink plenty of water to stay healthy for your kiddo, and to replenish all the water taken out of your body to produce breastmilk if you breastfeed. I mention bkr here because my daughter just got this cute heart one (Bambi Heart) for Christmas so it's the one we're using right now. I do wish the bottle opening was a bit bigger for easier cleaning and drinkability, but these bottles are cute and functional. ($35, Amazon)
Seven
The Ollie World Swaddles: When you have a newborn swaddling will save your sanity. Swaddling newborns allows them to feel a comfort and security similar to what was experienced in the womb for an easier transition into the new at-home life outside of mom. The difference between a good swaddle and not-so-great swaddle could be the difference between a happy and very upset infant. You don't want to overwrap or overheat the baby, and you don't want the swaddle too loose or she'll get out of it and might not feel secure. Ollie World has worked hard to create a new Nature Collection (available in Lavender, Sky, Nest and Stone) which makes swaddling for the first time so much easier. The fabric wicks moisture to keep baby from overheating, has velcro closures for individualized fitting and an easy-open bottom for diaper changes. The Ollie World suggests that swaddling decreases infant risk of SIDS and hip dysplasia while encouraging independence, security and longer sleep. ($59, The Ollie World)
Win Your Own Icon Undies! To win, simply enter via the widget below and comment on this post telling me what your favorite post-birth items are. Good luck!
Giveaway Rules: Must be 18 years of age or older and a U.S. resident to win. Giveaway is open Jan. 29 – Midnight PST Feb. 5, 2016. Winner will be announced widget and sent an email on Feb. 6. Winner has 24 hours to respond to congratulatory email before a new winner is chosen. No spam accounts will be chosen.
I was sent items One, Three, Five, and Seven for review. All opinions are my own.
Title:
7 New Mom Essentials Not to Forget
Mentions:
birth, birthing, hospital bag, moherhood, Mom, mother, new mom, new mom basics, new mom must-haves, nursery, nursing, nursing mom, pregnancy, what to buy, what to get a new mom, what to keep at home