The Big List of Meal Delivery Options — With Reviews and Coupon Codes!
Meal delivery boxes are a great option for busy families that are tired of takeout but don't know what to cook or when they'll make it to the store next. This is one reason they're SO fantastic for expecting and postpartum families! But how do you know which one's the right one for your dietary needs and lifestyle, how much it costs, and if they'll deliver to you? I months reviewing some of the biggest meal subscription box companies covering the United States and beyond to research just how helpful these boxes are, what they cost, and if the food is really something that can be done by anyone entering the kitchen. Whether you're looking for a way to get healthy meals while on vacation at an Airbnb, you're moving soon or you simply can't wrap your mind around meal planning and grocery shopping, you'll want to keep reading for this honest look at what these boxes are really like (and some promo codes for trials)!
This post contains affiliate links, meaning that —at no cost to you— I may receive a small amount for referring you to a company. This helps keep my website running, thank you! Originally published in 2017, this post has been updated in 2023.
Insider Info: All of these subscription boxes require that you have olive oil, salt, a saucepan or pot, an oven, and a skillet/pan on-hand for most of the recipes. Depending on your food prep skill level the recipes may take slightly longer to make than the recipe card states. I'm what you would call a beginner cook and all of the meal delivery boxes took me between 30-50 minutes.
International
Type: DIY Food Prep & Cook Flexible Subscription
Food: Vegetarian and Omnivore pre-chosen meals for the week using fresh, local ingredients
Cost: Prices vary based on the number of meals per week and type of meal. Prices below are before the discounts mentioned below.
Standard Box for 2 people and 3, 4 or 5 meals: $69-$100
Veggie Box for 2 or 4 people at 3 meals a week: $59-$109
Family Box of 2 or 3 meals a week for 4 people: $80-$105 (about $8/meal)
Discount: Join Rakuten Rewards via my link then activate your cash back at Hello Fresh from their website. Rakuten will save you money with coupon codes and you'll also get $10-$36 cash back for ordering Hello Fresh from their referral link. After your order you'll also get $30 cash back because I referred you to Rakuten and you completed your first order! I did this and ended up getting 6 meals for two people at Hello Fresh for only $15.
Fun Extras: My first box arrived with a cool HelloFresh apron (I'm not sure if this is standard or not) and an envelope filled with partner offers that I enjoyed looking through. HelloFresh also has an online store where you can request certain ingredients or starter kits be added to your delivery. This is a great option if you're out of town on a trip and just want everything you'll need to come in the box. Not only are the ingredients and info for each recipe listed online in the weekly menu, but you can download the recipe and save it in your Lily & Val Keepsake Kitchen Diary— I love that! Plus, with every box purchased HelloFresh donates to Jamie Oliver's Food Foundation. Not in the U.S.? HelloFresh is also in the UK! I really like that there's a menu archive so you can look up a recipe you missed or lost, too.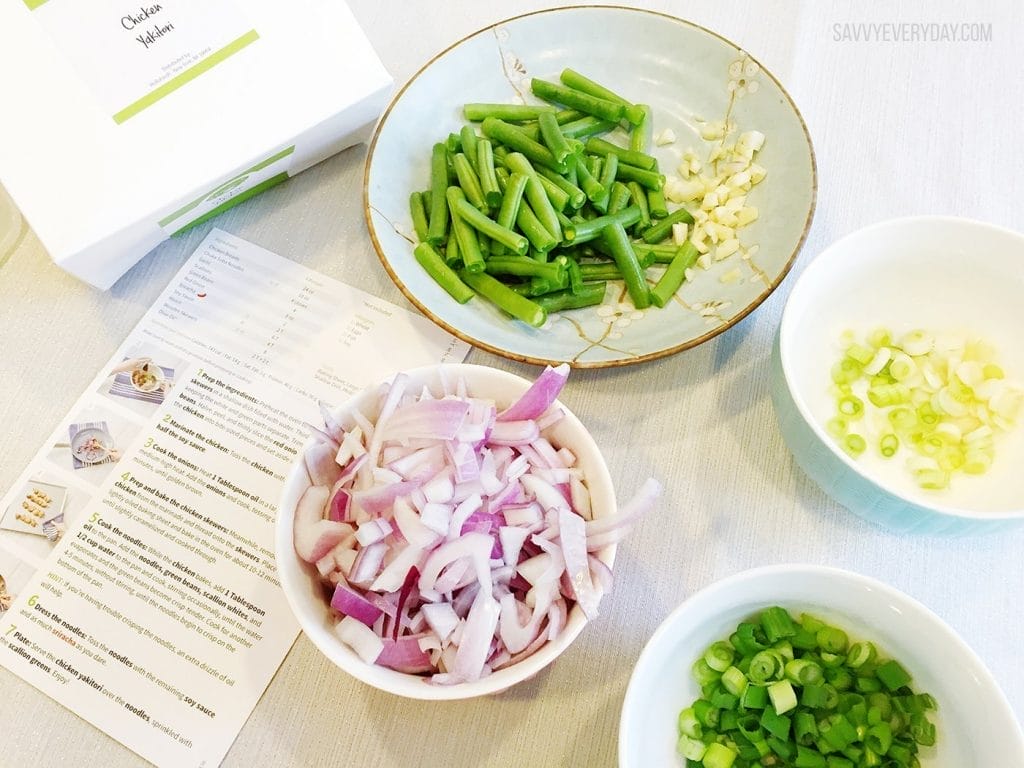 Tester Meals
This was the second subscription box I tested out and a really fun one to try out because every box comes with partner offers and an info booklet explaining the food and recipes. Each meal is in its' own box filled with all the ingredients needed to make that meal. The drawback to HelloFresh is mainly that they have pre-set meals for the week (though you can skip weeks, they're flexible) and that I didn't see an option to make the Family Box vegan, vegetarian or a mix between the regular and vegetarian. It's a super friendly brand with discount codes everywhere, though.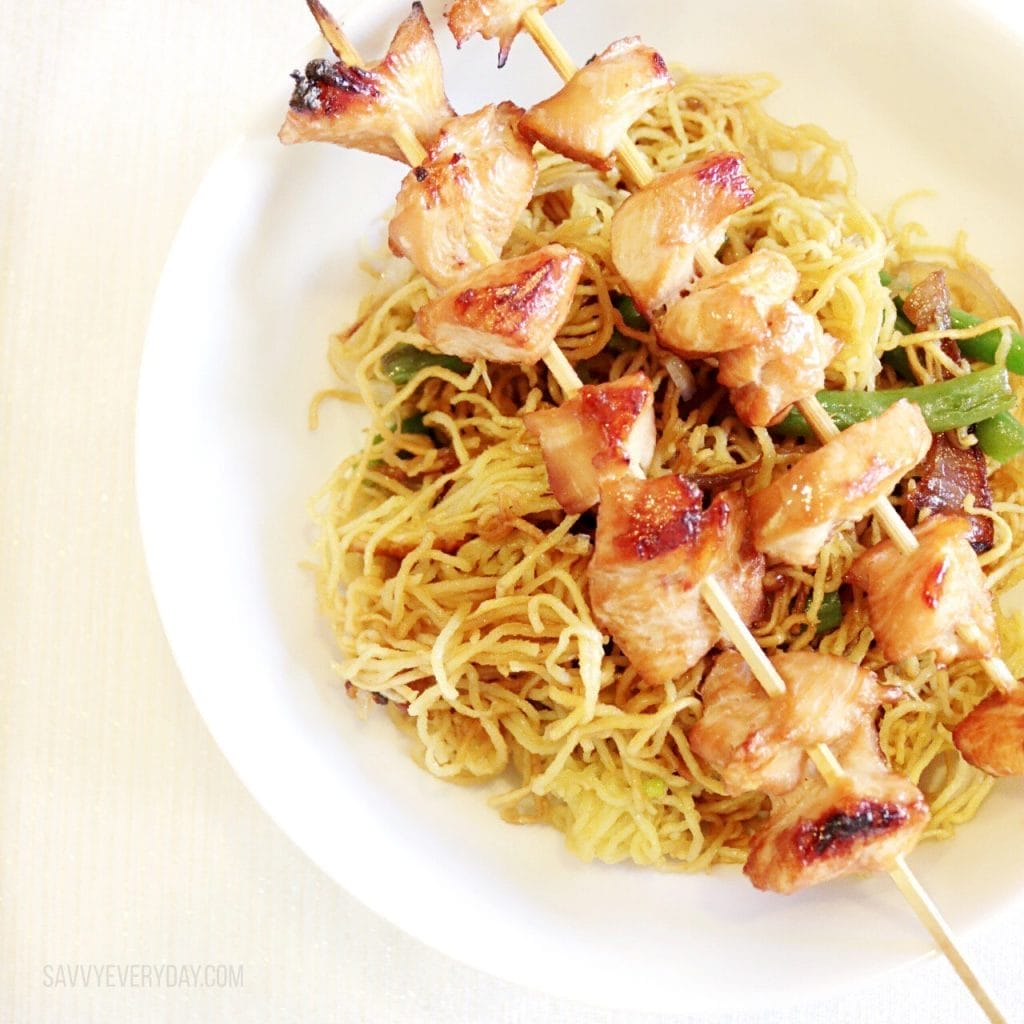 National
Type: DIY Food Prep & Cook Flexible Subscription
Food: Vegetarian and Omnivore meals of your choice from a weekly menu using seasonal/regional ingredients for chef-created Southern meals
Cost: Each meal is an average of $12.50, then less the more you buy.
Standard Box of 2 meals for 2 people: $50/week
Larger Box of 2 meals for 4 people (you can keep adding on): $90/week
Fun Extras: PeachDish utilizes local suppliers and shares info about the suppliers for the week both online and in your box. Subscribers can also order some fun extras like PeachDish's signature seasoning salt, Southern cookbooks, some treats, or an essentials starter kit. The PeachDish Blog is really fun for getting to know local chefs, technique tips and wine/beer pairings. Pick your own meals, skip a week or deliver on-demand.
Tester Meal: Zeb Stevenson's Chicken & Dumplings
I like that PeachDish allows you to choose which items go in your box, and shares a little info about the chef who created the recipe, the ingredients it includes, and a short video sharing the chef preparing the dish. This was the first subscription box I reviewed — It arrived early in the day on my scheduled day with great insulation and super cold ice packs to keep the food fresh. I was sent a double batch of ingredients (two of everything) since I requested a meal for 4 people, and also a special Southern treat and a few oranges. All ingredients are pre-measured and individually packed for the dish so there's no guesswork. I hadn't prepped a meal in a while so instead of 15 minutes of food prep it actually took me 30. I Periscoped (user savvyeveryday) my whole cooking dumplings for the first time and that was about 45 minutes of cooking and chatting with the viewers. The meal took longer for me to make than the recipe sheet said it would but I was able to make everything easily and it tasted pretty good (minus too much dill).
I'd order this again for a special night with friends or an event. For a family meal, probably not just because the kiddo and I aren't used to the Southern flavors and she won't eat it. If you enjoy Southern-inspired food I think you should check this one out —They're very friendly and focus on local, fresh food that tastes good and isn't too hard to prepare.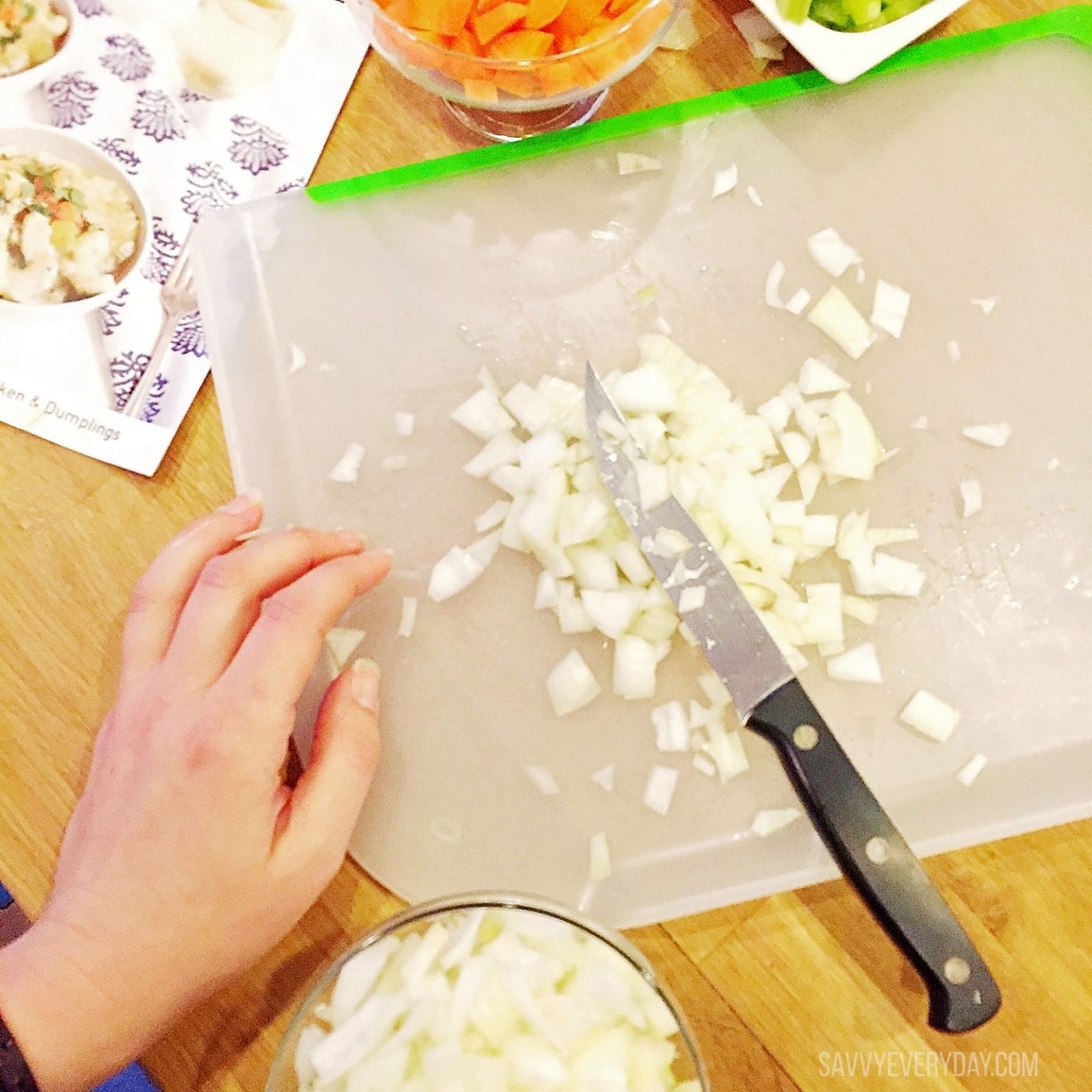 Type: DIY Food Prep & Cook Flexible Subscription
Food: Vegetarian and Omnivore meals of your choice from a weekly menu using top seasonal and sustainable ingredients
Cost: Meals are between $8.70-$10/person
3 meals feeding 2 people: $60/week
2 meals serving 4 people: $70/week
4 meals for a family of 4: $140/week
Fun Extras: Blue Apron offers online recipes, helpful tips and cooking videos plus a whole community marketplace on their site. Enjoy a glass of wine with your meals? Blue Apron also has a wine subscription service! For $10/bottle you can get a selection of wines with pairing tips sent to your door monthly. All meals are around 580-700 calories, too! Like connecting via apps? Blue Apron has an app, too!
Discount: Use This Link to get 2 meals free with your first order
Tester Meals
White Turkey Chili with Aged Cheddar Cheese & Blue Corn Tortilla Strips (I forgot about the tortilla and burned it)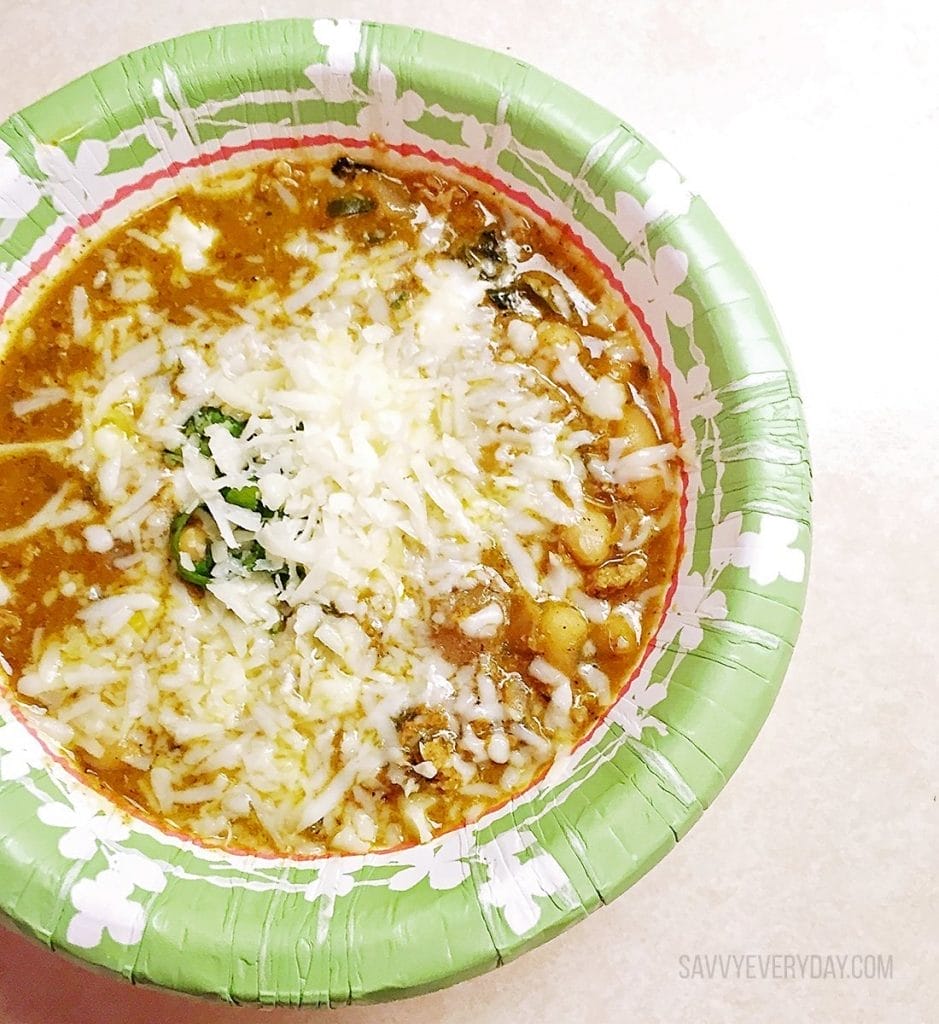 Blue Apron is the third meal service I tried. When looking at the recipes for the meals on their way to your home for the week (Blue Apron sends an email to let you know it's on the way!) not only can you read how to cook each item, but which wines pair best with it, and the nutritional value and history of the ingredients chosen for the recipe! Because Blue Apron serves such a wide area and I had to go to Ohio for almost 2 weeks to help my mom pack up my grandma's house and move her to California I had Blue Apron delivered to me out in Akron! The experience was amazing. I was notified when the box was on the way and delivered, and all the food was not only farm fresh, but the best quality you could get. I ordered a meal with salmon in it and was curious to see what they would send — It was Wild Alaskan Salmon, the only salmon I buy. I love that!
Their website shows that they work with fisheries to get only sustainable food based on the Monterey Bay Aquarium's Seafood Watch, they support farmers with regenerative farming practices, and work in a way where their meals are planned in advance to eliminate food waste. Though I prefer organic ingredients, Blue Chef definitely offers sustainable and top-quality farm ingredients and simple to follow instruction cards. (Please excuse the paper bowl used for the food pic, we had already packed up or donated all my Gma's dishes! This meal box was a life saver during the chaos of packing up with my 4-year-old, mom and Gma all while trying to clean and get Gma on board with coming home with us.)
Type: DIY Food Prep & Cook Flexible Subscription
Food: Vegetarian, Omnivore, Carnivore, Paleo, and Gluten-Free meals of your choice from a weekly menu using top seasonal and sustainable ingredients
Cost: Price varies depending on the type of food you order. All boxes come with 3 meals per person, but can be customized.
Vegetarian:$10.49/meal
Omnivore: $11.99/meal
Carnivore: $13.49/meal
Paleo: $14.99/meal
Gluten-Free: $13.49/meal
Discount: They automatically offer 2 free meals with your first order right now
Fun Extras: All meal ingredients are color coded so they don't get mixed up. Recipes are online and you can have more sent to you via email. Everything is organic and flavorful to meet your needs.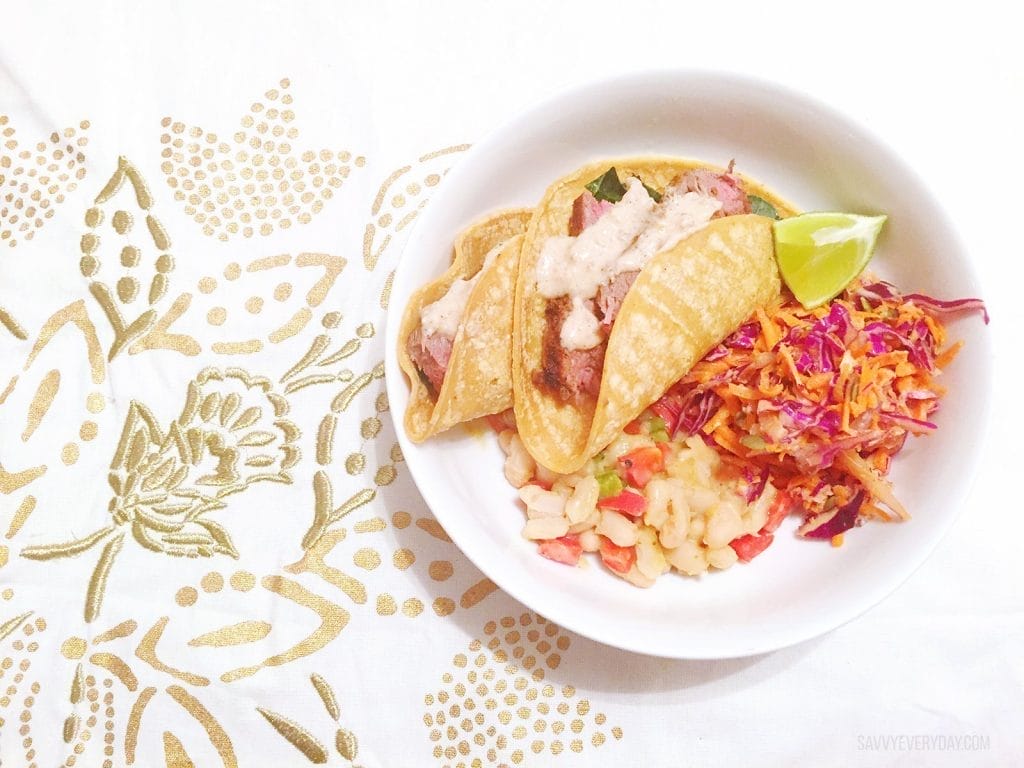 Tester Meals
Harissa Steak Tacos Smashed beans, ginger slaw and lime-dressed kale
Sweet Potato Noodle Bake Spinach, leek, roasted pepper & smoky almond panko
Crispy Chicken & Farro Creamy green beans & mushrooms, farro-beet salad
If your diet requires exclusively certified organic/non-GMO ingredients Green Chef is your box. All ingredients are certified organic and labeled as such. If there isn't an organic ingredient (I think I had breadcrumbs in my box that wasn't— See pic below), it isn't labeled as organic but is still sustainable and as close to organic as they can get. I love the Suppliers tab on the Green Chef website — It outlines who their food suppliers are so that you know where the food is coming from and about how those businesses operate. Green Chef also states: "We are certified organic by CCOF. From wild-caught salmon to GMO-free soybeans, our ingredients are fresh and sustainably sourced." Ingredients are free of synthetic pesticides, genetically modified organisms, artificial ingredients, growth hormones, and antibiotics. The fact that they offer meal options for a variety of lifestyles could also be key in your choice of meal delivery box.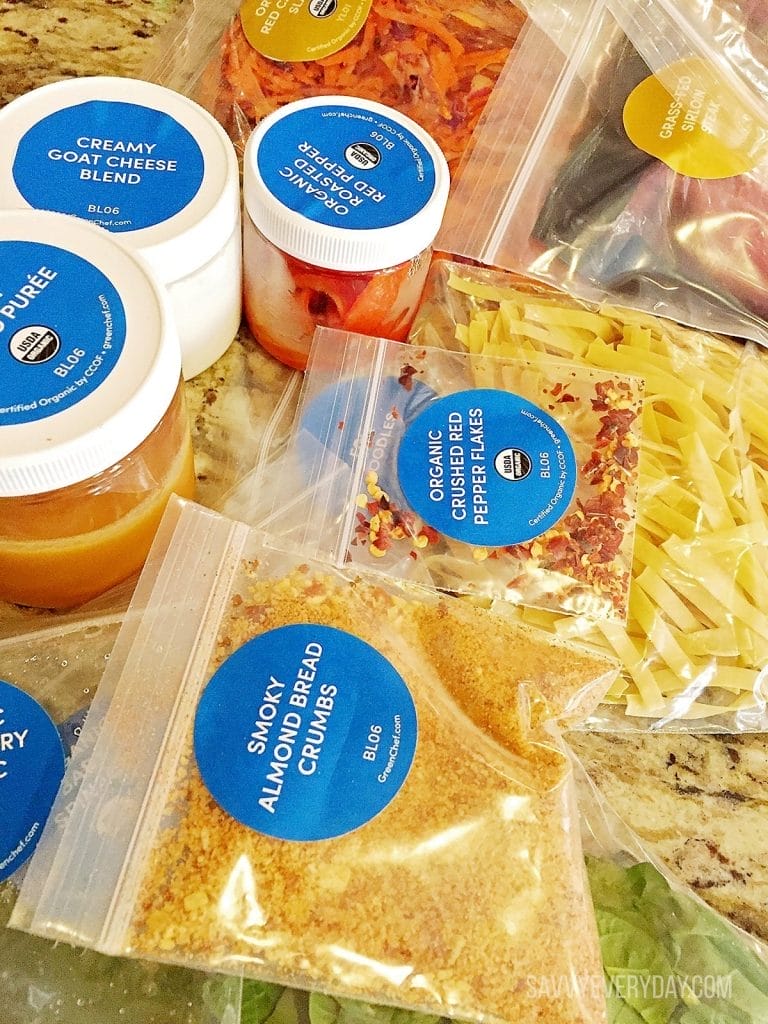 I really liked ordering from Green Chef because I felt like I could trust all of the ingredients to benefit my family's health and lifestyle. The menu also allowed me to cook outside my comfort zone and learn new things. I went a bit crazy on Snapchat (user savvyeveryday) posting about my box when it arrived because I was so excited about getting it. I asked what people do with all of the "waste" from their delivery boxes and Green Chef promptly responded to my Snap via Twitter! (Here's the link on how to recycle and reuse the packaging.) I was sent ingredients I had never heard of before — Like a golden beet — and to my surprise rocked the meal. It was delicious.
Food: Unfreeze & Cook Buy-As-You-Go
Type: Choose from Dairy-Free, Gluten-Free, Low-Sodium, Omnivore, Vegetarian, Nut-Free, Low Carb, and Low Fat
Cost: Total varies by items you choose. Each item is $5-$6/serving (most meals feed 3-4 people)
Discount: Use code SHARI20 for 20% percent off (and enter the giveaway below for a chance to win $100)!
Fun Extras: Mom-owned business with a focus on catering to busy families looking for quality, low-cost meals. This isn't a subscription service so there's no minimum purchase! Meals are fresh-frozen and last 3 weeks in the freezer.
Tester Meals
Vegetable Coconut Curry, Pasta with Roasted Vegetable Ratatouille
Sour Cream Chicken Enchiladas
Apple Galettes
I really like the versatility of Sous Kitchen — You can order any type of meal from their large weekly menu and order it. I don't like that the site doesn't tell you where exactly the ingredients come from or where/who cooks it all, but the site states all food is farm fresh and made by chefs. All meals are ready-made so you just need to put them in the oven or skillet to make them in little time. My items had a cook time of about 20-45 minutes but because they were frozen I noticed that I had to tack on another 15 minutes or so to the cook time before things were really done (and not cold in the middle). The flavors were good, but not as good as the other boxes I tried since those were prep and cook fresh rather than heating from fresh-frozen. If a simple frozen meal is what you're looking for this is your box — So much better than the freezer section at the store.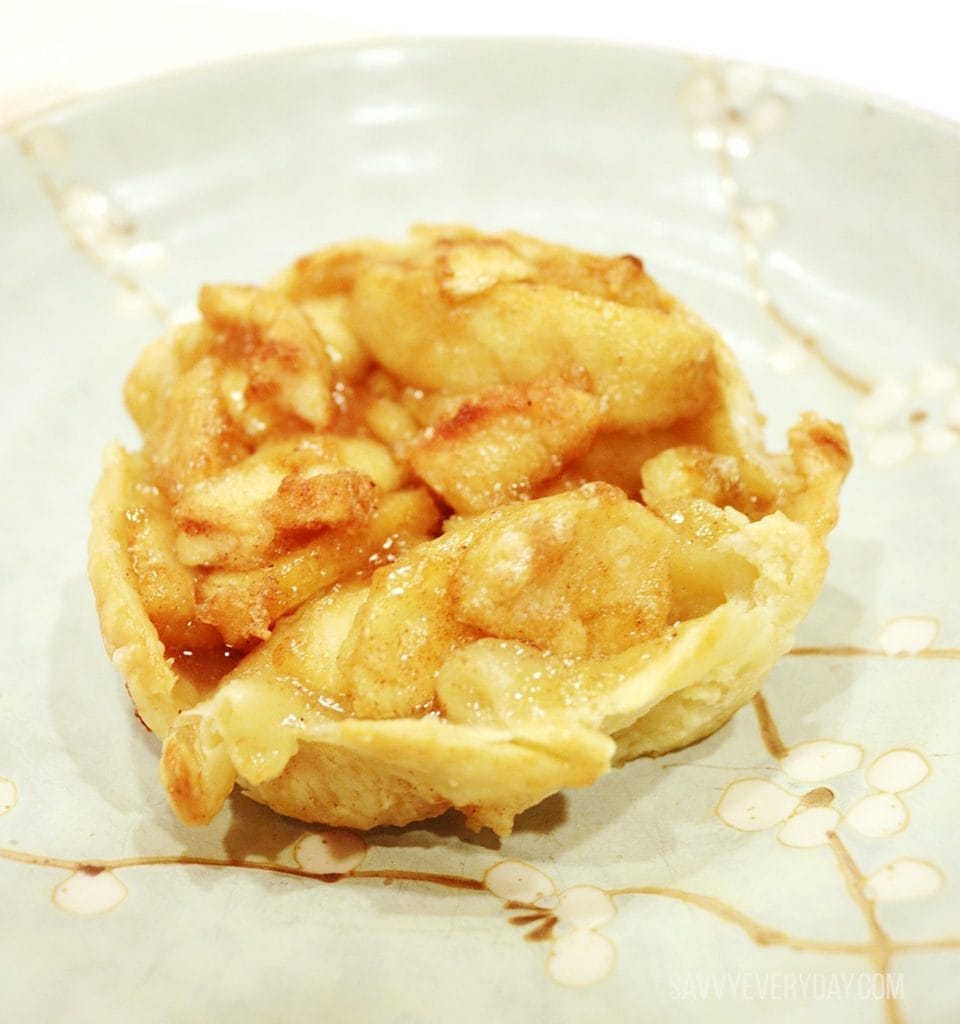 Type: DIY Food Prep & Cook Flexible Subscription
Food: Organic/Non-GMO Paleo, Gluten-Free, Vegetarian, Lean/Clesn Eating, and Omnivore meals
Cost: An average of $11.50/meal
Discount: Sun Basket is offering 3 free meals with your first order online right now
Fun Extras: Instead of chucking the packaging or trying to figure out where to put it you can just send it back for reuse! Sun Basket includes a shipping label in every few boxes for you to put all of your ice and insulation in one box and return at no cost to you (LOVE). The menu offerings are created by Justine Kelly, former head chef at the Slanted Door Restaurant in SF. All of the food is organic from local California farmers and fishermen to support farm-to-table living.
Tester Meals
Salmon Tacos with green-onion-and-asparagus salsa
Chickpea and Quinoa Stew with toasted naan
Chicken with roasted red onion and Orange Salad with mashed cauliflower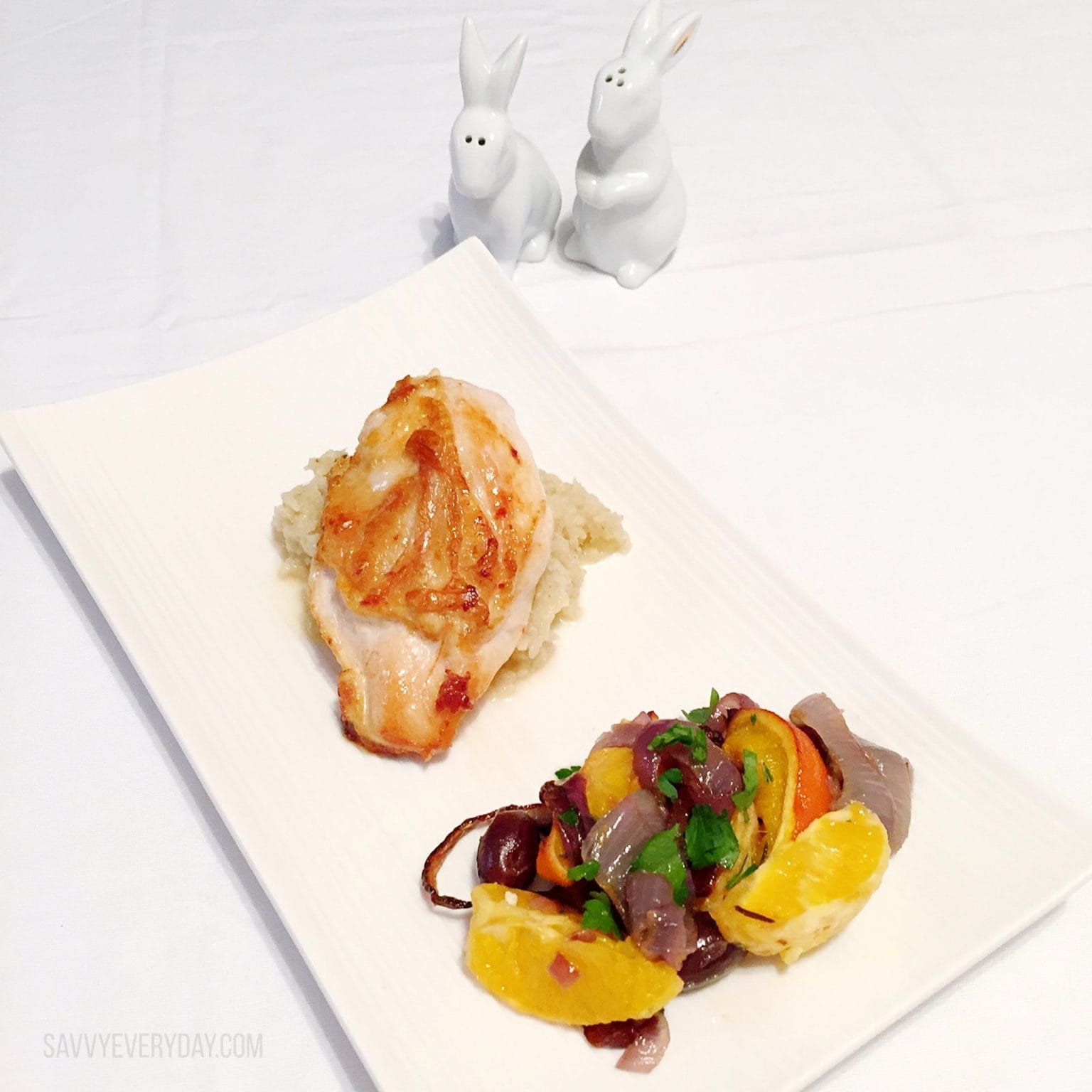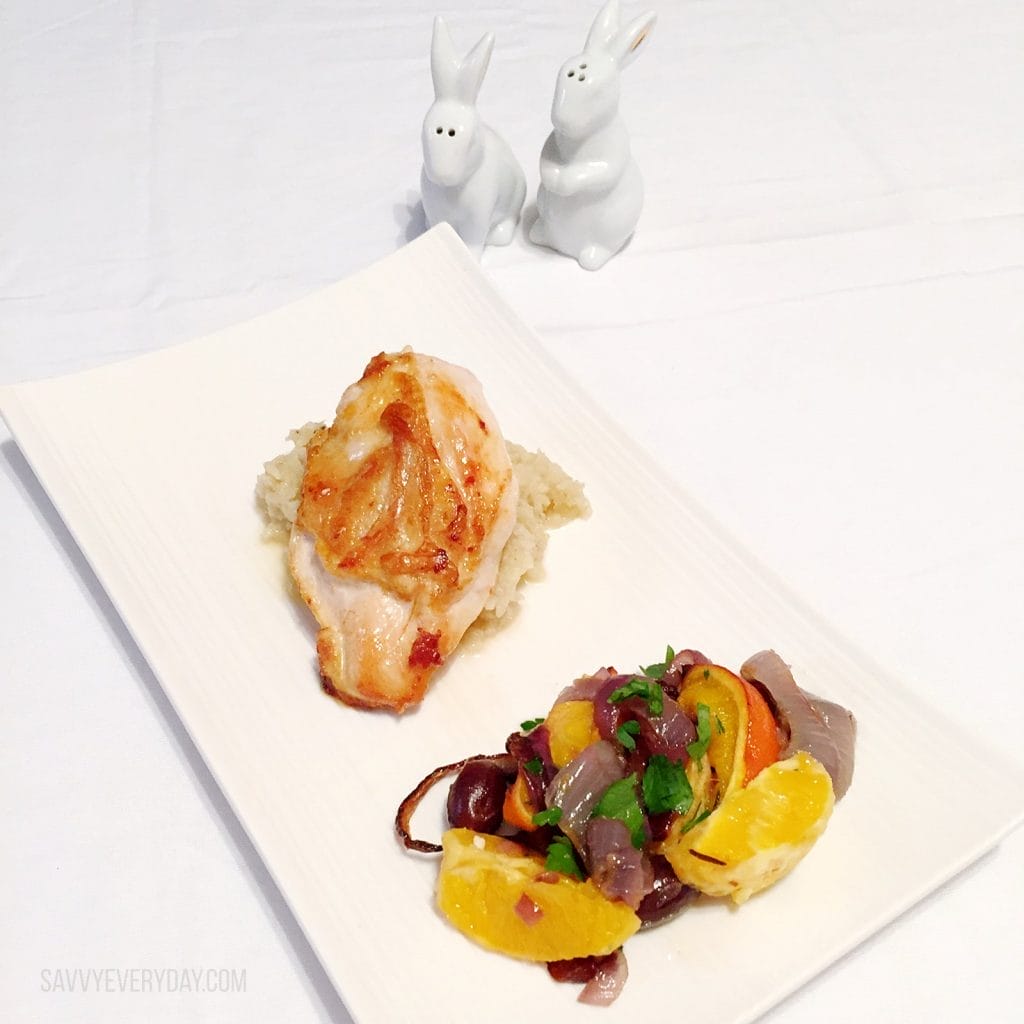 Sun Basket was the last box I reviewed and one of my favorites simply because it fit my need for recycling and reuse of packaging as well as my need for simple tasty recipes under $12 each. My salmon tacos had pumpkin seeds on them — Pumpkin seeds! — and they were delicious. I really enjoyed the fun, fresh outlook on food that Justine Kelly offers in the Sun Basket meals, as well as that it caters to so many lifestyles. I mean . . . look at this Piña colada smoothie on the menu right now! Was my daughter a fan? Well, she liked parts of the meals, but wasn't a fan of each one in its' entirety like I was. I made the chicken with roasted red onion and orange salad with mashed cauliflower dinner for my mom and step-dad on their anniversary and they loved it. I'd never had cauliflower instead of mashed potatoes or put an orange in the oven in a meal like that before so it was really cool to learn how to cook it and see how it came out. I didn't think I'd like the Chickpea and quinoa stew with toasted naan either but both me and the kiddo really enjoyed it so this one was a big win for us.
Type: Organic, fresh chef-made meal delivery and DIY cooking kits (Buy-As-You-Go or Subscription to regular delivery. They now also offer membership plans for meals.)
Food: Vegetarian and Omnivore
Cost: Varies by ingredients, but my meal delivery order for one totaled $56.75 with the almost $3 delivery charge. They don't require tip but it's always appreciated. I haven't tried the meal kit subscription box yet (it came out after this post went up), but that includes free shipping.
Fun Extras: This SF Bay Area local company started in 2010 when a group of busy parents decided they wanted better meal options when they couldn't cook dinner. The chefs are amazing and the food is sustainable and fresh. Prices aren't bad, either.
Discount: Use this affiliate link to get $20 toward your purchase!
Tester Meals (For One)
Chocolate Banana Tart
Gremolata Baked Salmon
Mom's Classic Meatloaf
Mom's Secret Weapon! (Kids Meal)
Winter Squash Enchiladas (Vegetarian)
Fresh Fruit Salad (Vegetarian)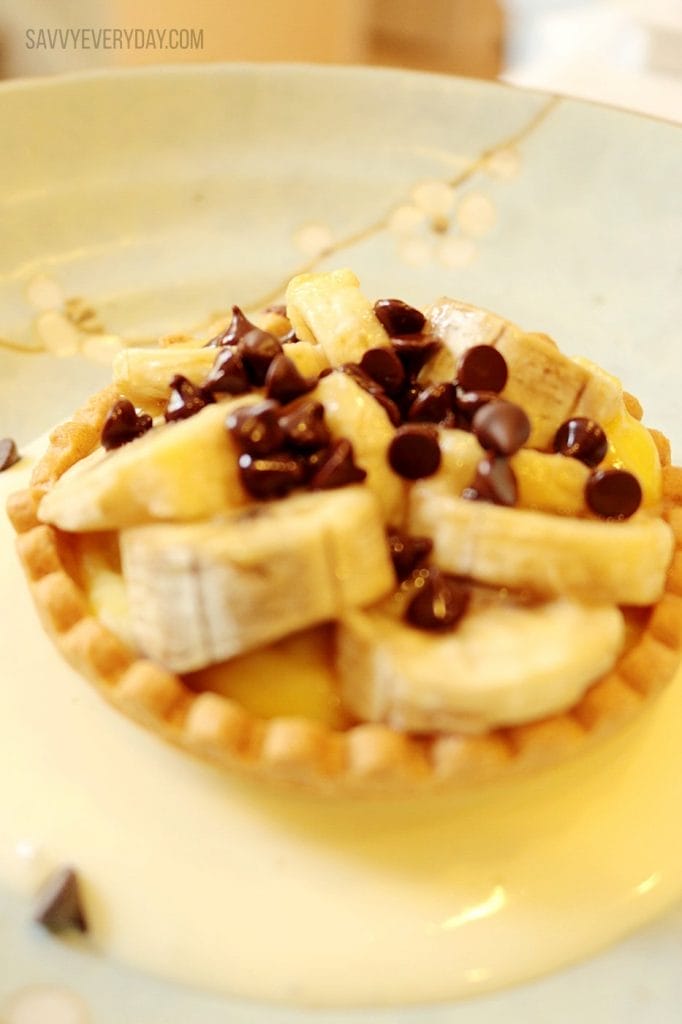 Munchery catered my Mom's Night Out event a few years ago and the food was the best thing EVER so I was really excited to test out the service for home purposes (and that they expanded their delivery area). But, in all honesty, the kid's meal wasn't a hit with the kiddo (and it was pasta!) and I wasn't even a fan when I tried to eat her leftovers. I didn't care for my salmon, either — It tasted fishy which is a no-no for me. The vegetarian option seemed a bit bland, too. The fruit bowl was amazing, though— It was fresh, flavorful and worth the delivery. I also ordered a make-your-own kit for dessert to test out their meal making kits and it was simple and fun. The dessert was tasty and I got to feel like I made a real specialty item. I went to a Munchery catered blogger tea after my meal delivery and again the food was fantastic (but those were pastries and fruit items).
San Francisco Bay Area
Type: Groceries and meal planning ideas (Buy-As-You-Go or Subscription, Pick Up or Delivery)
Food: Vegetarian, Dairy-Free, Vegan, Nut-Free, Sugar-Free, and Omnivore groceries from local farms and butchers
Cost: Varies by items you purchase
Fun Extras: Purchase flowers, gifts and your groceries from local sources all in one spot.
I was told that I'd be sent a meal to test out how this service works as groceries and meal delivery, but was given local ingredients to work with without a recipe so I wasn't quite sure what to make. The ribs had instructions on them and the veggies I got were amazing, but there were some items I'd never used before and so they went bad before I could do anything with them. If I picked my own items this wouldn't have happened, and normally you do pick your own groceries. Luke's Local serves the city of San Francisco, part of the East Bay and down to San Jose so I can't use the service myself, but if I lived in those cities I'd likely use it for specialty groceries such as meats and things I'd want from local sources.
Trying out all of these meal options/subscription boxes really gave me more confidence in the kitchen — I didn't think I was capable of using some of these ingredients I'd never heard of before, or making these chef created meals but I did it! My daughter and I both really enjoyed out time together cooking in the kitchen while learning some new techniques, too. I think all of these meals were pretty tasty, but none of them hit the mark for my 5-year-old who isn't into seasonings and fancy restaurant like meals. It could be because she isn't used to me cooking and us eating this sort of food, or it just isn't in her flavor palette, but I'd order these items for me and friends, cooking for my mom when I go over to visit, or something like that without too much pressure on my kiddo eating it. Depending on your child's tastes they may feel the same way as my kiddo, in which case I'd order the meal for 2 instead of the meal for a family so that you and your spouse can enjoy this and the kiddo can eat something else, or some of your food (depending on their age this always happens).