Car in Review: 2016 Kia Sorento
If compact cars and typical crossover SUVs are a bit too small for your family but you aren't quite ready for a minivan or massive gas guzzler just yet, you're going to be enamored with September's Car in Review! The 2016 Kia Sorento is a crossover SUV with a similar size to other crossover SUVs but the luxury of a full-size SUV and intelligent design unlike any other crossover I've seen. So what are "Oooh" and "Hmm" bits about this vehicle? Keep reading for the details, and why I'm sad I had to return it after six days of testing.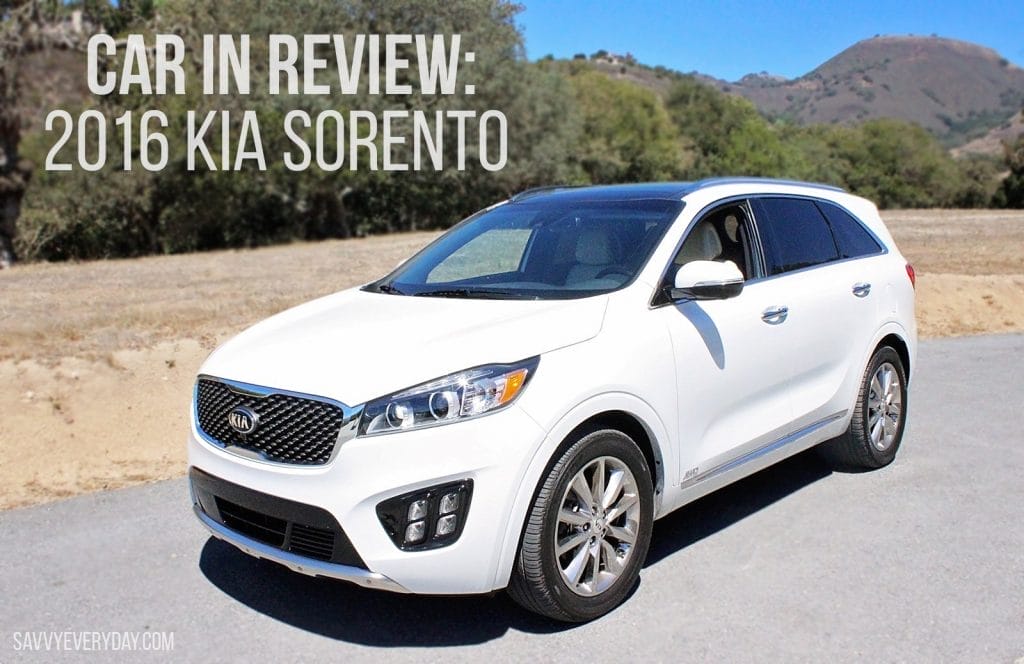 Where The Sorento Took Me
The Sorento arrived for my six day test drive on my birthday so I had a lot of travel to do with it that week. I picked up my mom, sister and nephew for a ride to the beach in Alameda (near San Francisco) to eat avocado rolls on the sand for my birthday, then drove it to San Jose for my annual Benihana dinner, to Carmel Valley for a lovely overnight at Holman Ranch, to Stanford Hospital, horse riding lessons, and home. Basically, all over the greater Bay Area and then some for a total of close to 800 miles. Because I drove the Sorento in rural, highway, city, and beach environments I have a better understanding of how it can handle all the different hats families need their cars to wear, and hope that helps you in this review.
The "Ooh!"
Safety Features Galore
Some parents work nights, others just feel like they do because they're up all night with the kids, either way, if you happen to get a bit tired all of a sudden while driving (maybe it takes 30 minutes or more to get anywhere for you like it does me) then Kia has your safety covered. You can switch or on the lane indicator to notify you if you're getting too close to another lane and the blind spot indicator for all those sneaky cars that don't feel like speeding up or slowing down when you have your blinker on. The Sorento also has a rear backup camera with split screen that shows both what's behind your car from the rear camera and an animation of your car and what's really on the ground around you thanks to a camera under each side view mirror. This split screen is so nice for getting a better view of the area around you, and making sure the neighbor's pets or little kids aren't in harm's way.
Comfort for Everyone
The Sorento comfortably seats 7 without car seats, and 3-4 adults with a few car seats. My Cleck Foonf (a rather large convertible car seat) pushed the seat in the second row up a lot when it was installed in the third row, so no one could really sit there unless the seat in front went up quite a bit too. Definitely consider what car seats you need and are using when thinking about seating options. My daughter absolutely loved getting into her car seat from the trunk and thought she was getting away with something. The third row has air vents and air control on one side of the car (where her car seat was) as well, which I love since she's rear facing. She really enjoyed controlling her own temperature and actually feeling the air for once, too. She wasn't with me on this trip so I pile her little Kids Go Co ZoomKit on top of the seat for the photo. This is the cleanest I could keep the car the entire week I had it. Me? I love that the V6 Sorento has heated seats (plus the option to cool the seats!). I have a really bad back and this is always something I enjoy in a car. This vehicle even had the option of a heated steering wheel — perfect for snowy weather!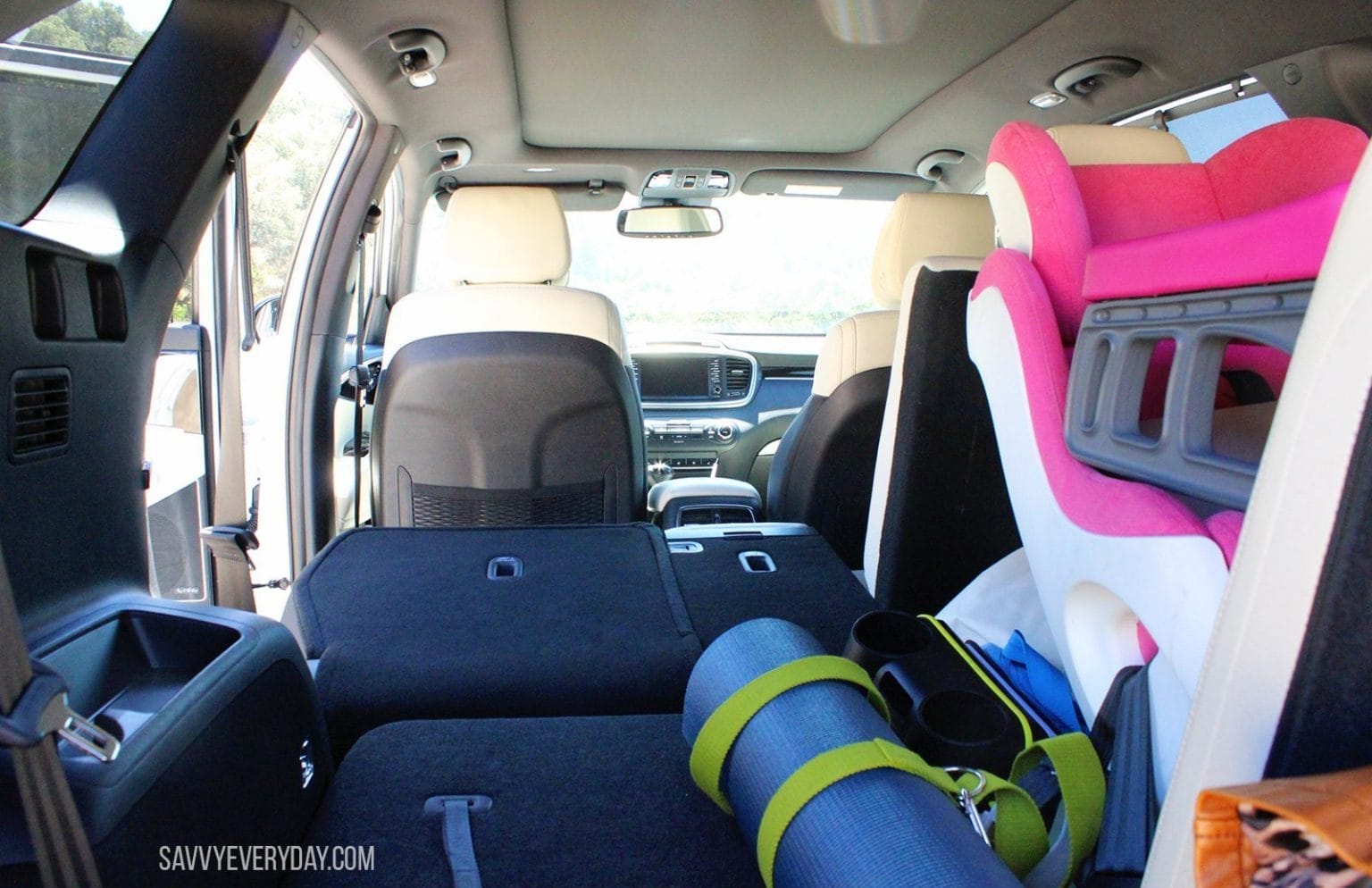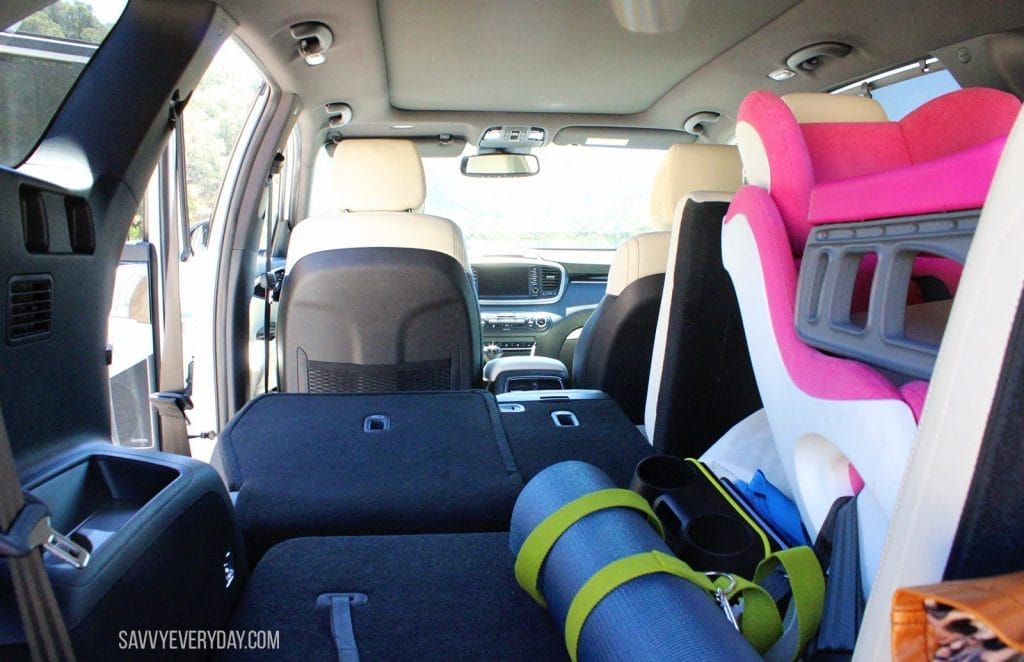 Design I Like
One of my biggest gripes with car companies is design. This Sorento is a gorgeous black and white/cream combo both inside and out (no stark white and brown with black here, thank goodness). There are USB plugs and 12v plugs both in the dash, in front of the second row passengers, and even in the back for the third row! This was the coolest thing to me, especially because as a family we all usually need the plug at the same time, and for it to reach my daughter. I also never have the 12v adapter so I really like that I can just plug in my USB instead to charge my phone (or play a song if I don't wan to connect it via Bluetooth). The V6 Sorento even has a panoramic moon roof like no other crossover SUV I've seen. It's glorious and has a little mesh that pops up to prevent the wind from messing with your hair or your ears too much.
Life, Simplified
I don't know bout you but I can never find my keys. I know they're somewhere in the pit that I call a purse, but have no clue where, so the key-free system Kia set up for the Sorento is a dream for me. As long as the keys are on you, the car doors allow you to press in a button to open the car or rear hatch that way. Then simply put your purse or bag on the seat next to you and you can start the car! Now that the test drive is over I'm really missing this feature. Like the other cars I've reviewed so far, the hatch also had a hands-full close button as I call it. I don't always have the ability to close the door completely, but I can find a way to press that button somehow when my hands are full with kiddo, bags, purse and so on. The car also had so many cup holders and places to store things. There were clips for notes and papers, even! The standard model doesn't come with all of the features I'm mentioning, which is why I'm using past tense about the car I drove in this instance, but it still has a lot of goodies that are listed online.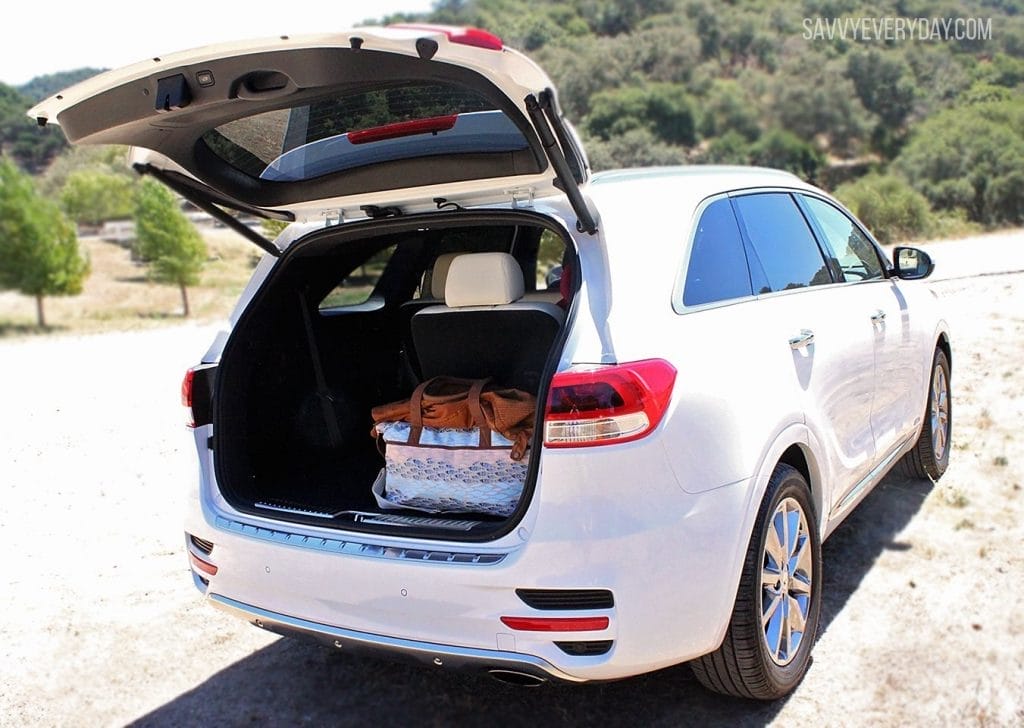 The "Hmm"
Air Circulation
As mentioned, I really like that the third row has air vents and one side has a control knob for the back, but I would prefer overhead air vents for the folks in the second row over the standard sedan-style shared foot vent coming out of the center console. No one gets air that way, especially if they're in a car seat. I would also like for both sides of the third row to have the ability to adjust air flow on their side, instead of one side getting to decide the flow for the back. I mean, think of the arguments kids would have over who has "the power" without two knobs and alternate flows.
In-Dash Quirks
Though the Sorento's built-in navigation system was able to get me to some main businesses, it said that both my home address and my mom's address didn't exist. But they do, and have for over a decade or more. So that was odd. The other major drawback I noticed was that when my phone was connected via USB and playing music and I received an incoming call the music didn't stop, it just played in the background making it really hard to talk without allowing me an option to pause music (although I was driving so not really trying to mess with it too much). The hands-free Bluetooth calls works seamlessly with the radio and Sirus, however. It was be a quirk with using the USB cord as a connection.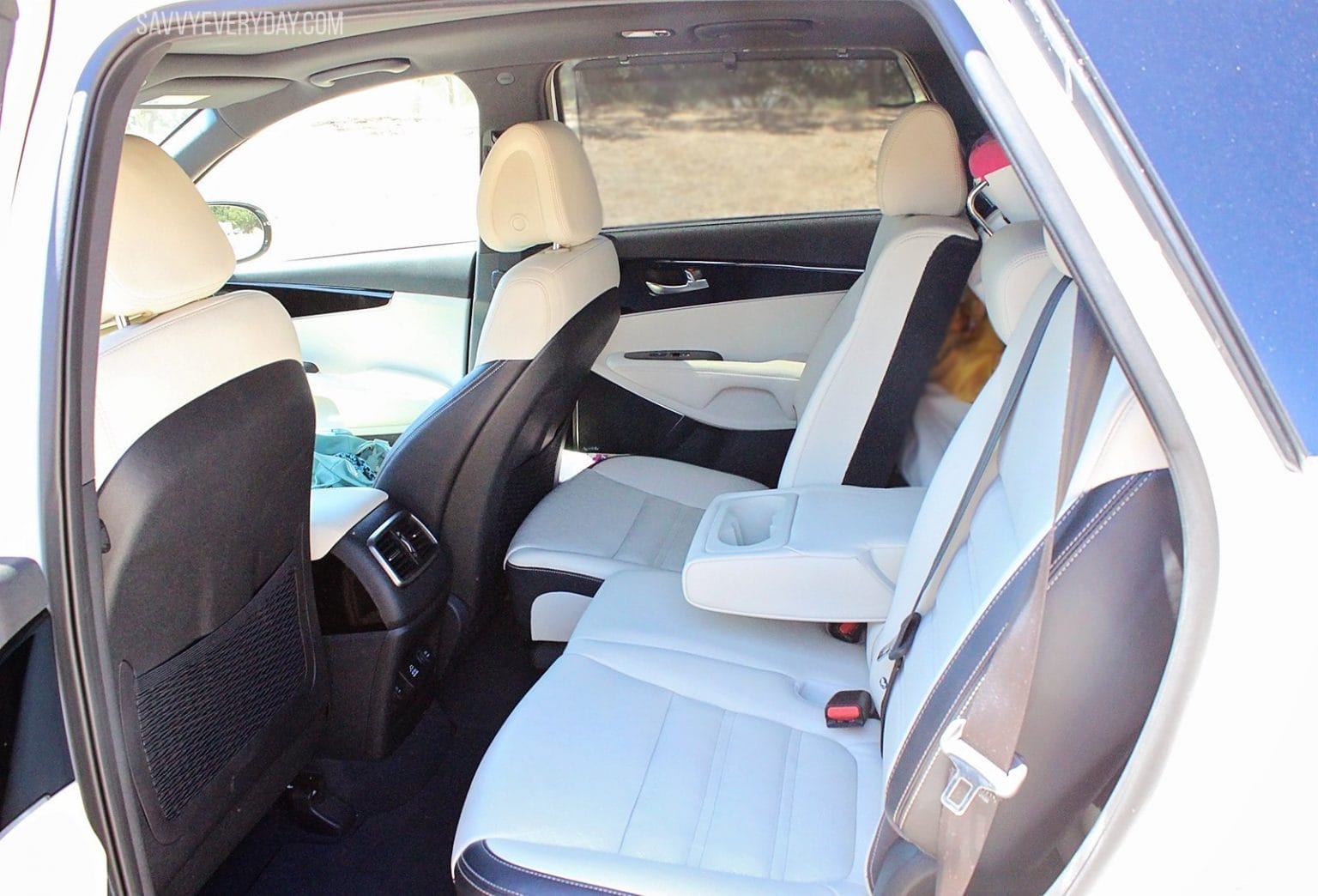 Key Points
Best For: Families with two or more kids who often go on trips, carpool or carry a bunch of things for after-school activities. Moving? Skip the truck with this one!
Price Range: The standard model starts at about $22,000 (amazing!), but the fully-loaded V6 model I test drove for this review starts at about $42,000. Don't let that get you down, though, the standard actually comes with a ton of safety features and cool things that are more like luxury options in other cars I've looked at. Want to compare all your options and what you get with each price range? I love that Kia has it all online in an easy to read visual format, here.
Gas: This isn't a hybrid, so keep that in mind. It has about a 15 gallon tank (based on how much I filled it) and is said to get 21 mpg cit and 29 mpg highway.
Safety: I was thrilled to learn about how Kia has brought up their safety ratings to compete with Toyota, and the car quality is also very close (this one has similar features to a Toyota Highlander). The Kia Sorento received a 5-star rating in crash safety, and several awards for overall quality. The warranty and care put into service is comforting as well. Click here to learn more about their road side assistance program and warranty coverage.
Origin: Kia is a Korean company with manufacturing in Georgia. Check out the plant info, here.
Overall Savvy Rating: Well, as you see, the list of dislikes is pretty short on this one. It handles well on any road and stopped nicely, too! I give this a 4.5 out of 5 stars.
I was lent a Kia Sorento for six days for this review. This is not a sponsored post and all opinions are my own.