DIY Lighted Pom Pom Wall Flowers & Kitchen
I don't know about your kids' rooms, but my daughter's room recently became a giant disaster zone. She couldn't keep it clean and I was tired of doing it for her, so the room needed to change. I took everything out and moved the bed to another spot, leaving the one white wall in her otherwise pink room bare. It's a poorly painted white chalk wall that didn't pan out because it's textured (and because I may not have mixed the ingredients to do that correctly). My solution? Create a brand new, bright theme for her room — Starting with this white wall and the leftover paper flowers from my the Mother's Day Brunch I hosted. Keep reading to see how easy it is to glam up your blank walls!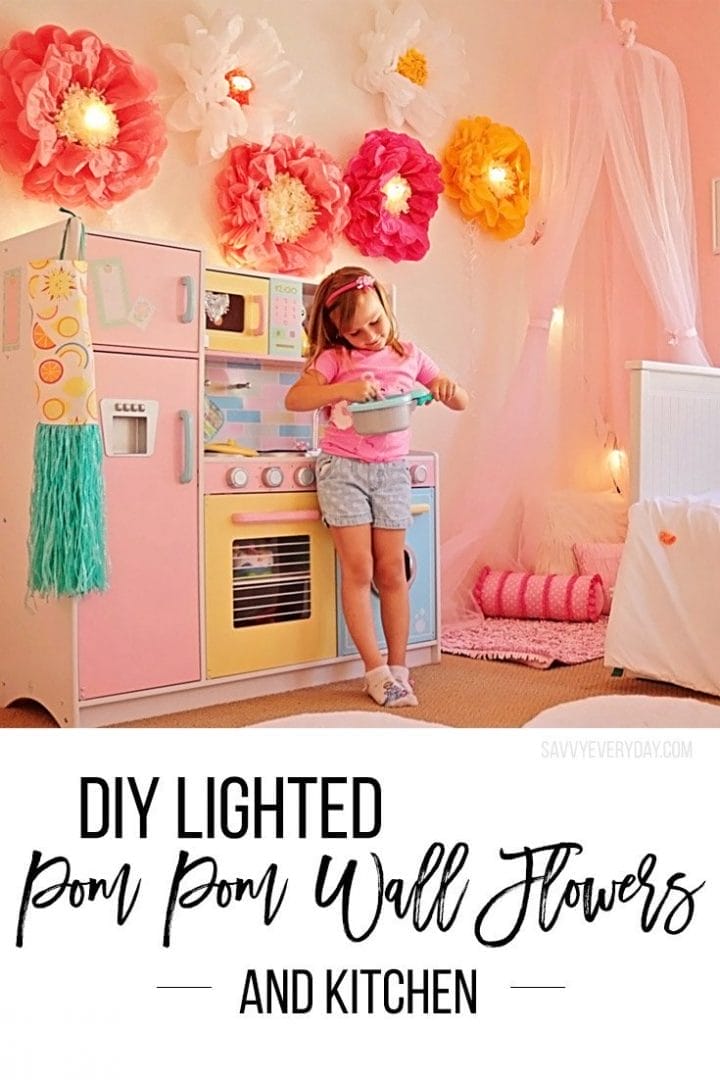 To start, all I knew is that I wanted to somehow hang these paper flowers on the wall and make them shine. I didn't know how I'd hang them and spent about $30 on various hanging options to take home and test out. I'm not a handy person . . . if anything I'm inventive so I may rig something more like Macgyver than the people on HGVT, which is why these instructions are going to include what I actually did as well as what you might want to do depending on whether you own your home or you rent and have help or not. Below you'll find some quick install info as well as detailed instructions, followed by a big room makeover giveaway via Jasco!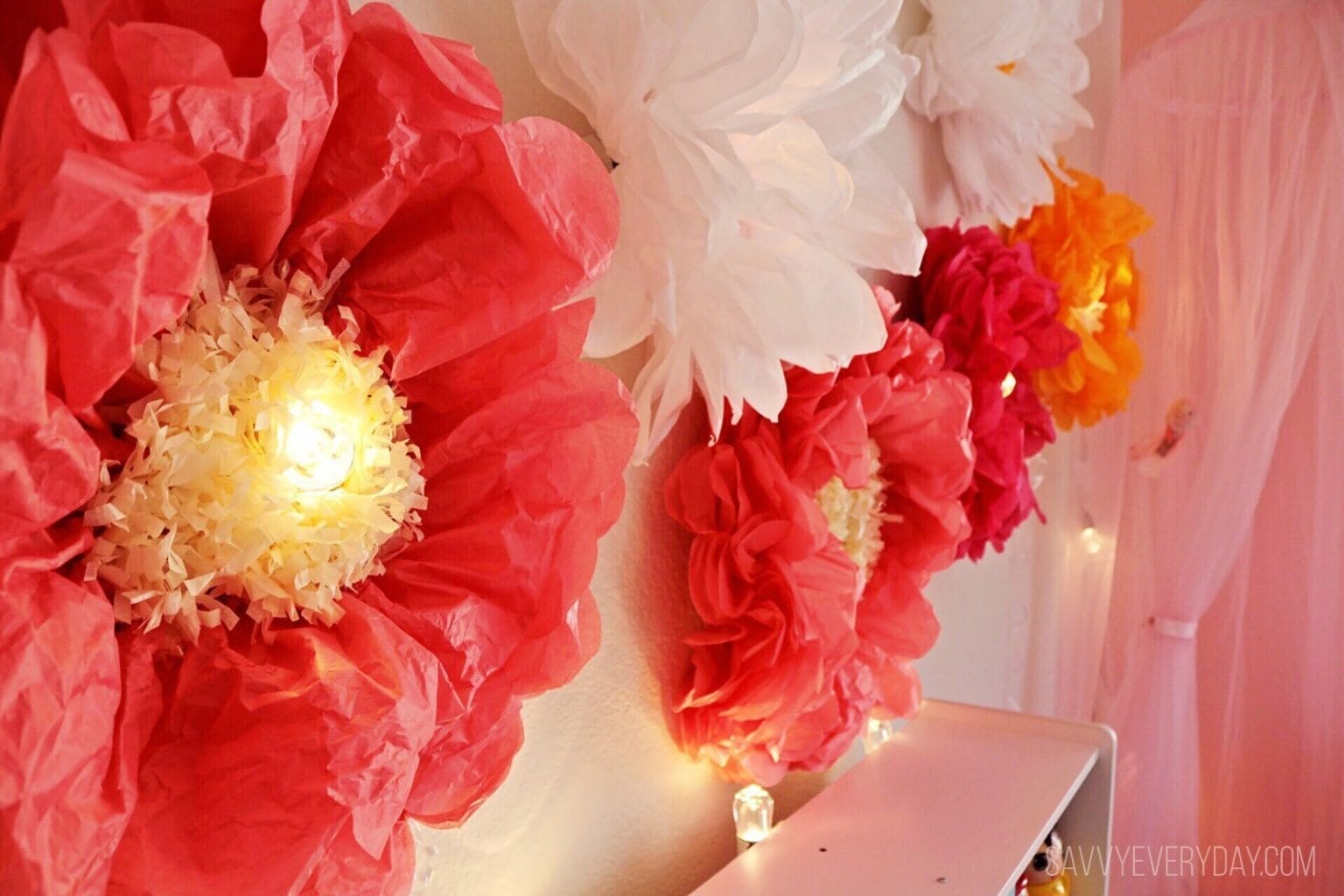 WHAT YOU'LL NEED
36 ft of Enbrighten Café String Lights by Jasco. I recommend getting a 12 ft ($60) and a 24 ft ($40) strand for a total of 36 ft rather than the 36 ft strand ($80) I got for this specific project, but it does save $20 to buy just the one strand so that's up to you.
5-10 paper Flowers. Make your own from scratch or buy THIS KIT (Poppies) and THIS KIT (Daisies) that I used to make them in less time.
Nails & hammer, Staple Gun or removable adhesive wall hooks for hanging the flowers (OPTIONAL).
White heavy-duty duct tape (or whatever color your wall is)
Sharp scissors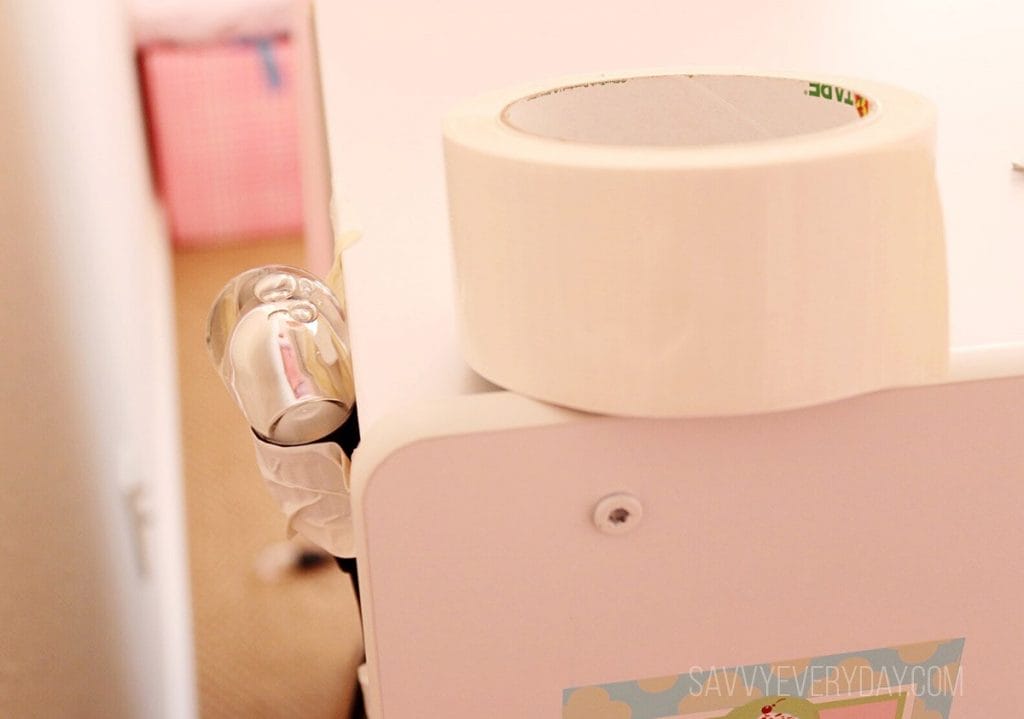 THE INSTALL DETAILS
I moved my daughter's pink & white play kitchen in the center of the wall to give it a little pop of color but it still needed something more on this giant blank wall, and I wanted to make the kitchen a bit more snazzy, so I started by taping the Enbrighten Café String Lights to the back of my daughter's kitchen. I left one light near the socket so that I had a bit of lag for plugging in and unplugging the cord without pulling on everything else, then simply applied some white duct tape around the lights so that they popped up just above the top of the play kitchen's back. Then I taped down any loose cords against the back of the kitchen. Again, it may not be pretty, but it holds really well and I can easily just remove the tape if my kiddo changes her mind on the direction of the room (or I want these lights for my backyard). Plus, if you're renting, using removable adhesive hooks and duct tape are the way to go. If you're a homeowner you may want to use one of the more permanent options I listed in the WHAT YOU'LL NEED section.
Once I had all of the lights set up in the back of the kitchen I tested it out and it looked pretty awesome, so I kept going — using white duct tape to secure the cords against the wall. One thing I love, love about these Enbrighten Café String Lights is that they're impact-resistant all weather lights that can be used outside or indoors and the LED lights are built to last a continual year of use. I like not having to worry about when I need to change another bulb, or the bulbs breaking from my daughter being rough with them (and that I can move them outdoors someday), but my favorite thing about these lights is that the bulbs are cool when the lights are on. The heat of the bulb was super important for what I wanted to use these for, and for the safety of my daughter who I know couldn't resist trying to touch the lights.
I had about 5 Poppies from my event and made 5 Daisies the night before while watching TV so I tried to mix them up a bit on the wall, starting with the most colorful ones (which are the Poppies). To do this, I put about 6 circle pieces of duct tape on the back of the first flower then slid the first bulb through one of the slits on the flower to push the light toward the center of the flower. Be sure to push the tissue back together and around the bulb so that it looks as close to center as it can. I added a piece of tape to the back of the bulb against the flower to secure it there, then pushed the flower against the wall. Once against the wall, I added more tap to secure the light and flower against the wall and cover any black cord that was still showing.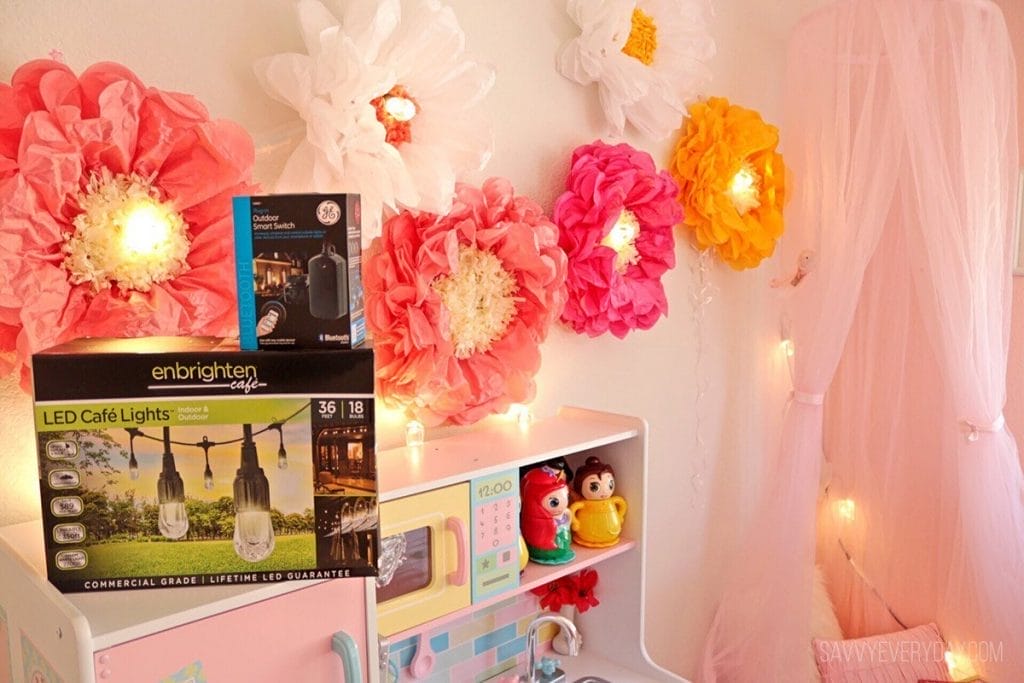 I repeated the above steps for all but 4 flowers, which I used to cover some of the xtape and put throughout the kiddo's bedroom to tie it all together. I had a bit of cord leftover after finishing the white wall, so I taped the cord over to behind a reading nook for the kiddo and even her bed! The whole thing looks magical and I'm so happy with how it turned out. These string lights have the perfect bulb size for the flowers I used to make them really look like the center of the flowers. Adding a GE Plug-in Bluetooth Smart Switch to the lights allows you to turn them on and off via your phone instead of manually plugging and unplugging them all the time, too (yesss).
THE QUICK INSTRUCTIONS
Make Your Flowers
Tape Enbrighten Café String Lights by Jasco to the back of a play kitchen (OPTIONAL)
Tape Enbrighten Café String Lights cord against wall
Cut about 6 pieces of duct tape to make double-sided and place on the back of a completed flower (or use an adhesive hook and a piece of tape or staple gun, etc.)
Place first available bulb through one flower slit and close the flower back up
Push flower against wall with light
Add additional tape to secure the rest of the light to the wall
Cover remaining cord in white duct tape
Repeat for most of the flowers
Add tape to remaining flowers and arrange how you'd like them on the wall (I used a few of mine to cover up the tape and to place higher on the wall where it was empty).
Plug the GE Plug-in Bluetooth Smart Switch into the Enbrighten Café String Lights and set up on your phone (optional).
Turn on the lights and admire your work — Well done! Commence Facebook sharing and snaps of your fab wall.
How would you use lights to re-do a room in your home? Have you ever decorated with leftover party decorations before?