Blogiversary Mother's Day Brunch at LYFE Kitchen
Happy Mother's Day! To celebrate one of the most important holidays at Savvy Every Day (the other being Father's Day) and this website's 2-year anniversary I teamed up with LYFE Kitchen in Cupertino, CA to host a bright and fun Mother's Day brunch for 11 Bay Area mamas who also blog. Keep reading for tips on hosting an event at a restaurant but making it your own, and to enter the giveaway to win your Mother's Day Brunch Gift Bag worth over $200!
This is not a sponsored post, but may contain affiliate links (I earn a small commission if you actually buy something)

BRUNCH LOCATION
LYFE Kitchen serves flavorful food that's also healthy. With their perfect portions and options for vegan, vegetarian, paleo, gluten-free and even dairy intolerant (just let them know) it was the perfect setting to get a group of mamas together who are from all over the Bay Area. Once I had the partner venue set, I just needed to find my 11 moms and then start planning the gift bags and party decor (which took quite a bit) and LYFE Kitchen took care of the menu and seating. I used Paperless Post to send out free pretty little invites.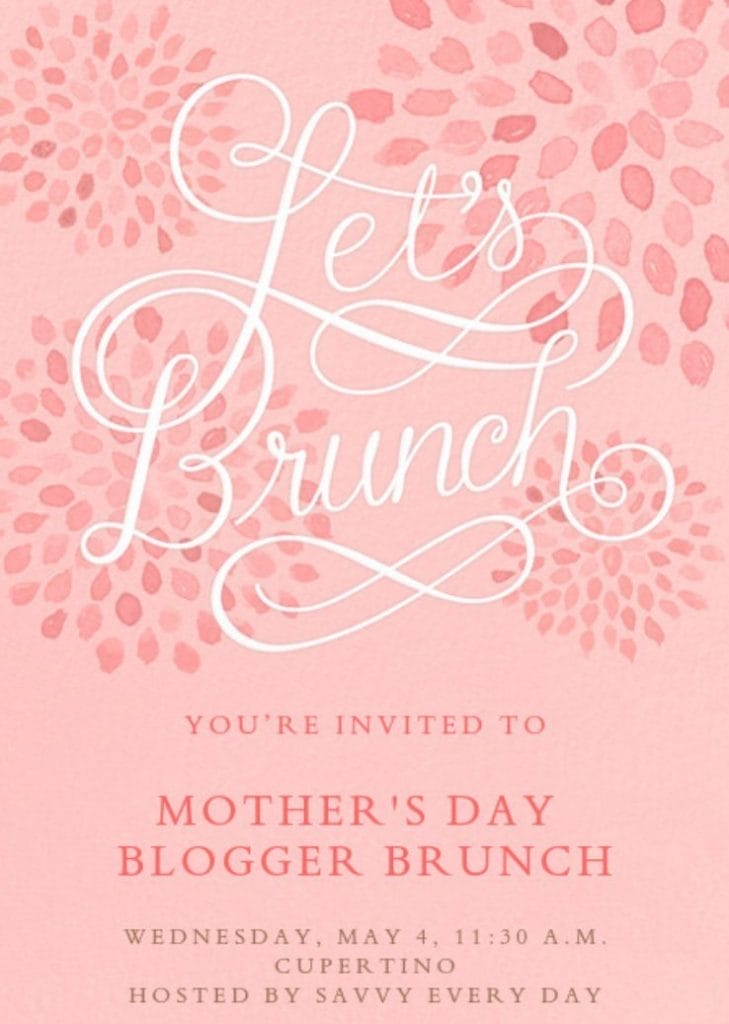 Throughout our 2-hour long brunch at LYFE Kitchen staff served a little something from all of their menu options —Breakfast, sides, lunch, dinner, dessert, and drinks. I have to say that my absolute favorite drink was the mimosa. I've never had a mimosa made from fresh squeezed orange juice before, or one with froth on the top and OMG it is a must. A must! Since a lot of attendees were having trouble with cell reception we were pretty excited to learn that LYFE Kitchen offers free Wi-Fi and I think a few attendees are going back for work dates another time.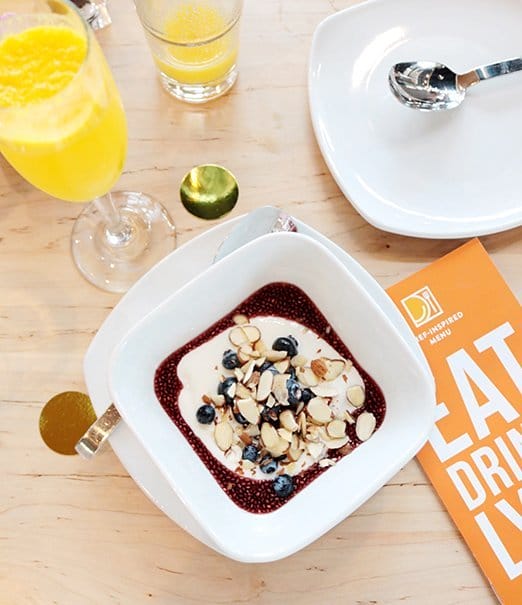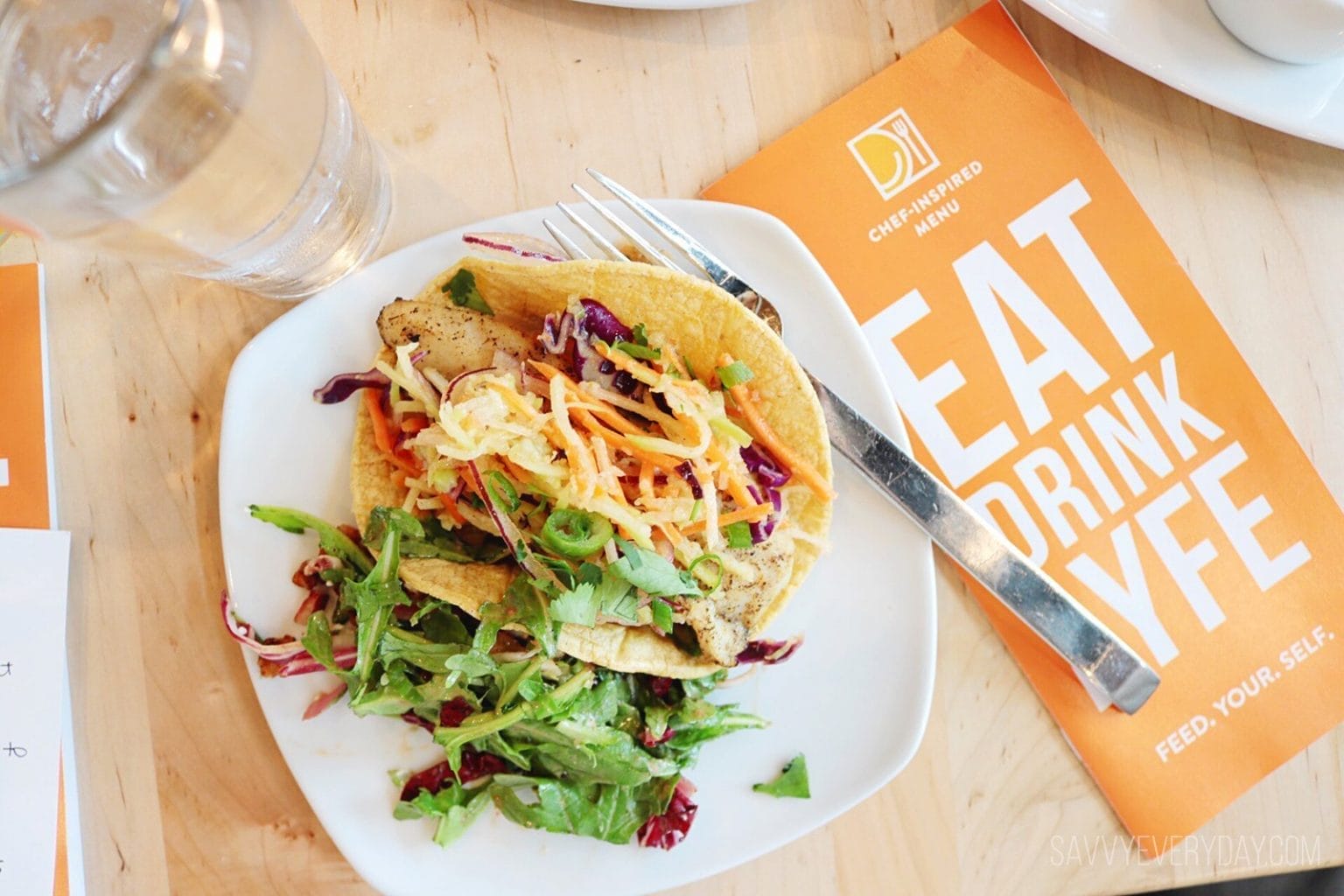 BRUNCH THEME & DECORATIONS
The brunch colors of pink, gold & white were inspired by the gorgeous gold Edgy Square Platter from Annieglass for the event and the light pink and white used in Sky of Blue Cards' Caring Sweet Beautiful Mother's Day Card that I was given to add to each gift bag. Once I had the colors I went to Target to grab everything I could with the right color scheme (I had a RedCard coupon good for 10% off a single day of shopping) since I wasn't sure what the table we would have for the brunch at LYFE Kitchen and how I was going to wrap the gifts. At first, I was going to decorate these large gift boxes that came with the shampoos for the event, but not everything would fit so I went with gift bags instead. They're easier to carry and I was able to use the recycled paper shreds in the boxes as fluff in the bags with some sparkly pink tissue paper.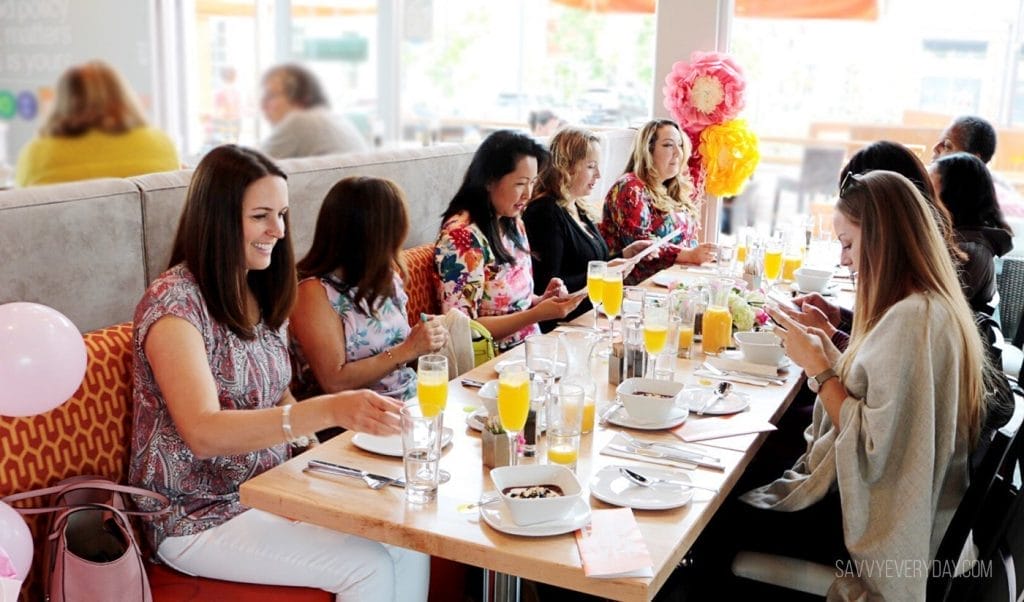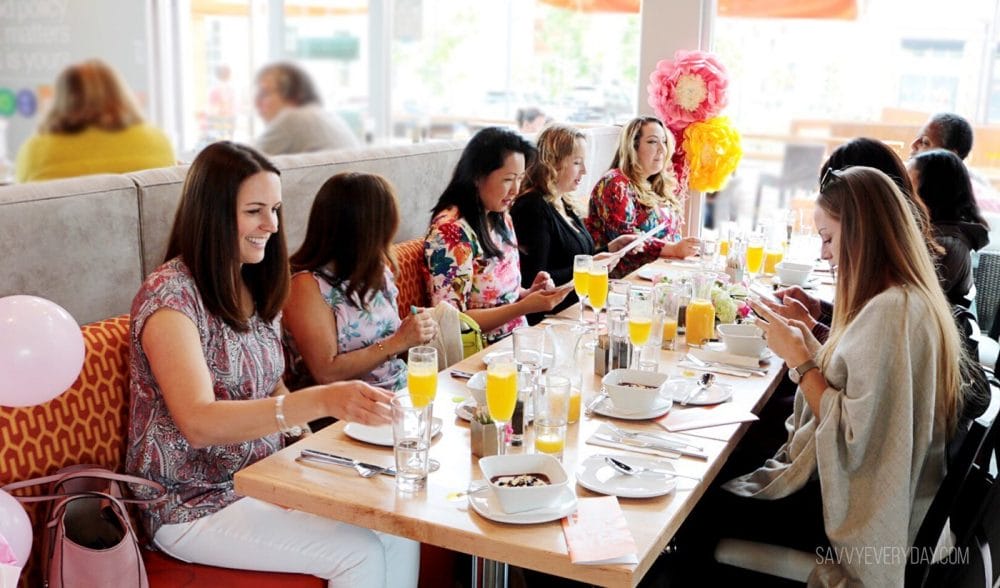 For a little more pop of color, I blew up some pink and white balloons and tied them with white string before deciding to go with gold & white and pink & white bakers twine. I added a few fake florals to the balloons to tie into the floral mom theme. I found these super cute Martha Stewart Poppy Flowers Tissue Kits at Joanne Fabrics that took me a bit to figure out but knew would be perfect for decorations. Once at the event I just taped them on the wall with the white balloon strands I had decided against using for the balloons on one end of our brunch area, then with the balloons above the gift bags on the other. These are super simple to make once you figure out which direction to fold the paper, and they're easy to tape up and take down at a restaurant then use again at another party or in your home. I'm thinking about buying a few more packs and covering one of the kiddo's walls in these paper flowers.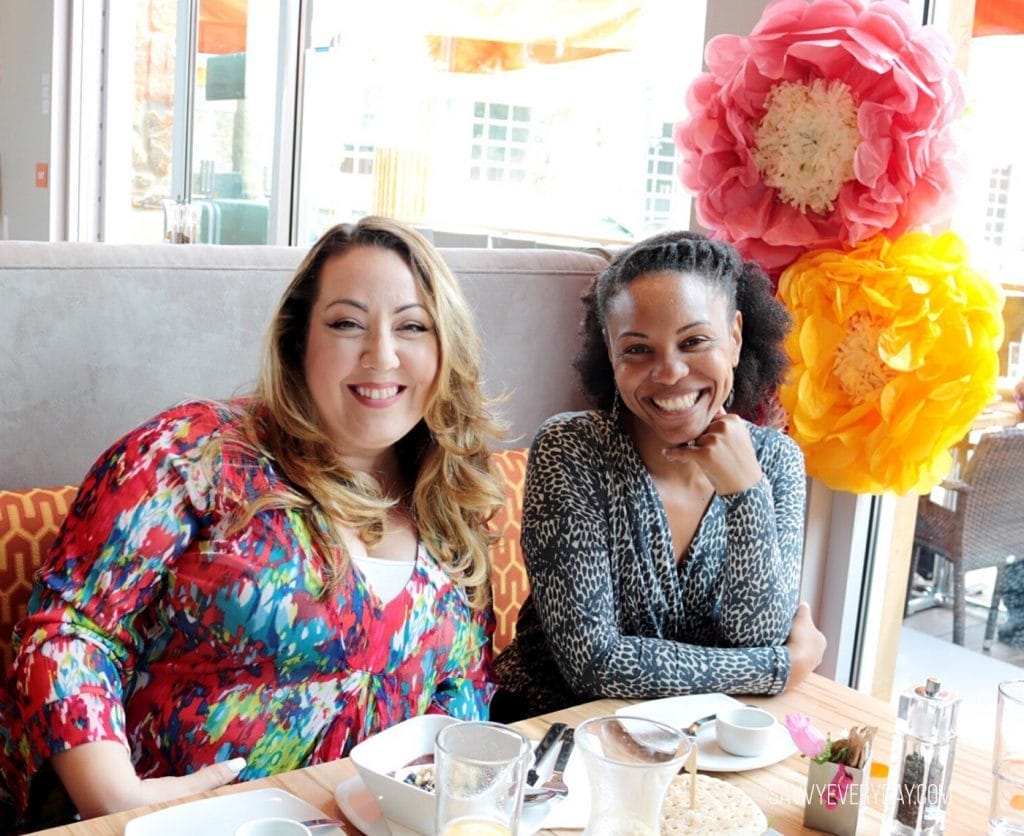 Details are super important to me at events —Especially when you're trying to create a theme and feel when at a restaurant. So I added little fake and real flowers to the sugar holders on the table, along with some other fun fringe. I sprinkled Large Gold Confetti circles across the brunch table, which really helped to tie the table into the party colors and theme with the gold Edgy Square Platter from Annieglass and flowers I picked up at Safeway. I bought a dozen roses for $10 to use as centerpiece decoration with some other flowers I bought and then gave each attendee a single rose when they left the event (because what's Mother's Day without the gift of flowers?).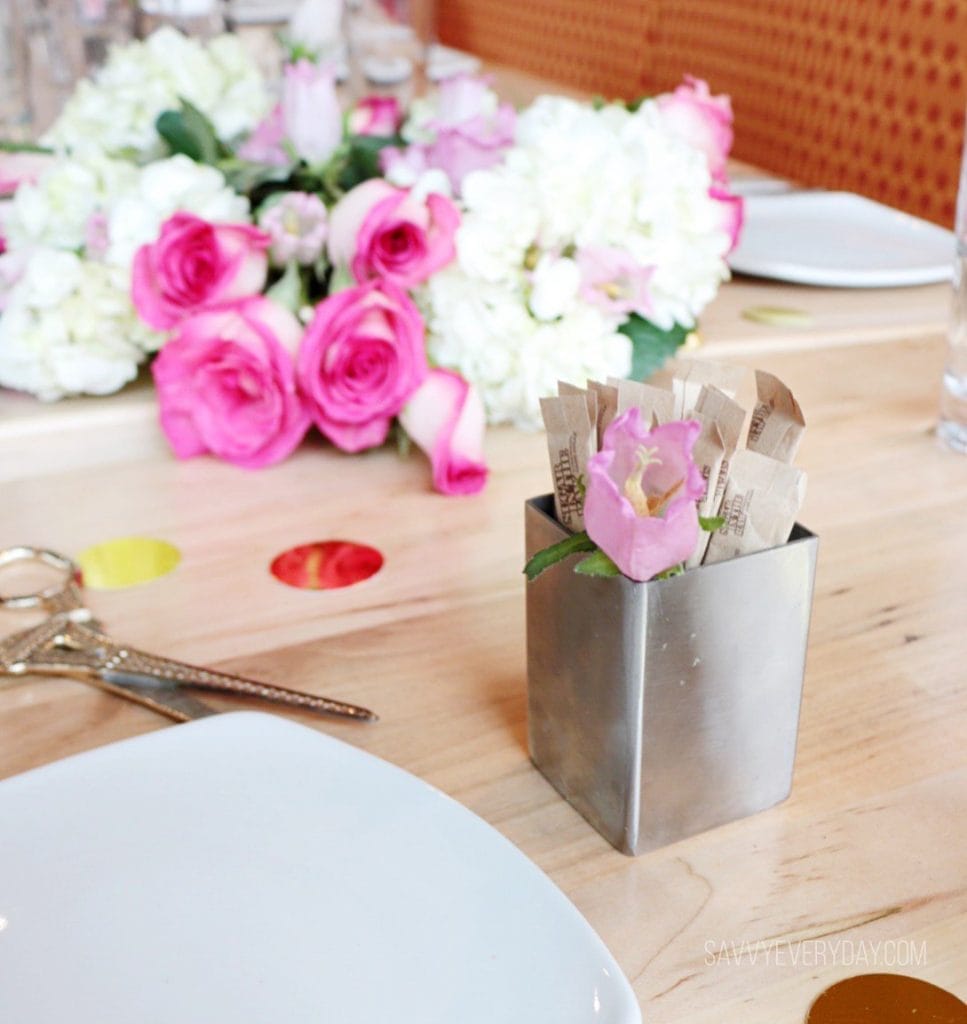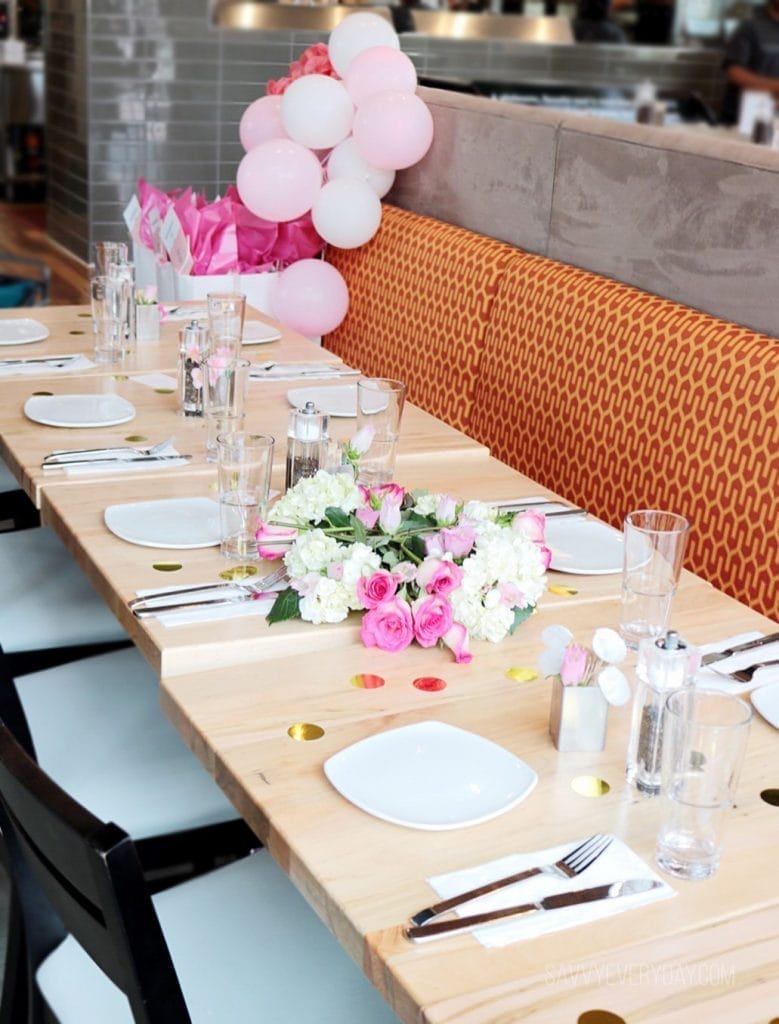 BRUNCH SCHEDULE
The brunch started with mimosas and orange juice, followed by introductions to the brunch tasting process and the first items coming out. Later, Ava from Annieglass stopped by to drop off Mother's Day gifts and say hello. Once the food seemed to be winding down and we were at gooey warm chocolate cookie time I took the opportunity to pass out the rest of the gift bags for attendees too. We all had so much fun catching up and eating tasty food that we ended up staying for 2.5 hours instead of 2.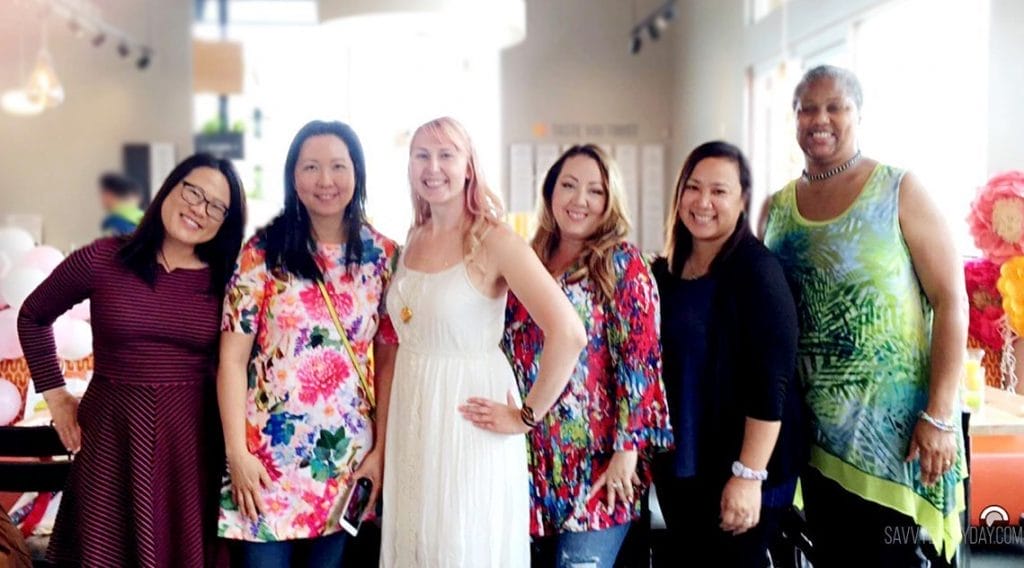 SHOP THE PARTY
Martha Stewart Poppy Flowers Tissue Kit / Spritz Light Pink Balloons / Spritz White Balloons / Gold & White Bakers Twine (for balloons) / Pink & White Bakers Twine (for balloons) / Pink Tissue Paper / Eiffel Tower Scissors / Large Gold Confetti / Women's Cream Embroidered Maxi Dress (what I wore) / Feria Smokey Pastel Pink (my hair) / Gold Edgy Square Platter from Annieglass / Dozen Roses and assorted flowers bought from Safeway
Click Here to see what's inside the gift bags and enter to win (or click to the next page)! Want to see more? Look up the #MothersDayatLYFE tag on Facebook, Twitter and Instagram!
Title:
Blogiversary Mother's Day Brunch at LYFE Kitchen
Mentions:
dairy-free, event, event planning, floral, giveaway, gluten free, holiday, LYFE Kitchen, mom. mommy, mother's day, motherhood, mothers, Paleo, parenting, party planning, personalized event, pink and gold, pink event, restaurant, Vegan, Vegetarian