5-Minute Game Day Snack Stadium
This shop has been compensated by Collective Bias, Inc. and its advertiser. All opinions are mine alone. #GameDayGlory #CollectiveBias
Game day means something different to everyone. For most it's about the big game, others enjoy the camaraderie of friends. Me? I really like the snacks. Since I was a kid, Sundays meant watching the game (or a movie) with my dad while enjoying some chips with spread and salsa, as well as other snacks. When I learned about snack stadiums I knew I had to try my hand at it. What came of my day of experimenting with the items from Collective Bias' sponsors was a super simple 5-minute snack stadium everyone at your party is sure to enjoy. Honestly, the hardest part about making this was trying to stop myself from eating the ingredients. Instead of coming up with elaborate ways to make different things look like a stadium I kept this to the bare minimum — The ingredients and a plate — so that everything in the display is pretty much edible. Keep reading for the tutorial!
Step 1: Purchase Ingredients/Items Needed
Items Needed
Large serving dish with raised edges or a large bin with ample flat space at bottom
SNICKERS® Minis 40 oz.
Skittles® XL 41 oz.
Pepsi™ 12 oz. 12 pack
TOSTITOS® Scoops, Party Size
TOSTITOS® Medium Chunky Salsa
2 Sticks of cream cheese
Knife and fork
Extra plate (for cutting)
First step requires a trip to Walmart where they have a huge Game Day display right as you walk in the doors with awesome football players made out of Pepsi™ boxes and everything you might need for snack time for a large Game Day gathering. I found the TOSTITOS® Scoops and chunky salsa with the Pepsi™ cans in this large Game Day Wall display then came across another display with Snickers and Skittles in front of the registers. This display didn't have the 40 oz. SNICKERS® bag I was looking for so I headed to the candy aisle for those.
Once you have all your items together make a big rectangle on the plate using your SNICKERS® Minis. This serves as the structure or framework for all of the other ingredients in this simple snack stadium. Later on in the steps, I add a second layer for height but you can do this now if you'd like.
Step 3: Cut and Place Cream Cheese
Cut the cream cheese (or whatever you choose to use instead) into slivers to lay flat against the SNICKERS® Minis. Continue to place it around the SNICKERS® until you reach the middle, then create an oval football shape in the center. Smooth the top with a knife.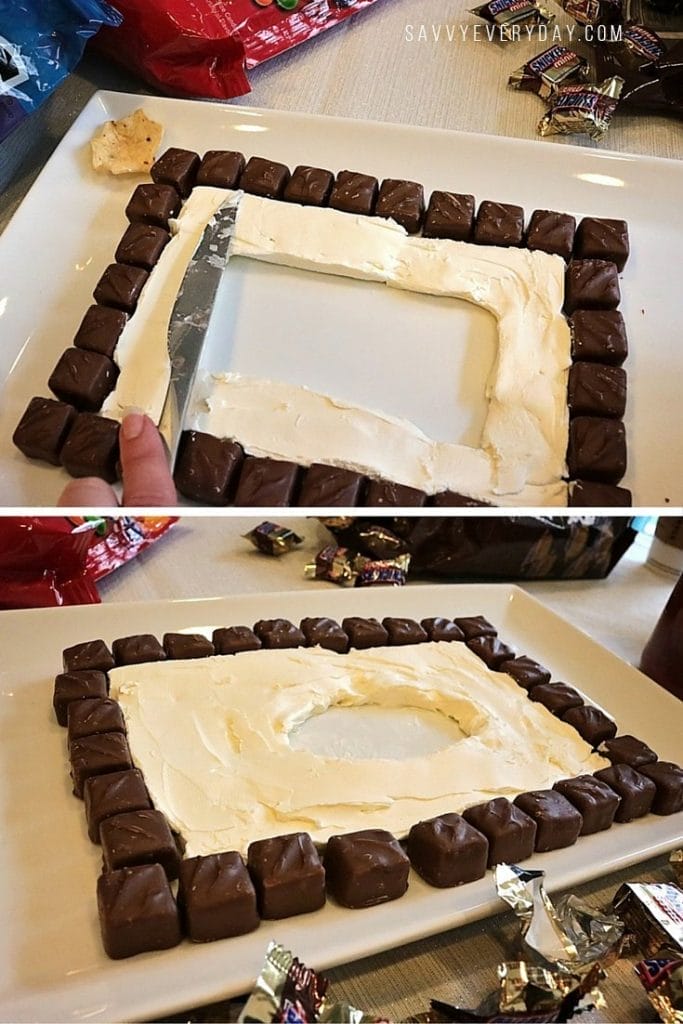 Step 4: Make a Football
You may choose to do this last or now, but this snack stadium is not complete without the TOSTITOS® Medium Chunky Salsa. For the football threads, roll small pieces of cream cheese into four little lines then place over your football salsa.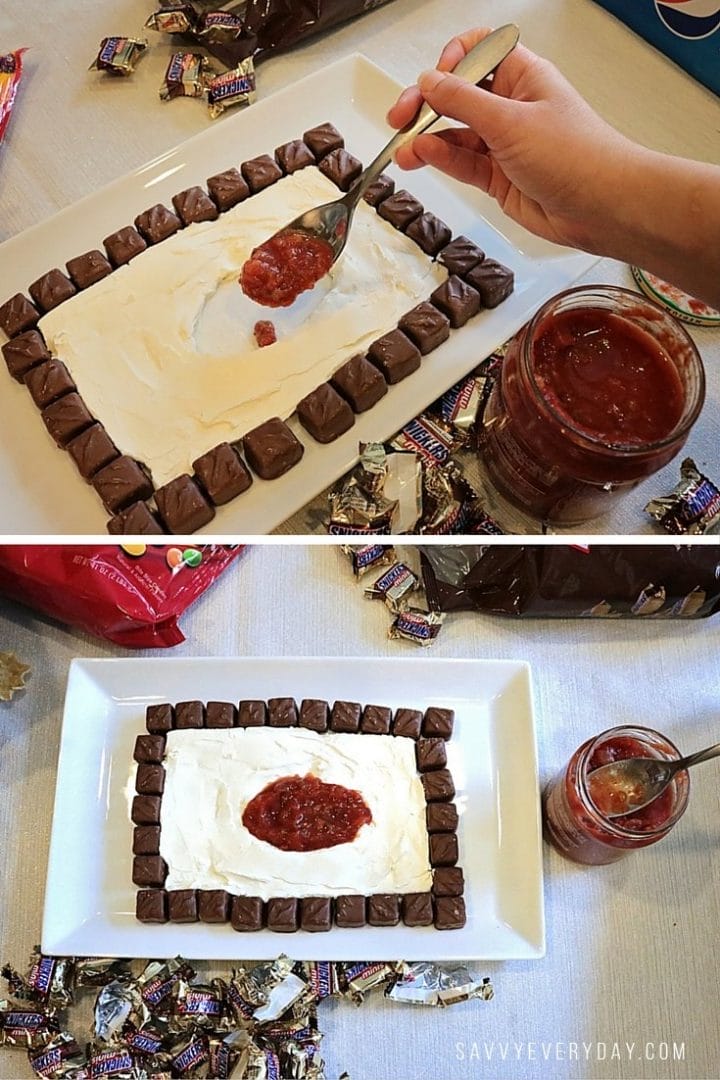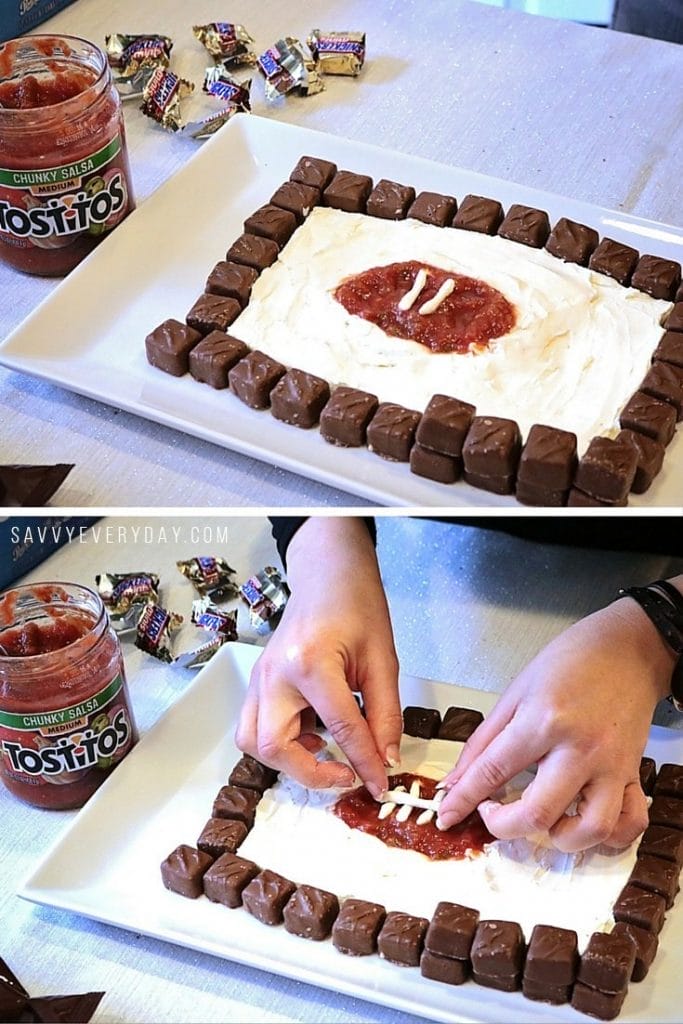 Step 5: Make Chip Seats
Add another layer of SNICKERS® Minis to the current field border to give it height. Arrange TOSTITOS® Scoops around the SNICKERS® Minis wall as if seats, with several chips layered on top of each other. Then fill the "seats" with Skittles® of your choice. My favorite Skittles® flavors are the orange and red ones so I filled the seats with those colors.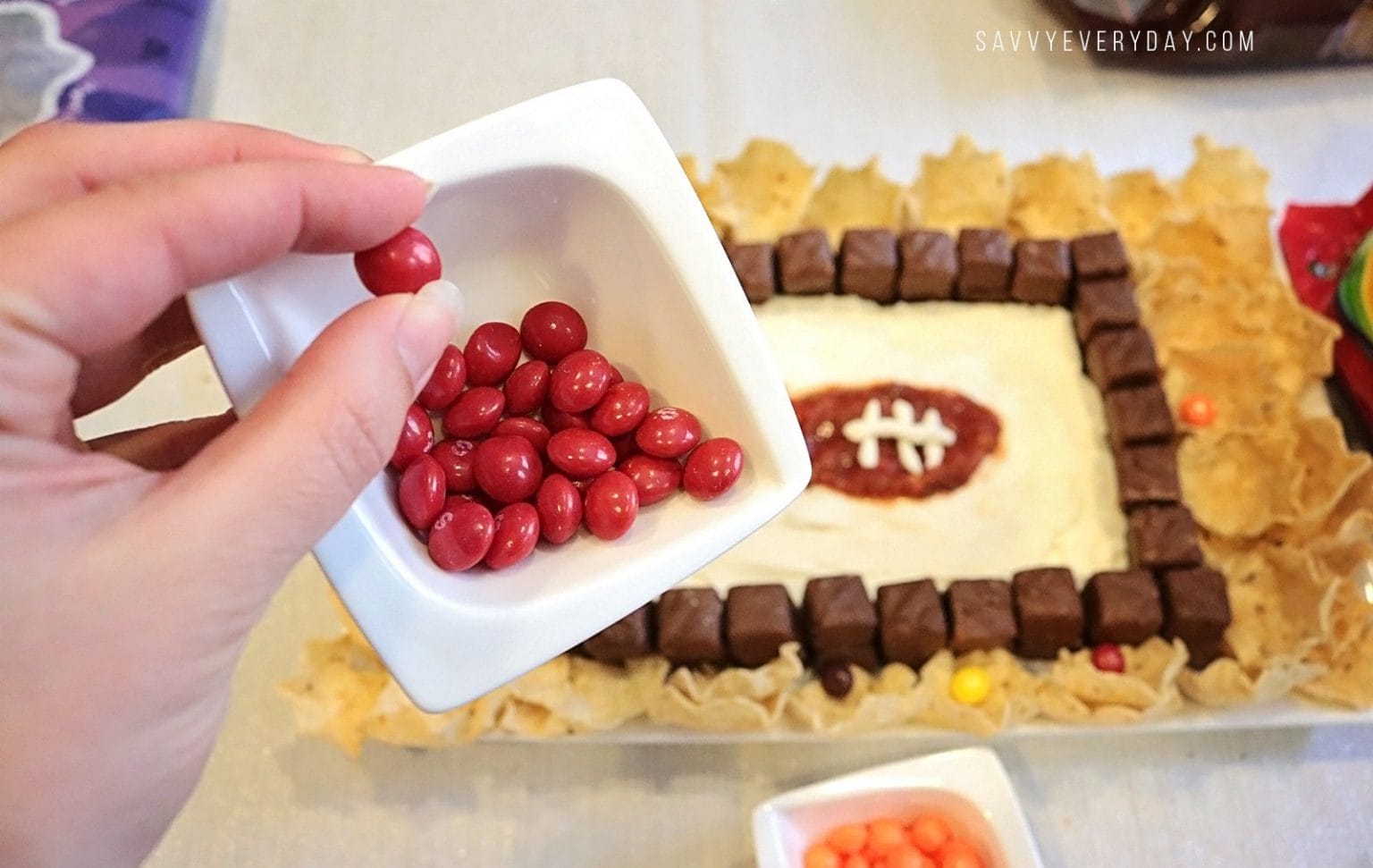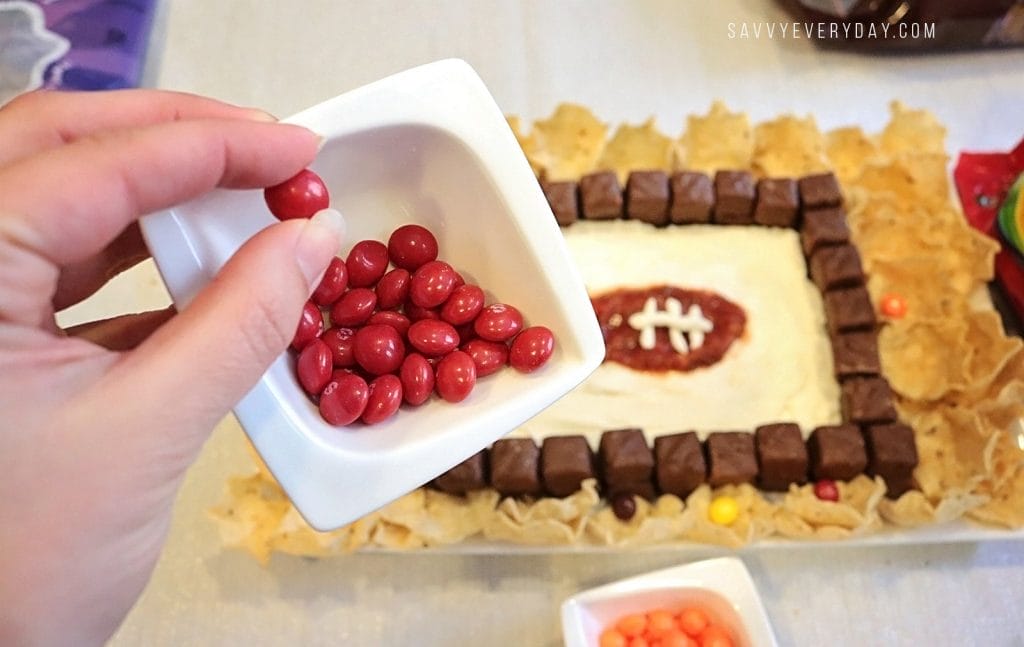 Step 6: Build a Refreshing Tower
What better stand is there than a refreshing drink? My step-mom loves Pepsi™ so I know this would be a treat for her. Since this uses the 12-pack of Pepsi™, people are able to grab a can and still leave some under the stadium for support.
Step 7: Add Field Lines and Enjoy!
I save this step for last simply because once the salsa is on you're not going to be able to resist eating this snack anymore. Use a fork to collect the chunkiest parts of the TOSTITOS® Medium Chunky Salsa from the jar to spread as a thin line on either side of the salsa football. If you skipped adding the salsa to the center of the snack stadium earlier, now's the time to add it in with the little lines for the football thread.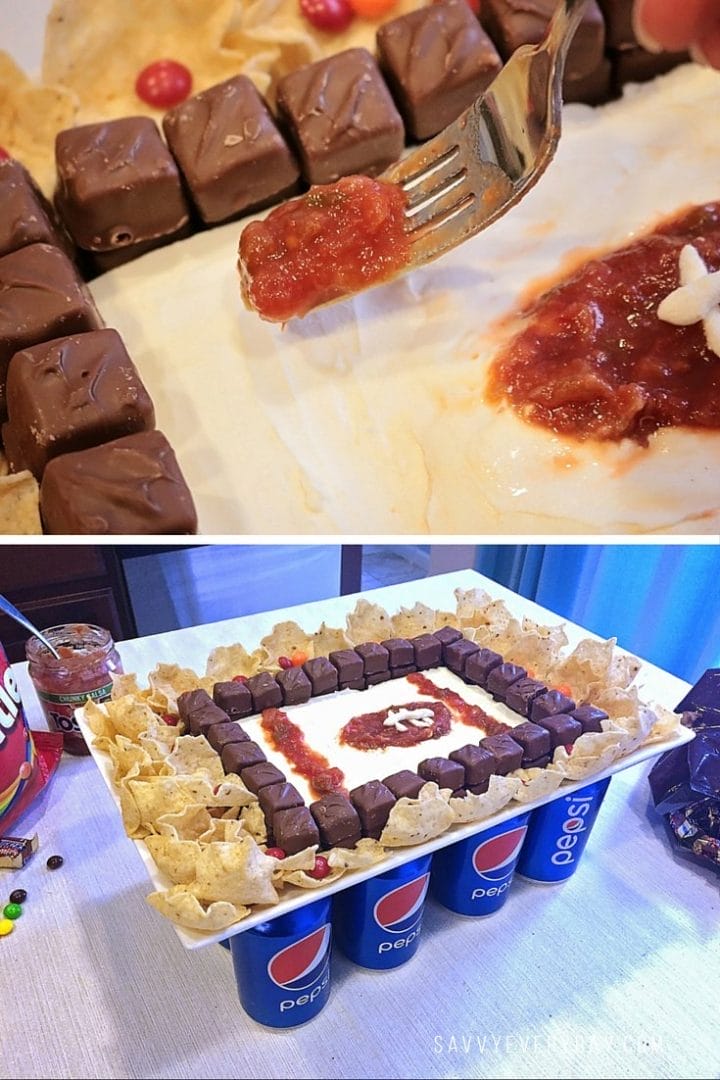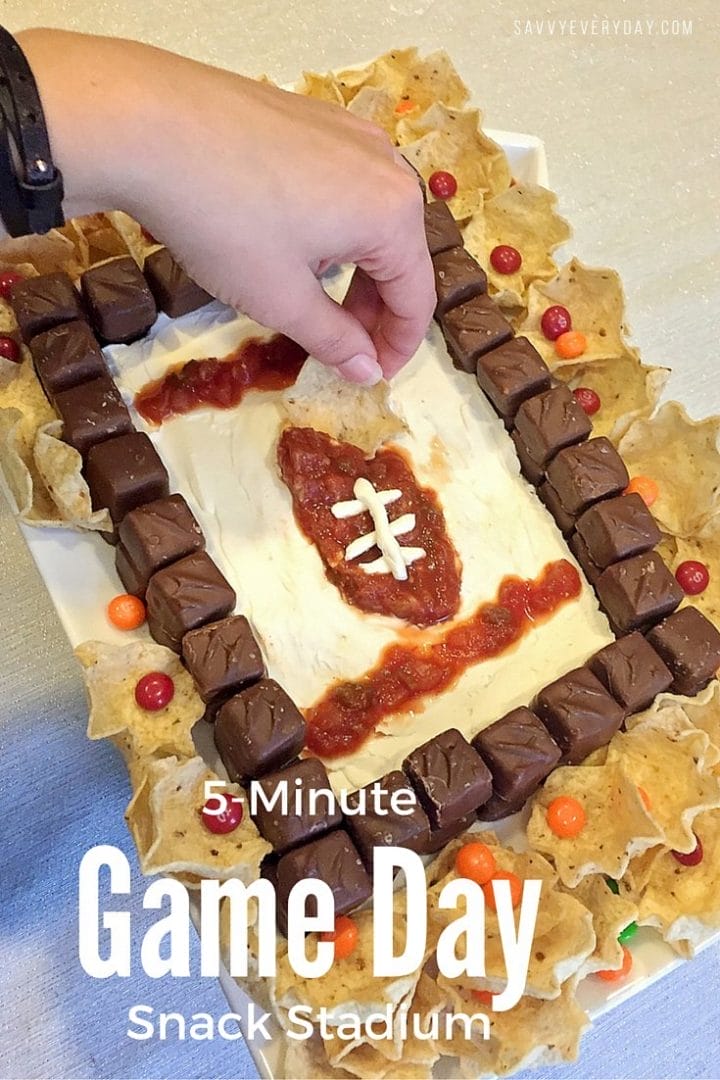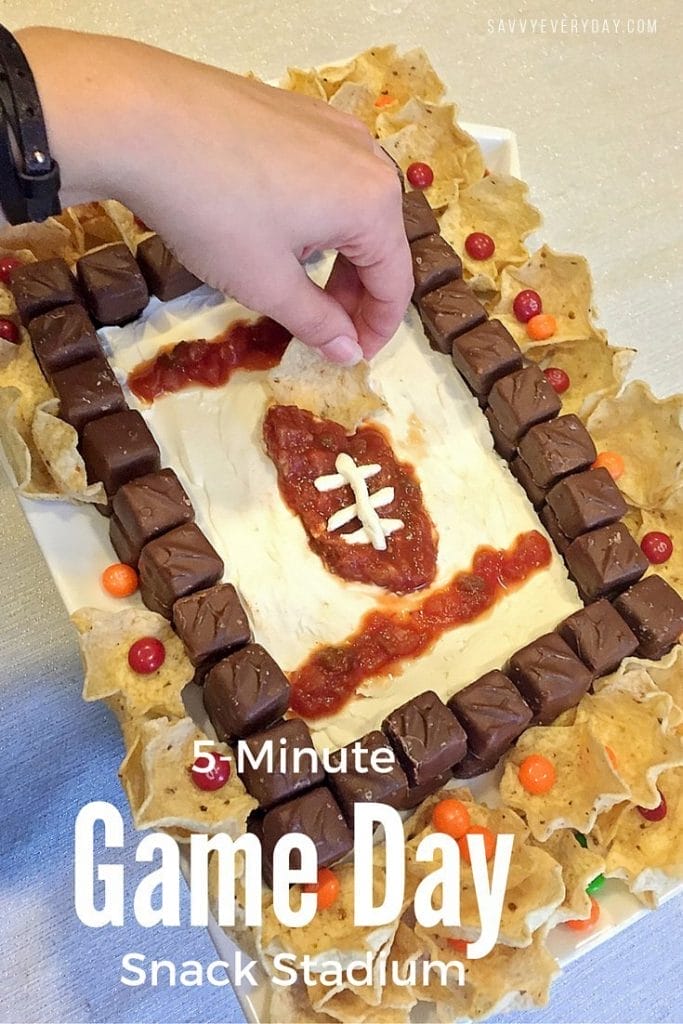 That wasn't so hard was it? Have fun eating your simple snack stadium during the big game! For even more fun snack stadium inspiration, be sure to check out what others have created, here!