Mama Style: Baseball Looks
Baseball is one of America's most treasured pastime sports, making it the perfect game to attend or dress for on July 4th. Whether you're a baseball super fan, always rooting for your favorite team or simply enjoy the comfort of baseball fan gear, this post is for you. None of the above? Don't skip out, you may still get something from this. Keep reading for my red, white and blue baseball mom style guide.
For this style, I dressed in Chicago Cubs gear since their colors are red, white and blue. The below links to similar products may contain affiliate links. Enjoy! (Not into red, white and blue? Scroll down to a black, grey and red alternative!)
Cap: Sunscreen is a must for the everyday, but a baseball cap is a must-have for any sports game (or sunny day out in a sports outfit). Here, I'm sporting my pink Cubs cap ($22, Macy's) since I lost my blue one.
Shirt: I have three cubs shirts and this one is my favorite. The other two are also very nice because they have a great length, but they're a bit more form fitting and that's a type of shirt I'm avoiding at the moment. This "Cubbies" shirt is from the Victoria's Secret PINK MLB collection a few years ago. They're not selling Cubs gear this year, but have shirts for SF Giants fans and many others. Tip: Layer your shirts! I wear tight camisoles under my shirts that need a bit more length to cover what I call the "awkward area," you know, where your thighs may or may not touch. This cami also works as a sort of tummy slimmer, leaving my less bulge sticking out with the top shirt. I've also selected a loose fit top to go with this tighter fitting cami and my tight jeans to balance out the outfit. If I'm wearing tight on the bottom, I wear a loose fit top (and vice versa).
Jeans: These are $7 sparkly skinny jeans from the sale section at a Forever 21 outlet. I love them. So, so, so much so that the little pull that started on the leg doesn't bother me much. Jeans like this pair really well with a more flowing top, a long top, or one of those tops that are supposed to be worn as a dress but there's no way you're actually doing that because it's way too short.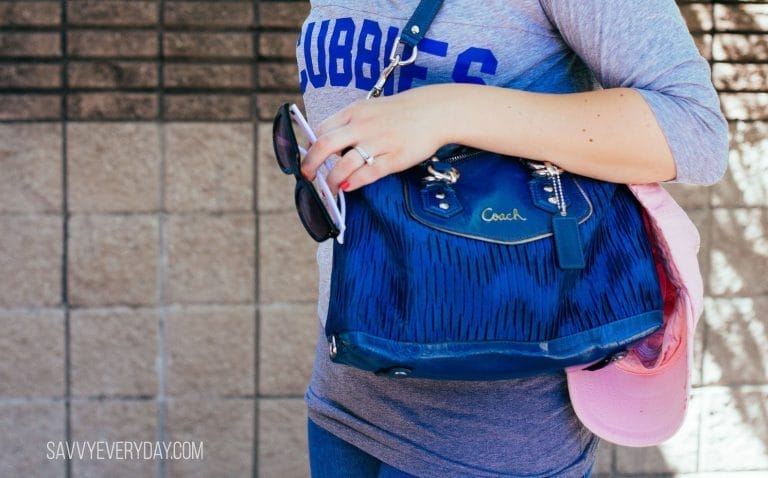 Accessories: Since the most prominent color in my Cubs shirt is a blue, and the grey is also a cold color, I went with my black and white sunglasses, blue Ashley Sateen purse from Coach (here's a similar one) and a Cubs hat. I'm sporting my pink Cubs cap ($22, Macy's) since I lost my blue one. It doesn't quite fit the blue theme I was going with, but it does the fit the Cubs team theme, and offer a pop of color in an otherwise cold blue/grey look.
Shoes: If I'm not wearing flip flops, I'm in flats, and you kind of want to be wearing closed toed shoes if you're actually going to a game (think large crowds, feet getting stepped and spilled on). These Mossimo shoes are the perfect shade of blue to compliment my Cubs shirt and purse without blending in with the blues of my jeans. These are no-longer in stores, but are on Poshmark. Looking for something similar in stores? Check these out, ($23, Target)
Bonus: It looks great on a day out with your baby carrier, too! (The below pic is from my Mama Style humor post about what moms wear so I'm carrying my daughter's doll around in the Ergo.)
All photos taken by the lovely Kai Sotto Photography. Info about the makeup look and products used can be found here (click).
If you're looking for a more generic baseball themed look, check out the black, grey and red baseball themed look below. It doesn't have any specific team mentions so it can be worn out and about or at a game!
Title:
Mama Style: Baseball Looks