Babywearing in the Military: Conan & Chelsea's Story
After 10 years of marriage (97 percent of that active duty) and 6 kids ranging from about 5 months old to 8 years old, Active Duty Airman Patterson and his wife, Chelsea, have become big advocates of babywearing. "We love that we get to help teach and spread the word about babywearing and support our fellow military," shares Chelsea. I think I just might ask for their marriage secrets for another post but in the meantime, keep reading for this amazing couple's babywearing story, and tips for new parents interested in learning how to wear their own kiddos.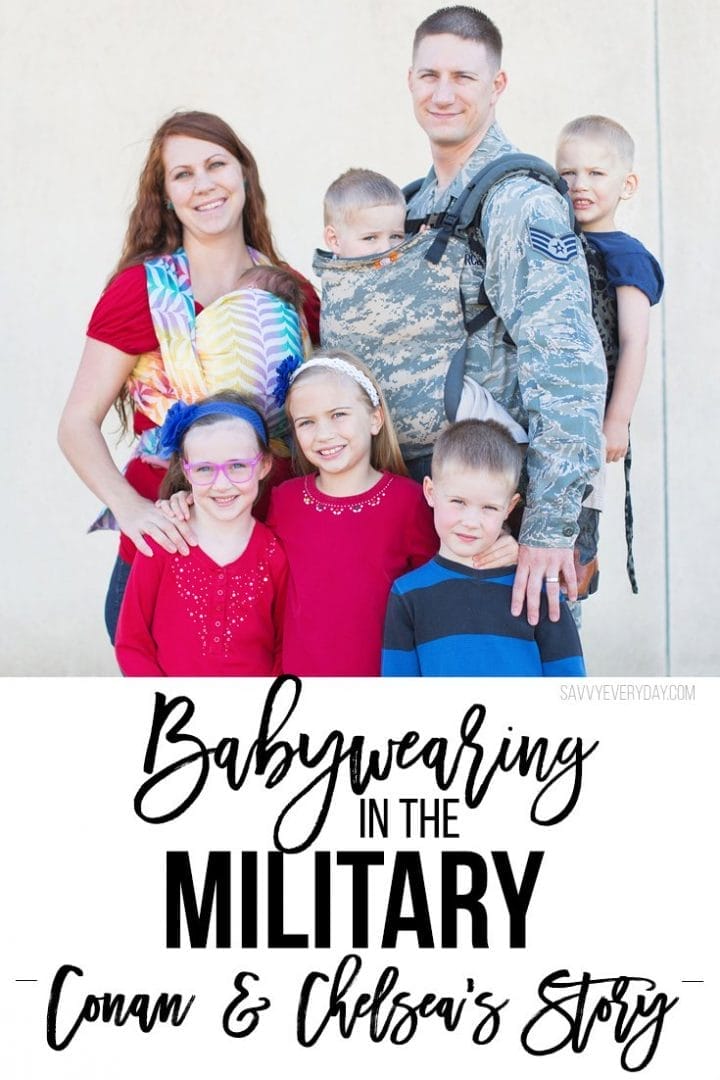 HOW THE BABYWEARING JOURNEY STARTED
"We got our first carrier when we were pregnant with our first child and began carrying her almost immediately after she was born due to her being very colicky," says Chelsea. "I began learning different types of carries via YouTube videos and did a ton of research to find carriers that would suit our needs. Then tried a bunch out and practiced wrapping. After that, I started finding other Babywearers to learn from and now attend conferences to learn more." Since then, the couple has worn all 6 of their kiddos from birth until ages 3 or 5. In total, they've been babywearing for 8 years and volunteer their time to help others in their local area learn about babywearing, too!
BENEFITS OF BABYWEARING
"Having my kids close has helped with reintegration from deployments for me and my children, it allows me to efficiently care for multiple children and keep them safe," says SSGT Patterson. He adds that babywearing allows him to get more done in less time since he can multitask (win!).
For Chelsea, babywearing means getting through the day-to-day during deployments: "Wearing has allowed me to carry on with life during deployments. It has allowed me to make dinner, homeschool my children, care for multiple children at the same time, and bond with my children on a different level." Chelsea has also met some amazing people in her community as a result of babywearing, which is huge.
CARRIERS IN THE HOME
Chelsea is loving her Tula Migaloo Delight Woven (size 6) for the baby, but her overall favorite carrier changes all the time. Airman Patterson prefers soft structured carriers, with Tula "Brave" being his fave. They currently have a Little Frog size 3 Sunny agate woven wrap, a Lenny lamb baby size Twisted Leaves full buckle, anInfantino Mei Tai, a standard Spotted Love Tula, a toddler Brave Tula, a Bitybean water carrier, and a Warrior's Pride Mysol.
BABYWEARING TIPS FOR NEWBIES
Chelsea advises that parents new to babywearing find a local babywearing group that meets regularly so you can ask experienced wearers any questions you may have and test out a variety of wraps and carriers before you buy your own. Some local groups also have a lending library that allows you to take a carrier/wrap home to try out on your own for a certain period of time. "The Carrying On Project has Play Dates where the local host can answer questions about babywearing and a number of them have lending libraries available." Babywearing International also offers local group meetings with learning libraries throughout the U.S. and attending baby fairs is another great way of meeting babywearing groups or carrier brands. "It's always great fun to see all the new things come out."
All photos by Tara Hayes Photography
If you're still on the fence about whether babywearing is right for you or not, SSGT Patterson urges you at least give it a try: "Do it! It makes things easier to accomplish, it's good for you, it's good for the kids, there's no reason not to. It is enjoyable for parents and children."
Navigating Parenthood partnered with The Carrying on Project, a nonprofit that makes babywearing accessible to those in the military, to create a series about military personnel and their spouses who babywear. This week's post is from Active Duty Airman Patterson and his wife, Chelsea P. Follow along as these parents share what babywearing means to them, and any tips they may have for parents new to the world of babywearing.
Title:
Babywearing in the Military: Conan & Chelsea's Story
Mentions:
A Babywearing Mama's Journey, air foce, air force, Air Force dad, babywearing, babywearing dad, military, military dad, military family, military personnel who babywear, military spouse, resources for military families, Texan family, Texas, Tula baby carrier, wearallthebabies, wearthem