How to Design a Princess Bedroom for Less
There's no denying that after adoring the cute little kid version of chandeliers at Pottery Barn Kids, I melted when I felt the fluffy comfort of the bed coverings used in their displays. But I didn't want to spend so much money on my daughter, S', bed (that she doesn't even sleep in). So, I turned to my favorite store (I'm Target-obsessed), and mixed things up a bit. From canopy to sheets, here's how to make a whimsical princess bed for less.
This post contains affiliate links.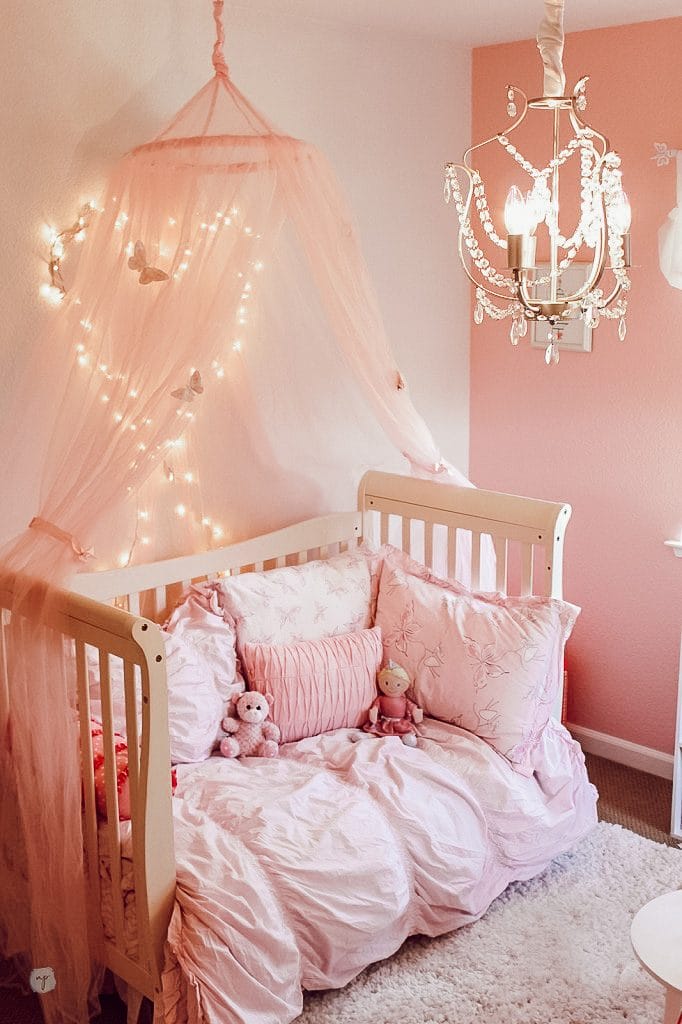 Bed Sheets and Pillows
To get a bright, comfy feel I wanted for the room I combined PB Kids with Simply Shabby Chic from Target. I bought twin sheets with a pink and white design on them (in case S upgrades to a twin later) on clearance at Target for something close to $9. Since the twin size is so much bigger than a toddler bed I just pulled more of the material underneath. Again, my daughter doesn't sleep in her bed, so this is mostly for her to sit and read books, or play pretend with (she tells me she's going to bed and pretends, which lasts all of 3 minutes).
The duvet is the next necessary element for this look, but the ones at PB Kids were a bit pricey for me. Instead, I waited for Target's Simply Shabby Chic to go on sale and used a $10 off coupon. To give the bed a fluffy look, I folded the duvet in half so that it fit (but you could do this differently and make it work in your own home) and added full-size standard pillows. The pillows are covered in the shams from the Shabby Chic set and PB Kids Alexa sham ($25) and pillowcase ($15) which it looks like are no longer available online (maybe in the clearance section in-store). My pillows aren't perfectly aligned or chopped down the center or anything since this room does belong to a preschooler. But I added a few clearance accent pillows for a more sophisticated look, along with a few friends to make the bed welcoming.
Canopy
To top off this look a canopy is a must. If you have a rambunctious little one (who would enjoy pulling on this a lot), I would skip it or go with one of the shorter canopies offered at IKEA. My daughter admires the big canopies at PB Kids and really wanted one to make her bed like a princess' bed so aside from opening the sides out around the side of the bed more or closing them, she doesn't really mess with it. This canopy was $70 at PB Kids (a gift from grandma), but IKEA used to sell a white canopy called a Fabler for $20 that you could probably find on Facebook marketplace or in a local buy/sell/trade group. If you have some sewing skills or know someone who does, a DIY canopy can be made with an XS or regular hula hoop and a lot of sheer fabric (the best part of this option is that you can add whatever ribbon you want and use a tulle or sheer to make the canopy your own).
I added butterflies and ribbon for tie backs to the canopy. The butterflies were on clearance at PB Kids at $18 for six, but I also found some in the crafts section at Walmart that was a different color for about $3 for three without the clips on the back. Both versions were fairly fragile, but if you can find clips and glue them on the DIY option is the way to go.
Sparkling Lights
The final touch to this whimsical space would be the heart-shaped lights that sparkle through the back of the canopy above the bed. These lights are left unplugged then are turned on by an adult only during special nighttime storytimes. Though there are premade marque type lights sold in stores, I made this by outlining the wall with tiny adhesive hooks used for hanging pictures and other things. I think it's by 3M and found in places like Target (you pull down the adhesive to remove the hook without damage to the wall or ceiling). Since I put this room together in October stores were filled with Christmas lights, and I picked up these white ones with about 250-300 lights to use. Stores typically carry some sort of string light like this regularly as well. Be sure there's an outlet close to where you plan on making your masterpiece since you don't want a cord going across the floor or wall.