Summertime Baby & Tot Product Finds (& Giveaway)
Summertime needs are so very different from fall. Between trips to new places and the hot sun, you're going to want to prepare for the days ahead, and that's where this list of summer baby & tot product finds comes in. Keep reading for a look at some of the handiest new product options out there for summer then enter the giveaway to win over $200 worth of these summer finds!
Savvy Every Day received these items to facilitate this review. This is not sponsored and all opinions are honest.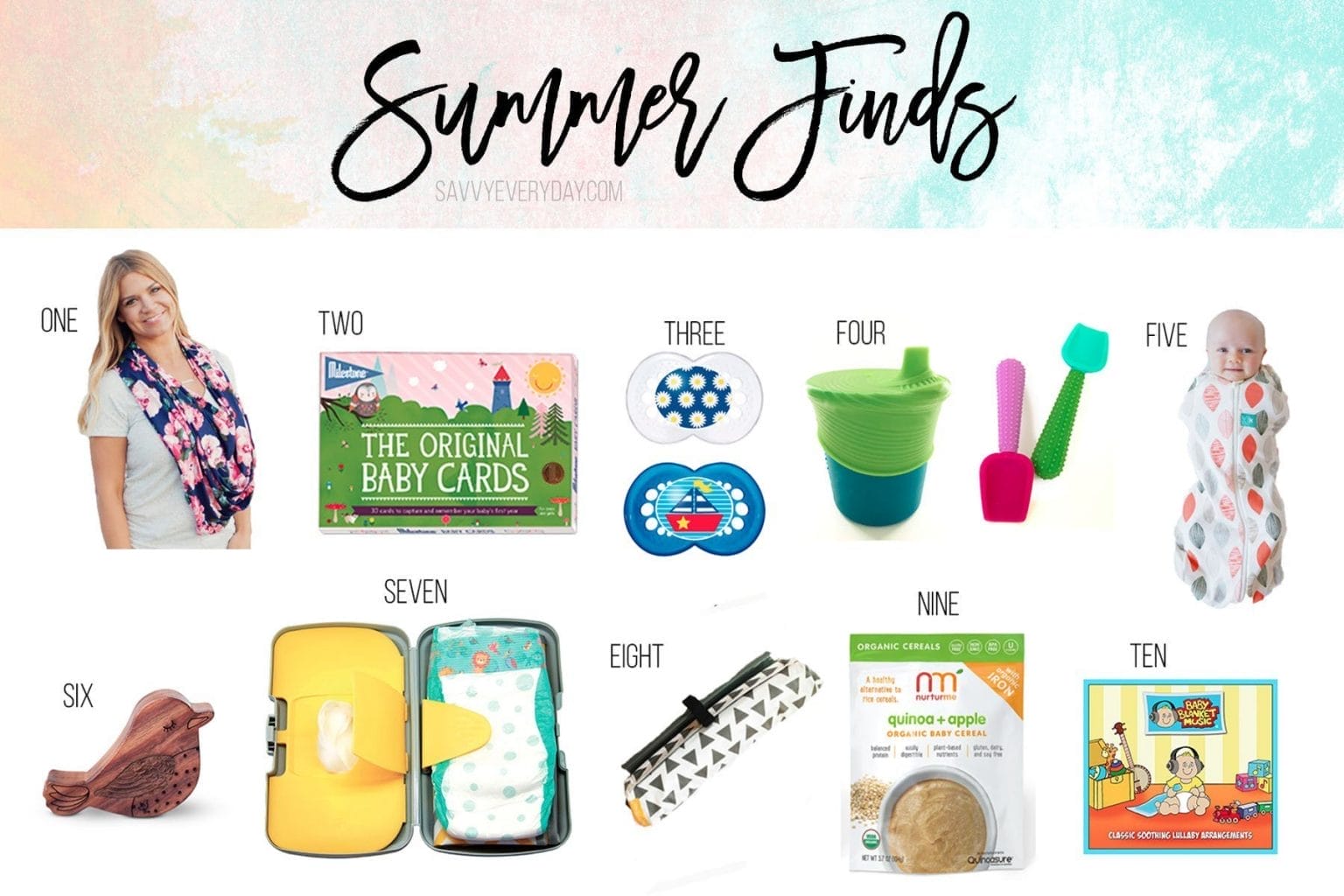 ONE: Covered Goods multi-use nursing covers / It's important to pack as light as you can while on trips (something that's hard to do with a kiddo in tow), so this stylish multi-use cover is a huge help. Wear it as a scarf or nursing cover then use it as a cart cover or car seat canopy! I adore the Navy Floral print option shown but am also a fan of the Classic Black & Ivory Striped version.
TWO: Milestone / Don't lose track of those special moments while away on vacation! I adore Milestone cards for remembering why a moment was so special while snapping pics. They have everything from pregnancy and newborn cards to baby milestones and toddler firsts. I was sent the mini cards, which allow you to write something funny your kiddo said and have them take a pic with it so you can remember when it happened.
THREE: MAM / MAM is known for their pacifiers —They've been perfecting one for every stage from birth since 1976 after all — so it's no wonder their super cute summer sets made this list. With so many designs to choose from, there's a paci for every outfit and trip (and in case you lose one).
FOUR: Silikids / Having trouble finding the right sippy cup? Silikids offers a sage, silicone Siliskin Sippy Cup that allows you to take the lid off and place it on any cup you own if needed! So if you're at a restaurant that doesn't have toddler proof cups you're still covered. The Silispoons are fun spoons that also look like fun as a beach toy. The bright colors and easy grip make these a kiddo fave.
FIVE: ergoPouch / Recognized as "Hip-Healthy" by the International Hip Dysplasia Institute, Australia-based ergoPouch offers a safe alternative to traditionally tight swaddling so that natural development of the hip joints can occur. ergoPouch products are made with natural fibers if not organic cotton, and the summer versions are perfect for keeping baby happy and asleep.
SIX: Finn + Emma / Everything in the Finn + Emma shop is 100% organically grown/made. I adore the concept of a natural wooden teething rattle like this bird one they offer (though they have so many other options too). The rattle is made from untreated Indian hardwood with a non-toxic vegetable seed wax finish and completely fair trade. A rattle and teether in one? That's pretty awesome, too.
SEVEN: b.box / Have you ever wondered if there's an easier way to carry the diapers, wipes and changing pad? Check out the diaper wallet from b.box! It's perfect for running errands for a few hours or when the kiddo is potty training so you can get away with bringing less diapers. Say goodbye to the big bulky bag! I got the cherry delight diaper wallet but they have so any other cute styles perfect for summer travel.
EIGHT: Binxy Baby / Looking for a shopping cart solution for when you don't have the stroller or carrier or they just won't work? Binxy Baby makes shopping cart baby hammocks for littles from newborn until they can sit up unassisted. Let your little one stretch out and rest safely while you get some shopping done. I'm in love with their new black & white Triangles pattern.
NINE: NurturMe / Whether you're trying to get your tot to eat for fruits and veggies or you'd like to introduce your baby to cereals, NurturMe is a great on-the-go solution. Their re-sealable packs and smaller vacation packs are great for diaper bags.
TEN: Baby Blanket Music / You know when you're on a trip and nothing seems to be helping your tot/baby to sleep . . . until the right music turns on? Yea, baby music is super important and Baby Blanket Music has a whole collection of soothing lullabies from favorite songs to appease both kiddo and parents.
BONUS: Green Goo / All natural skincare is a must for mom and baby. With the sun beating down on you a solve like Green goo Skin Repair can come in handy for mom or dad, but they also offer baby balm and a whole mom and baby gift set that I'm eyeing.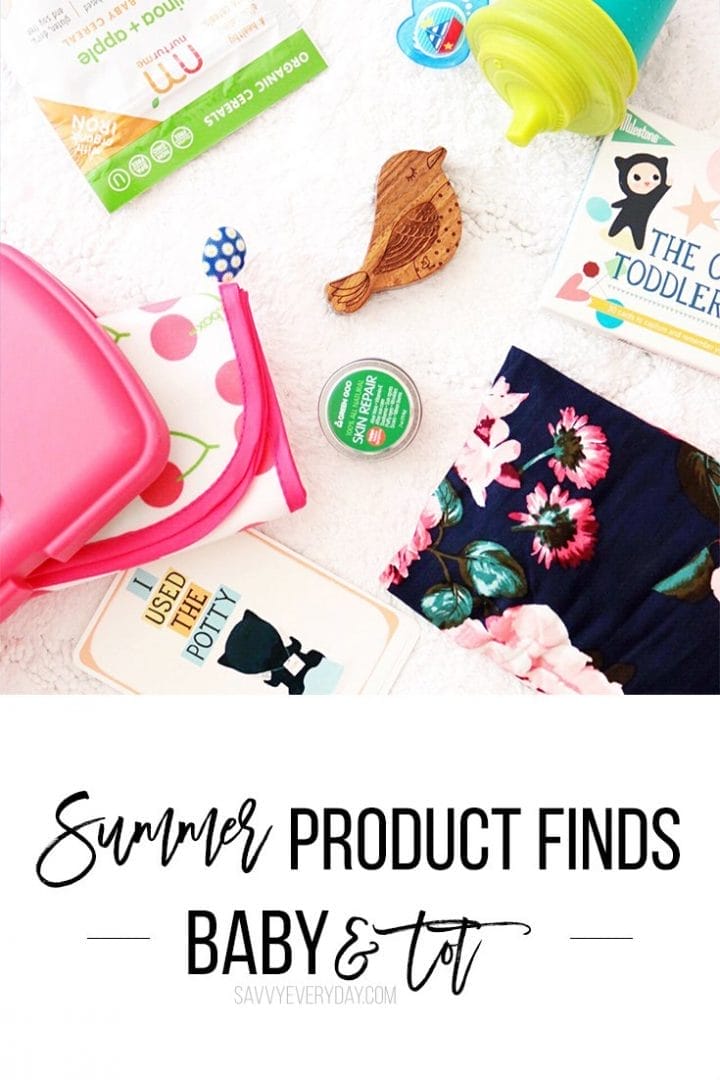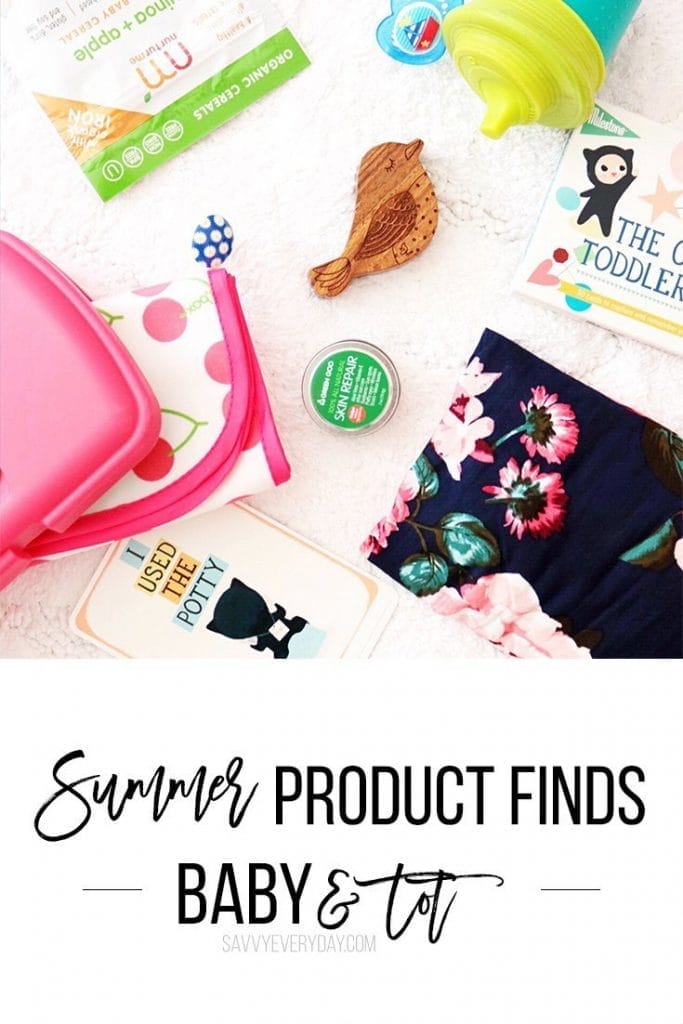 GIVEAWAY
Now for the giveaway! One very lucky winner (U.S. resident age 18 years or older) will win the following worth over $200:
ergoPouch ergoCocoon 2 in 1 swaddle sleep bag ($30)
Complete download of the complete Baby Blanket Music Collection ($99)
Gift package from NurturMe Organics ($20)
Silikids Siliskins Sippy Cup and Silispoons ($19)
b.box diaper wallet ($24)
MAM Gift Pack ($30)
Enter below in the giveaway widget — Good Luck!
Summer Baby & Tot product Finds Giveaway

Rules: Must be U.S. resident age 18 years or older to win and complete all required entries. entries from private or spam/fake accounts are not valid. Contest runs July 15, 2016 to midnight, July 22, 2016. Winner will be notified via email on July 23 and have 24 hours to respond before a new winner is chosen. All items are being shipped directly from the manufacturers and have no cash value. Savvy Every Day is not responsible for lost or stolen prize items, or the delivery of these items.
Title:
Summertime Baby & Tot Product Finds (& Giveaway)
Mentions:
b.box, b.box baby, baby, baby blanket music, baby products, baby products giveaway, baby swaddle, Binxy Baby, car seat cover, Covered Goods, diaper changing, diaper wallet, ergoPouch, Finn+Emma, giveaway, infant, MAM baby, Milestone, newborn, nursing cover, NurturMe, pregnancy cards, savvy review, Silikids, Summer, summer product finds, toddler, toddler products