This Mouthwatering Apple Pie is the Best I've Ever Eaten
Thanksgiving is nothing without pie, right? Pie is the heart of Thanksgiving in my book. From Pumpkin to Pecan, pie baking is the best around Thanksgiving and is a family favorite. But the best Thanksgiving pie that hits my dinner table on Thanksgiving day is my family's special Thanksgiving apple pie recipe.
Updated Oct. 2022
Family Apple Pie Recipe
My daughter and nephew helped me bake this beautiful Thanksgiving apple pie for the first time a few years ago while we were spending our time doing some of our favorite holiday family traditions. I showed them how to peel apples and they tried their hand at it before deciding they would just watch, or help by putting all the apple slices in a bowl after I cut them. I adapted the recipe from an old photocopy I have of a Golden Apple Cobbler recipe. (The actual book it's from is unknown.) Give it a whirl!
Tips for Baking a Tasty Apple Pie
Making a tasty Thanksgiving apple pie is pretty simple, but here are a few tips to uplevel your Thanksgiving pie!
Use GOOD apples! I am talking golden delicious or fuji apples. Leave the cheap apples at the store if you want a truly amazing pie.
Use FRESH lemon juice.
Add butter in small amounts when making the crust to get a perfect consistency.
Make sure your apples are sliced thin. No one wants to bite into a thick slice of apple!
Decorate your pie with cute shapes of the crust on top! I made stars.
Last tip? Have a cute pie tin! Here are some that I am loving!


How to Bake a Truly Wonderful Thanksgiving Apple Pie
First up, to make the tastiest Thanksgiving apple pie you're going to need:
1 cup Sugar
2 Sticks of unsalted butter
1 cup Heavy whipping cream
2 tsp Baking powder
0.5 tsp Salt
4 Golden Delicious, Fuji, or other favorite cooking apples (depending on the size of your pie dish you may need 5 apples
1 Lemon
1 Orange
2 cups all-purpose flour
1.5 tbsp All-purpose flour
1 tsp Vanilla extract
Okay, now that you have your pie ingredients, let's get started. Preheat your oven to 425.
First, you're going to wash, peel, and thinly slice 4 apples. This can be made easier with a mandolin!
Then you're going to cook the apples. Melt the butter in a skillet over medium heat and then add the apples and fresh lemon juice. While that cooks, mix together sugar and flour in a bowl then add it to the apples on the stovetop. Finally, add in the vanilla and then cover the pan for 15-20 minutes, stirring occasionally. After it's cooked, add orange zest and some fresh orange juice to the mixture.
Now for the crust. Combine flour, salt, sugar, and baking powder in a bowl. Then add cubed, chilled butter to the mix and kneed it until it forms coarse crumbs. Add more butter if necessary.
Roll out the pie dough on a rolling mat and then flip the mat over on top of the pie tin to easily place the crust in the tin. Then pour in the apples on top of the crust.
Add ridges to the pie crust edges if you'd like and top the apple pie with shapes of dough. I did stars!
Place apple pie in the oven for 10 minutes, then reduce the heat to 375 and bake for 20-25 minutes then enjoy with some ice cream or whipped cream!
Keep reading for the printable Thanksgiving apple pie recipe below!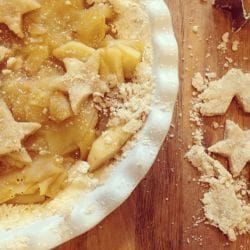 Tasty Thanksgiving Apple Pie
Thanksgiving is nothing without pie and after a delicious pumpkin pie, a crumbly, sweet, and delicious Thanksgiving apple pie is a must!
Ingredients
1

cup

Sugar

2

Sticks unsalted butter

1

cup

Heavy whipping cream

2

tsp

Baking powder

0.5

tsp

Salt

4

Golden delicious, Fuji or other favorite cooking apples (depending on the size of your pie dish you may need 5 apples

1

Lemon

1

Orange

2

cup

All-purpose flour

1.5

tbsp

All-purpose flour

1

tsp

Vanilla extract
Instructions
Wash, peel & thinly slice about 4 apples. I use a mandolin for even slices and look.

Slice 1/4 cup of chilled unsalted butter into cubes and place in a skillet on medium heat

Once butter is melted, add apples and 2 TBSP of fresh lemon juice

Mix well

In a bowl, combine 1/2 cup of sugar and 1.5 TBSP of all-purpose flour

Add mixture to the apples, mix well

Add 1 Tsp of vanilla extract to apple, mix well

Partially cover pan (with occasional stirring) for 15-20 minutes

Preheat the oven to 425 F and begin making the crust

In a medium bowl, combine 2 cups all-purpose flour, 1/4 Tsp of salt, 1/2 a cup of sugar, and 2 Tsp of baking powder

Add 2 tablespoons of cubed, chilled butter to the mix. Knead it together until the mixture turns into almost course crumbs. Sometimes it needs more butter, add as needed for the right consistency.

Take apple mixture off heat and let cool for about 10 minutes

Grate some zest off an orange into the bowl or squeeze some of the orange's juice. Don't have an orange? A dash of OJ will do.

Cover a baker's table, island or rolling mat and rolling pin in flour, then begin rolling out your dough. Don't roll it out too thin or thick.

Turn your sheet upside down over the pie pan (easiest way to get the thin dough there), and begin gently stretching the sides over the pan

Tip: Rolling out the dough not working? Sometimes I piece the crust together placing rolled out pieces of dough in the pie pan and smoothing it out from there.

After the apples have cooled, pour them on top of the crust

Use a fork to add ridges around the pie crust if desired. (I like to place some of the nicer apple slices on top of the rest as a covering.)

Use the extra dough to cut out shapes for your pie. You can do any kind of cookie cutter shape. I like to make little stars for my pie

Place pie in the oven for 10 minutes

Reduce heat to 375 F and bake for an additional 20-25 minutes

Let cool a bit and serve warm with whipped cream — Enjoy!
Love this Thanksgiving Recipe? I think you'd love these recipes too!
Delicious Whipped Pumpkin Spice Dip Recipe
Delicious Maple Cream Cheese Frosting Recipe