Delicious Whipped Pumpkin Spice Dip Recipe
Fall is all about pumpkin spice and I can't get enough of these pumpkin spice recipes. My home is filled with pumpkin spice smells all season long and I'm not complaining! A recent favorite of mine has been whipped pumpkin spice dip. It goes well with SO many things. From fruits, to desserts, and even as a whipped topping for a tasty vanilla cake. It is so versatile! It's so good that I could help but write this post to share with you the dreamy whipped pumpkin spice dip recipe!
Jump to Recipe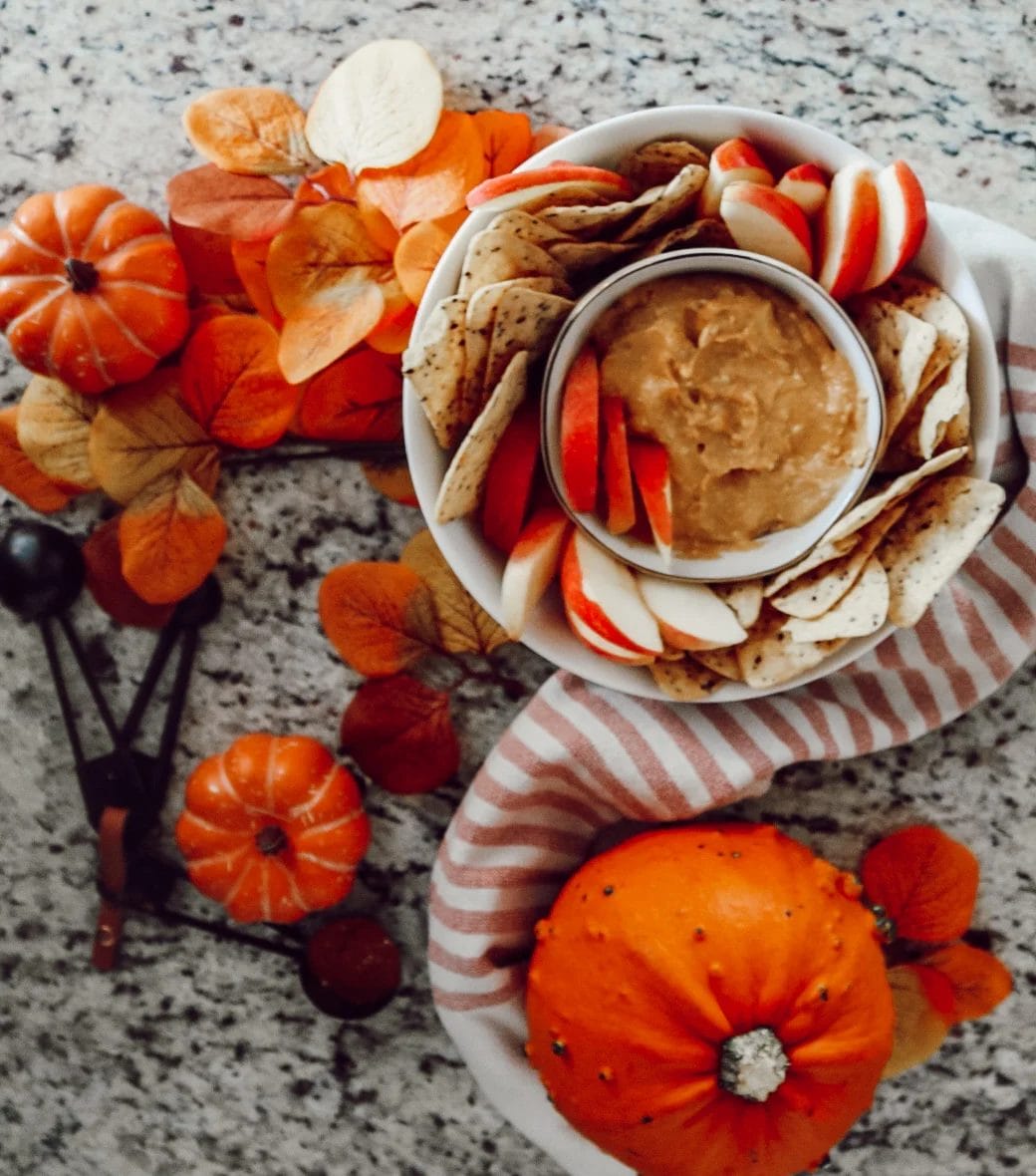 How to Make a Great Whipped Pumpkin Spice Dip
First off, you gotta decide. Are you going to go with some freshly made pumpkin puree or store-bought? Personally, I always go for store-bought unless I can't find any in the store! I like to keep my recipes as simple as possible as a busy mom. But if you're looking to make your own pumpkin puree, I'd check out this recipe!
Okay, now that you've decided which route you're going to take, it's time to begin.
Start by combining 1/2 cup of Pumpkin Puree with 5 oz softened or whipped cream cheese (I prefer whipped). If you go in with a hand mixer for this part (which I recommend), beat until light and fluffy.
Next, add 1/2 tbs of both ginger and cinnamon. Whip again.
Then fold in 1 cup of whipped cream. I used the spray can kind but you can also use Cool Whip for an even creamier consistency.
Then you're done! You can serve it right away or tuck it away in the fridge if you were preparing it for a later event (like Thanksgiving).
The Key to Making a Good Dip for Desserts
My best tip for making a good dip is to use a hand mixer or stand mixer. This allows the dip to get really fluffy without the arm power that a whisk would take!
What to Serve with This Pumpkin Spice Dip
You can serve this whipped pumpkin spice dip with apples, celery, carrots, chips, or, better yet, some yummy pumpkin spice dessert recipes!
For the printable recipe card for this whipped pumpkin spice dip, continue reading.
Whipped Pumpkin Spice Dip
If you love easy pumpkin spice recipes, this dip is what you need to level up any fall dessert you might make! It is creamy and oh so pumpkin-y!
Ingredients
1/2

cup

Pumpkin Puree

5

oz

Softened Cream Cheese

1/2

tbs

Ground Ginger

1/2

tbs

Ground Cinnamon

1

cup

Whipped Cream (from a can or tub)
Instructions
Combine the pumpkin puree and cream cheese.

Add in ginger and cinnamon and mix again.

Fold in the whipped cream.

Serve chilled with apples, celery, carrots, chips, or pumpkin desserts!