The Best Postpartum Meal Delivery Options for New Parents
As a new parent, you already have a lot on your plate without also having to figure out what to make for each meal, shop, and prep for what's on your actual food plate. That's why it's crucial to utilize the variety of postpartum meal delivery services available to ensure your family is eating nourishing, supportive foods for this critical time in your life to make things easier. You may be wondering what a postpartum meal delivery service is, all about the different types of meal delivery services, and the benefits of each. You may find that one option fits your family's needs best, or a blend of postpartum meal services. Get ready to discover a range of options that will make mealtime a breeze, allowing you to focus on what matters most – recovery and bonding with your baby. The best part? All of the postpartum food options included in this post are businesses founded by moms! Oh, and don't forget to forward this to a friend!
Feature image by Raising Love Photo. All meal delivery photos courtesy of each company. This post may include affiliate links which — at no cost to you — would give us a commission should you buy something. This does not affect what we review but helps us get you more discounts. As a reminder, this post is meant for entertainment and educational purposes only and is not medical advice.
Frozen Postpartum Meal Delivery
Think of frozen postpartum meal delivery as a part of postpartum prep— meals can be stored in the freezer while you're still expecting, then reheated to enjoy within a few months. Sending the postpartum meals frozen allows companies to ship meals created specifically for the nutrient needs of a postpartum mother and baby to families all over the U.S. Due to the cost of shipping, most companies offer dried goods like teas, cookies, and pre-packaged snacks, but the below companies are trying to make full meals something every postpartum mom can benefit from.
Mama Meals
About: Organic, gluten-free postpartum meal delivery created to warm the mother, founded by California parents who wish they had the support of warming meals with their first postpartum.
Food: Meals consist of soft, warming foods with just the right amount of spice for postpartum — seasonal soups, congee, and hearty stews, along with teas and cookies. Everything is pre-cooked so you just need to slowly re-heat it on the stove before enjoying. It's absolutely delicious.
Flavors: Mild flavors for you to add your favorite spices and healthy fats or additional proteins to. My favorite items from the delivery were the Creamy Chicken & Rice Congee, Oatmeal Chocolate Chip Lactation Cookies, and Traditional Lentil Stew. The Healing Postpartum Tea is amazing.
Cost: Choose from pantry staples (around $25+ each) or full meal sets of 4 meals ($195) or more all the way up to 18 meals!
Locations: Available Nationwide.
Add-ons: More pantry items like tea, cookies, and collagen can be added to meal orders. As well as more food for additional family members.
Discount: Code np20 saves $20 off your first order of $200+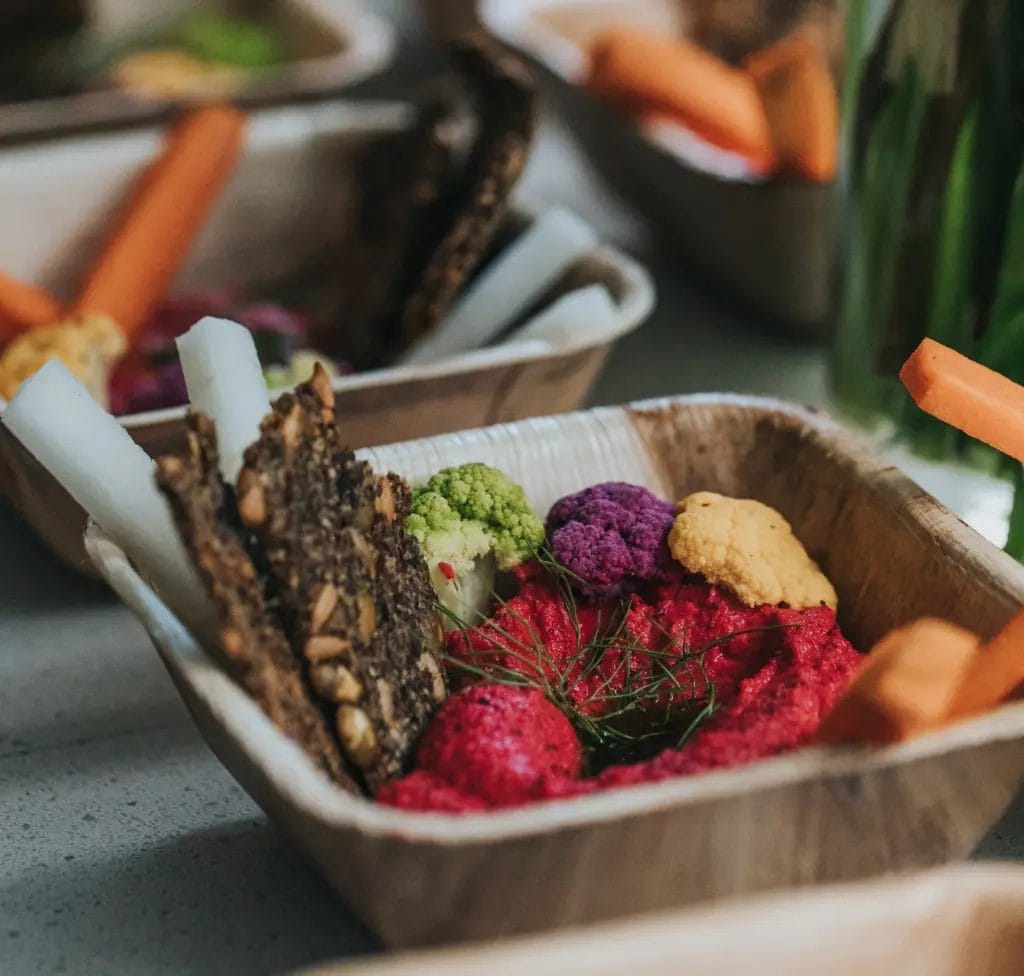 Chiyo
About: Created by moms Irene & Jennifer to use their knowledge as a chef and nutritionist in order to share the healing benefits of traditional postpartum meals to postpartum mothers throughout the U.S.
Food: Delivery consists of snacks, teas, and breakfast lunch, and dinner based on Eastern medicinal practices and the warming period of the first 40 days after giving birth. Each plan comes with support and customized nutritional guidance.
Cost: Postpartum meals start at about $76+ per day or $556+ per week for breakfast, lunch, and dinner, depending on zip code.
Flavors: Very flavorful.
Locations: Shipping is available nationwide, with local pick-up areas near NYC, New Jersey, and Connecticut.
Add-ons: Add additional family members to the meal plan.
Discount: Code SHARISTAMPS30 saves $30 off your first order of $125+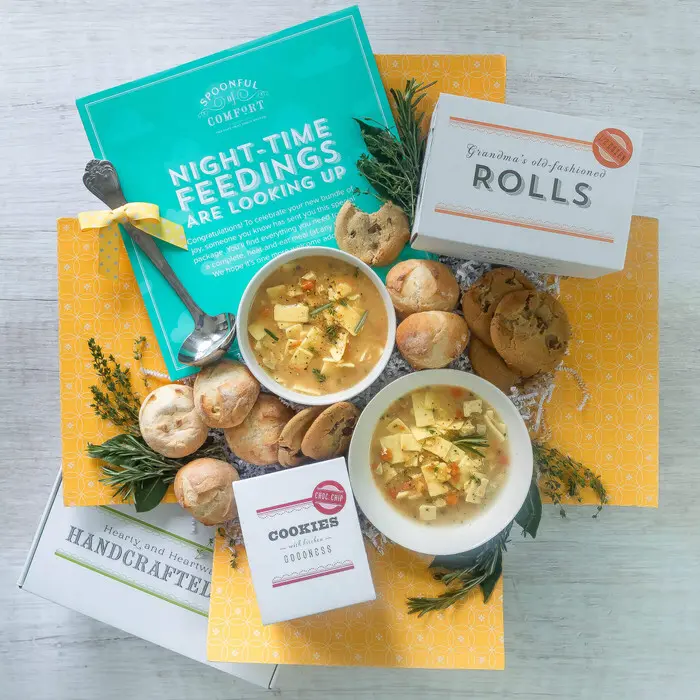 Spoonful Comfort
About: Founded by Marti Wymer when she couldn't be with her mother as she was undergoing cancer treatment, Spoonful of Comfort was created to offer joy, comfort, and support through warm meals and thoughtful gifts from far away. Put them in the freezer for later or thaw and heat the ones you'd like to eat now.
Food: Pick two or more soups and your favorite cookie flavor for each package. Each package also includes dinner rolls, a special message, and a ladle. I received the New Parent Package during my last-ever postpartum and it was the sweetest gift! Gluten-free and vegetarian options are available too!
Flavors: Enjoy the flavor of homemade soups and add pieces to taste.
Cost: The New Parent Package starts at $99.00 while the Pregnancy Care Package starts at $124.99.
Locations: Available Nationwide.
Add-ons: Blankets, cozy socks, books, gifts, and more food options.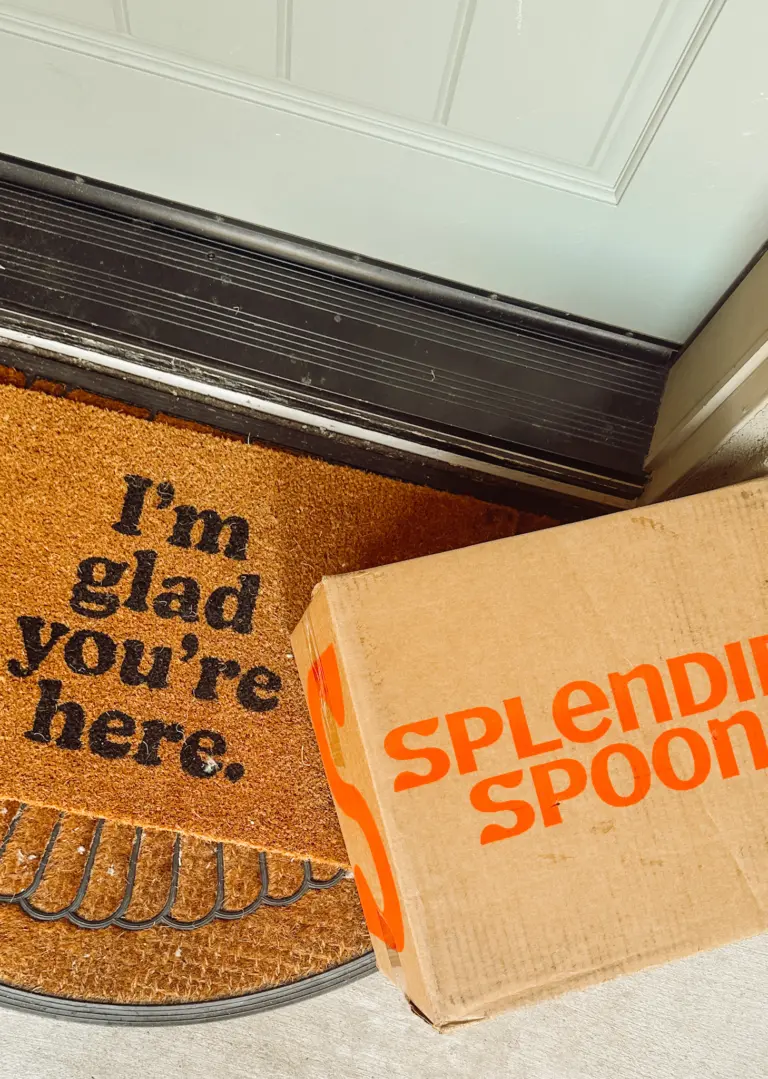 Splendid Spoon
About: Splendid Spoon was created by Nicole Centeno — a French Culinary Institute-trained chef, former research biologist, and mom of three — to offer plant-based meals full of healthy fats, fiber-rich complex carbs, and protein for people who want to eat healthier without boredom, despite time constraints. "I wanted to increase the nutrition in my diet without sacrificing flavor, and most importantly it had to be easy to fit into my very full life [as a parent]," she shares.
Food: Plant-based smoothies, pasta dishes, meals, and soups shipped to your doorstep.
Flavors: Some of my favorite items were the Chocolate Cherry Smoothie, Dragon Fruit Berry Smoothie, Power Greens Smoothie, Coconut Curry Rice, Naked Burrito Bowl, Kimchi Fried Quinoa, Creamy Mushroom & Spinach Noodles, Red Lentil Dal Soup, and Cauliflower Tikka Soup! Since I don't normally eat plant-based I'd say the soups were my favorite — and so beneficial for postpartum. The flavors are delicious but light so they don't overpower.
Cost: Delivery options start at about $76.93/ week for two smoothies, three soups, one noodle meal, and one dish with the option to get 21 meals a week for close to $175.
Locations: Available Nationwide
Fresh Shipped Postpartum Meals
Fresh postpartum meal delivery services are an amazing luxury most new families don't have. But, for those who do, the variety of locally sourced foods and options is simply the best. Keep in mind that ordering fresh local postpartum meal delivery still requires a lot of planning. You may not be stashing your freezer with food just yet, but you will need to reserve your order in advance to ensure you get a slot. If you don't live in an area with a company dedicated to creating postpartum meals, research the doulas in your area and ask if any of them offer a food basket service, or if they cook (and what) as a part of their postpartum support.
Ilana Meals
About: Ilana Meals was created by Ilana Muhlstein, M.S., R.D.N., Dietitian Nutritionist, bestselling author, and mom of three to offer fresh, flavorful foods everyone could enjoy. Along with the delicious meal delivery service, Ilana Meals also offers an online diabetic pregnancy program!
Food: The menu rotates each week and varies by the fresh foods available to the chef in your region but all meals are dairy-free, gluten-free, and focus on high-fiber foods with low net carbs. Healthy fats complement each meal and I have to say they are delicious! Vegan meals are also available.
Flavors: Flavorful and delicious! My favorite meals were the Coconut Pablano Chicken, pistachio-crusted tuna Cakes, Thai basil Chicken, and "Presente" Burrito Bowl.
Cost: Meals cost about $16 each and can be ordered in quantities of 4, 6, 8, 10, or 12. Orders are placed by Thursday and arrive the following Sunday or Wednesday (depending on region).
Locations: Available Nationwide.
Discount: Use code Sheri10 for $10 off your first week of meals (plus another 5% off if you subscribe).
Fresh Local Postpartum Meal Delivery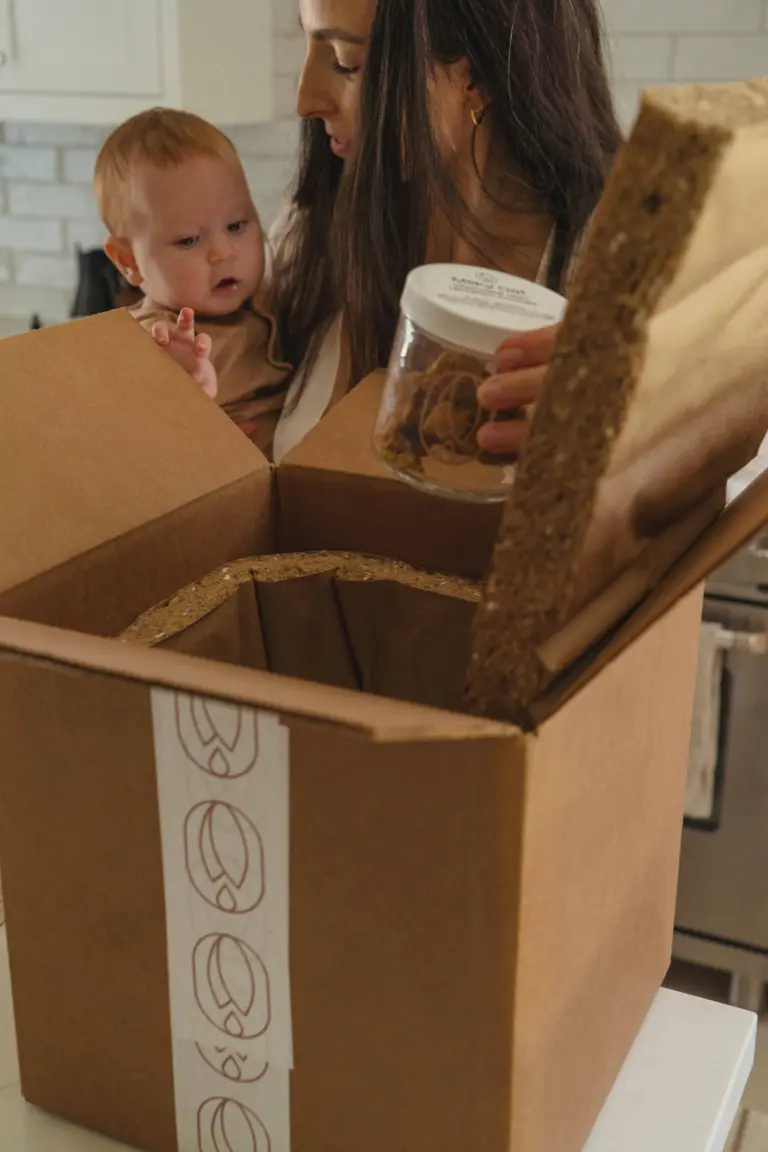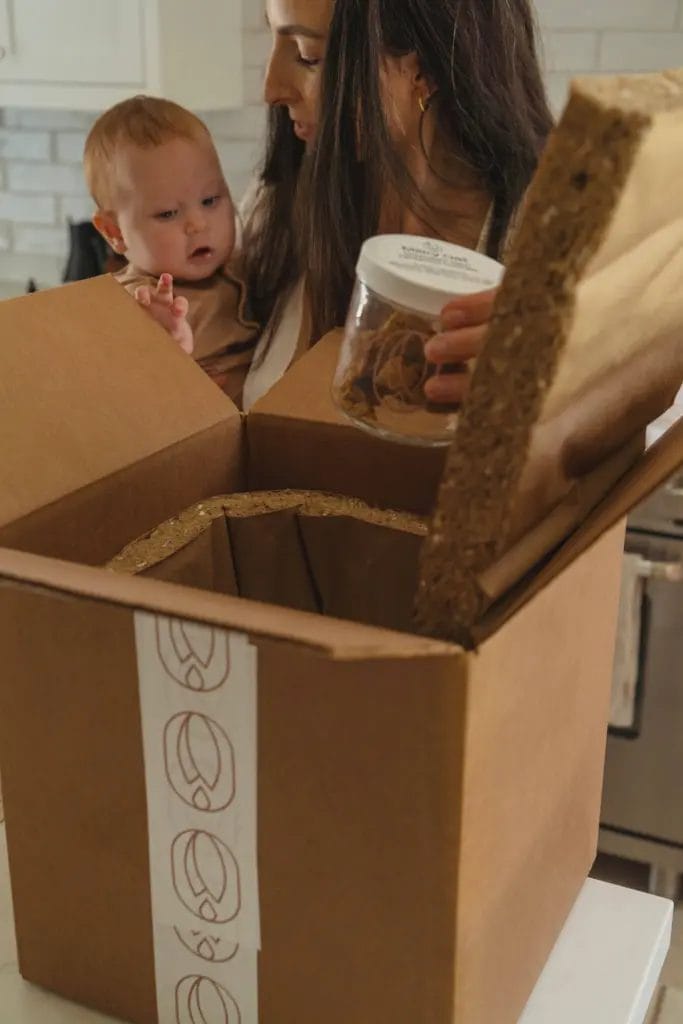 Milky Oat
About: Created by Sydney Bliss, a mother, postpartum doula & mother's chef, to "connect mothers with their own nature, self-care, and nutritious food nourishing foods in their kitchens." One of my favorite things about Milky Oat, aside from their tasty meals and overall vibe, is that all meals come in glass containers with BPA-free lids that they pick back up and reuse, along with their insulated boxes, after thorough sanitization.
Food: Postpartum meal deliveries consist of locally sourced, freshly prepared meals, so the daily menu changes. Meals have an ayurvedic theme with warm, soft foods packed with the protein needed to heal and nourish the postpartum body.
Flavors: Ayuverdic-inspired and full of spices. I really enjoyed the Summer Squash Kitchari, Red Lentil Potato Dal, Chicken Marbella with Jade Rice, Chocolate Almond Butter Cookies (I ate those first haha), and Reishi Tahini Banana Bread. My favorite meal was the Tandoori Cod with Kabocha and chickpeas, though.
Cost: Two-day trial plans start at $195 with one-week plans starting at around $665. You can add a partner to your weekly plan for $425.
Locations: North Bay, East Bay, and SF/Peninsula including San Jose, Palo Alto, and Fremont.
Add-ons: Tinctures, oils, and more!
Discount: Reserve your delivery 30 days in advance and save 10% with code EARLYBIRD.