The Journey of a Babywearing Mama: Sara
Sara Andrews —a Baton Rouge, Louisiana mama— has worn her kids (now 5 years, 2 years, and 2 months old) since her oldest son was just 2 days old. Babywearing means something different for every mom, but for Sara it has meant treasured time that could have been lost since it allowed her to hold all three of her sons after c-sections when she otherwise couldn't. With the arrival of her youngest, Sara continues to babywear as well as learn about so many more reasons why it's so important to her family. She's a moderate/experienced babywearer who is sharing her babywearing journey and knowledge in this post for The Journey of a Babywearing Mama series. Keep reading to find out what Sara tells moms new to babywearing, and learn why she loves to wrap.
Q: How did you learn about babywearing?
Sara: My mom actually learned about babywearing from a friend that she babysat for shortly before becoming a mother herself, and when my oldest was born she passed on the ring sling that she had used with my younger siblings (she used a Snugli carrier with me and didn't discover ring slings until later). I used that ring sling for the first several months [and] also bought a Chicco buckle carrier but could never figure out how to get it on because of all the buckles and straps.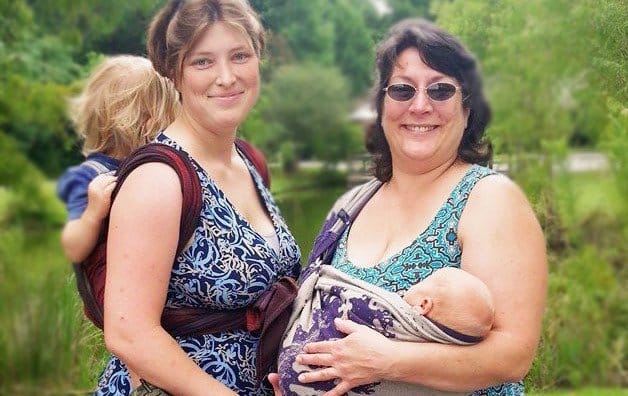 Q: What was the first baby carrier you bought?
Sara: I bought my first carrier a few months after my oldest son was born because the ring sling my mom had given me was too hard to adjust and I struggled to get a good fit with it. A local friend had a Sleeping Baby Productions silk ring sling, which had the website on the tag, so I went through her available stock and chose a linen ring sling (I lived in TX and linen was supposed to be fairly cool). I was 27 years old and my son was 3 months when I ordered and we started using it.
Q: How many carriers or wraps do you have now?
Sara: [I have] 14 carriers: Nine wraps, 1 toddler soft structured carrier (work-at-home mom made), 1 standard wrap conversion mei tai (Zanytoes), 1 toddler wrap conversion mei tai (work-at-home mom made), 1 wrap conversion ring sling (sewn by me), and a mesh water sling for showers. I also have 4 quilters cotton doll slings for my boys' sets of matching wraps, because they love wearing their dolls/teddy bears and I got tired of trying to make my shorties fit around them.
Q: What's your favorite carry style?
Sara: I've used just about every style carrier now and I just keep coming back to wraps. They are just so versatile and truly one size fits all. I can bring one wrap and put baby up or my toddler or my preschooler, or (if its long enough) I can wear more than one. I frequently put one boy on my back and another on my front, though I do prefer to wear one at a time most days.I don't have a favorite carry per say, but if I had to pick . . . front carries [would be] the Rebozo Carry for quick trips into the store and Front Double Hammock (similar to Front Wrap Cross Carry but baby is held to the body more securely so less weight on the wrapper's shoulders and more comfy for long periods). For back carries: Ruck Tied In Front for quick trips in to the store, Double Hammock for longer periods with a compliant [child], and Giselle's Back Carry for active/wiggly/leaning kiddos (regardless of how long they'll be up).
Q: How do you feel about babywearing?
Sara: I love babywearing and it is a lifesaver for me! My oldest son never wanted to be put down and basically lived in our ring sling for his first year of life. My second never wanted to be worn much when he was little so it was mostly just for necessity while doing dishes or something but when he started walking I would wear him for grocery trips or long distance trips (like the zoo) to keep him out of trouble and/or for when his legs got tired. I still wear my oldest occasionally because he gets overwhelmed sometimes and needs a "time out" on me to help him center and calm down again.
However, I have never needed babywearing before like I do now that I have my third baby because I have no idea how I'd survive. He is very much like his oldest brother and prefers to be on me all day, every day so I would never be able to do anything with/for his big brothers without him screaming/crying in the background, but I can wrap him and have both hands available to work with his brothers or do things that I need to do (or just enjoy some really sweet baby snuggles).
Q: What are some reactions you got when you first started babywearing, and what reactions do you get now?
Sara: Babywearing is largely unknown in my area so mostly I get shock, surprise, and a lot of curiosity (then and now). There are quite a few people who have jokingly asked if I was aware that I had a baby on my back or commented that baby had the best seat in the house. A couple have asked if they could have a turn.
My family has mostly commented positively, though I brought my oldest home to visit once and they were disappointed that I wasn't passing him around (I live several states away from them and he was very anti-stranger, so I did not want to force him to deal with that, nor did I feel up to listening to him crying/screaming for however long it took me to convince my family to hand him back). Fortunately, he was napping almost the entire time and used that as my excuse and they were OK with just stroking his head/cheek. My husband did frequently tell me to put our oldest down more when he was tiny because he thought I was "spoiling" him and encouraging his neediness but over time he's learned that babywearing is simply a way of meeting baby's needs and does not inhibit muscular or emotional development so he's never made comments with our younger two.
Q: What's your favorite thing about babywearing for you and you little ones?
Sara: My favorite thing about babywearing is the snuggles — There's nothing that will melt you deep down faster or more thoroughly than little one falling asleep on you — especially that first time (with an older child) or when they are tiny babies. Babywearing is also the only way my youngest can nap because his older brothers are in love with him and are forever wanting to "pet" and kiss his head, hold him, feed him, and play with him. Baby loves his big brothers but eventually he gets frustrated from all the attention and lack of decent length naps and that's when I wrap him and go work in the kitchen — where he'll easily sleep for 1-3 hours.
Q: How has babywearing helped you?
Sara: I had all three babies via c-section, despite trying for a natural birth all three times, and babywearing was the only way I could hold them for any length of time while I was healing. Just sitting/standing up was painful and trying to position baby for breastfeeding or changing sides with them (especially since I have large babies in the 9-10 lb range) was [difficult], physically. However, I was able to hold my youngest for almost the entire hospital stay because I had him in a wrap or ring sling (the carrier was supporting his weight and the bed was supporting mine) so I was able to enjoy tons of skin to skin bonding time and nurse on demand with minimal discomfort because I never had to use my core muscles to support his weight or shift him around. When I got home he was always in a wrap or ring sling so I was able to cuddle my older boys as much as they needed because baby was nice and high on my body and my lap was (mostly) free and available.
Q: Do you have tips for someone new to the world of babywearing?
Sara: I often tell new wearers to pick something they love and that fits their personal style/body because if they love it without reservation, they will be more likely to use it and to spend the time necessary to learn to use it right.
Check out the whole Journey of a Babywearing Mama Series and read the other Q&A posts about LaKeta and Jennifer.
A special thank you to Sara for sharing her story with Savvy Every Day for this post.
Title:
The Journey of a Babywearing Mama: Sara
Mentions:
A Babywearing Mama's Journey, babywearing, babywearing mama, babywearing series, Baton Rouge, c-section, carrier, Chicco, Louisianan, mei tai, Snugli, tandem carry, The Journey of a Babywearing Mama, The Journey of a Babywearing Mama series, wraps, Zanytoes