Tips For Paddle Boarding With Kids
Water covers the Earth, we know what's in there, but when you stand at the beach looking out the water seems endless and unknown. It can be incredibly scary for some kiddos (and adults), but also very peaceful (especially if you're on the water paddle boarding). Some are brave enough to try stand up paddle boarding (SUP) in the ocean, others stick to the lake. I'm not a very good swimmer (and haven't been out in water in about 6 years), so I tried SUP with my daughter during off-season at Kings Beach in Lake Tahoe — It was magnificent. Everyone masters being in the water differently, though —especially kids — so if you're thinking about taking your child out to SUP, consider these simple tips first.
Test the Waters
If you've never been paddle boarding before then trying it on your own before you bring the kiddo is a must. Even though my first time paddle boarding was in the shallow part of Kings Beach in Lake Tahoe, I hadn't been in the water for a long time so I needed a day to get used to the feel of it, and to learn how to paddle board (sitting and standing). Even if you're totally comfortable in lakes and oceans, you should test the water out on your own first and get a feel for the movement of the water you're in that day (it's all different).
Chat About It
Talk to your child about your Stand Up Paddle Board experience to see if it's something she would be interested in, without pressure. Explain how you SUP, and why all the pieces (paddle, type of board, balance) are important. If you're child is still interested, research a great day and location for them to try. I definitely recommend a nice sunny off-season day.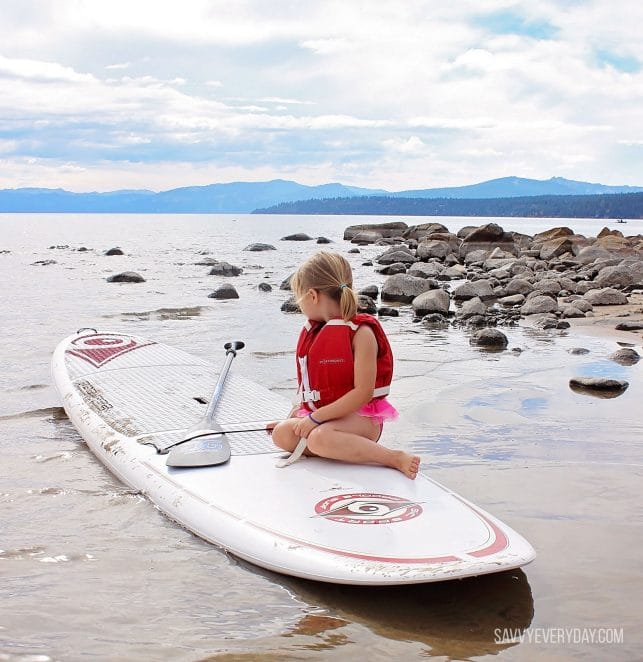 Demonstrate Safety
Despite being a bit uncomfortable or making you hot, life jackets are important! Be sure both you and your child are wearing one when you go out together. If you're not wearing one then your child may think it's silly for them to wear one. Be an example and show proper safety measures. I actually fell off my board while out kiddo-free (the second time I went out, after the above picture was taken) and went under a bit when it happened. If I didn't have my life jacket on I'm not sure if I could have lifted myself back up, but I did since I had it and launched back toward my board to get back up. Be sure to apply sunscreen and wear hats or sunglasses if needed, too.
Start Small
Take your child to a lake to get started. Aside from the occasional waves from nearby boats, the water is fairly still and peaceful, making it easier to try out. Be sure to stay in the most shallow part of the water for a while until your child is comfortable with moving further into the deeper sections of the lake.
Depending on the age of your child, let her start out by sitting in front of or behind you on the board. Let her know that she can sit with her legs out in the water or up on the board, but that they have to be even on the board, and still. Explain how important balance is when standing or sitting on the board. After a bit, let your child try standing up if they're comfortable. My daughter held onto me the first time she stood up, but later was comfortable with spreading her arms out for a bit.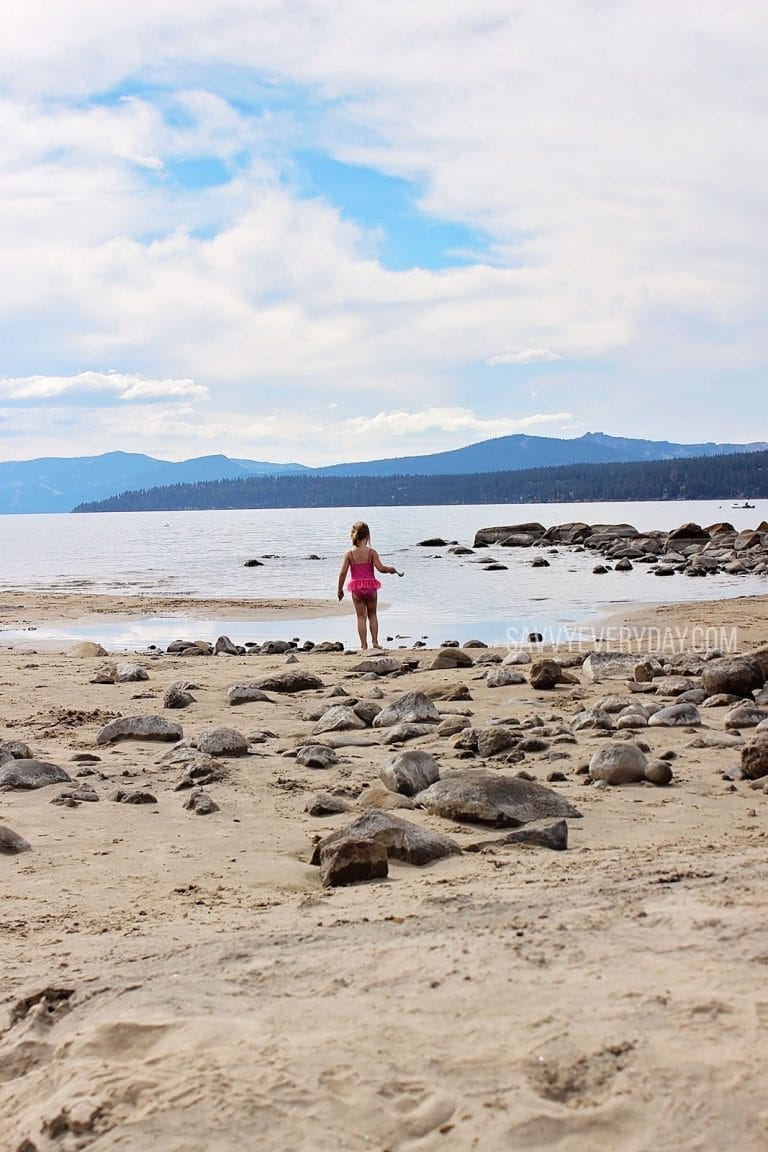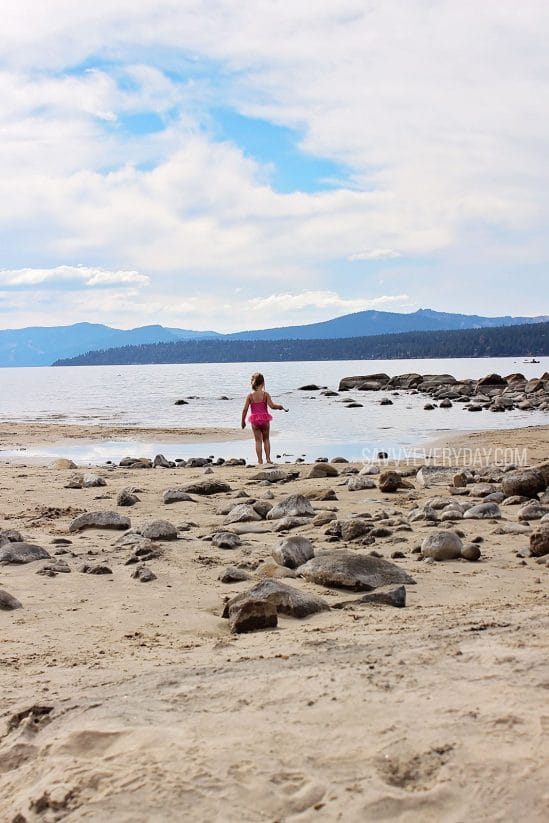 Have Fun
Paddling boarding should be a super fun bonding experience for you and the kiddo, so don't feel stressed about doing this or that right and avoid placing expectations other than water safety on your child. Be calm, patient and willing to teach your child about the proper way to paddle, balance or respect the water. Let your child play at the beach after you're done paddle boarding (or even before to get comfortable with the environment) and enjoy a packed lunch!
Have you been SUP before? Did you take the kids? Share your own experience and tips below!