There are a lot of things I suddenly became more conscious about after finding out I was pregnant, but some realizations were slower. It wasn't until I needed to buy yeast infection cream for my daughter that I questioned every ingredient in the product and was told by the pharmacist that medications don't need to list what's in them, only the active ingredients. (Since I didn't know how harmful the unknown ingredients would be I went a different route.)
Now, I'm aware of this giant blind spot in the medical industry, and how it's just as bad as the food industry and its use of "natural." I also found out that I have even more to learn!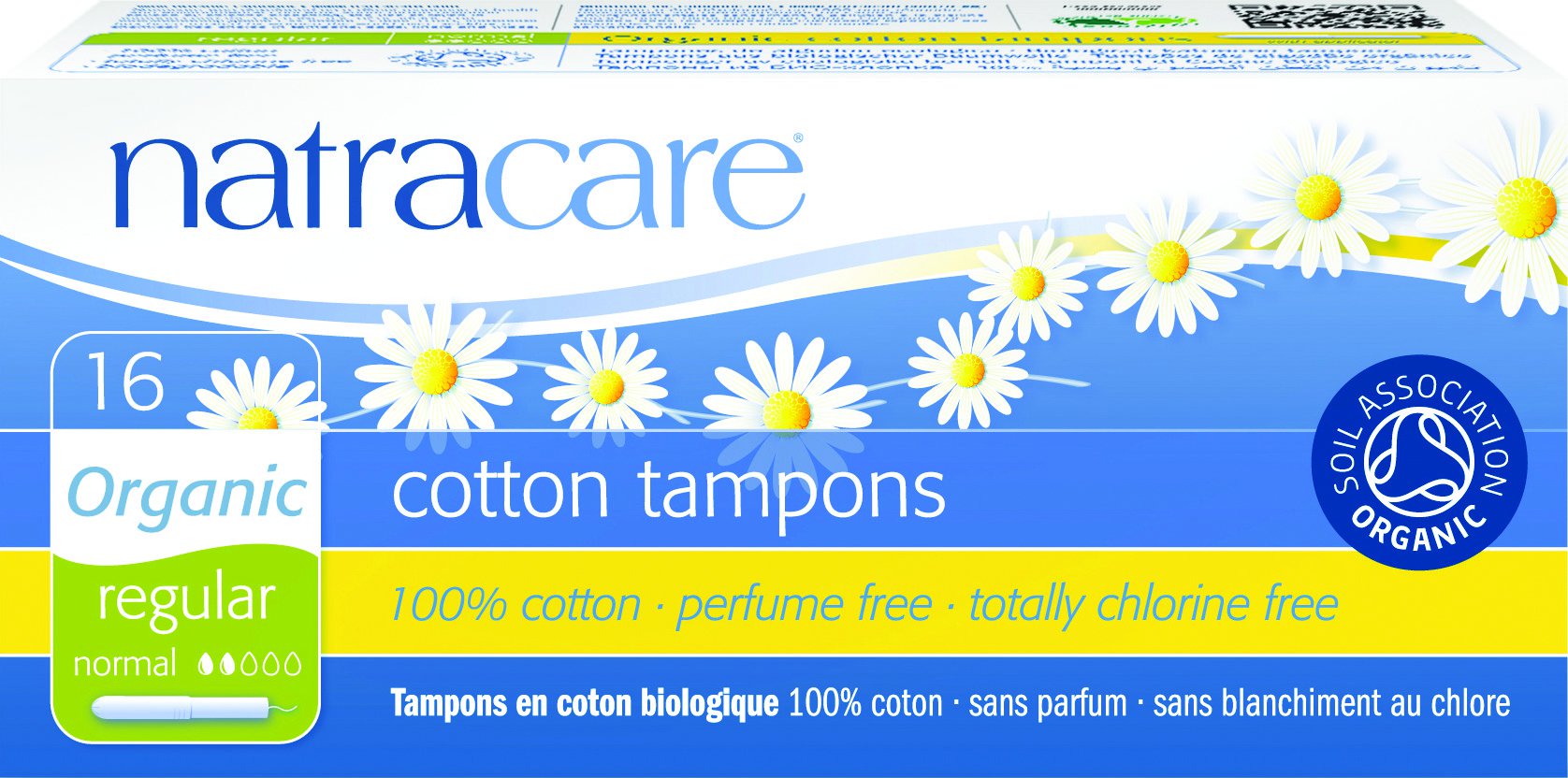 Natracare contacted me about reviewing their organic feminine products and a light bulb came on. I never realized that pads and tampons are just as bad for the planet as disposable diapers. Plus, they have awful chemicals in them, and they're just resting in our most delicate space! Since (like so many industries) feminine care products don't have regulations stating that they need to disclose everything on the package, most companies don't! You have no idea what's in your new flexi-pad (scary!) and sadly a lot of us don't even think about it (I didn't before this review). But Natracare products are 100 percent organic and have simple ingredients, opposed to the mainstream feminine products out there, which use materials filled with bleach, synthetics, and pesticide residue.
kind of gross right? I know. Take a look at the interesting links on the Natracare website. Did you know that toxic shock syndrome is caused by the synthetic materials in your feminine products? Skin irritation and endometriosis are also common in women who use synthetic products. According to a study done by a few endometriosis associations, 100 percent cotton products do not cause this, just the synthetic products with pesticides.
I was sent panty liners tampons, and personal wet wipes to try. The first thing I used was a liner (I like to use them between periods or if I'm on a lighter day). At first I wasn't quite used to them since I've always conventional ones. But by the second day, I realized they actually feel more comfortable on me. After the liners, I tried the wipes. When I opened the wipes they had a smell and texture that I wasn't used to (the fragrance wipes with a softer, smoother texture in conventional brands) but that's all actually a good thing. The wipes are and feel more natural, and worked well for me. When the sample pack was gone I was a little sad. I don't wear tampons so I gave them to my sister to try. She really likes the comfort and feel of the natural versus the synthetic, and says that you don't even feel it there! But since the ones we were sent were regular absorbancy and she has heavier periods the absorbancy wasn't quite right for her.
I'd be very interested to try Natracare's pad equivalent, and since I learned that these aren't online-only specialty products (they're sold on Amazon, but also in natural food stores, like Whole Foods) I may pick some up!
I'm really glad that I tried all-natural, organic feminine care products and that Natracare reached out to me. I'm also thrilled to announce that they're hosting a product giveaway worth $75 for readers! The gift pack includes: a canvas gift bag, a t-shirt, Natracare pads, panty liners, tampons, intimate wipes, and baby wipes!

Enter here and give it a try yourself to see the difference between real, safe feminine care products and the alternative.
I was sent product and a shirt for this review. The honest opinions in this review are mine alone.