A Woodland Dining Room For Parents & Kids
We had cute cloth-covered dining chairs and a white extendable table from in our last house. By the time we moved out everything was covered in paint and food spills courtesy of our daughter's toddler/preschool years. So when moving into our new home we wanted dining room furniture that would look fantastic for actually having people over at the house, but that could handle the messy lifestyle of the kids. I love the results and the woodland theme kind of reminds me of Snow White.
This post contains affiliate links (I get money toward baby toys if you buy something). Photos by Sincerely Me Photography.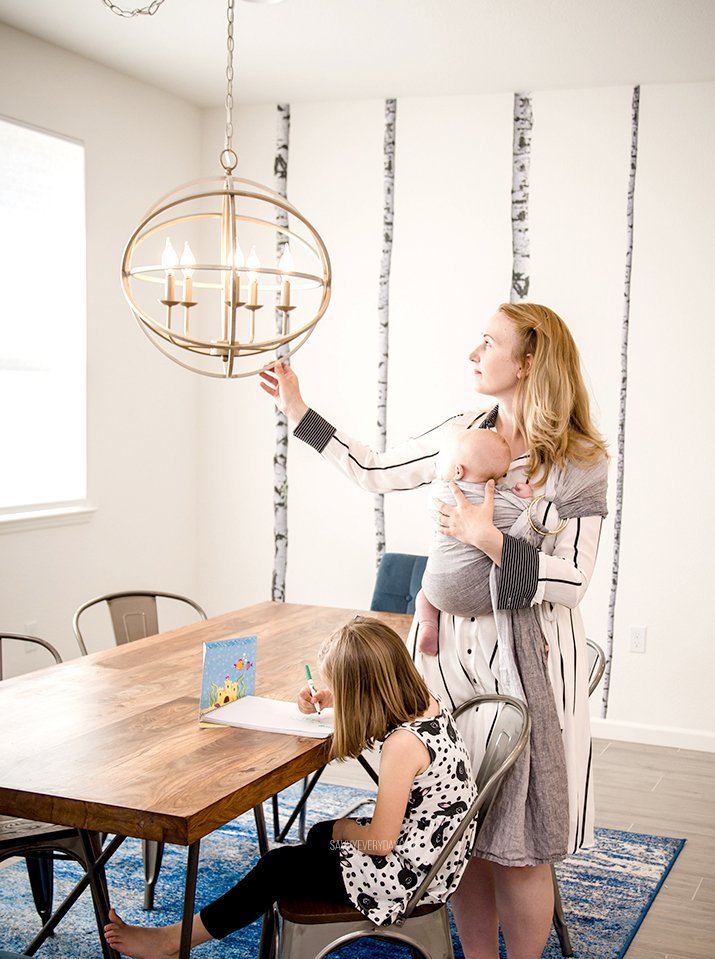 Creating the Woods
My favorite detail? The birch trees. I had grey and black birch tree decals in the living room at our old house and wanted to bring some into the new house in an unlikely place. I put these trees up just days after moving in (and giving birth to River) before we even had a table to eat at or any chairs. I'm thinking that I may need to add some more trees and limbs to the ones currently on the wall, but it looks good for now (everyone who comes to the house comments about how cool they are).
Finding the Right Pieces
Originally, I wanted a grey dining table and metal chairs, but this table from CB2 just seemed perfect when we found it at our local Crate & Barrel Factory Outlet that we had to get it. Because the table is so warm with a lot of red tones I created a separation between the table and the floor with a rug that fit both the cold tone of my grey floors and the warm hues of the table. His and Hers chairs from CB2 match the rug and add a rich texture to the room . . . plus they're super comfy on my back and allow me to rock back and forth a bit with the baby.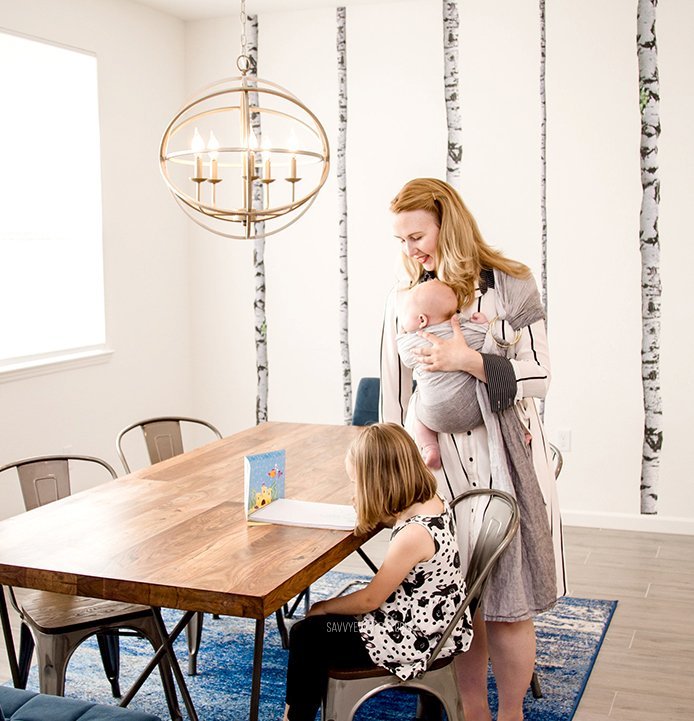 Kid-Proof Design
For the kiddo and guest chairs, we went with metal/wood chairs that tie into both the table and floor but can be easily wiped clean. The rug is colorful and has a busy enough pattern to hide minor food spills, but it can be cleaned fairly easily, too. Since the table is so heavy and has metal legs, placing the rug underneath protects our floor from scrapes and makes the table easier to move around. Finding the right table took some time because I wanted grey like I mentioned above, but also because I wanted a table design that made sense for kids. River is going to be crawling and walking before I know it so I wanted to be sure that the table allows for baby/toddler movement without hands or legs getting caught in parts of the furniture.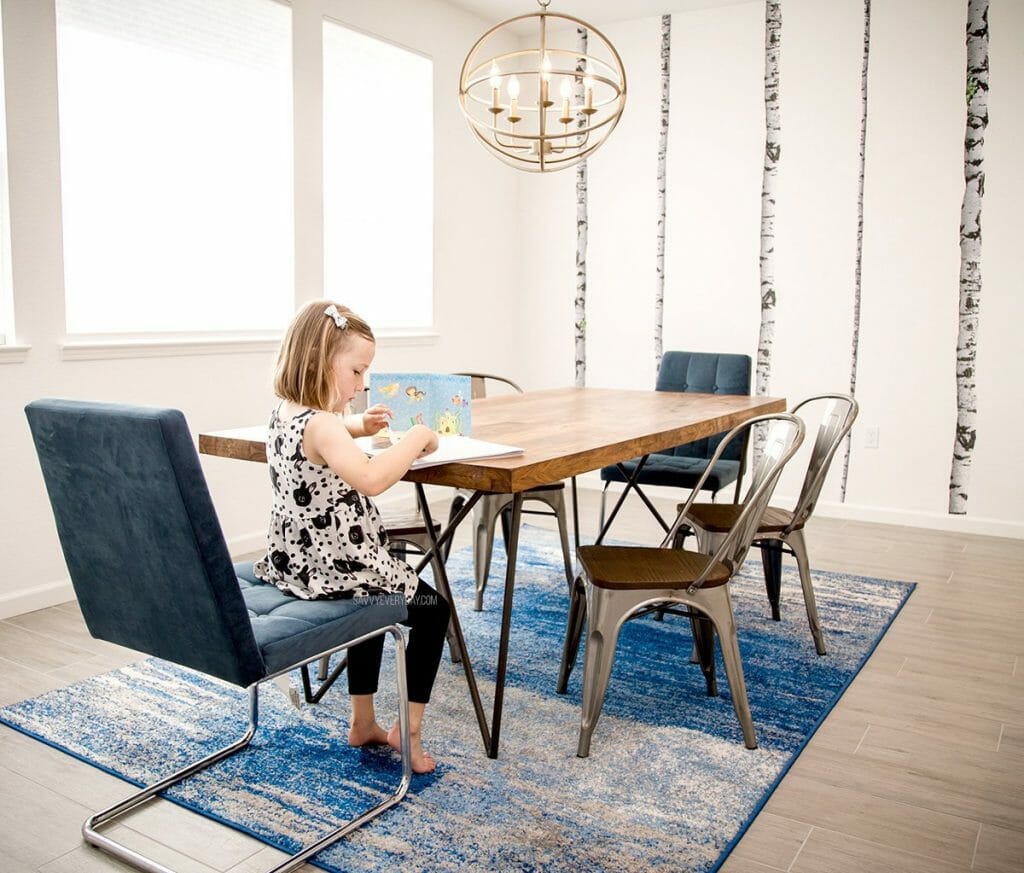 Finishing Touches
The house came with a 5-light chandelier but it didn't really fit the room or my liking. In fact, the builder had it placed off-center, which really irritated my OCD. But once the birch trees were up and we found a table I knew exactly what chandelier I wanted instead. We picked ours up at Home Depot (but I've linked to a similar one in the pictures, too), along with some extra chain and a hook to use so we could dangle it from the center of the room instead. This light totally completes the space, but I added a black wire fruit bowl too so the table isn't so bare. The room gives me a sort of Snow White vibe with the bowl of apples!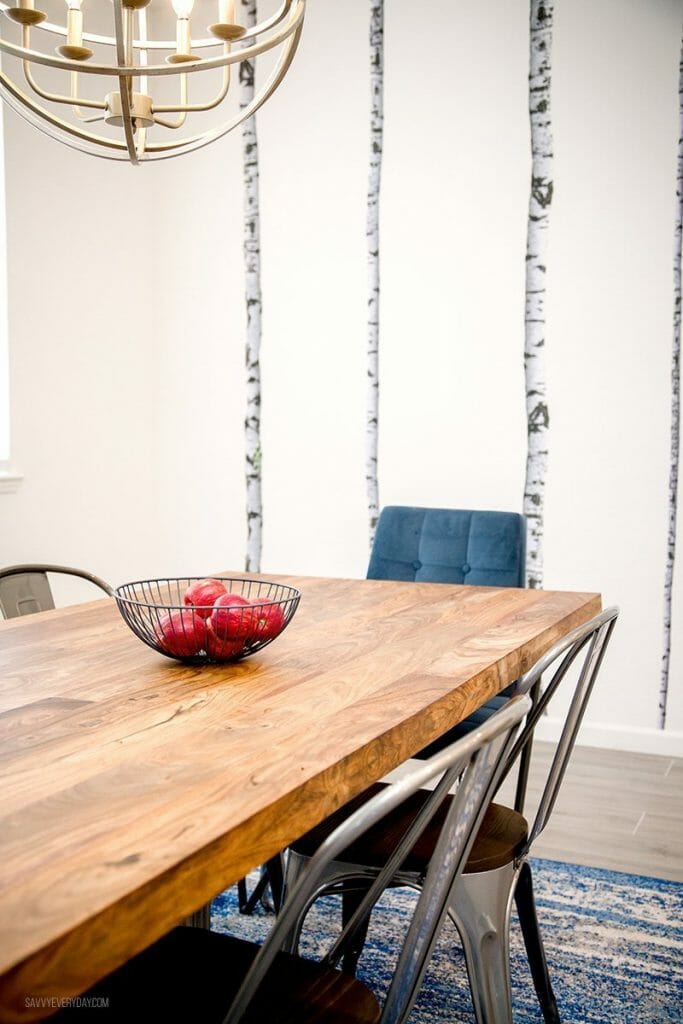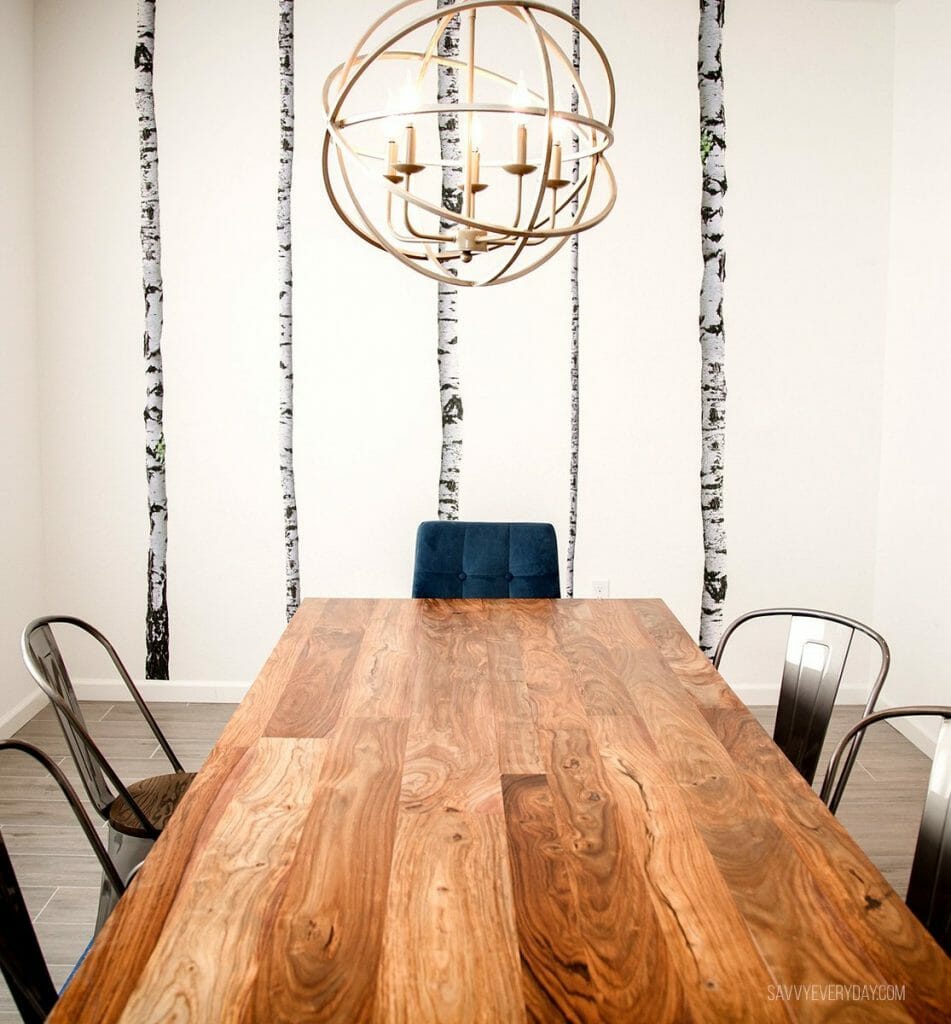 Metal Dining Chairs / Wire Bowl / Rug (6'X9′ shown) / Birch Trees / Silver Orb Pendant Light