5 Ways Sending New Year's Cards Will Cut Your Stress
Whether you send out a Christmas card without fail every year or you're in the, "I meant to but then time ran out" camp, sending a New Year's card just might be a better option for your family. We all want to stay in touch with friends and family, but can't always meet that November deadline to get cards out. Keep reading for five ways skipping the Christmas wishes to send out New Year's cards instead may just save you some stress.
This post was created in partnership with Minted and may contain affiliate links. All opinions are mine alone. This post was originally published 12/22/16.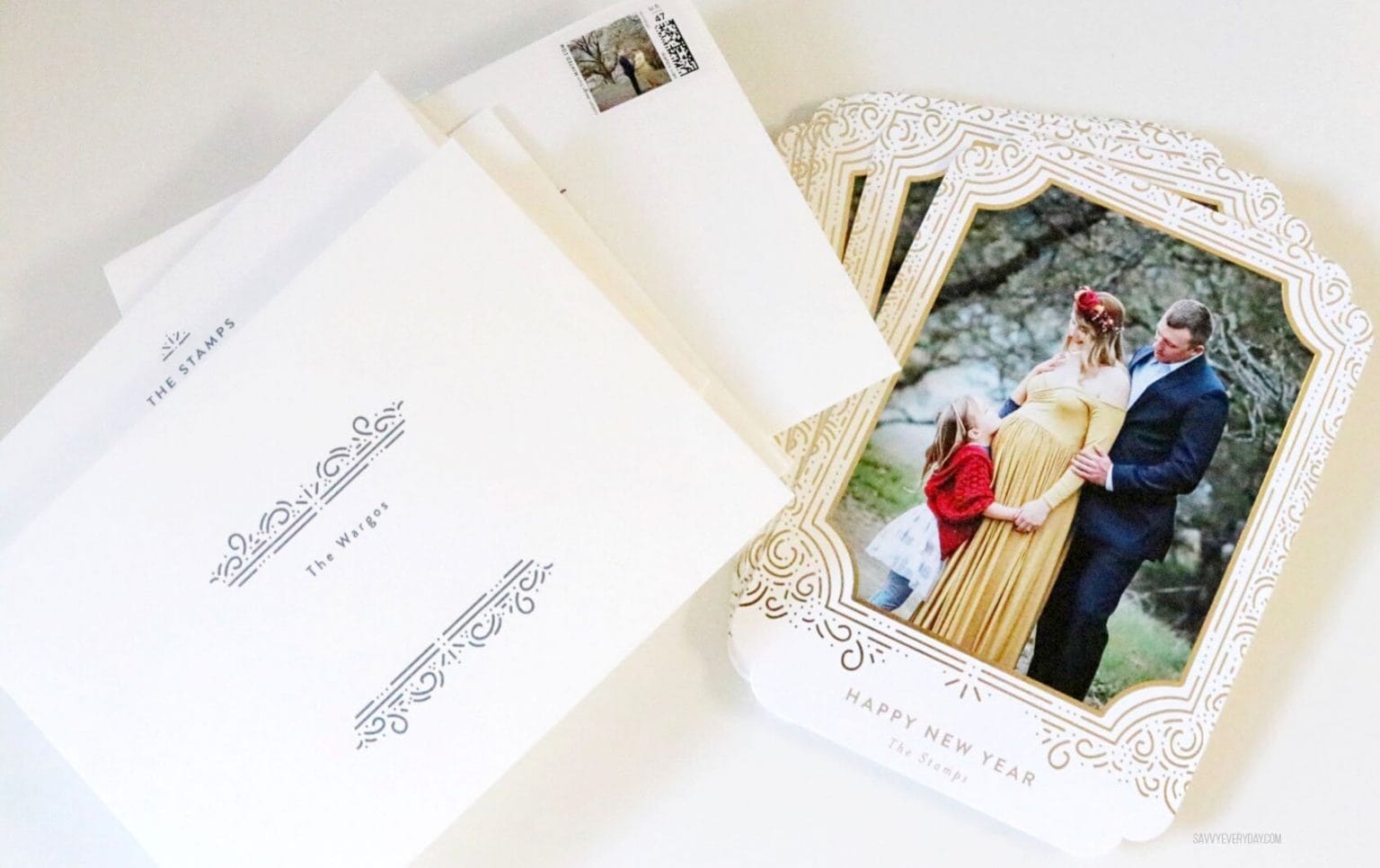 Shortens your to-do list
It seems like as soon as Halloween is over everyone suddenly has a massive to-do list they just can't keep up with in preparation for the holiday season. It's like all of November is just about leading up to December's Christmastime . . . which is exactly why you probably don't need to add putting Christmas cards together to your to-do list. Sending out New Year's cards instead allows you to focus on a shorter, more immediate to-do list in November and the first part of December so that there's less to worry about (and possibly forget).
Saves money
Families often pay for special holiday photos to put in their Christmas cards every year, and sometimes even pay extra for fast processing from last-minute photo shoots. Between paying for professional photos during a high-demand season and possibly paying extra to rush the shipping on your cards once they're ordered, Christmas cards can get pricey. But New Year's cards are a roundup of the year that's passed, so you could include any photos from the year you'd like – professional or not! If you do opt for professional photos in your cards then you don't need to rush for the holiday mini-sessions everyone else is signing up for.
Another benefit of waiting for your card order? Coupon codes and discounts. Ordering your cards using a coupon site or on a day like Cyber Monday then choosing to go with just regular standard shipping can save quite a bit of money, and money saved means less stress around the holidays for sure. I ordered my New Year's cards from Minted around Dec. 16 or so and even though it was well past discount season for online stores, they had some great discount offers for both first-time and return customers.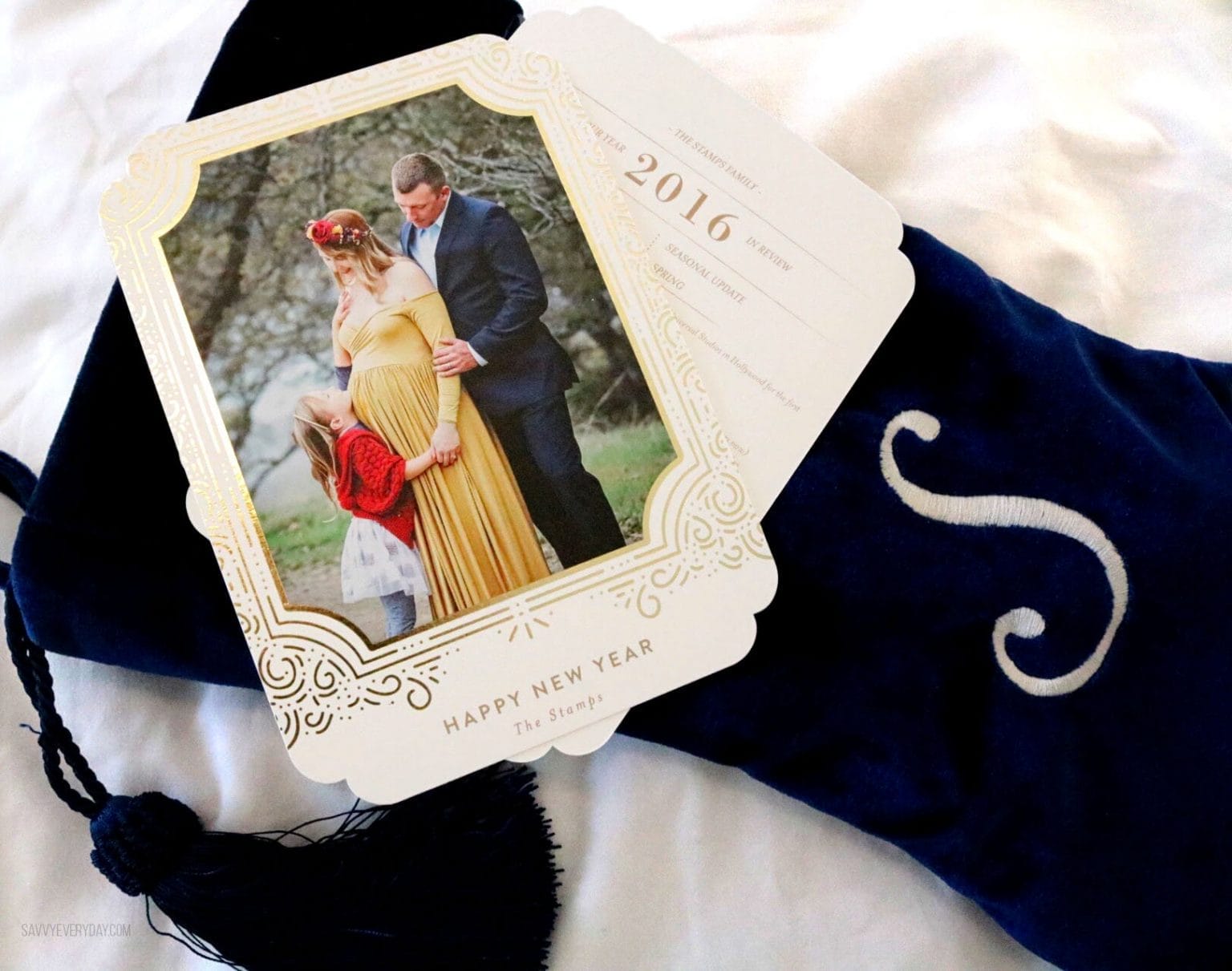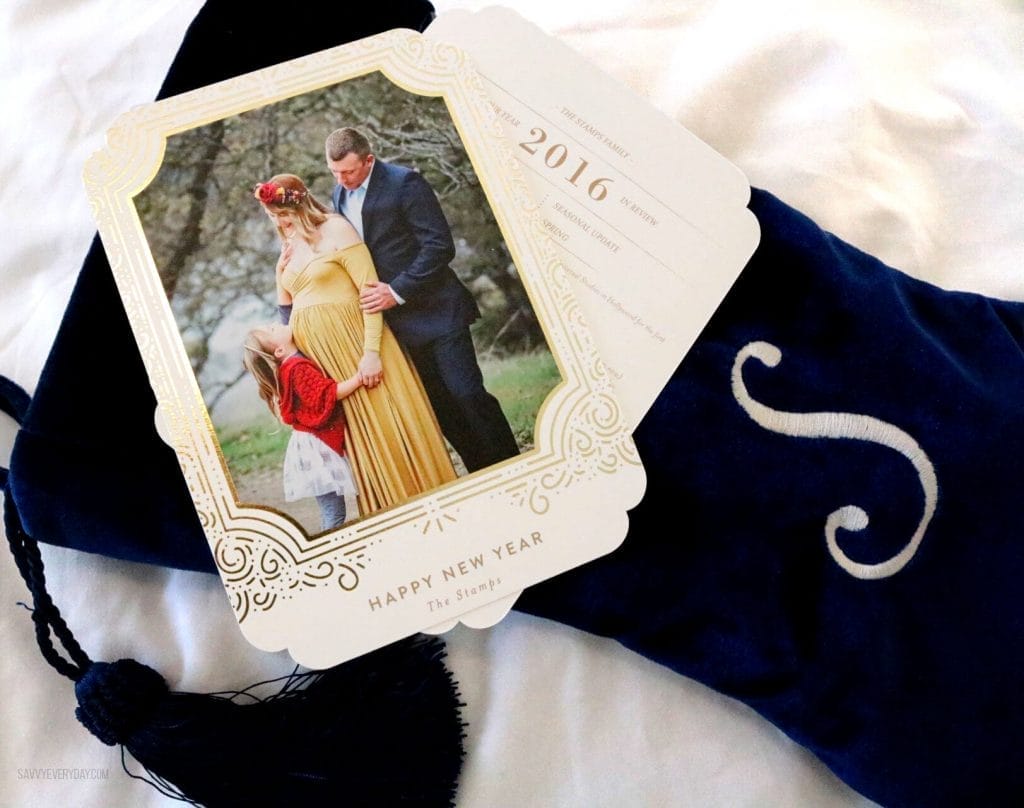 Keeps everyone happy
Not everyone celebrates Christmas, but most everyone offers well wishes for a fruitful and happy year to come, making the New Year's card a friend and family favorite. Plus, as much as everyone enjoys updates from the year, a card with just some top happenings is usually preferred and appreciated over the lengthy 2-page or more letter some might send for the new year after sending Christmas cards. Another bonus? Relatives who have been hounding you for life updates and new photos get exactly what they've been wanting!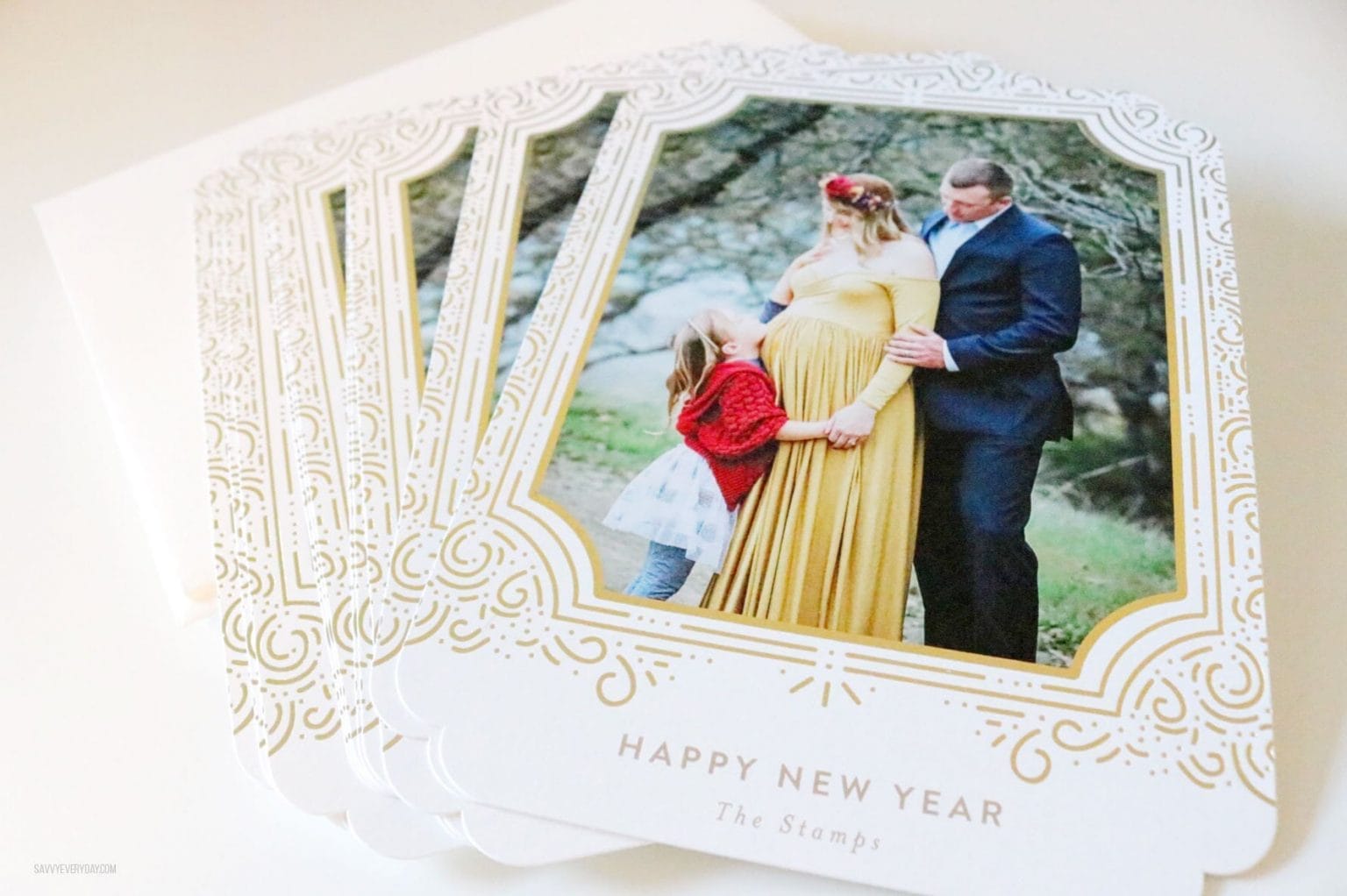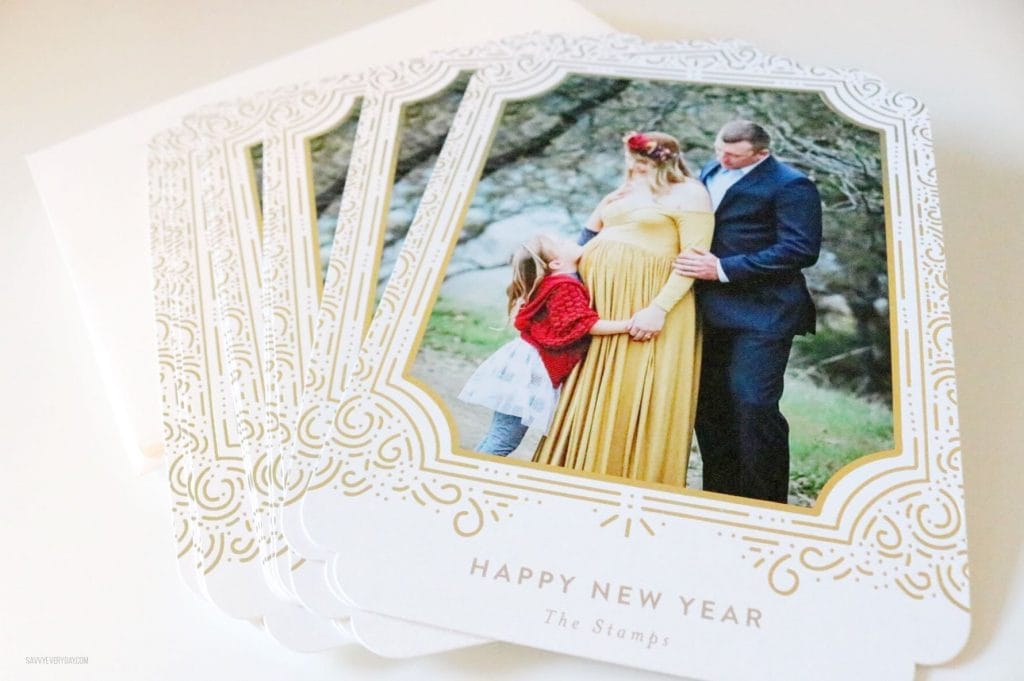 More options
I absolutely love all of Minted's cards – Especially their holiday cards (here's mine from last year)- but not a lot of other places have the modern, classy, or beautiful options that they do (in my opinion) so to avoid an elf-framed family photo card it might be nice to just go with a New Year's one instead. New Year's cards can include a photo or not include a photo, they can have a roundup of the passing year's events and accomplishments or even simply just say, "Happy New Year." I love looking through Minted's card selection because there really are so many ways to customize your card depending on your personal style and budget. Since we have so many updates to include in our cards this year I really wanted a card that not only matched the look and feel of our photo for the front but also had space for all of the different updates I wanted to share on the back.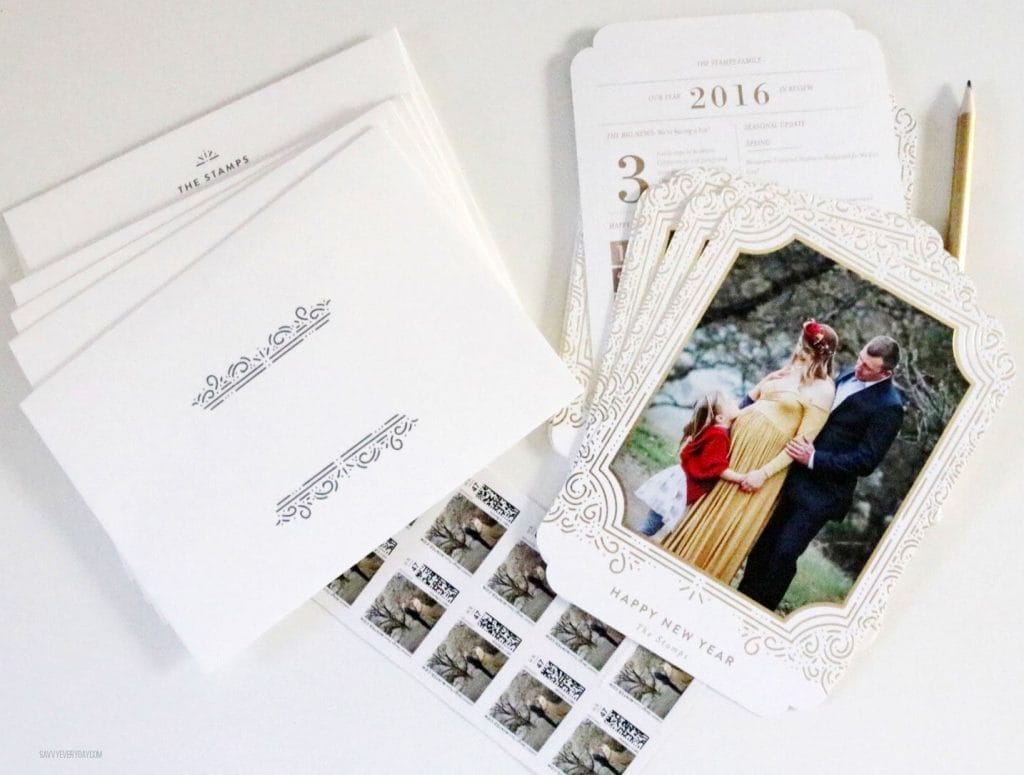 Finding the right card to represent your family to friends and family that you don't see or talk to that often can be stressful, but Minted made that so easy for me. With just a few clicks, I could preview my desired photo in several different card designs to see which was my favorite, then I was able to choose the way the corners are cut, the type of paper, the color of the foil, and even the font! Everything was so simple to do because the website just navigates you from one step to the next and allows you to save different versions as you go. I went with a Foil-Pressed Gold Antique Frame option using recycled paper and a custom silhouette and backing because it fits the art nouveau feel of the maternity photo I used so well. I even added 40 custom maternity photo stamps to my order this year so that I could use them for both our New Year's cards and the thank you cards I'll be sending out after my baby shower next month!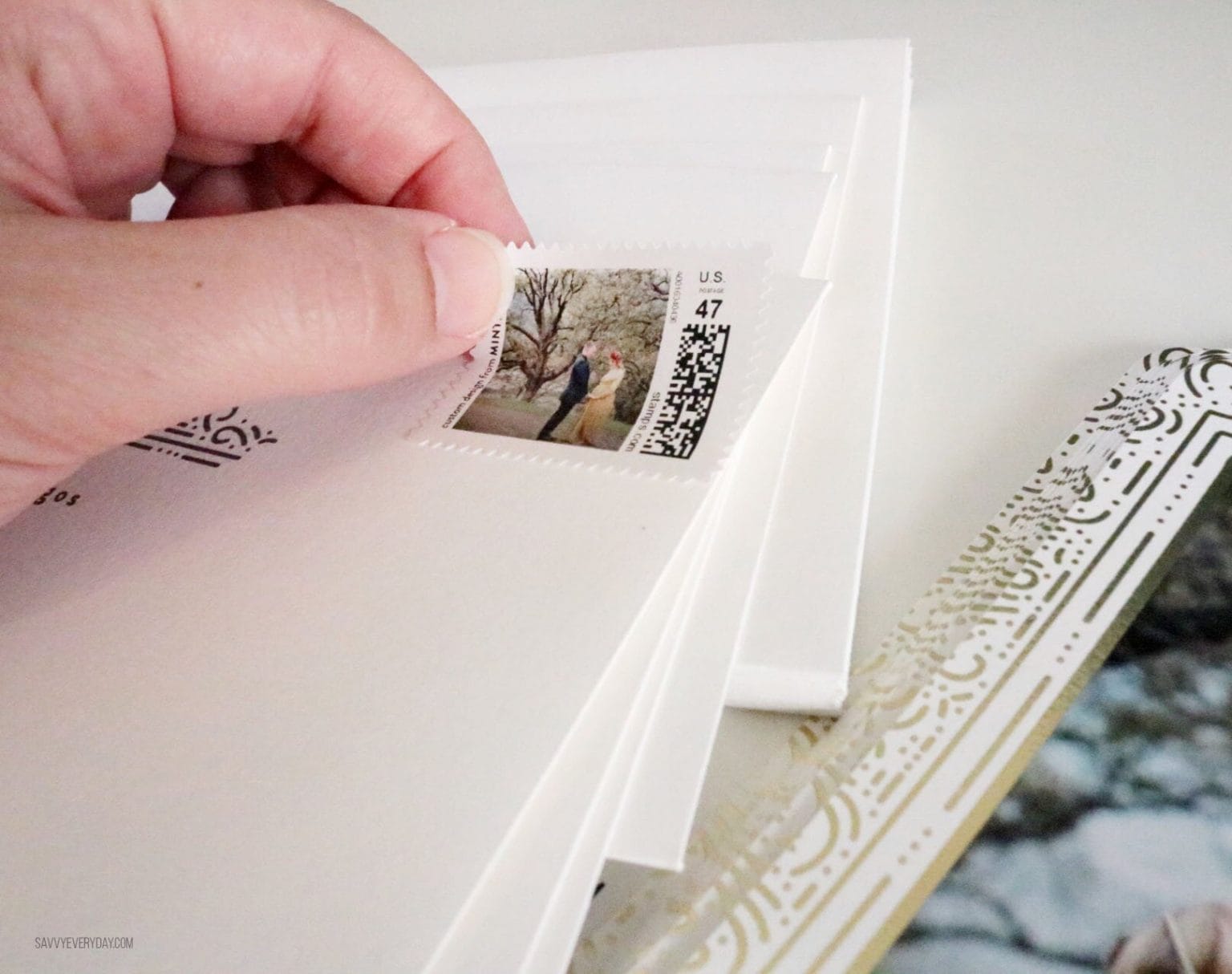 Saves time
Instead of hunting for everyone's addresses before Christmas card mailing time closes, you can simply wait for the cards to come to you and then add the addresses to your Minted account! Sometimes people are a bit delayed in getting back to you about their new address after moving, too, so holding off on mailing cards for the new year saves a lot of stressing about getting addresses in time. Personally, I ask for new addresses and then add them to the address list in my Minted account so that they're all set for when I order my cards every year since Minted often offers free address printing on the envelopes! Now that I get addresses printed on the envelopes I don't think I could order cards without that option again. I used to waste so many envelopes while trying to address the envelopes myself (but messing up).
Are you sending New Year's cards this year?