Cloth Diapering Essentials: Must-Have Items for a Sustainable Baby Care
As a parent, you want the best for your baby while also being mindful of the environment. That's where cloth diapering comes in. Not only is it a sustainable option, but it's also easy on your baby's sensitive skin. But where do you start? What do you need for cloth diapers? What are the essential items you need to make cloth diapering a success? In this article, we'll guide you through the top must-have cloth diapering essentials for sustainable baby care to equip you with the information you need to make sustainable and eco-friendly choices for your baby. So, let's dive in and discover the cloth diapering must-haves!
Navigating Parenthood uses affiliate links in posts which allows us to make a small commission (at no cost to you) if you decide to purchase via any of our links. This helps support the costs of running this website —thank you!
Why choose cloth diapers over disposable diapers?
When it comes to choosing between cloth diapers and disposable diapers, there are several factors to consider. While disposable diapers may seem convenient, they have a significant impact on the environment as the third largest product in landfills — one that can take up to 500 years to decompose. That's a staggering amount considering that it takes hundreds of years for a disposable diaper to decompose.
Cloth diapers, on the other hand, can be reused multiple times, last from ages 0-2, and can even be re-sold when your child has outgrown the use of diapers — making them a much more eco-friendly choice. By opting for cloth diapers, you can significantly reduce your household waste and bills while contributing to a healthier planet for your family's future.
Cloth Diapering Myths
Before diving into the various types of cloth diapers, it's important to address some common misconceptions surrounding cloth diapering. One myth is that cloth diapers are bulky and uncomfortable for babies. However, modern cloth diapers have come a long way in terms of design and functionality. Many cloth diapers are now trim-fitting and offer adjustable sizing to ensure a comfortable fit for your little one. Some people also say that washing cloth diapers uses just as many resources as disposable diapers but Esembly Baby Diapers' founder, Liz Turrigiano, has actually tested the energy and water usage for washing cloth diapers and says it's equivalent to running the dishwasher. Besides — most of the diapers can go in the wash with the rest of your baby's clothes.
Another myth is that cloth diapers are difficult to use and require a lot of extra work. While it's true that cloth diapers require more effort than disposables, they are not as daunting as they may seem. With proper preparation and a good routine, cloth diapering can be a seamless part of your baby care routine. One of the biggest myths? That it's all or nothing. Cloth diapering can be done just at home, just overnight, just once a day, or used all the time — it's up to you! Even just using a cloth/reusable diaper instead of a disposable swim diaper will make a huge impact on the planet and your wallet.
Choosing a cloth diaper
Selecting your cloth diapers may take some time and research. There are many styles to choose from, but try a few different styles that seem appealing to you and then invest in an entire "stash." Opt for organic cloth diaper inserts (Amazon affiliate) for the material against your baby's skin. A great way to try different styles is to find a local cloth diapering group and purchase diapers second-hand. You can easily do a deep cleaning and sun-dry if you are concerned about using something that's been used already. Facebook cloth diaper buy-and-sell groups are popular options for buying, selling, and trading cloth diapers.
Wet bags or pail liner
A container to store the dirty diapers until it's time for diaper laundry is a must. Some people prefer a trash can or plastic hamper with a pail liner inside, but you may choose to use a wet bag at home or when you go out. Whether you choose a large wet bag or a pail liner, they should have a PUL (a laminated fabric that makes diapers waterproof) layer to prevent leaks.
Cloth-diaper-safe detergent
Don't use just any detergent to wash your cloth diapers. If you have invested in good diapers, don't skimp on the detergent! Make sure you purchase a detergent that is cloth diaper-safe to avoid buildup and stinks. Regular detergents contain fabric softeners, whiteners, fragrances, and bleach. These detergent ingredients will cause build-up on the diapers and will lead to repelling, leaks, and stinky diapers. Washing every other day, putting them up on the line to dry (in the sun when possible to get rid of stains and any bacteria), and then placing them in the dryer for a few minutes on low heat to fluff them up before putting them in drawers is a great option.
Cloth-diaper-safe creams and liners
Same as the detergent, make sure you get a bottom cream suitable to use with cloth diapers. Traditional creams will adhere to the inner fabric of the diapers and may clog the fibers of the fabric, leaving behind a residue layer even after washing. Try something like Noleo 3-in-1 Organic Diaper Cream or Motherlove Diaper Balm (I LOVE their natural products and code NP15 saves you 15% off!). If you have to use a regular diaper rash ointment for an extreme situation, use a thick liner to avoid the ointment getting on the diaper. If you get some on your diaper accidentally, use a degreasing detergent and scrub, scrub, scrub, then rinse, rinse, rinse.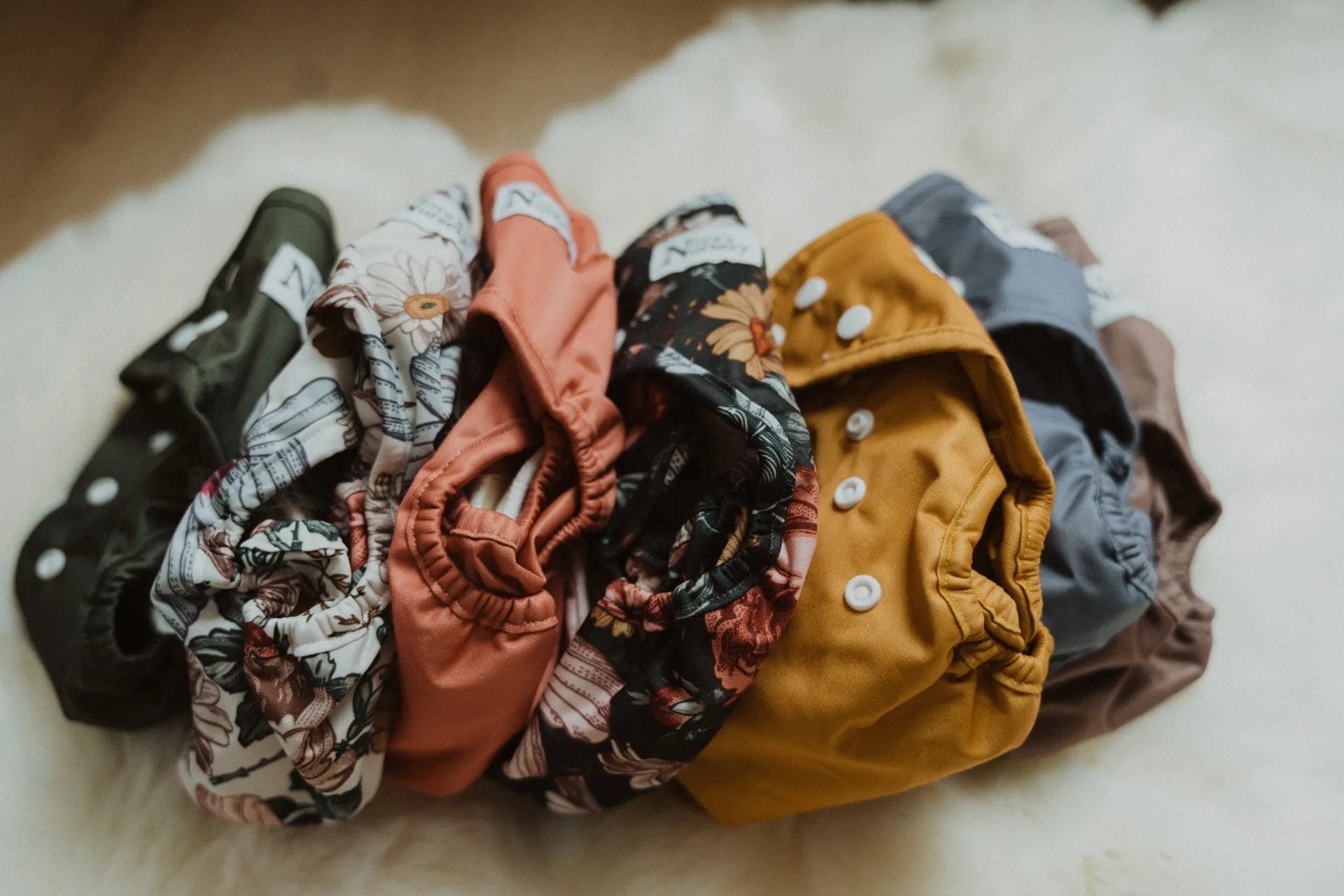 Cloth wipes
Cloth wipes are a practical and cost-effective way to go, especially if you are already doing diaper laundry! Cut up receiving blankets, washcloths, and cotton velour wipes. They all do the same job, but some parents prefer certain fabrics over others. The size of the wipes can also be a deciding factor when choosing your fabric. You can carry moist wipes in your diaper bag or carry dry wipes along with a small spray bottle and spray/wipe as needed.
Diaper sprayer
Some people consider a diaper sprayer (Amazon affiliate) a luxury until they find themselves trying to dump a big mess in the toilet. Many cloth diapering companies manufacture their own sprayers and some hardware stores sell "kits" intended to install them in the bathroom. A long shower hose can work as well. Some cloth diapering experts prefer to dump the excess BM in the toilet and then use a laundry room sink as a prewash before a separate laundry cycle. You'll find your own rhythm.
What are your cloth diapering essentials? Have you tried these? Share your experiences in the comments below!
Sources:
Title:
Cloth Diapering Essentials: Must-Have Items for a Sustainable Baby Care
Mentions:
baby, cloth, cloth diapering, cloth diapers, crunchy, diapers, DIY cloth wipes, eco-friendly diapers, Family, kids, making your own cloth wipes, natural parenting, newborn
Keywords:
cloth diapering, cloth diapering, cloth diaper must haves