8 Ways to Create a Green Nursery on a Budget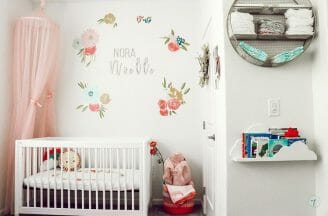 Creating a safe nursery for your little one is extremely important. Your child may be spending 12-18 hours a day in their bedroom and while they're sleeping, their bodies are working to repair the damage caused during the day. If that's not reason enough to green your nursery, consider that children process toxins differently than adults and are the most vulnerable to developing childhood illnesses as a result. Many people think it's expensive and overwhelming to create a green (or eco-friendly and baby-friendly) nursery. Ideally, we'd want to buy an organic mattress, use VOC-free paint to decorate the walls and furnish the space with all-natural wood furniture, but anyone can create a less toxic sleep space while making the best of what we already have. Here are some tips on how to create a healthy, safe sleep environment without breaking the bank.
Clear the Air: Open your windows every day to allow fresh air into the bedroom.
Take Off Your Shoes: According to the EPA, studies have shown that taking off your shoes reduces the amount of lead dust in your home by 60 percent
Leave It Outside: Let all new furniture, toys, bouncers and swings spend some time outside to off gas. You know that smell when you remove the plastic wrap from the new product? That can be filled with dangerous toxins you don't want your baby to breathe in.
Create a Safe Barrier: If you don't already have an organic mattress, buy an organic topper to create a barrier, it's less expensive and a great way to reduce the toxins they breathe while sleeping.
Read the Label: Check the label of your child's pajamas and look for a tag that says, "For child's safety, garment should fit snugly" It's likely that these PJ's haven't been sprayed with flame retardants.
Dust Often: According to the EWG, studies have shown that many of these harmful substances end up in dust and break down at a slower rate indoors. It's best to clean them up with a wet or microfiber cloth.
Clean the Floors: A HEPA vacuum is most efficient at removing the dust particles and other contaminants that settle on your floor. Also consider steam cleaning carpets and rugs at least once a year with a non-toxic cleaning company.
Filter the Air: If you still feel that there is some room for improvement, consider adding an air filter or plants to further detoxify the air. The great news is that these are steps that everyone can take to help create a safer, greener nursery for your baby.
Tackling all 8 steps at once might be a bit overwhelming (as if new moms don't have enough to worry about). Instead try to make a few changes a week and feel really good about them because they all make a difference. If you are in the process of designing your nursery take careful consideration of everything you put on your registry. Consider using a local organic retailer to build your registry and research the most important items like paint, decorations, furniture, mattress and bedding. We all want the best for our children. We want them to grow up in the healthiest, safest environment possible. While we can't control everything they are exposed to, we can definitely make some changes toward a greener nursery.
Natalia Lazarus is an expert with NewboRN Solutions, which has over 75 highly vetted providers for families all in one stop. She's a certified Eco-Maternity Consultant and Greenproofer and founder of Generation Pure.
Sources: Roberts, J.W. & Ott, W.R. (2007). Exposure to Pollutants from House Dust. In Ott, W.R., Steinemann, A.C. & Wallace, L.A. (Eds.) Exposure Analysis, 319-345. New York: Taylor & Francis and EWG.