A New Kind of Coconut Water For the Whole Family
Coconut lotions, creams, oils and things made of coconut are pretty big right now . . . kind of like how green tea and then pomegranate and then kale were all "the" super food at one time. Water is no exception — even Costco sells a variety of coconut waters. So it's no surprise that a Bay Area local worked to create a coconut water filter which sets his water pitcher and filtration system apart from virtually every other water filter on the planet. Yep, coconut water filter! The Soma carafe and water filter ($49) has a trendy San Francisco district name with a look just as fashionable, and the earth-friendly intellect the SF Bay Area loves to be known for.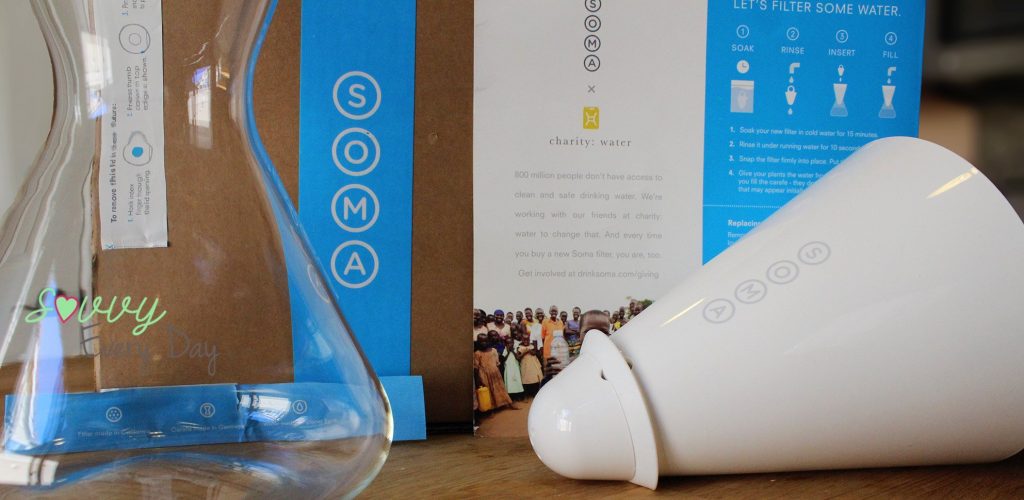 Have you ever looked at what's inside your water filters? It's carbon! That can't possibly be healthy, or safe for the kids. The coconut filter Soma uses is plant-based, biodegradable and free of that chlorine taste you may typically get when using a water filter. I just love the video on Soma's website that explains the filter in depth. The filter doesn't take the fluoride out of your water (that's a plus when your kiddo needs fluoride!) but it does reduce color, odor, chlorine, and bad taste from your water, as well as take out any other things that shouldn't be there. It's been given a gold seal from The Water Quality Association, and lasts about 60 days.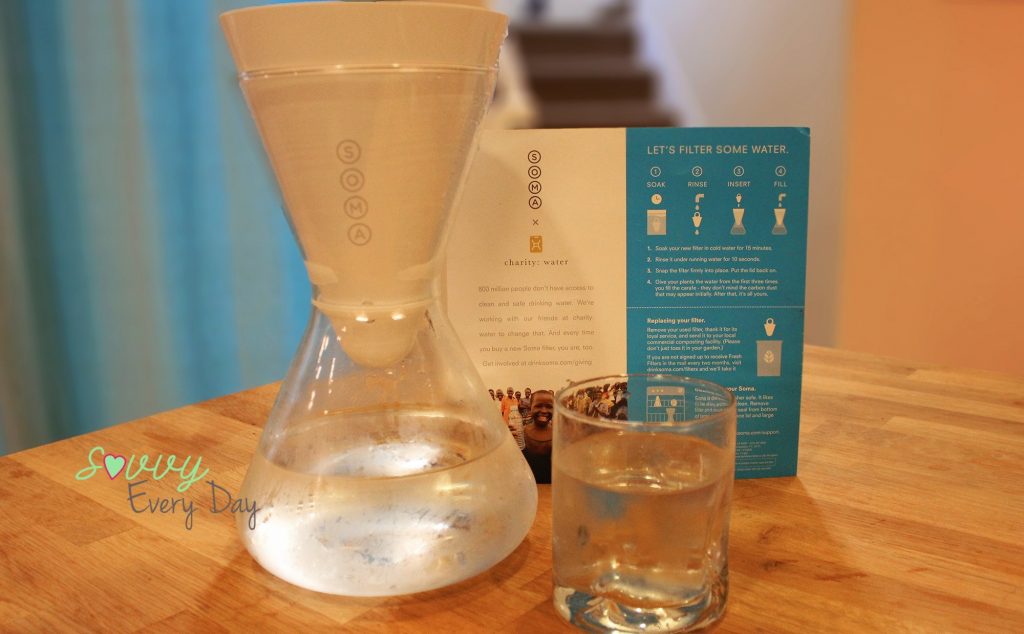 After checking all of this neat info out, I noticed something big on the Soma website — they their proceeds and $12.50 of every special edition yellow carafe purchased to Charity: Water! Savvy Every Day strives to share valuable tips, products and services with its readers and the focus is always on products or services that are environmentally friendly or philanthropic in some way. When a product or service is both Earth and people thoughtful (and is simply just a great product) it's a must-share. The Soma carafe and filter made my list after I read about Charity: Water, for sure, but they also make sure that sustainability is a part of every step in their production process right down to the packaging.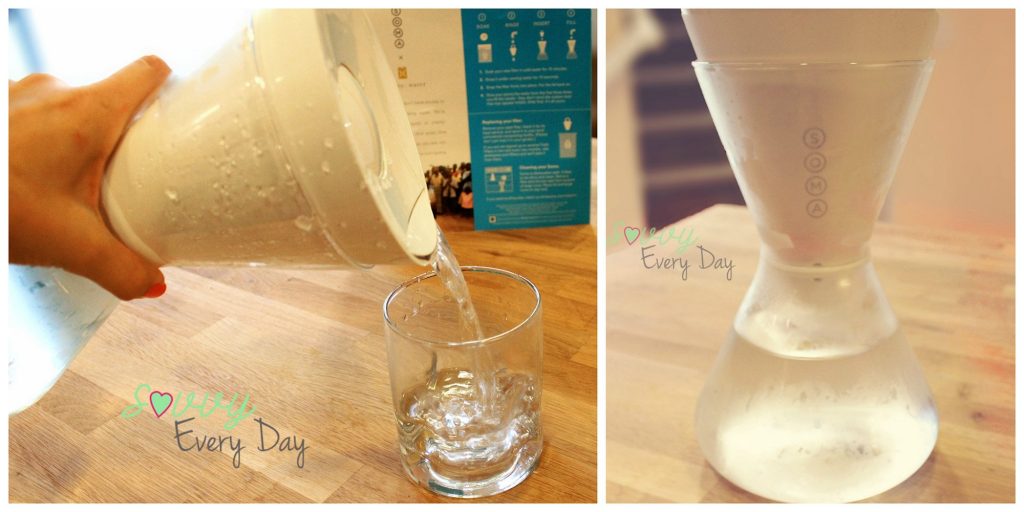 I reached out to Soma and they sent me a carafe with filter in July to test out at home for #SavvySummer. With the Kaua'i posts and several others I held on to this gem for just a bit longer so that I could really give you the best review possible. I adore this carafe and just felt like my pictures didn't do it justice and kept trying to take more. But now it's time to tell you about my experience, because I think the Soma carafe would be a fantastic addition to your holiday table setting in 2014 and 2015. It would even make a fabulous gift for newlyweds, friends, neighbors, or parents.
I'll admit that I'm terrible at actually reading directions so when the Soma carafe and filter arrived I read the set up instructions where you clean out the filter before use, then I filled up the carafe and overfilled it. I even added the water wrong. The carafe is designed to look chic at family parties or special dinners, but to be more functional than a simple carafe alone. It has a pouring lid with the coconut filter that prevents spills and keeps water fresh. The lid has a little circle on top that looks like a button. This is the area you're supposed to hold under the sink to fill the carafe with water. Filling the reservoir twice will fill up your entire carafe and six 8 ounce glasses. I was really surprise by how many times I filled up a glass with water and yet there was still water left in the carafe! Now the carafe itself is larger than I expected it to be based on images I had seen online, but the makers tested it in a lot of different fridges to be sure it would fit in a ny fridge and it definitely fits in mine with room to spare. The hourglass shape also makes the carafe easy to hold, and the fact that it's a tempered glass gives me peace of mind when it comes to thinking about BPA and other chemicals, as well as breaks. I love that I can simply place the carafe (not the filter) in the dish water too. It can be tricky trying to wash European carafes, but this German-engineered carafe is so simple to clean (and shatter proof)!
Overall, I think this is one of the best water filter/carafe combos out there — it's safe for families, fashionable, just as affordable as the other guys, and is conveniently sent to you so you don't have to worry about hunting for it at the store. The best part? While you're nourishing your family with healthy water, you're also providing clean water for families in need elsewhere. I love that.
Savvy Every Day was sent a Soma carafe with one filter for the purpose of this review. No other compensation was given. All opinions belong to the writer alone.